This paleo blueberry crumb cake is so easy to make with just a couple of bowls and a whisk. The result is a moist, dense cake, studded with juicy blueberries that you just can't get enough of! The gluten free, dairy free, and paleo cake pairs perfectly with coffee or ice cream – so you can make it for a party, or just for a weekend breakfast.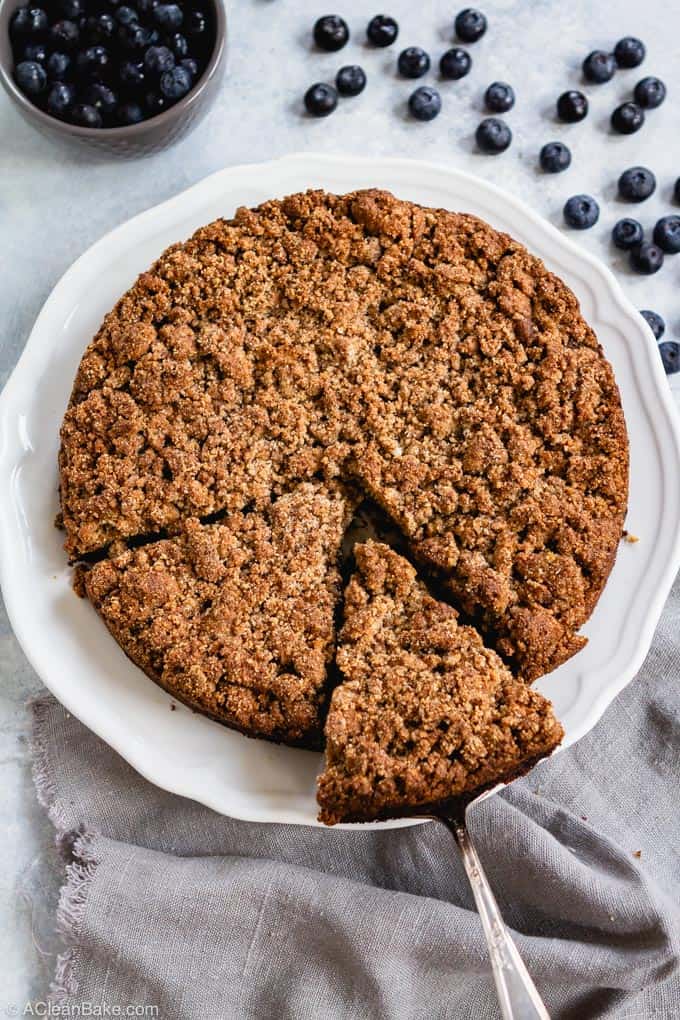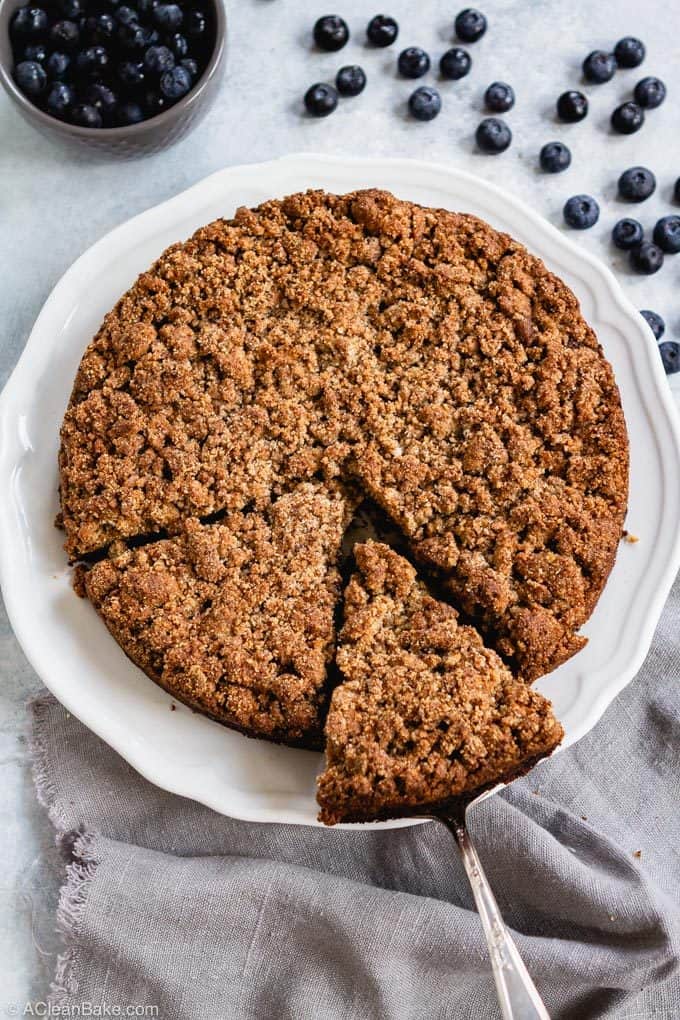 There is a school of thought that insists that summer is over after Labor Day but it seems to me that as long as plump, ripe blueberries are still front and center at grocery stores and farmers markets, we can still wear white with abandon (just maybe not while eating blueberries).
Unless you're a glutton for punishment, there is no reason to declare an end to summer any earlier than is absolutely necessary. So, though a blueberry crumb cake may seem more fitting for, say, July or August, I see no reason not to make it in September.
Or January, for that matter. Nothing wrong with planning ahead.
Anatomy of a Crumb Cake
I already gave you a brief lesson on the difference between a crisp and a crumble, but where does a crumb cake fit into the sweet-stuff-topped-with-differently-textured-other-sweet-stuff equation?
Well, in my opinion, it doesn't. Whereas crisps and crumbles are made of a base of baked fruit combined with a little bit of flour (usually tapioca or arrowroot, in my kitchen) and sugar, a crumb cake is made from – as the name suggests – a base of cake with some fruit baked into it.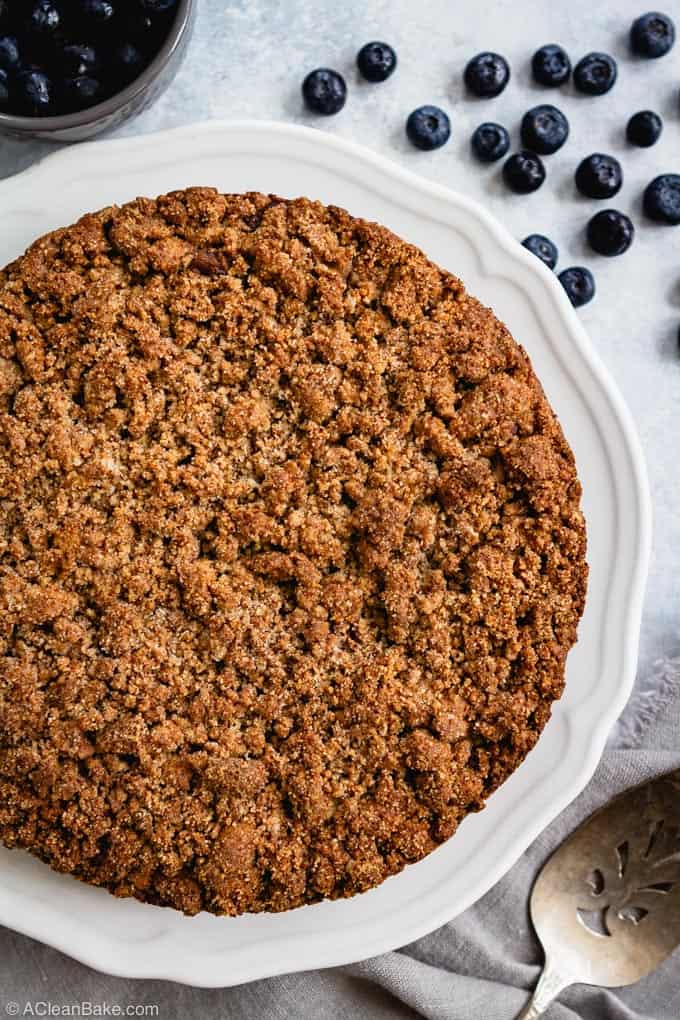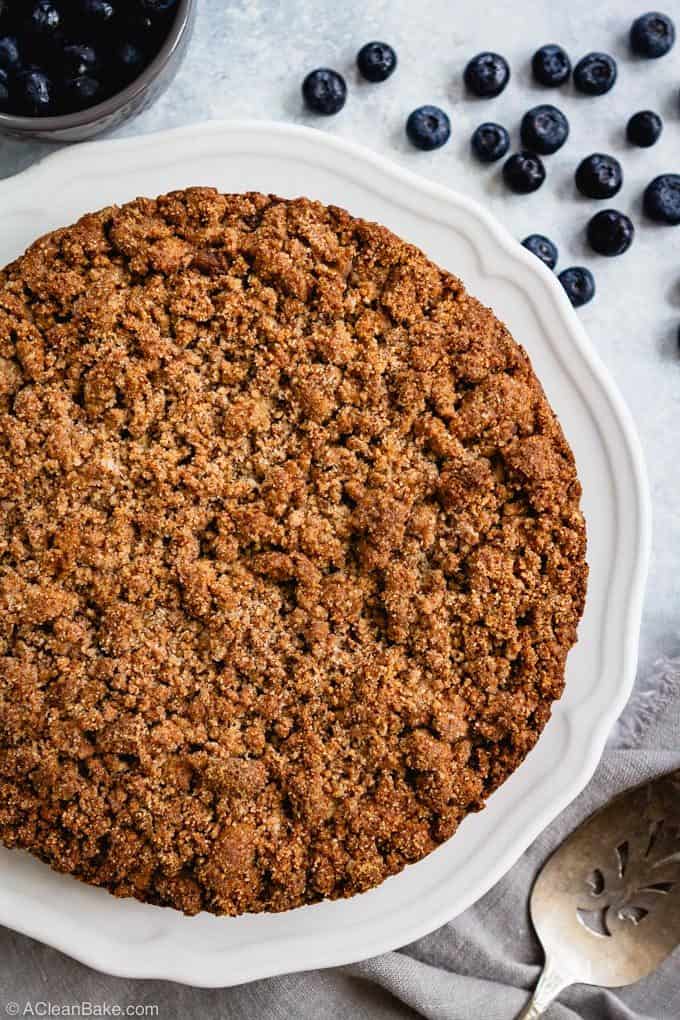 Because it has a higher dry ingredient-to-wet-fruit ratio, a crumb cake is far less wet than a crumble. Once baked, you can slice it into neat squares or triangles, like any normal cake, for serving, rather than scooping out amorphous blobs of soft fruit into a bowl, as you do when serving a crisp or crumble.
But you'll be relieved to know that all three forms of dessert go well with ice cream or coffee (or both), though.
As Low Key As Cakes Get
This is one of the good ones, you guys. It's a perfect Sunday afternoon cake, or bake-with-the-kids cake, or just-because cake.
You know by now that I am always working hard to make recipes as simple and straightforward as possible. This is a great example, and here's why:
It calls for the simplest ingredients: flours, (coconut) sugar, eggs, oil, vanilla, baking soda, and salt.
You'll also need a little lemon juice, but the bottled stuff is fine if that's all you have on hand. If you have a fresh lemon hanging out in your produce drawer, go ahead and add a little zest, too.
Oh, of course, you'll need blueberries, but I'll get to that in a second.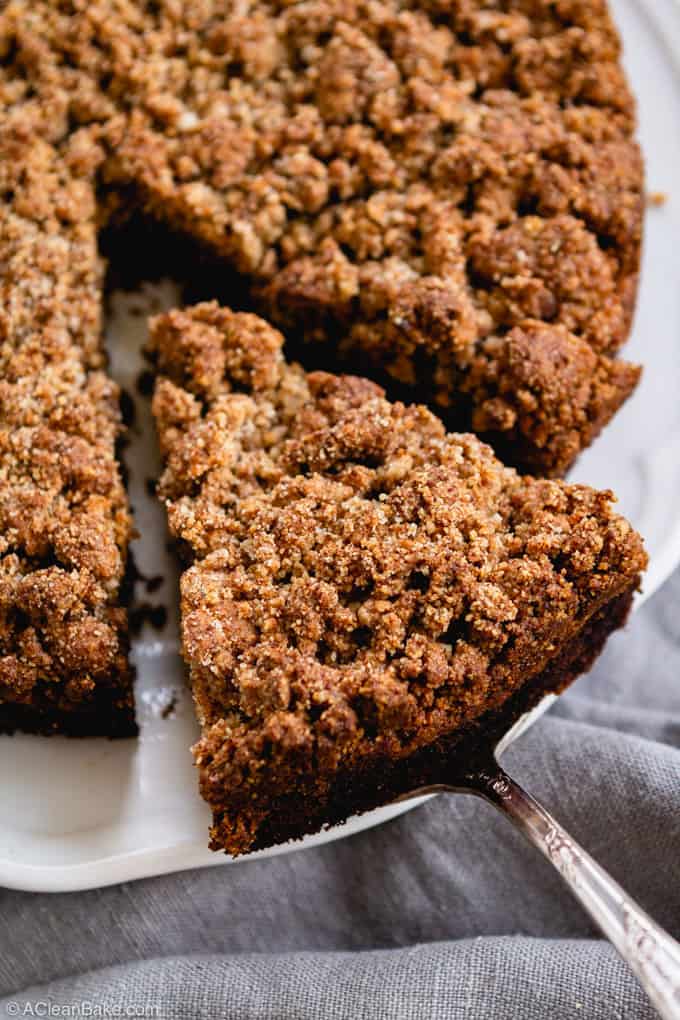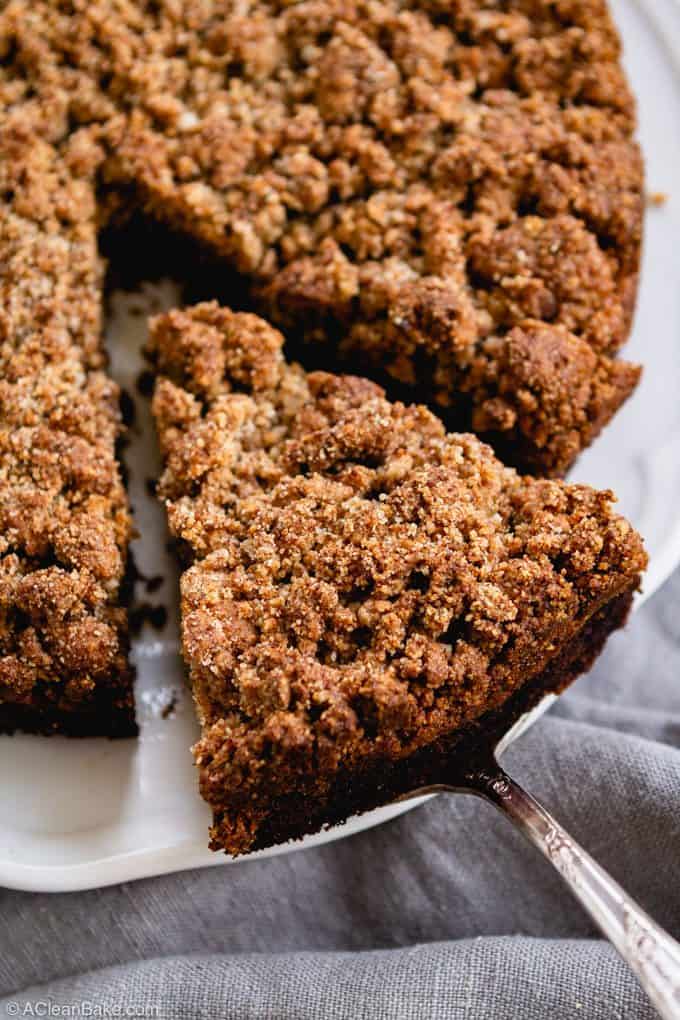 The ingredient list may appear long at first glance, but look a little closer and you'll see several repeat ingredients.
The equipment you'll need is minimal, too: a couple bowls and a few whisks to mix – although I usually use a fork in place of a whisk when I'm in a hurry – and a springform pan to bake.
I know what you're thinking: do I really need that springform pan?
The answer is: you don't NEED need it, but I highly recommend it. The springform pan breaks away from the baked and cooled cake without risking sticking and breaking.
The cake is prettier when it's baked in the springform, and also easier to cut and serve.
Plus, a springform pan is a really reasonable investment. This is the one I have; it's $12.99 on Amazon.
If you don't want to buy a new pan or don't have the room for more more baking gear, I get it.
Assuming, you're not serving this to others and you don't care about the look of it, you could use an 8″x8″ square baking pan instead, or even make these into cupcakes.
In either case, you'll have to adjust the baking time. You'll need less, but I'm not sure how much, exactly. I'd recommend starting with 30 minutes for the square pan and going in 5-10 minute increments from there, and starting with about 15-20 minutes for the cupcake pan. In either case, don't forget to grease the pan well before adding the batter.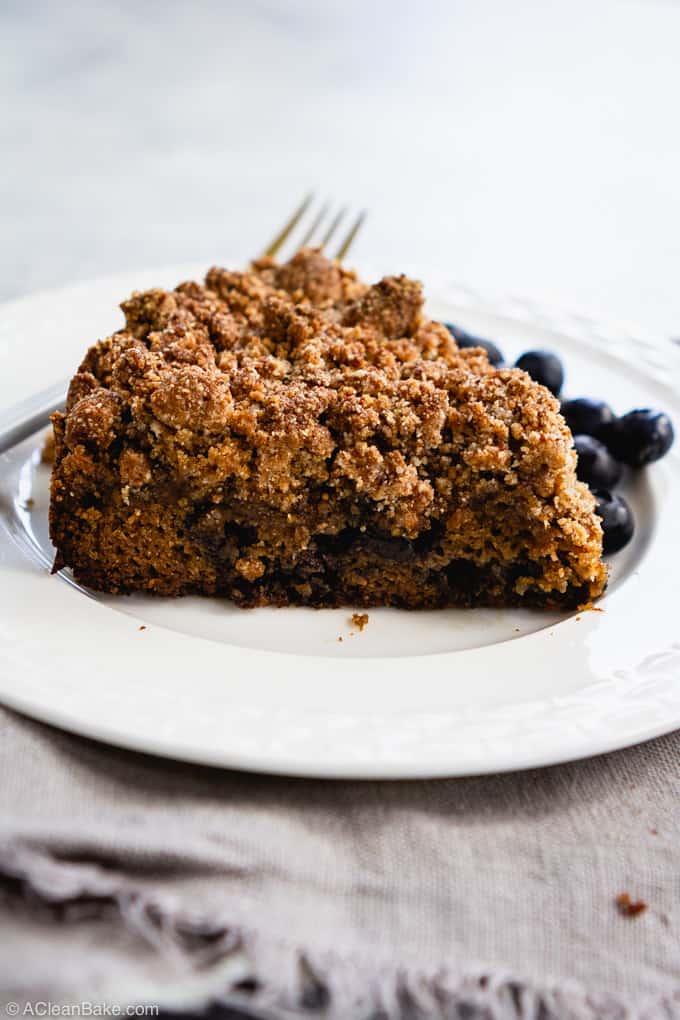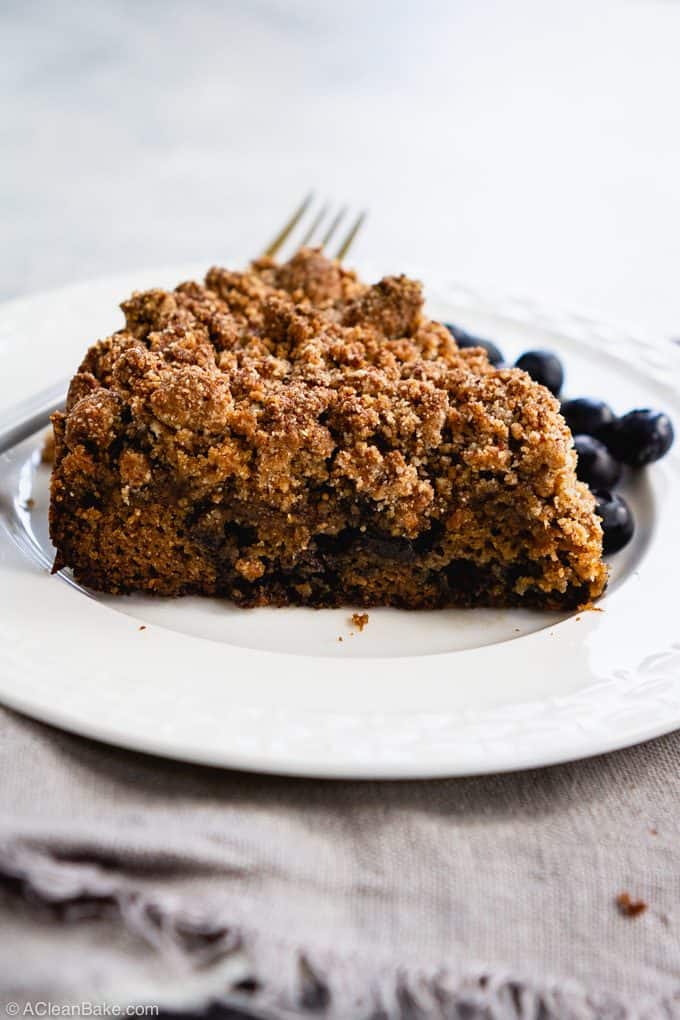 Next Question: Fresh or Frozen?
Before you have to worry about the baking pan, you need to procure some blueberries.
I wish I could tell you that I used handpicked wild blueberries but I actually used frozen blueberries from Whole Foods. (HA. There's a little behind-the-scenes for you!)
I prefer frozen blueberries for this recipe because they hold their shape better as they are folded into the dough and baked. Fresh blueberries are delicate and will break down more easily.
But the downside of frozen blueberries is that they'll turn your dough slightly purple-blue – though, I doubt you'll even notice once the cake is baked.
tl;dr: I used frozen blueberries, but you can absolutely use fresh ones* if you're lucky enough to have a ton of them lying around. They'll work fine.
So, you know what that means, right? There's no reason not to make this cake this weekend!
*I've been getting my fresh blueberries from Imperfect Produce, which delivers fresh organic and conventional produce to my door every week at up to half off grocery store prices. Want to give it a try? Use code "acleanbake" for 50% off of your first box!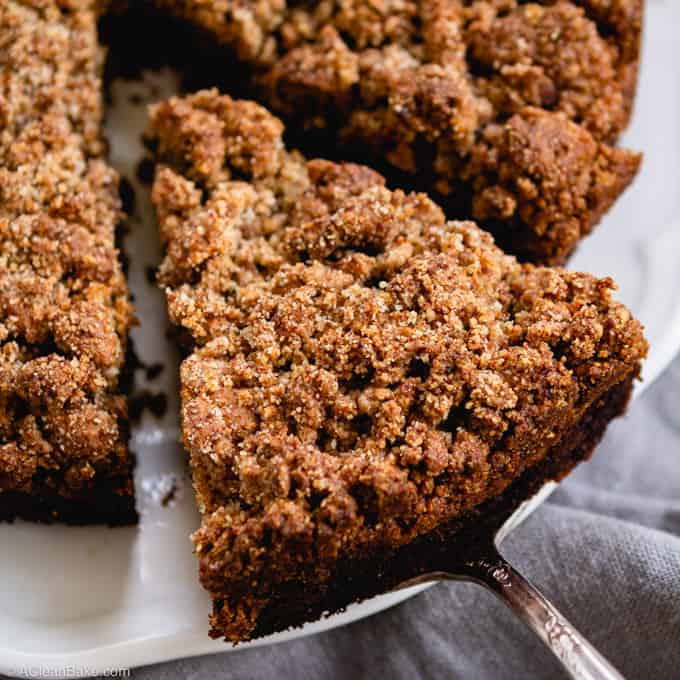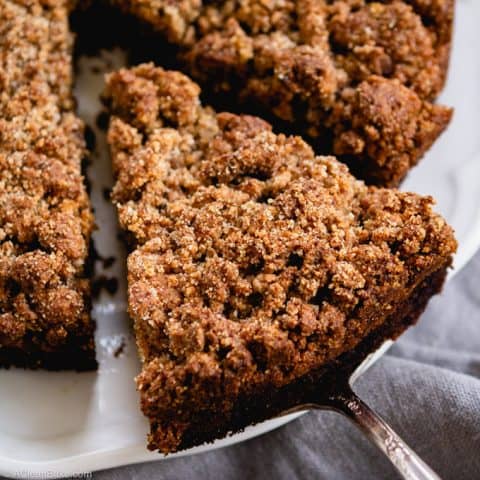 Paleo Blueberry Crumb Cake
Cook Time:
1 hour
10 minutes
Total Time:
1 hour
35 minutes
This paleo blueberry crumb cake is so easy and pairs perfectly with your coffee! Use fresh or frozen blueberries to make this naturally sweetened cake!
Ingredients
Ingredients for the cake
1 1/2 cups blanched almond flour
1/2 cup coconut sugar
1/4 cup coconut flour
1/4 cup arrowroot flour
3/4 teaspoon baking soda
1/4 teaspoon fine sea salt
3 large eggs
1/4 cup coconut oil, , melted and slightly cooled
2 tablespoons maple syrup
2 tablespoons lemon zest, (optional; measured loosely packed)
1 tablespoon lemon juice
1 teaspoon vanilla extract
1 1/2 cups fresh or frozen blueberries
Ingredients for the crumb topping
2 cups blanched almond flour
6 tablespoons coconut sugar
2 tablespoons arrowroot flour
1/2 teaspoon fine sea salt
3 tablespoons coconut oil, , melted and slightly cooled
6 tablespoons maple syrup
Instructions
Preheat the oven to 350°F. Lightly grease a 9" springform pan and set aside.
Make the cake
In a large mixing bowl whisk together the almond flour, coconut sugar, coconut flour, arrowroot flour, baking soda, and salt. Set aside.
In a small bowl, whisk the eggs.
Once the melted oil is cooled slightly, whisk it into the eggs, then whisk in the maple syrup, lemon juice and zest (if using), and vanilla extract.
Pour the wet (eggs, oil, etc.) mixture into the dry (flours, etc.) mixture and stir to combine.
Fold in the blueberries.
Transfer the batter to the prepared pan and smooth into an even layer. The batter will be VERY thick, particularly if you're using frozen berries.
Set the pan of batter aside.
Make the crumb topping
In a medium mixing bowl, whisk together the almond flour, coconut sugar, arrowroot flour, and salt.
In a small bowl, whisk together the oil and maple syrup.
Pour the wet mixture into the dry mixture and stir until well combined. There will still be a bit of the dry mixture at the bottom of the bowl that won't get incorporated.
Pour the crumb topping into the pan and spread into an even layer over the cake batter. Pack the crumb topping down gently.
Bake the cake for 60-75 minutes until a tester comes out clean.
Cool for 15-20 minutes, then gently removing the ring of the springform pan to allow the cake to cool completely.
Notes
When adding the oil to the eggs (step 4), make sure the oil is the right temperature. The oil can be warm, but if it's too hot, it will cook the eggs. A good rule of thumb for determining when the coconut oil is cooled enough is whether you're able to hold your finger in it for the count of 10 without it hurting. 
If using frozen blueberries, do not defrost before adding them to the cake.
This is the springform pan I use.
If you're having trouble removing the ring from the springform pan, run a thin knife around the edge of the cake to release it from the ring before loosening the ring. 
Store leftover cake in an airtight container at room temperature for up to 2 days, or in the freezer for up to 3 months. 
You can make this up to 24 hours ahead of when you want to serve it. Store it, uncovered, in a cool, dry place until ready to serve. 
Pin this for later!