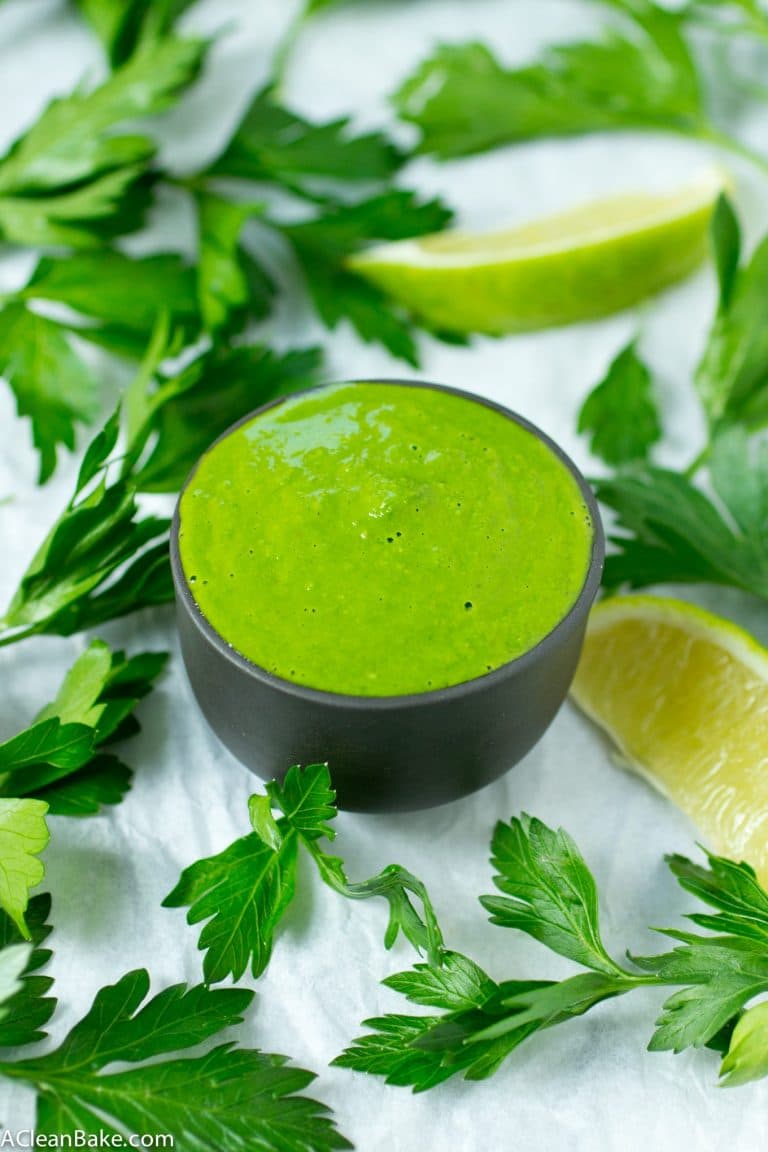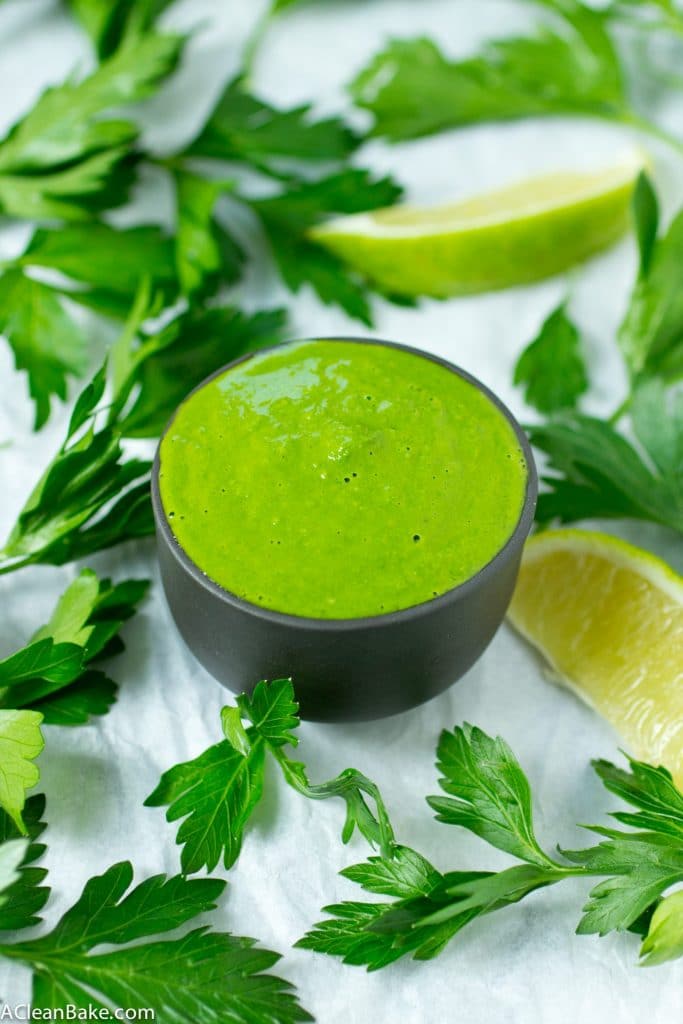 While most people dream of owning a mansion or a yacht, my aspirations are crushingly mundane: all I want is an herb garden. I love fresh herbs. I love them so much
I want to take them behind the middle school and
– no, wait that's weird. I just don't know how to express the intensity of my love for fresh herbs, especially in the middle of winter, without resorting to strong language or
30 Rock
references. You'll just have to take my word for it.
Chimichurri is an Argentinian sauce or dip that explodes with fresh, green herbaciousness and crisp, zesty citrus. All you need is a few bunches of herbs, lime, olive oil and a blender. If you don't recognize it, that's because usually it's a little chunkier, but I added a bit of water to the mix so that it would emulsify with the oil and create a smoother, more opaque sauce.
The flavor of this superfood chimichurri sauce is so bright and vibrant that, I swear, you actually feel more alive for eating it. This version is extra special and extra nutritious thanks to the addition of kale, which is  in season at the moment so you have probably seen it on sale at the supermarket or making an appearance in your CSA boxes.
Spreading it on sandwiches adds a mindblowing level of flavor, and drizzling it over roasted or gently sautéed root vegetables makes them taste like a whole meal in and of themselves. But, in my opinion, chimichurri really does its best work when paired with meat (which is what it is intended for), or something equally savory, like mushrooms. So, you can guess what's coming tomorrow: not only will I have one of the best turkey burgers you have ever tried, the perfect complement to this sauce, but I will also be hosting a giveaway of the brilliant cookbook that both recipes hail from, Let Them Eat Kale.
Go make a batch of this chimichurri so that you'll be ready!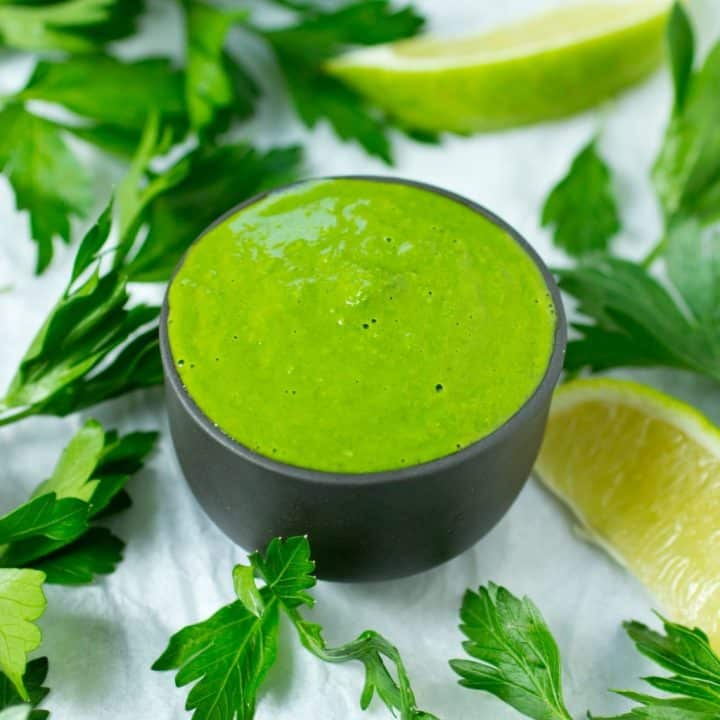 Superfood Chimichurri Sauce
Ingredients
2 cups tightly packed flat leaf parsley
1 cup tightly packed green kale leaves
1/2 cup loosely packed fresh oregano leaves
5 cloves of garlic, roughly chopped
Zest of 1 lime
2 Tablespoons fresh lime juice
1 Tablespoon apple cider vinegar, or you can sub white vinegar
3/4 teaspoon salt
1/4 teaspoon black pepper
1/4 teaspoon red pepper flakes, optional
1 cup olive oil
1/2 - 1 cup water
Instructions
Add all of the ingredients except for the oil to a blender and puree in long pulses, until pureed.
Add the water, while the blender is running, in a thin stream until the sauce becomes smooth and opaque. Add the full 1 cup of water for a very thin sauce, stop at 1/2 cup for a thick sauce, or adjust to your preference. I used about 3/4 cup water.
Serve immediately, or store in an airtight container in the fridge for up to a week.
Notes
If you are making this to go with the burgers, you won't need a full recipe. You can halve or even quarter the recipe and have plenty. However, this sauce is great on just about everything so making the full batch isn't so bad either! You can use a food processor instead of a blender if that's easier. This recipe has been slightly adapted from Let Them Eat Kale and has been reprinted with permission from the author.