Paleo gluten free vegetable fritters are a quick, easy, and flexible way to eat your veggies. Pan fried until crispy, these low carb fritters are so satisfying – and kids love them too! Each of these fritters packs a full 1/3 cup of shredded carrots, zucchini, and yellow squash, making it easier than ever to get your daily veggies!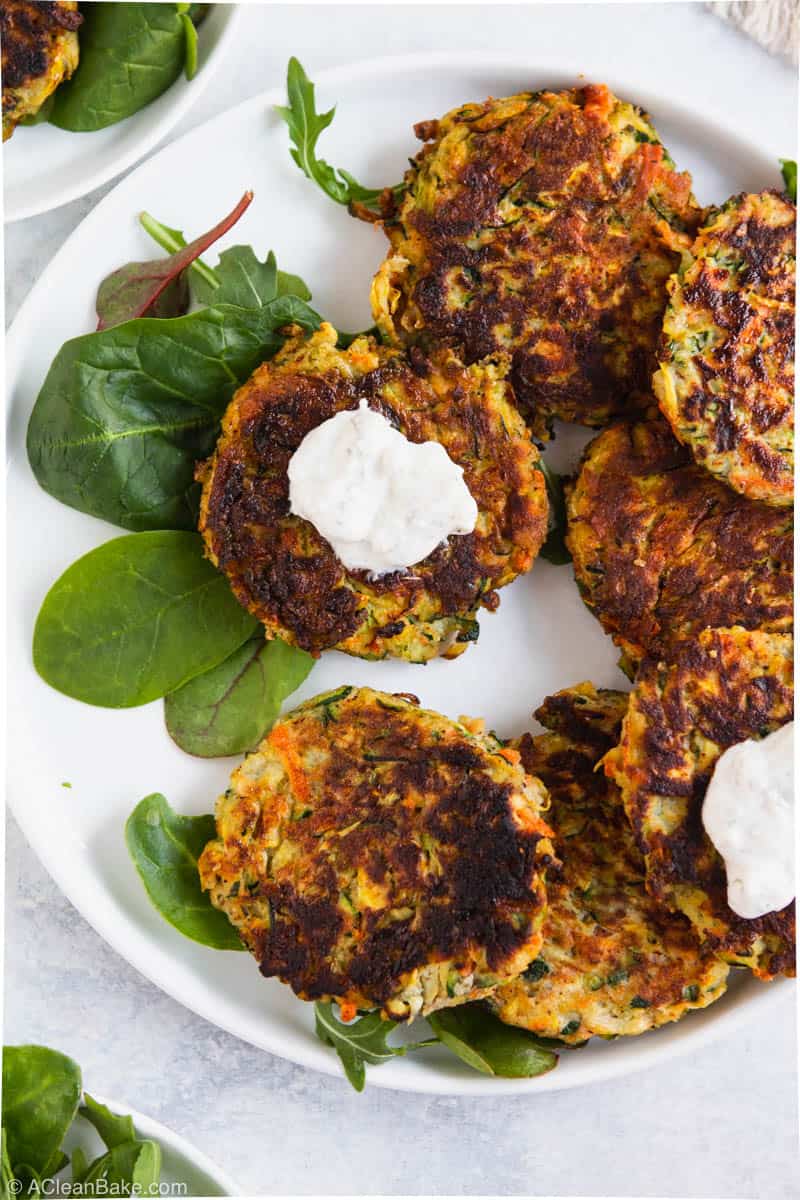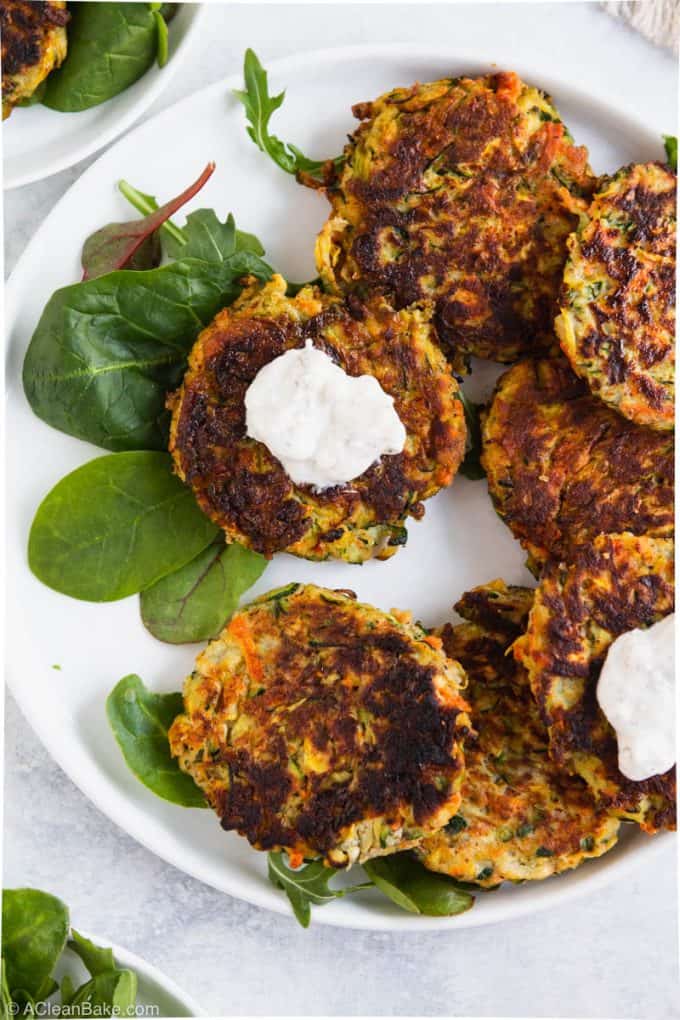 I have so many chocolate recipes in the can, that I was ready to share with you this week.
But when I asked you on Instagram what you preferred to see this week, you surprised me: Savory!
No problem, because after being sick twice in about 3 weeks, I'll take all the healthy, veggie-packed recipes I can get. I assume you're in the same boat.
Have you ever made veggie fritters?
If not, you have to give these a try, like, tonight.
They're one of the more enjoyable ways to eat your veggies, nestled in a pillowy dough and lightly fried until golden brown. While these may taste like "veggies light" in the sense that the vegetable flavor and texture is distracted from, if not mostly masked, by the dough they're definitely not light on the veggies.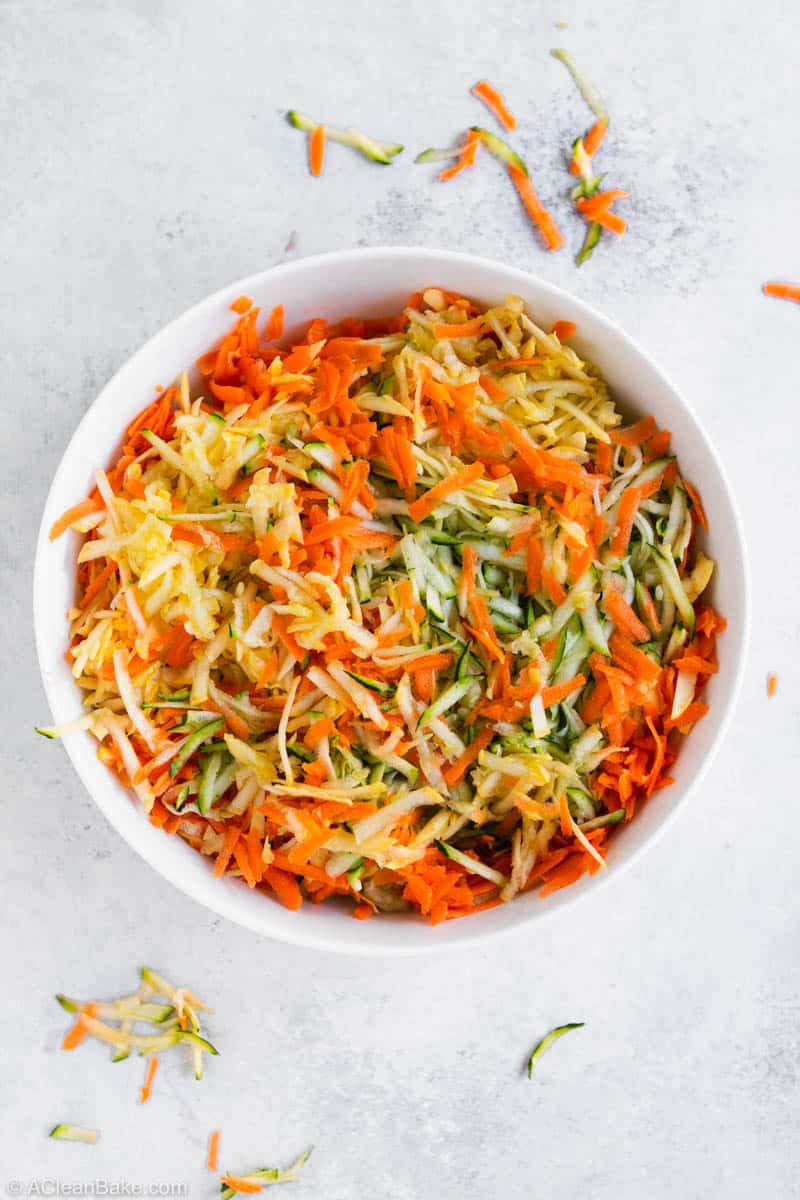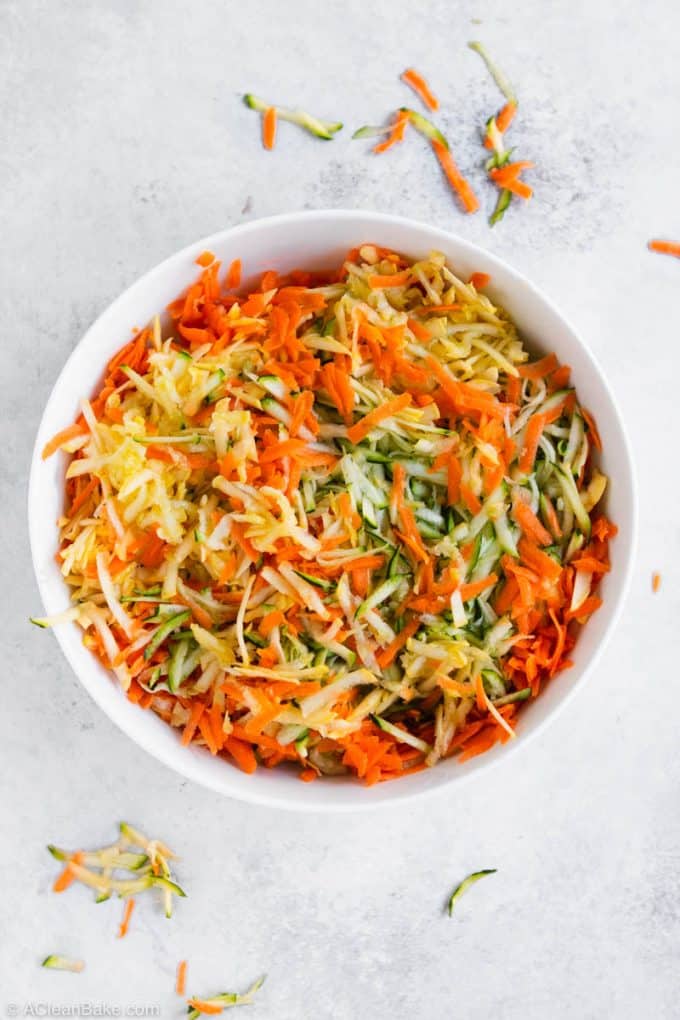 There is a full 3 1/2 cups of shredded mixed vegetables in the recipe. That's about 1/3 cup of vegetables per fritter!
Which vegetables should you use?
The recipe calls for a mix of zucchini, carrots, and summer squash. I find that both carrots and zucchini are easy to find all year round, but summer squash (yellow squash) can be a little hit or miss. If you need to replace the summer squash, you can just leave it out and use more zucchini or carrots to make up the difference.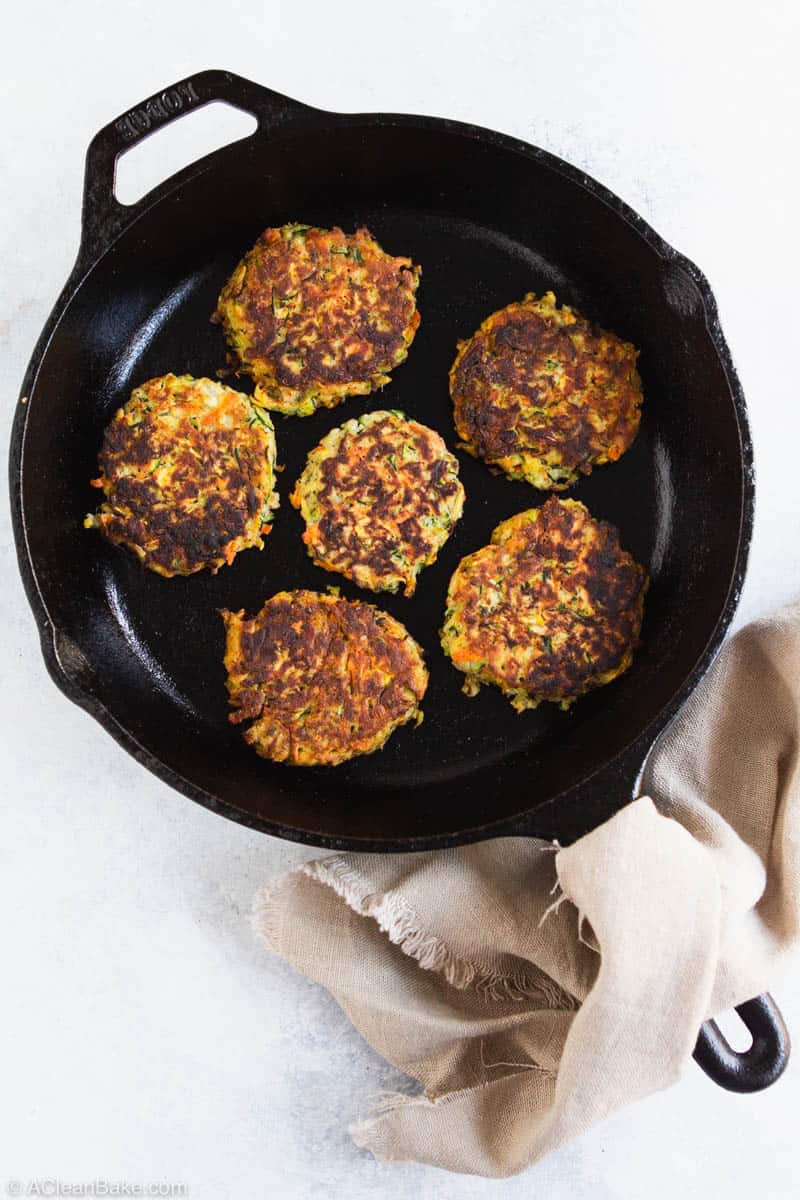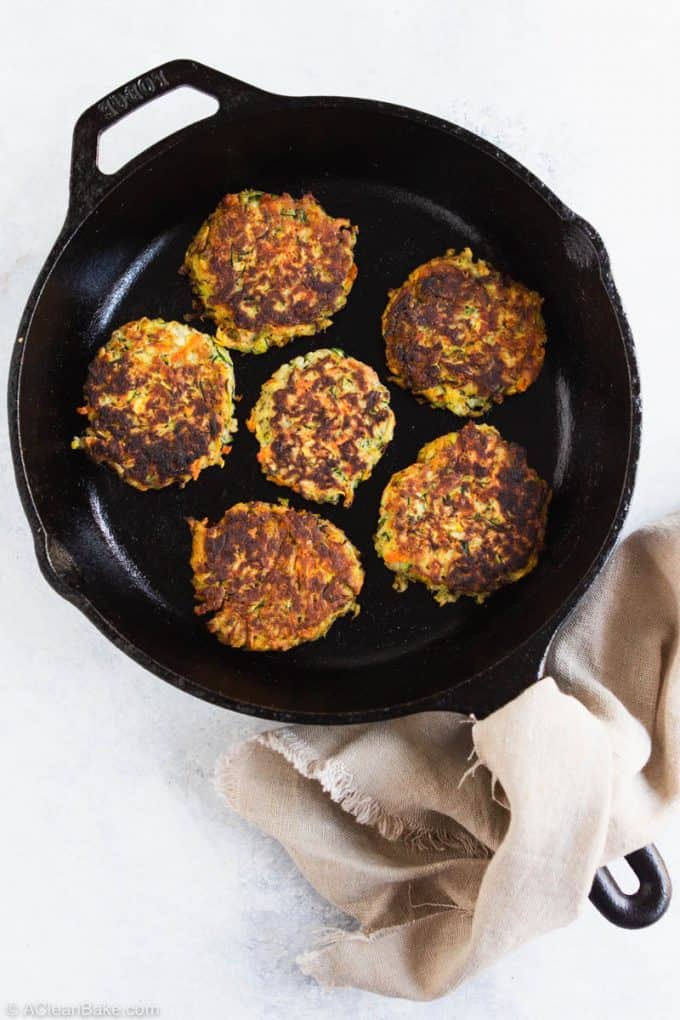 How to cook the fritters perfectly every time
If not cooked properly, you could end up with fritter failure: burned outside with soggy raw innards. But don't worry: there are two very easy tricks to making sure these come out of your pan perfectly cooked and golden brown.
First, make sure you're using a pan that distributes heat evenly. Lightweight nonstick pans are affordable and easy to use, but they just don't cook food evenly. Instead, reach for a heavy skillet, made of a material like cast iron. Yes, it's heavy and can be cumbersome, but it's the only pan I use for this sort of cooking because it holds and distributes heat so well. If you don't have cast iron, stainless steel works too. In either case, make sure your pan is hot, but not overheated, and the heat stays steady so that your fritters cook through without drying out.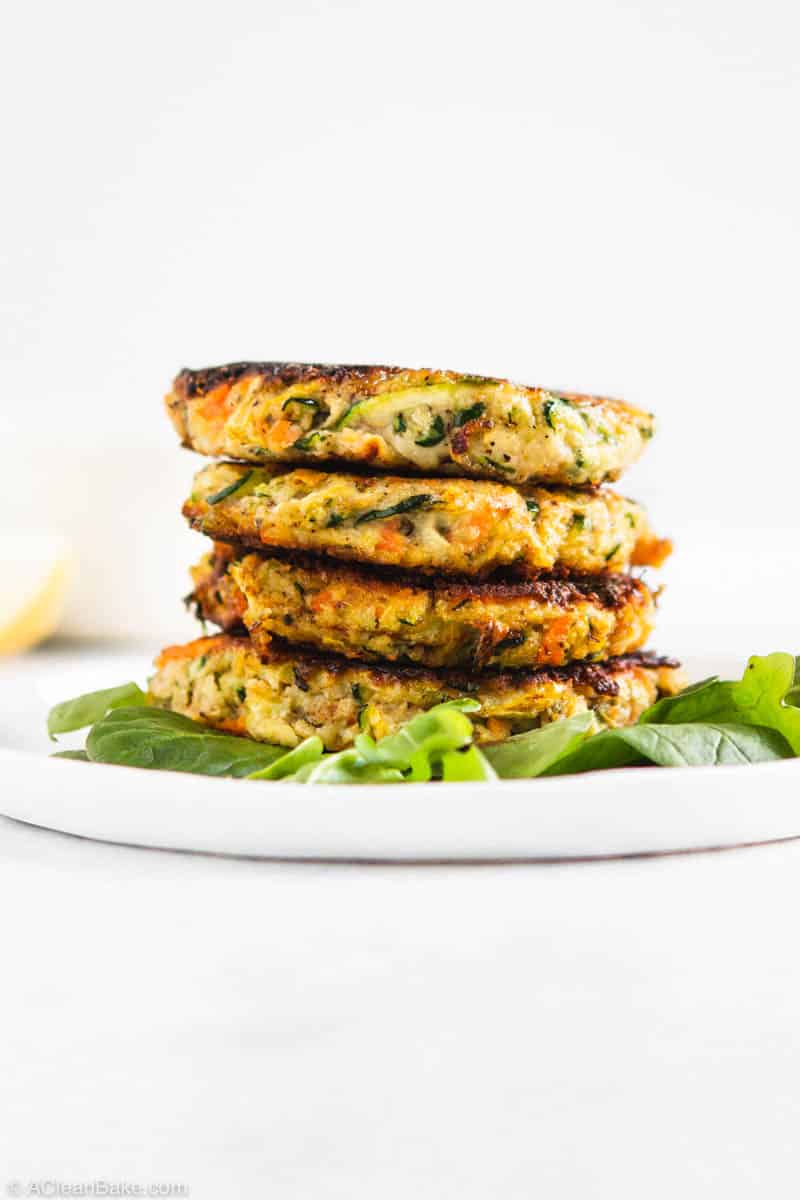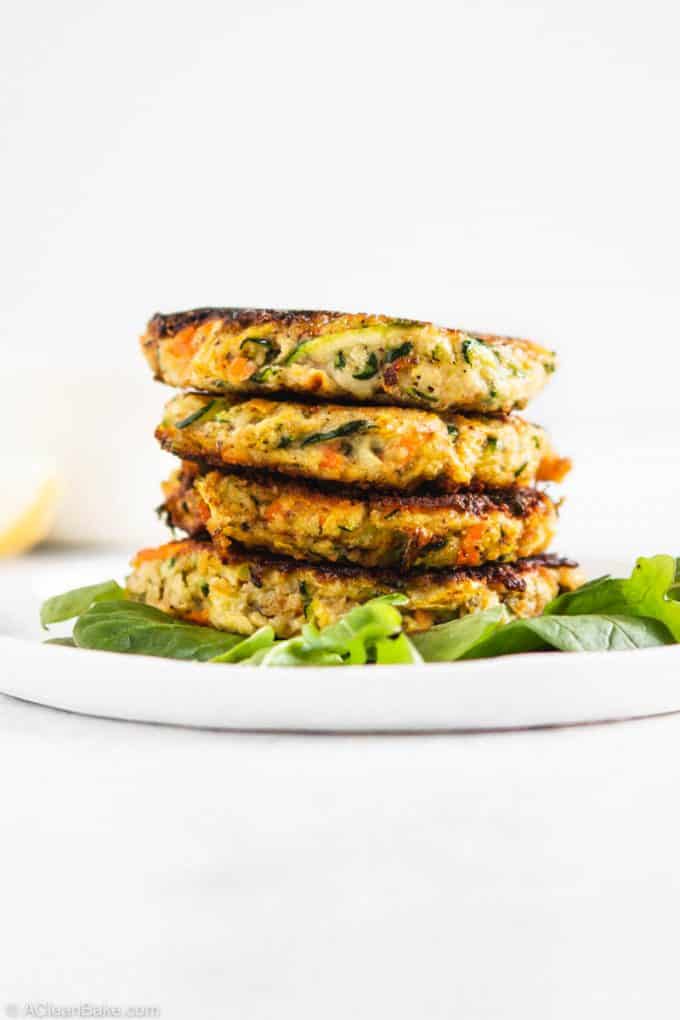 Second, make sure you're using the right oil and the right amount of it. I love (LOVE!) olive oil in my kitchen, but you'll notice the recipe calls for avocado oil for frying. Why? The smoke point (which is exactly what it sounds like) of olive oil is around 400 degrees, while the smoke point of avocado oil is closer to 500 degrees, or higher. I recommend using avocado oil for frying these since the pan will be quite hot and stay that way for a long time, which is a perfect storm for smoking up your kitchen, setting the fire alarm off, and making every dog in the neighborhood go bananas.
As for how much oil to use, do not skimp – especially if you're using the cast iron or stainless steel pans I recommend. Both of those pans need a sufficient fat barrier between the cooking surface and the food in order to prevent the food from gripping the metal and hopelessly sticking. You'll know you have enough oil when the bottom of the pan shimmers, and don't forget to replenish the oil in the pan between batches of fritters. Don't worry about your fritters getting too greasy; you'll drain any excess oil by laying them on a paper towel for a few minutes before you eat them.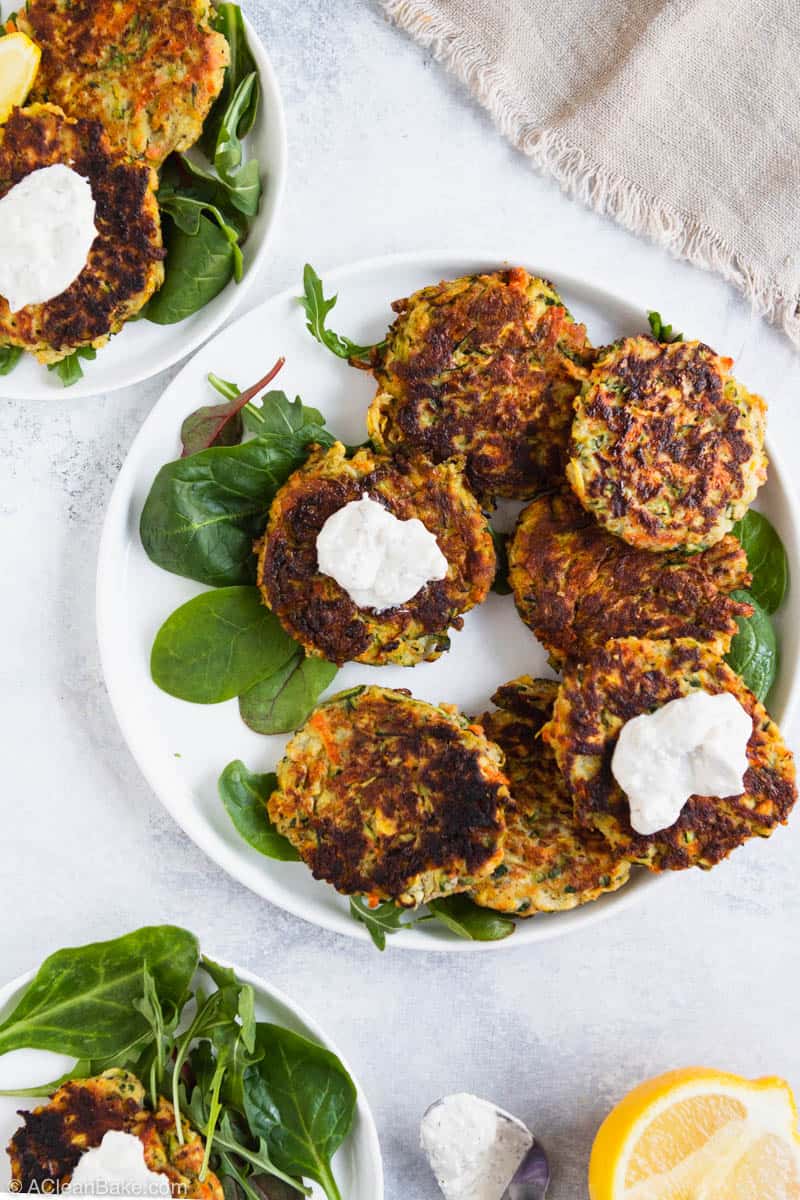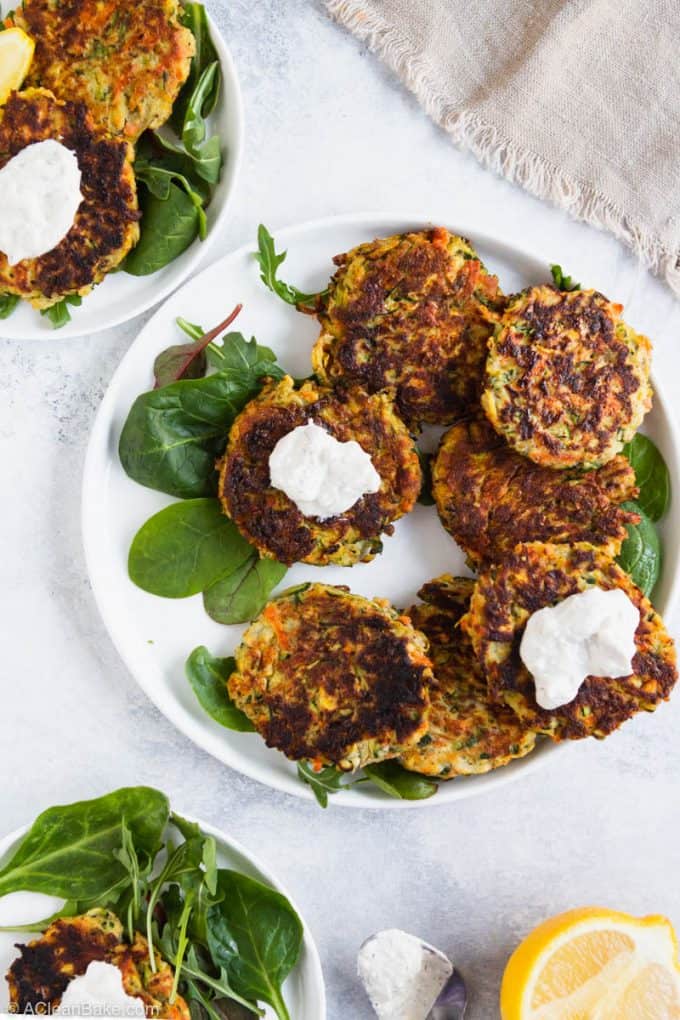 How to make these nut free
In order to make the fritters nut free, you will need to replace the almond flour with something – obviously.
If all you have on hand is coconut flour, you can use a little more than the recipe calls for. So, omit the almond flour and use 3-4 tablespoons total of coconut flour (the original 2 in the recipe, plus 1-2 more). Let the batter sit 5 minutes, then determine if you need any more. The mix should still be a little wet, but should hold together when you press a palmful of it into a ball, then flatten it slightly into a fritter.
If you happen to have cassava flour on hand, this might work a little better than an all-coconut flour fritter. Use the original 2 tablespoons of coconut flour that are called for in the recipe, and then add 2-3 tablespoons of cassava flour (or as needed; try the test I laid out above) in place of the almond flour.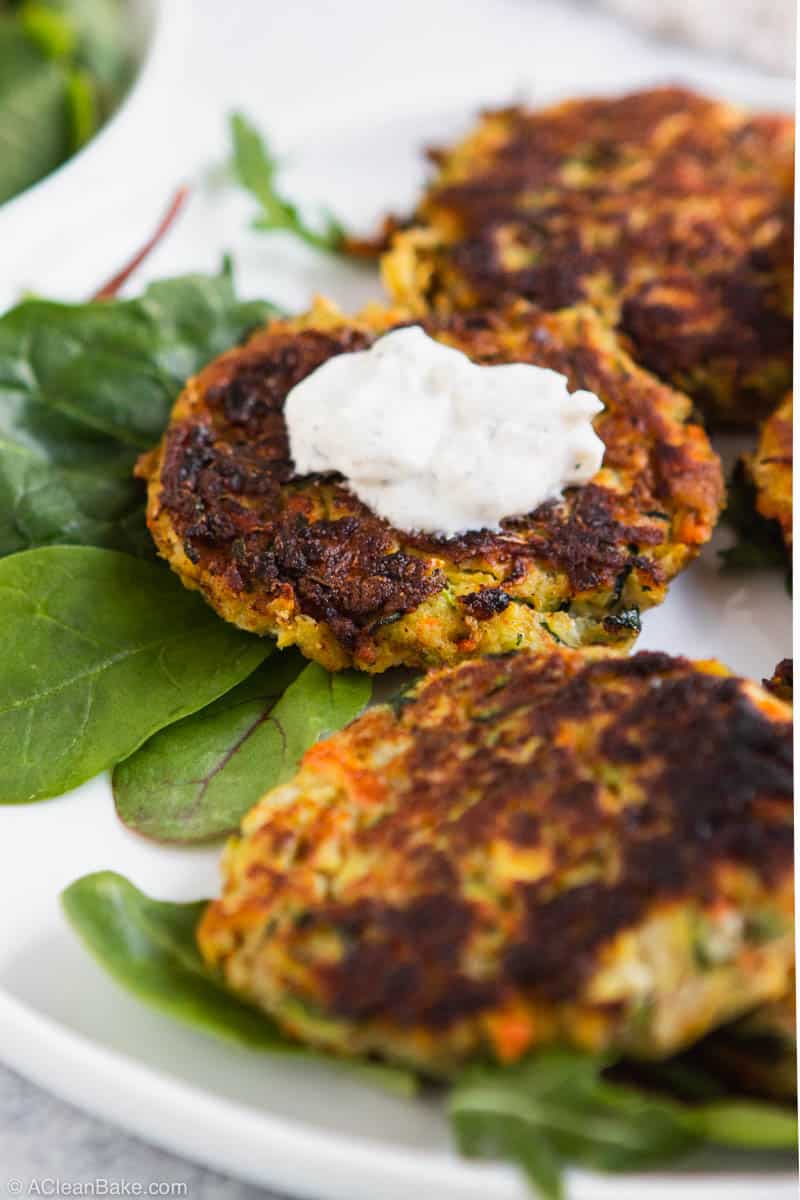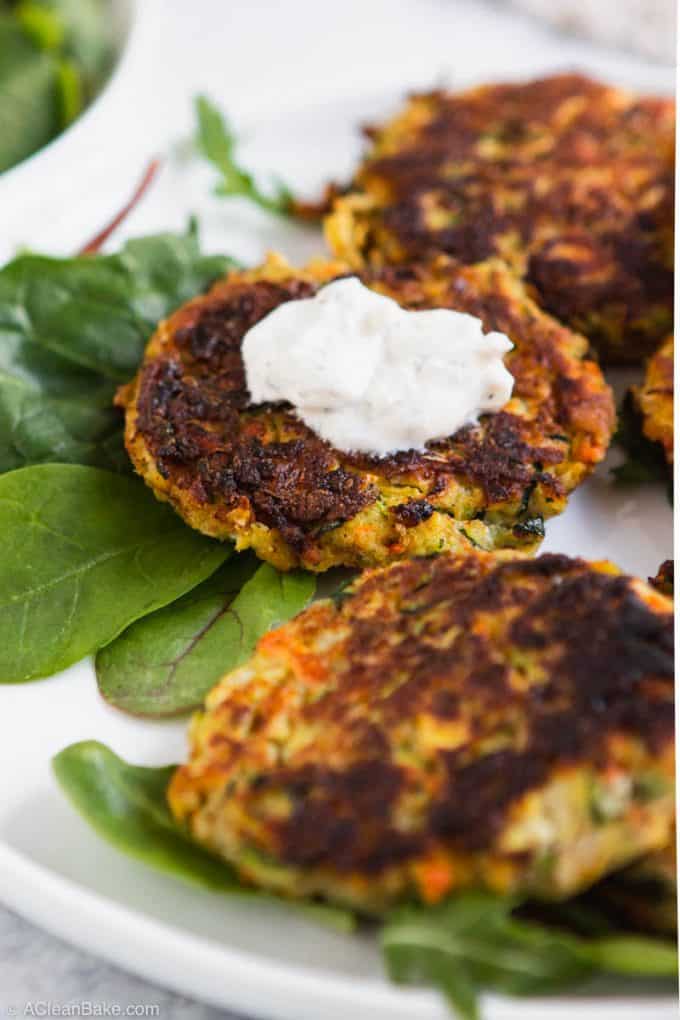 How to make these egg free
I get this question a lot, which is why I am addressing it. Unfortunately, I don't have a perfect replacement for the eggs in this recipe. They act as a vital binding agent; as they cook, they stabilize the structure of the fritter, preventing it from falling apart after it's cooked.
Flax eggs or chia eggs, while a convenient replacement, just don't have the same strength that an egg does when it comes to binding. If you've tried replacing the egg in any of my baked recipes, you know that they come out delicate and crumbly – too much so.
Since the success of these fritters depends so critically on successfully binding together, I'm reluctant to advise you to leave the eggs out. Without something to hold them together well, these fritters turn into a doughy hash which is, let's face it, not super appetizing. If you have a reliable egg replacement that you trust, feel free to use it. But I have not tested this recipe with any egg replacements, so I can't guarantee that it will work well.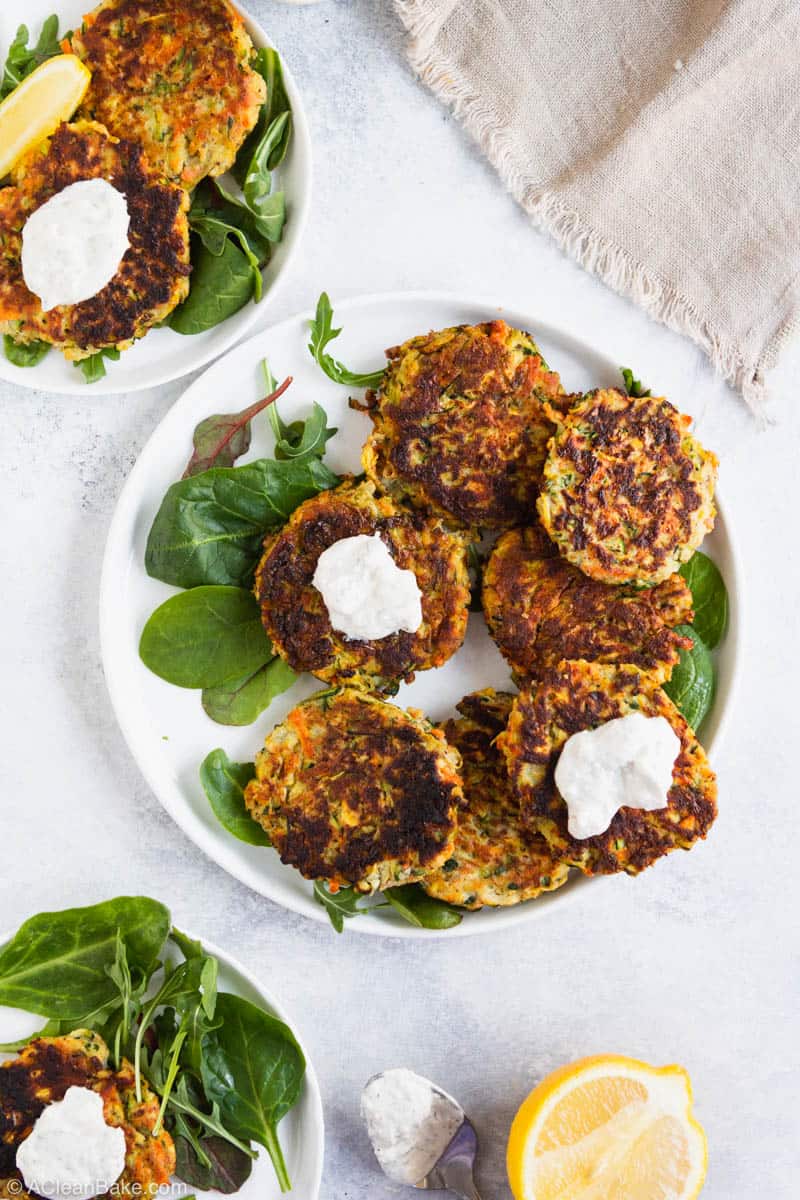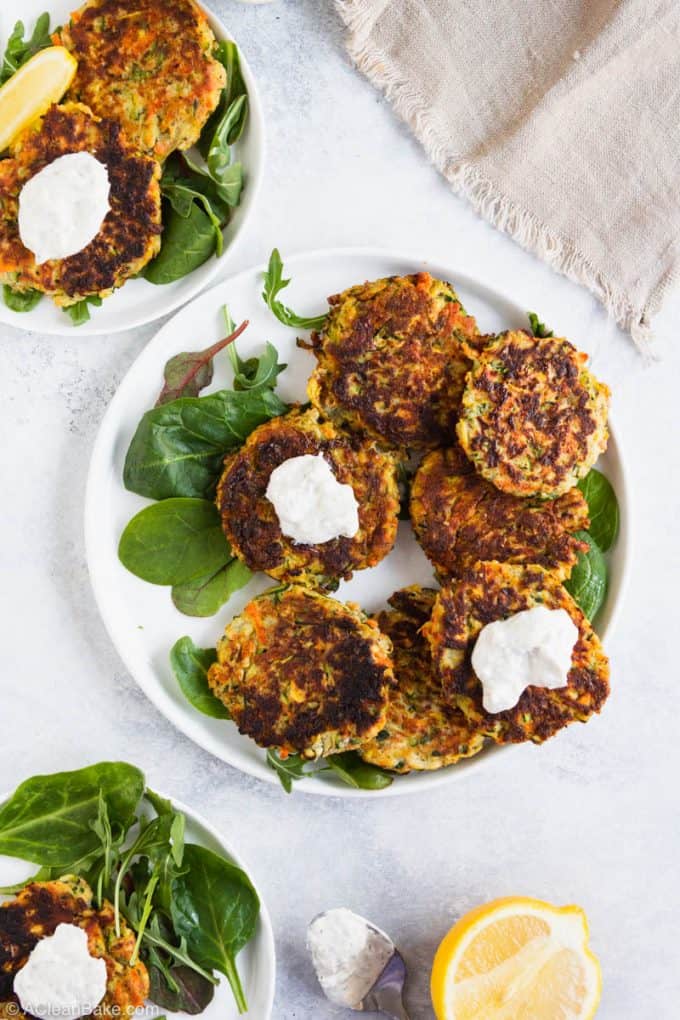 How to serve the fritters
These fritters are best fresh from the pan, after a few minutes sitting on a paper towel to drain the excess oil.
While they're draining, you have just enough time to whip up an easy dipping sauce made from Greek yogurt, feta cheese, lemon juice, dill, salt, and pepper. If you need to stay dairy free, use your favorite vegan plain yogurt, skip the feta, and increase the salt to taste.
Once the fritters are drained, but still warm, pile them on your plate and top with a generous dollop of the dipping sauce to enjoy. They make a very nice light dinner on their own, but if you're looking for something a little more filling, they pair really well with my chicken shawarma!
If you want to make them ahead of time, cook them until they're just barely brown, and store in the fridge. Then heat and brown them in the pan before you're ready to serve. They also make great leftovers; reheat in a pan or in the microwave before you dig in!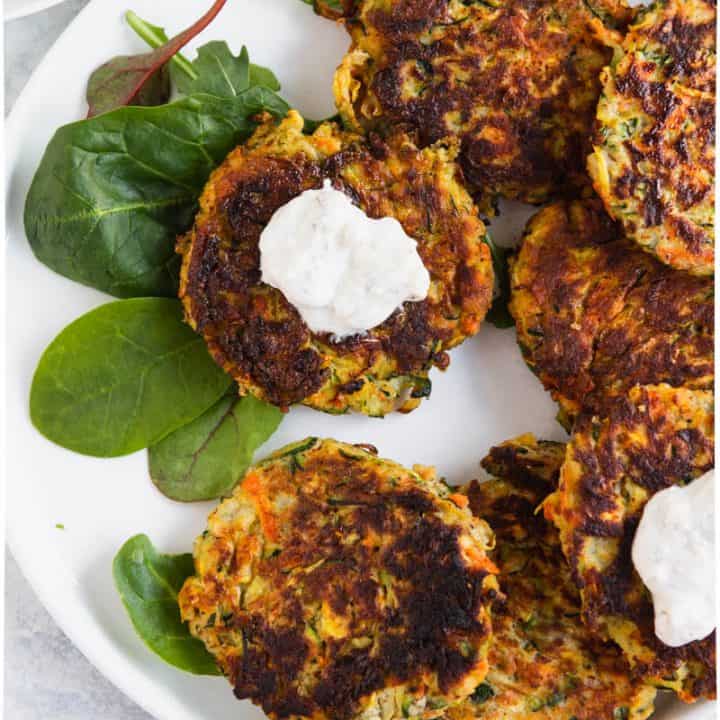 Veggie Fritters
Paleo gluten free vegetable fritters are a quick, easy, and flexible way to eat your veggies. Pan fried until crispy, these low carb fritters are so satisfying – and kids love them too! Each of these fritters packs a full 1/3 cup of shredded carrots, zucchini, and yellow squash, making it easier than ever to get your daily veggies!
Ingredients
Ingredients for the fritters
3 1/2 cups shredded zucchini, carrots, and summer squash, (see note)
1/3 red onion, shredded (about 1/4 cup)
1/2 teaspoon fine sea salt
2 large eggs, lightly beaten
2 tablespoons fresh parsley, minced, or 1 1/2 teaspoons dried oregano
1/2 teaspoon granulated garlic
Rounded 1/4 teaspoon cumin
1/4 teaspoon chili powder
1/4 teaspoon black pepper
1/4 cup blanched almond flour or 2 tablespoons cassava flour for nut free
2 tablespoons coconut flour
2-4 tablespoons avocado oil,, for frying
Ingredients for the dipping sauce
1/2 cup plain Greek yogurt (see note for Whole30 variation)
1/4 cup finely crumbled feta cheese
2 Tablespoons lemon juice
1 teaspoon dill, (fresh or dried)
1/2 teaspoon cracked black pepper, (or to taste)
1/4 teaspoon fine sea salt, (or to taste)
Instructions
Make the fritters
Line a large mixing bowl with a clean kitchen towel.
Combine the shredded zucchini, carrots, squash, and onion in a large mixing bowl. Sprinkle with salt, toss, and set aside for 5 minutes.
When the 5 minutes is up, gather the ends of the kitchen towel to wrap the vegetables, and squeeze out as much of the moisture as you can.
Turn the drained vegetables out into the mixing bowl. Put the towel aside.
Stir in the eggs, parsley (or oregano), garlic, cumin, chili powder, and pepper.
In a small bowl, whisk together the almond flour and coconut flour.
Stir the flour mixture into the veggie, egg, etc., mixture until evenly distributed. Set aside for 3 minutes to allow the coconut flour to absorb some moisture.
Preheat a large frying pan, then add 2 tablespoons of oil.
While the oil heats, scoop 3-4 tablespoon portions of fritter batter and shape into a thick disk.
Add fritters to the hot pan, being careful not to crowd them. Leave about 2" between fritters.
Cook until the bottoms are golden brown, then flip and cook through.
Cover a plate with a paper towel, and move the cooked fritters out of the pan onto the prepared plate to drain excess oil.
Heat up 1-2 more tablespoons of oil to the pan (if necessary, use less if lots of oil is left over from the first batch), and cook the remainder of the fritters, flipping them when the bottom side turns golden brown. Move them to the lined plate to drain once they are cooked through.
While the fritters are cooling and draining, make the dipping sauce.
Make the dipping sauce
Mix together the yogurt and the feta cheese until well combined.
Stir in the remaining ingredients.
Adjust seasonings to taste.
Serve
Serve fritters, warm, accompanied by the dipping sauce.
Notes
3 1/2 cups of veggies is about two medium carrots, one medium zucchini and one medium yellow squash. Trim all the vegetables, and peel the carrots before you shred them. 
If you'd like a milder onion flavor, replace the red onion with white or sweet onion, which will not be as pungent. 
For Whole30 compliant sauce: replace the Greek yogurt with dairy free and skip the feta cheese. Increase the salt to taste.
Recipe adapted from TheRealFoodRDs.com
Nutrition Information:
Yield:

10
Serving Size:

1
Amount Per Serving:
Calories:

127
Total Fat:

9g
Saturated Fat:

2g
Trans Fat:

0g
Unsaturated Fat:

7g
Cholesterol:

41mg
Sodium:

221mg
Carbohydrates:

7g
Fiber:

2g
Sugar:

3g
Protein:

5g