Easy to make and impossible to stop at just one slice, this paleo and gluten free Irish soda bread isn't just for St. Patrick's Day. You'll love it all year round!
Need to avoid nuts or eggs? Click here for a gluten, dairy, egg, and nut free Irish Soda Bread.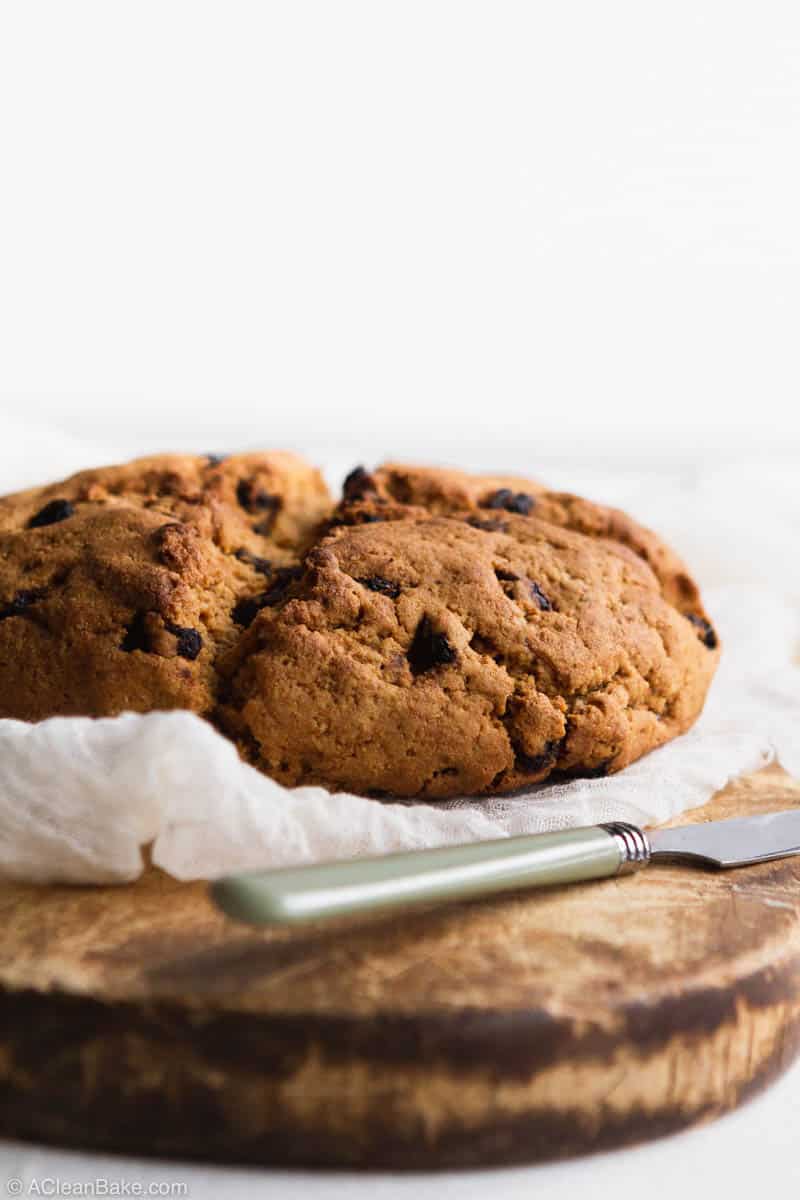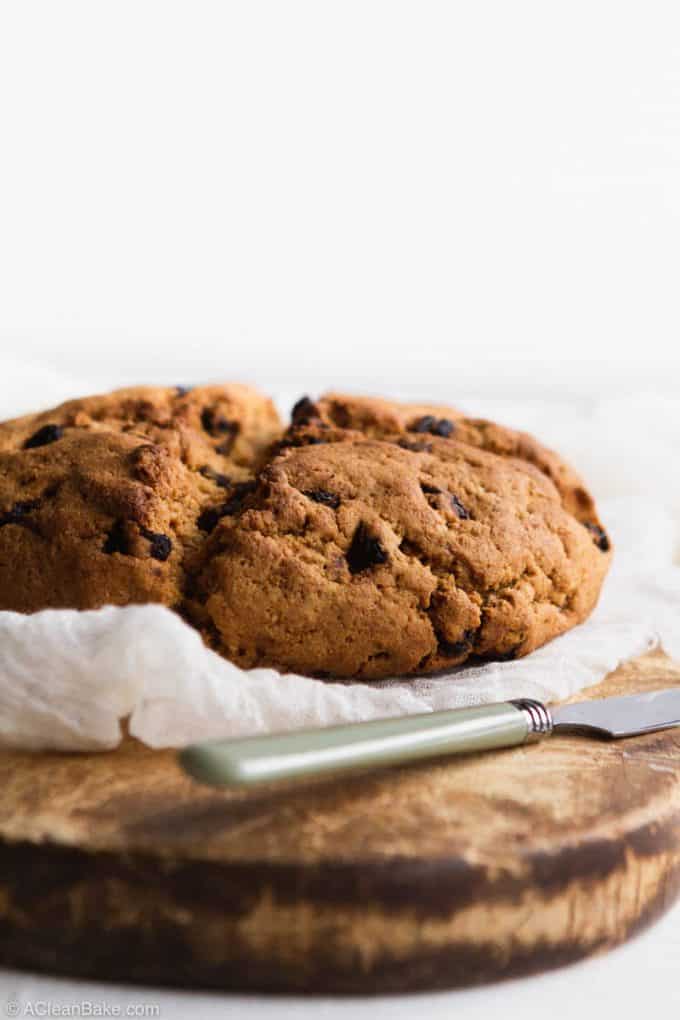 When it comes to posting festive, seasonally appropriate recipes at precisely the right time for you to see them, bookmark them for the upcoming holiday, make them, the post them on Instagram, food bloggers are incredibly on the ball, don't you think?
They post cookies just when the thought of tree-trimming first starts to dawn on you. They're ready with tri-color trifles at the perfect interval before the Fourth of July.
And then there's me, coming to you with an Irish soda bread recipe at the 11th hour! Just trying to keep things interesting, I suppose.
I mean, in fairness, I've been in LA all week, was sick the week before, and you still have more than 24 hours to make this recipe before the leprechauns swoop in, or whatever happens on St. Patrick's Day (I'm not Irish. What tipped you off?).
If you haven't made your loaf yet, please oh please don't give in a run to the store. A little extra effort to make a homemade quick bread is 100% worth it.
How is Irish Soda Bread Made?
Conventional Irish soda bread is nothing more than all purpose flour, sugar, baking soda, buttermilk, and a few other simple ingredients.
But Irish soda bread is (obviously) not naturally gluten free. You could make any conventional recipe into a gluten free irish soda bread recipe by subbing all purpose gluten free flour for the all purpose (wheat) flour, but gf flour blends contain lots of grains, plus stabilizers like xanthan gum or guar gum that you may not tolerate well. I know I don't.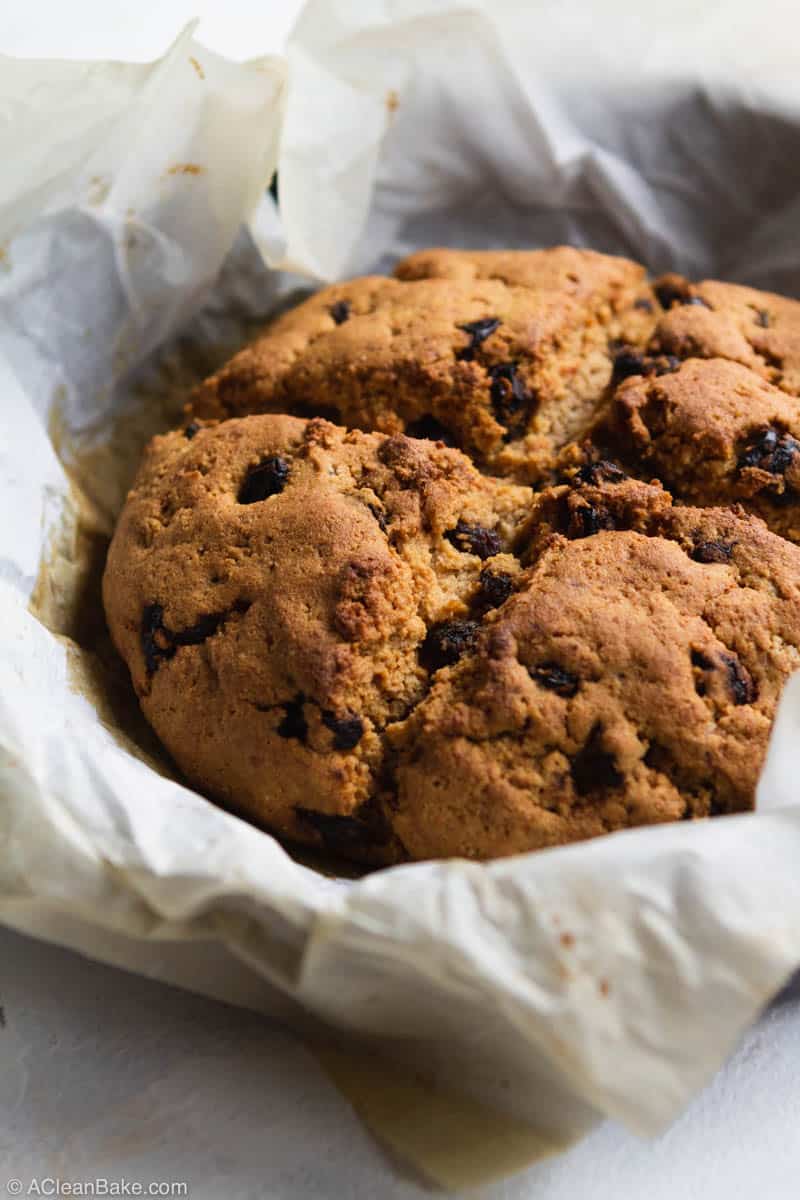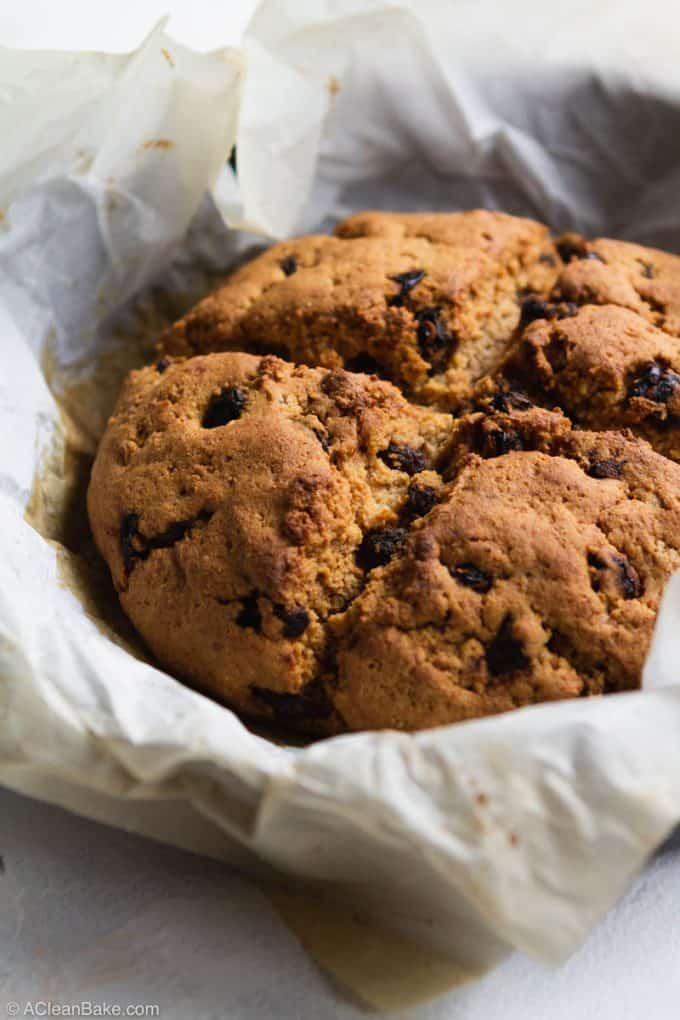 How to Make Paleo and Gluten Free Irish Soda Bread from Scratch
To convert the recipe to a gluten free and paleo version requires subtle (?) changes that took many, many tries to get just right but now that I've done the hard part for you, you will barely be able to tell the difference.
This recipe contains almond and cassava flours, baking soda, maple sugar, cream of tartar, sea salt, almond milk, vinegar, grass fed butter (or coconut oil, if you want to make this dairy free) and eggs. Oh, and raisins, of course!
The Skinny on Cassava Flour
Rather than a commercial gluten free flour blend, which is usually grain based, I use almond flour and cassava flours to achieve the texture of gluten free grains without the grains (not to mention the xanthan gum that these blends usually contain, which I don't tolerate well – and I know many of you don't, either).
Cassava flour is derived from the root of the starchy yuca plant. Actually, it's the whole root, which is dried, and ground into an ultra-fine powder.
It is similar to tapioca flour (which is also derived from the yucca root, although processed differently), except that tapioca flour tends to produce a slightly more gummy final product, whereas cassava flour has a bread-ier consistency when hydrated and baked.
(Although I don't advocate for replacing wheat flour 1:1 with any grain-free flour – regardless of what the package optimistically suggests – if you were forced, cassava is the flour that is closest to wheat and could probably be subbed (almost) 1:1. )
Additionally, many people who say they don't tolerate tapioca well have less trouble with cassava flour.
I do not recommend replacing the cassava flour with tapioca or any other flour, because it is the key to the authentic bread-y texture in this recipe.
I used and recommend Otto's Naturals Cassava Flour, which you can get in the baking aisle of Whole Foods, other health food stores, and online. This isn't sponsored, by the way. It's just the brand I use and like.
More on Maple Sugar
Maple sugar is exactly what it sounds like: a sweetener that is made when maple syrup is concentrated, dried, and granulated.
It has a similar sweetness to coconut sugar, although without the rich, bold, caramel-y flavor that coconut sugar lends to a recipe. Nor does it have the dark color, though, which is why I like it here.
I don't use it often, because it is quite pricey (especially compared to more reasonably-priced coconut sugar) but in this case, it is worth it. The last thing you want is for the light, pleasantly salty bread to be overpowered by a dark, rich, caramel flavor and color. Maple sugar gently, subtly sweetens this bread without making itself the star – just what we want, so that the soda can shine.
You can usually find maple sugar in the baking aisle of Whole Foods, but I always get it on Amazon. Get the smallest bag you can find. A 3-ounce bag (which is more than enough for this bread!) runs about $7 on Amazon. The brand I've linked is my favorite, for its flavor, texture, and consistency. I highly recommend getting that one (again, this is not sponsored!), even though other brands may be cheaper.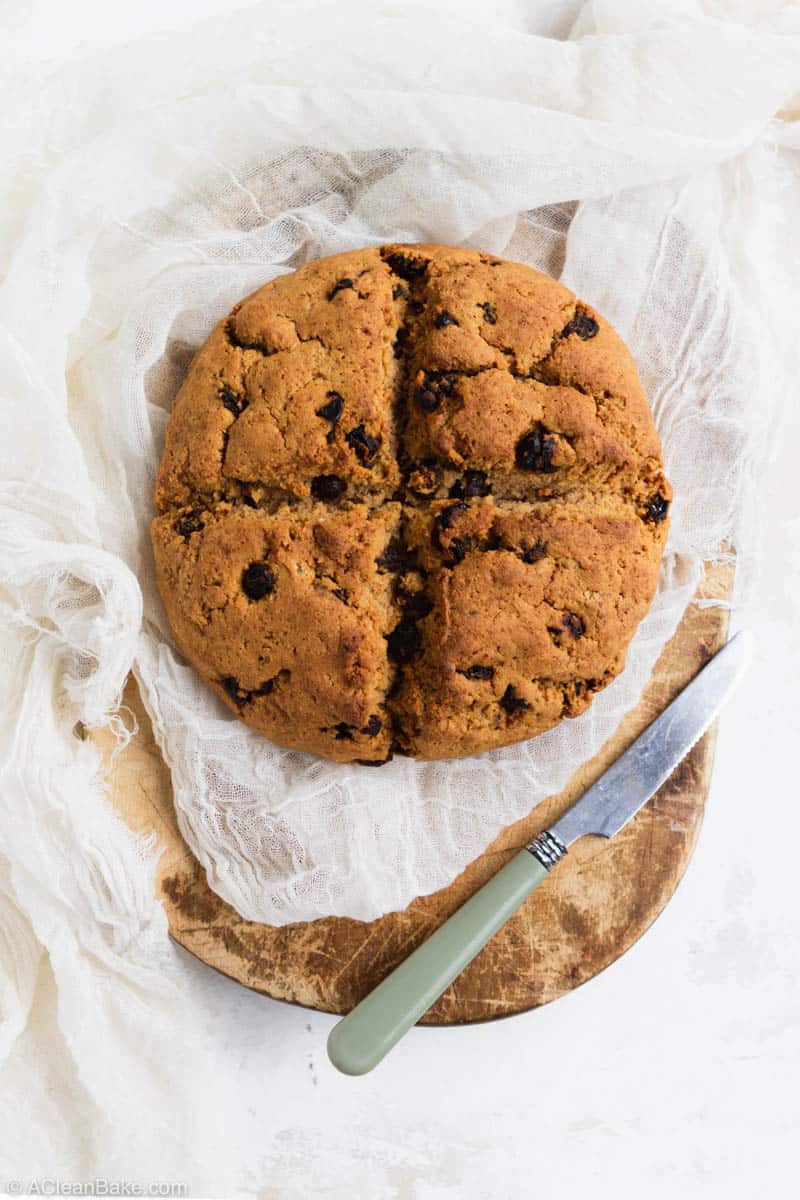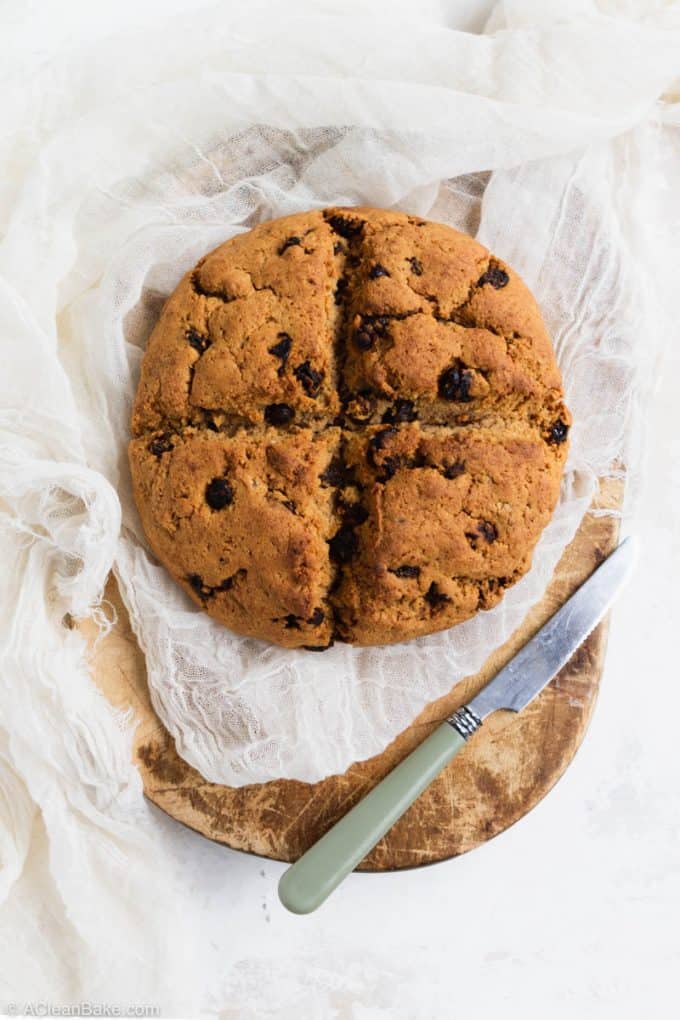 A Word about Cream of Tartar
Cream of tartar is not a specialty ingredient, although you don't often see it used in my recipes. It's essential for this heavy bread (remember: almonds are not light!) to rise.
Do you remember what causes rise? Assuming you're talking about a baking soda rise, it occurs when the pH basic baking soda reacts with an acid in the batter. In this case, the acid comes from both vinegar and cream of tartar, and you do need both to make sure the bread rises and those seams burst open (a hallmark of a good soda bread!).
About that rise: Does Irish Soda Bread Contain Yeast?
No, Irish Soda Bread (Gluten free or conventional) does not contain yeast. The origin of soda bread is a basic, no-frills bread in a time when yeast was too expensive for many people in Ireland.
Instead, it is leavened with baking soda, as the name suggests, and an acidic ingredient. Sour milk, or buttermilk, is traditionally the ingredient that provides the acidity (remember, baking soda + acid = rising reaction), but in this recipe, we use non-dairy milk mixed with vinegar, which is a dairy-free version of homemade buttermilk.
Some recipes will use baking soda and baking powder to achieve this rise, but I avoid baking powder since commercial versions often contain cornstarch, which many of you don't tolerate. Some of the baking soda reacts with the cream of tartar (Baking powder is basically baking soda + cream of tartar anyway) and the rest reacts with the vinegar. So don't skip either of these important sources of acid.
Because this recipe doesn't contain many of the typical structural ingredients that hold up a high rise, like gluten or xanthan gum in gluten free bread (the ingredient is included in many gluten free all purpose flour blends), this won't be a sky-high loaf. But with the combination of baking soda, cream of tartar, and vinegar, it will rise just enough.
Cream of tartar is easy to find in the spice section of any major grocery store.
Raisins or currants
Irish soda bread purists may express, let's say, concern that this bread is studded with boring, pedestrian raisins rather than currants. Plus, it lacks caraway seeds altogether!
The horror!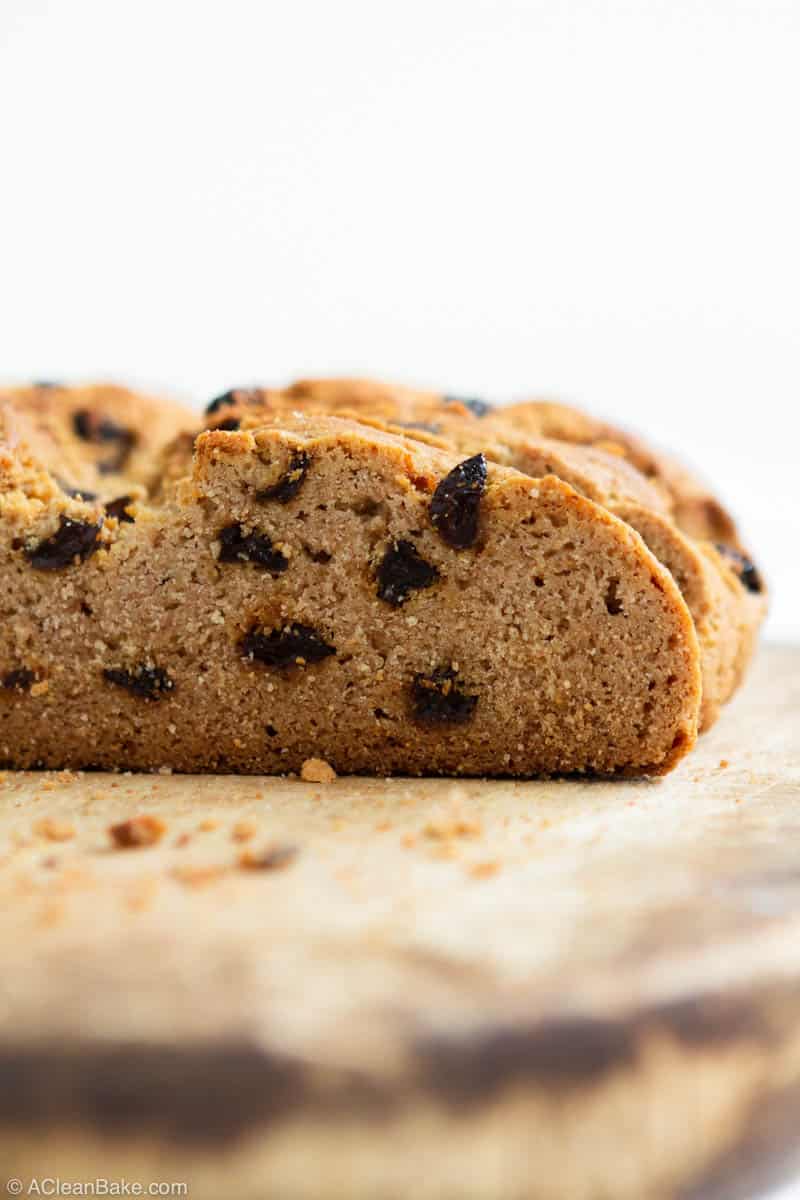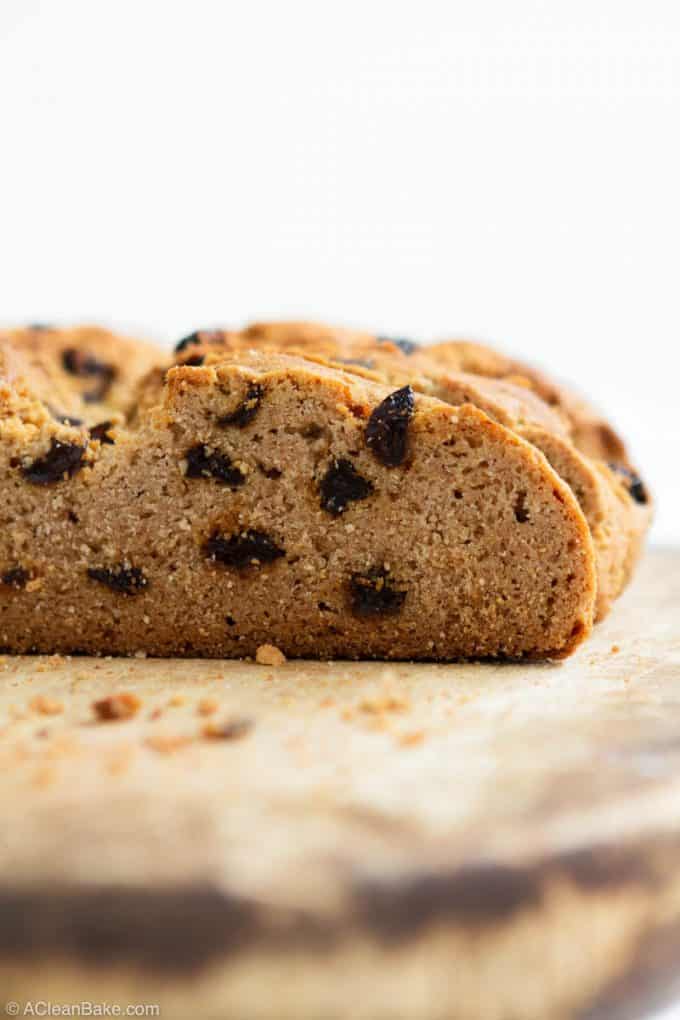 Why raisins? Well, they're cheap and easy to find. I didn't want to search all over the place to find currants, but I'm pretty sure the have them in the bulk bins if you really have your heart set on a gluten free Irish soda bread made with currants. Just sub them for the raisins.
As for the caraway seeds, I think they're weird in Irish soda bread, so you're on your own there. ????
How to Make Your Own Loaf of Paleo and Gluten Free Irish Soda Bread
You may be thinking "Bread is hard. Bread is time consuming. How dare she give me this recipe so late in the game!" but hear me out.
This bread only requires you to mix all of the ingredients together in a large bowl while you preheat the oven, shape the loaf in a cast-iron skillet (or another oven-safe pan), and bake it to perfection. It really is that easy.
Here are a few tips and tricks to make sure your loaf is a success:
Whisk the dry ingredients slowly. You don't want to agitate them too much.
Let your melted butter (or coconut oil) cool slightly before you mix it with the eggs. If the butter (or oil) is too hot, it may risk cooking the eggs. You'll know that your butter is cool enough if you can comfortably hold your fingertip in the butter for a count of ten.
Some traditional Irish Soda Bread recipes have a slightly orange-ish flavor. If you'd like a hint of orange in your bread, add 1 tablespoon of orange zest (about half of the zest of a large orange), or to taste.
How to freeze Paleo and Gluten Free Irish soda bread
It took me awhile to get this recipe right and while I love the iterative process of creating a perfect, you'd-never-know-it's-grain-free version of a favorite treat, what I don't love is the overwhelming number of leftovers.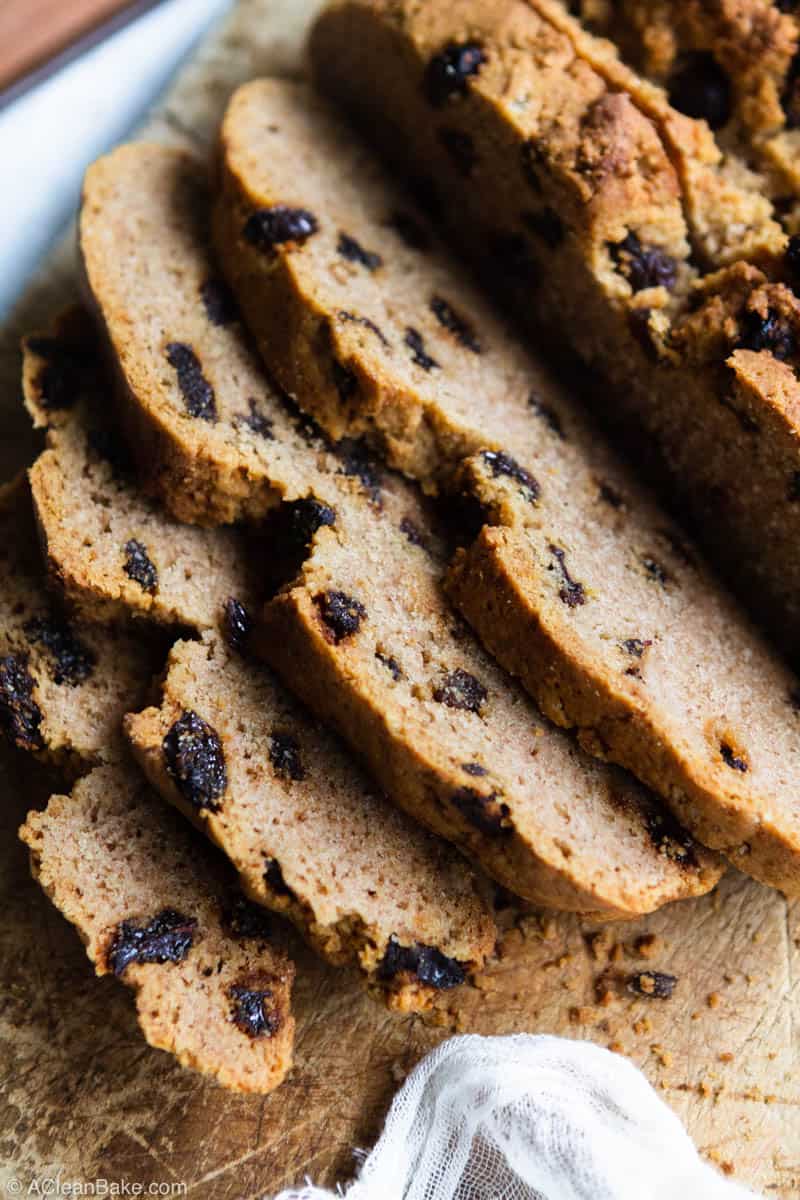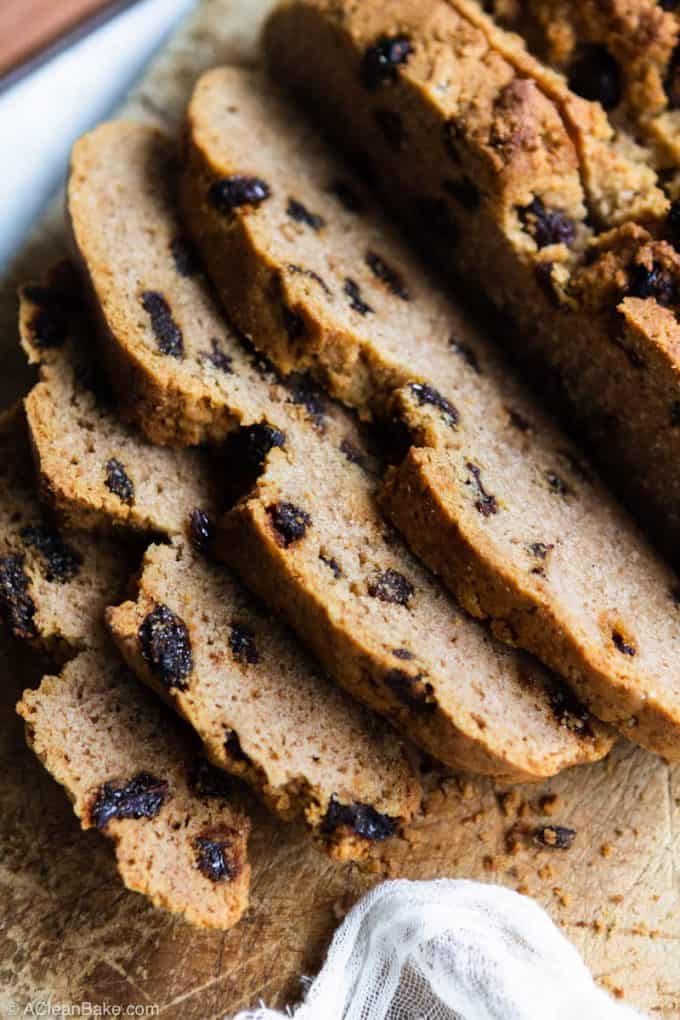 Thank goodness for my freezer! I have frozen about 5 loaves of this bread because, despite eating it as fast as we can, there was so much.
For best results:
Bake the bread according to the recipe. Then, Cool the fresh bread completely, meaning it has come to room temperature all the way through the loaf. This will take 3-5 hours.
Once you are confident that the loaf is completely cool, wrap it very tightly in two layers of plastic wrap.
Put the wrapped loaf in a zip top bag. Squeeze all of the air out as you seal the bag.
Optionally, you can label the bag with the name of the recipe and the date you baked it.
Freeze for up to three months.
When you're ready to defrost it, let it come to room temperature in the bag, unless you see any frost or freezer burn on the loaf. If you see any ice on the loaf, use the back of a knife to gently scrape it off, and defrost the loaf on the counter, uncovered.
Once the loaf is defrosted, slice, warm, and enjoy.
Don't be afraid to make more than one loaf and save it. Irish soda bread might be known in the US as a St. Patrick's Day treat, but various soda breads are a normal part of a basic Irish meal in Ireland. When my husband was there several years ago, he ate some kind of stew with a generous hunk of Irish soda bread on the side for practically every meal!
So, even though I'm not giving you much notice to make this before St. Patrick Day, don't forget to bookmark this recipe for the rest of the year. It makes a wonderful breakfast, or a nice compliment to a hearty comfort food dinner!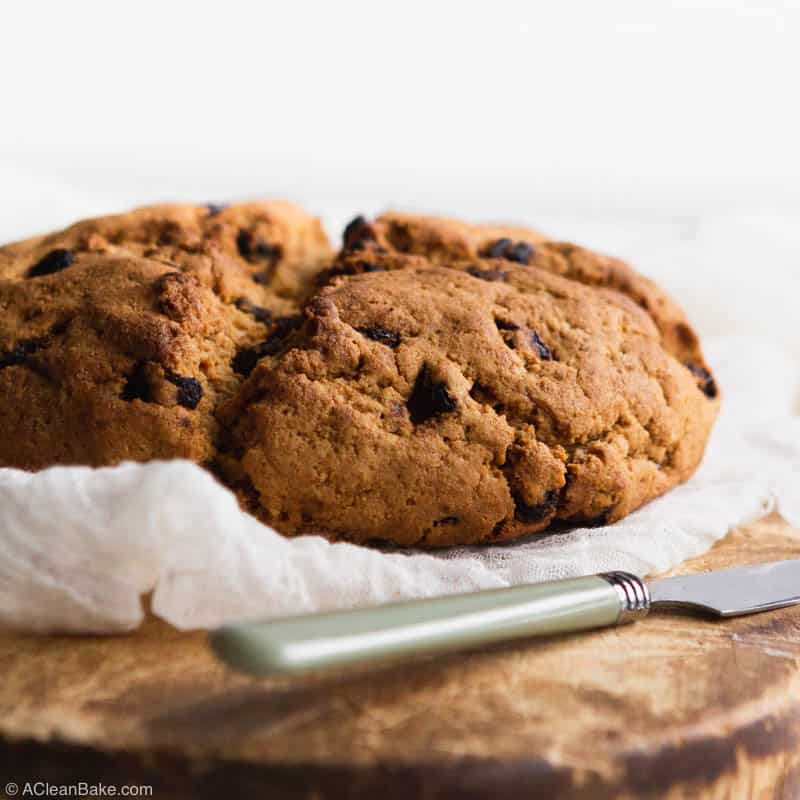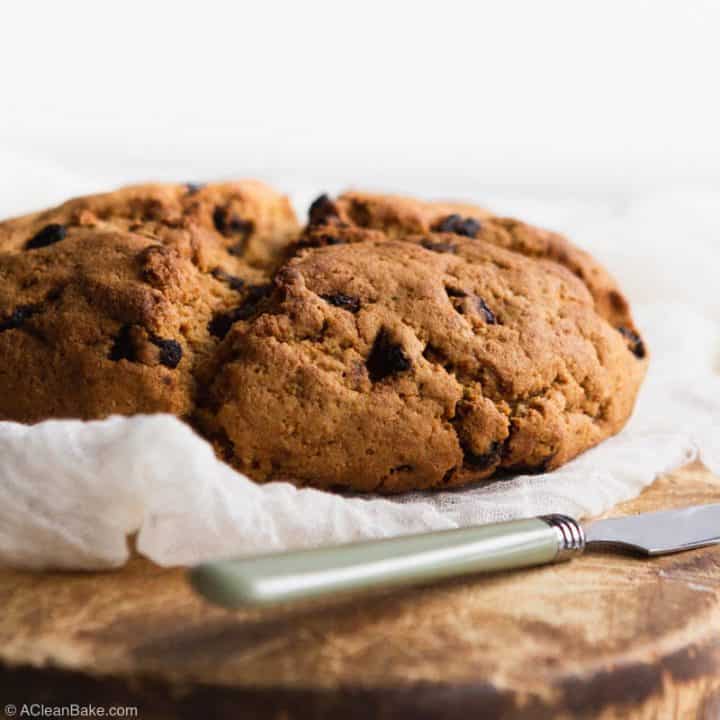 Paleo & Gluten Free Irish Soda Bread
Easy to make and impossible to stop at just one slice, this paleo and gluten free Irish soda bread isn't just for St. Patrick's Day. You'll love it all year round!
Ingredients
2 large eggs
6 tablespoons milk of choice
Instructions
Preheat the oven to 400. Press a large square piece of parchment paper into an oven-safe 10" cast iron pan or dutch oven. Use a pie plate if you have neither type of pan.
In a large bowl, whisk together the almond flour, cassava flour, maple sugar, baking soda, cream of tartar, and salt.
Stir in the raisins, being sure to break up any clumps so each individual raisin gets coated in the flour mixture.
Set aside.
In a medium mixing bowl, whisk the eggs, then whisk in the butter (or coconut oil), milk, and vinegar.
Pour the wet (eggs, etc.) mixture into the dry (flours) mixture and stir until it forms a wet dough that looks like a thick batter.
Use a spatula to gather the dough into a ball, and turn the ball of dough into the prepared pan.
Use your hands to shape the dough into a tall sphere. If the dough is craggy, use moistened palms to flatten it so it looks smooth all over.
Use a pastry cutter or chef's knife to criss-cross two deep scores in the loaf, like an "x".
Put the loaf into the oven and immediately reduce the heat to 350F.
Bake for about 40 minutes or until the top is golden brown and the loaf is firm, but slightly springy when you press down with your fingertip.
Allow to cool in the pan for 10 minutes before transferring to a wire rack to cool completely.
Notes
I don't use maple sugar often because it is more expensive and harder to find than coconut sugar. I highly recommend trying to find it for this recipe though, for its milder flavor and lighter color. A small bag is available on Amazon for $7-$8. If you must, you can replace it in this recipe with coconut sugar, but it will slightly change the color and flavor of the bread.
When you turn the dough into the pan, it should stick together. Although the dough will be fairly wet, it should be more of a wet dough than a batter (i.e. it should stick together). If it is so wet that it doesn't come together into a sticky ball, stir in 1-2 tablespoons of additional cassava flour until it does.
For a more authentic bread, replace the raisins with dried currants.
If you use coconut oil instead of butter, your loaf may brown slightly more than if you use butter.
Store leftover bread in an airtight container at room temperature for up to 5 days. After an overnight in an airtight container, expect the loaf to soften and lose its crusty edges.
To store for longer, wrap tightly in at least two laters of plastic wrap and freeze for up to three months.
Recommended Products
As an Amazon Associate and member of other affiliate programs, I earn from qualifying purchases.
Nutrition Information:
Yield:

18
Serving Size:

1
Amount Per Serving:
Calories:

156
Total Fat:

10g
Saturated Fat:

3g
Trans Fat:

0g
Unsaturated Fat:

7g
Cholesterol:

28mg
Sodium:

273mg
Carbohydrates:

14g
Fiber:

2g
Sugar:

5g
Protein:

4g
Check out more gluten free recipes for St. Patrick's Day here!