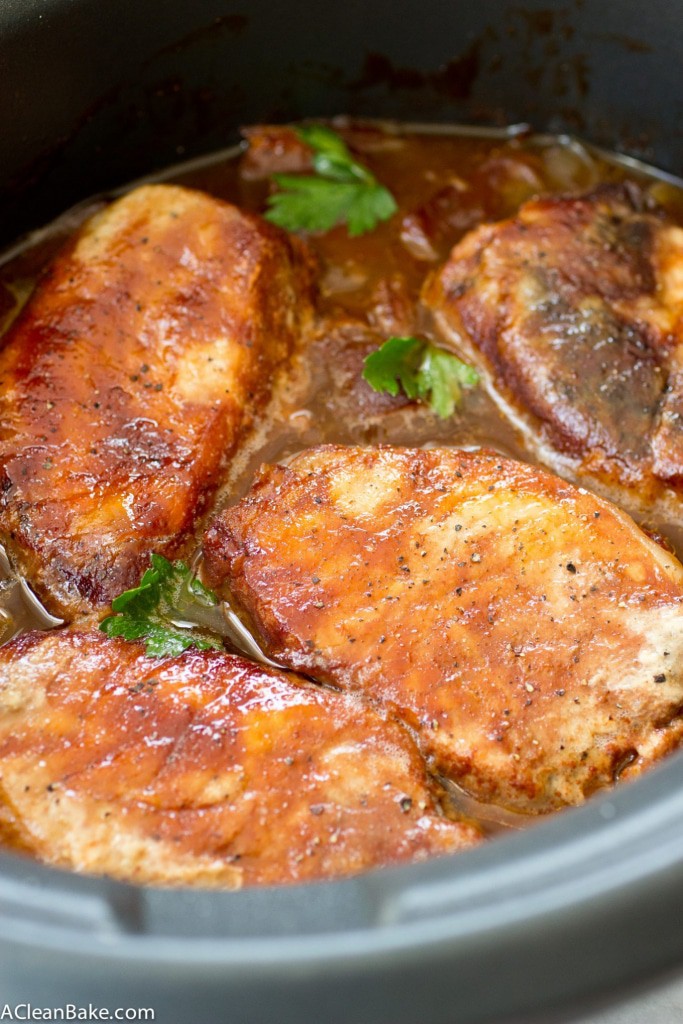 It's freezing. And it's only going to get worse. There's never a better time to break out the warm, hearty dishes than that first day that you feel the cold in your bones in a way that makes you feel like you'll never get warm (and you won't, until next July at least). I am trying to stay warm by moving around a lot. Our house has never been cleaner (yet, simultaneously, dirtier, which I know sounds like an oxymoron but, trust me, it's possible) and I managed to channel my freezing energy into about 100 pictures of this deceptively simple dish. Sorry for the visual overload.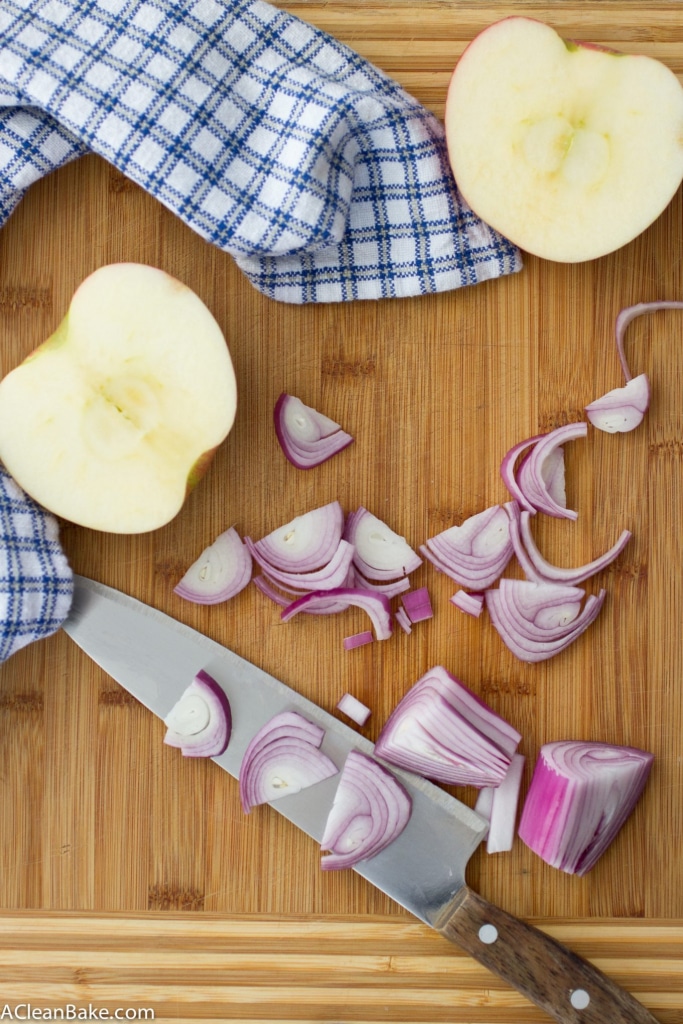 I might have taken one million pictures for my own enjoyment (and body temperature) but I made this dish for my husband, who is such a good sport about eating chicken night after night that I like to make him a different kind of meat once in awhile, even though I am terrible at cooking basically anything besides chicken or fish. Luckily, the slow cooker does most of the cooking for you in this recipe, and all you have to do is a little chopping, stirring and pouring and then sit back and wait for your oblong personal chef to do the work for you.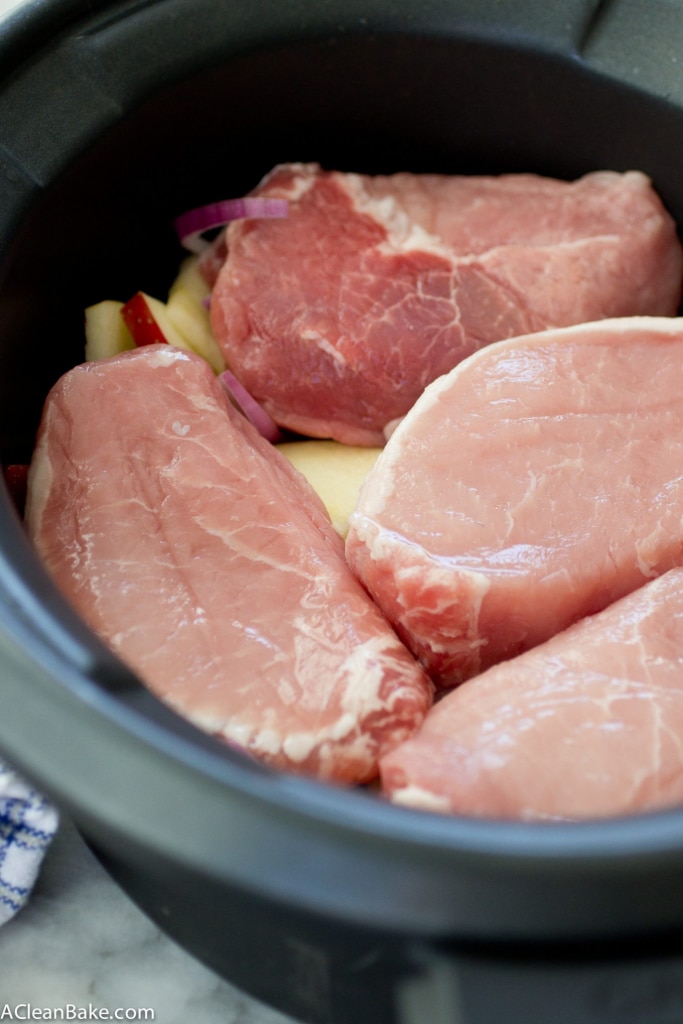 We received the slow cooker as a wedding shower gift a little over a year ago, but it's been only recently that I have really put it to good use – partly out of necessity, but also because the more I use it, the more I realize how versatile it is. In this case, it is a one-pot meal wonder, and this recipe makes several servings so you can easily set yourself up with a few meals, or a quick family-sized supper.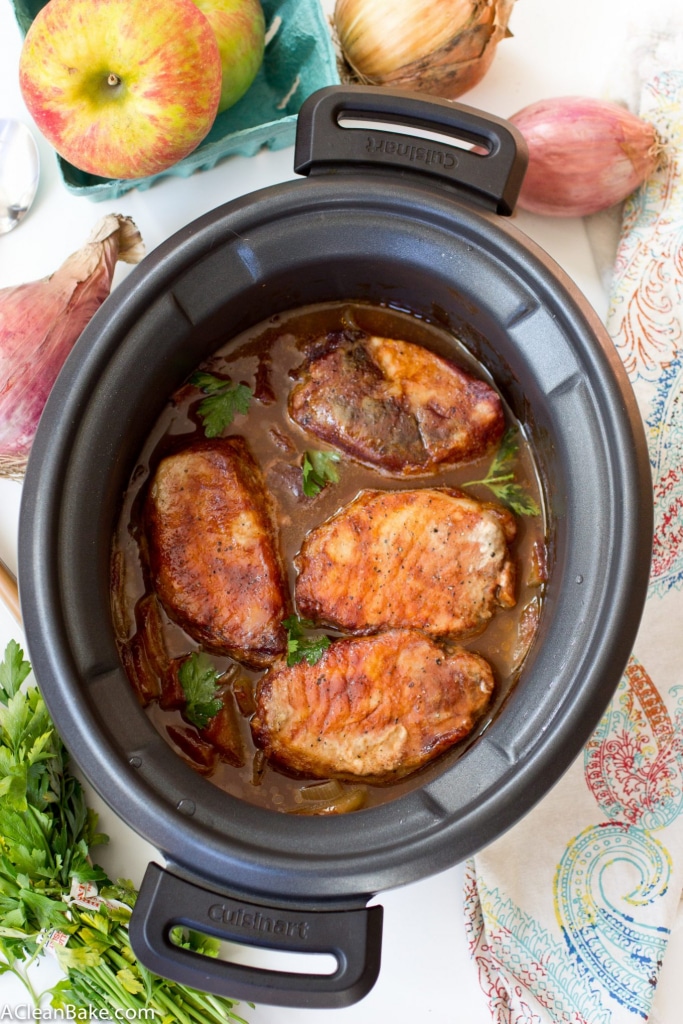 So before you toss your ingredients into the pot and walk away, I have a few tips about this recipe:
I used thick cup pork chops (from Costco), so if you use thinner ones, you'll want to reduce the baking time accordingly. My guess would be that you'll only need an hour and change instead of the full two hours of cooking time.
Don't forget that you can easily make your own barbecue sauce for this!
You can use whatever barbecue sauce you want, but if you are using homemade and it is not as thick as bottled stuff, you may want to reduce the water by a Tablespoon or so.
If you're sensitive to high sugar fruits (such as if you're on a candida cleanse or the SCD diet), you can swap in green apples (ok for candida, not ok for SCD) or red bell peppers. (Though, be aware that BBQ sauce is not going to be low-sugar).
I have tried this with both onions and shallots and you can't really tell the difference in the end, so use whatever you have on hand.
Ok, enough talk, let's eat!
Updated to add: A few readers have asked what size and model slow cooker that I used for this, because it has some bearing on cooking time. This 4-quart model is the one I use.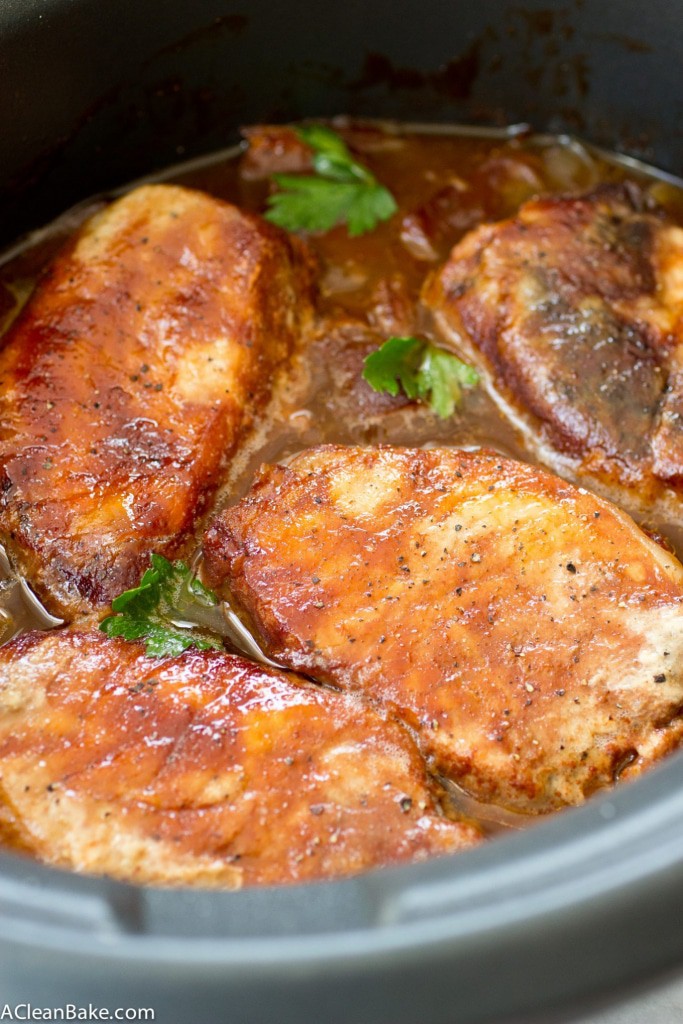 Crockpot Barbecue Pork Chops with Apples and Onions
2015-10-05 15:20:40
Ingredients
2 large or one jumbo honeycrisp (or another sweet-tart variety) apple - about .75 lbs
1 medium onion
4 large thick cut pork chops
1/2 cup barbecue sauce
1/4 cup water
Instructions
Thinly slice your apples and onions and transfer them to the bowl of a 4 quart crockpot with a high heat setting. Toss them together gently to combine and spread the mixture to cover the base of the bowl.
Place the pork chops on top of the apple and onion mixture, spacing them evenly apart from one another.
In a small bowl, whisk together the barbecue sauce and water.
Pour the runny sauce over the pork chops, making sure each one is evenly coated.
Cover and cook on high for 2 hours or until the juices run clear.
Serve immediately.
Notes
I used thick cup pork chops (from Costco), so if you use thinner ones, you'll want to reduce the baking time accordingly. My guess would be that you'll only need an hour and change instead of the full two hours of cooking time.
You can use whatever barbecue sauce you want, but if you are using homemade and it is not as thick as bottled stuff, you may want to reduce the water by a Tablespoon or so.
If you're sensitive to high sugar fruits (such as if you're on a candida cleanse or the SCD diet), you can swap in green apples (ok for candida, not ok for SCD) or red bell peppers. (Though, be aware that BBQ sauce is not going to be low-sugar).
I have tried this with both onions and shallots and you can't really tell the difference in the end, so use whatever you have on hand.
Don't forget that you can easily make your own barbecue sauce for this ---> http://acleanbake.com/crockpot-bbq-sauce/
Store leftovers in an airtight container in the refrigerator for up to 5 days.
Yield: 4 servings
A Clean Bake http://acleanbake.com/