Slow cooker pulled pork is a recipe to make an amazing meal for a crowd (or a few) with almost no effort! This version is so adaptable: you can adjust the flavor of the rub, use any barbecue sauce you want (though why wouldn't you want to make this easy, refined sugar free version?), and even use chicken instead of pork, for some variety. Make a big batch, and freeze the leftovers for another meal!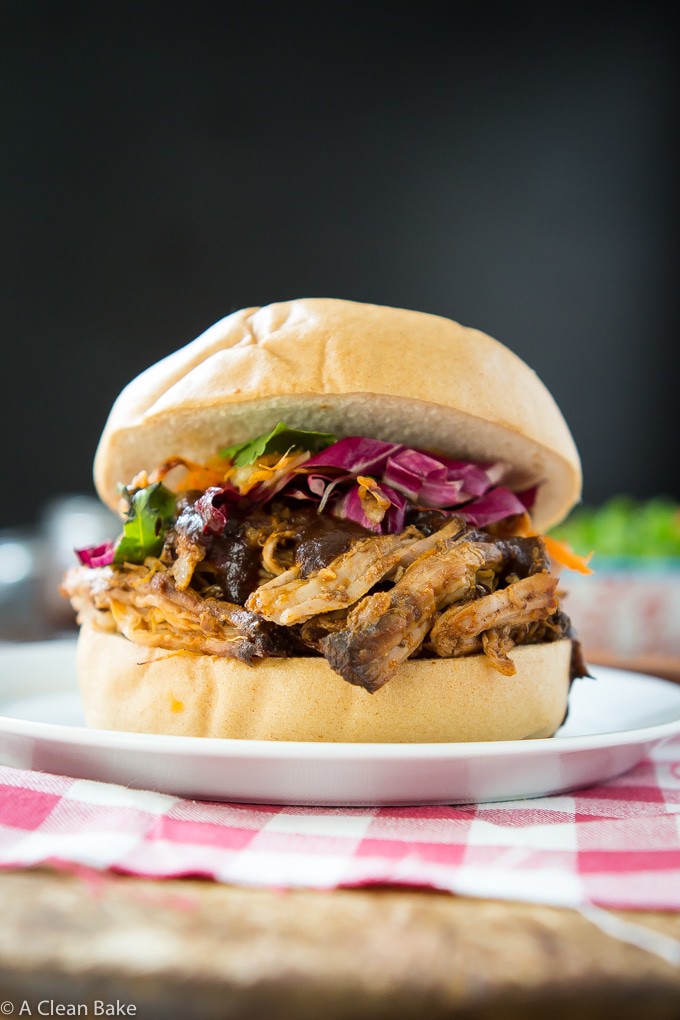 How was your weekend? Did you have Monday off? Our house had a four day weekend, and let me tell you, it was amazing. And so needed! I did some work (always) but we also cleaned the house, ran a bunch of overdue errands, started getting ready for our trip in 2 weeks, ran on the lakefront, hung out at the dog beach a little (Baby Bake loves to watch the dogs run around and splash in the water), caught up a little on sleep, watched some bad TV and movies (no and promising in theory but hard no in reality) and ate really well.
Despite all the fun and rest, the best part was the food. For a long time, I've been struggling to stay on top of meal planning and prep (and, let's face it, everything else), and more often than not, our fridge is half – or more – empty. That's just the truth. I wish I could say I had a fridge stocked with healthy ingredients and snacks all the time, but the reality is that, more often than not, we're scrambling to put together some semblance of a meal at the last minute, and the result is sometimes not pretty.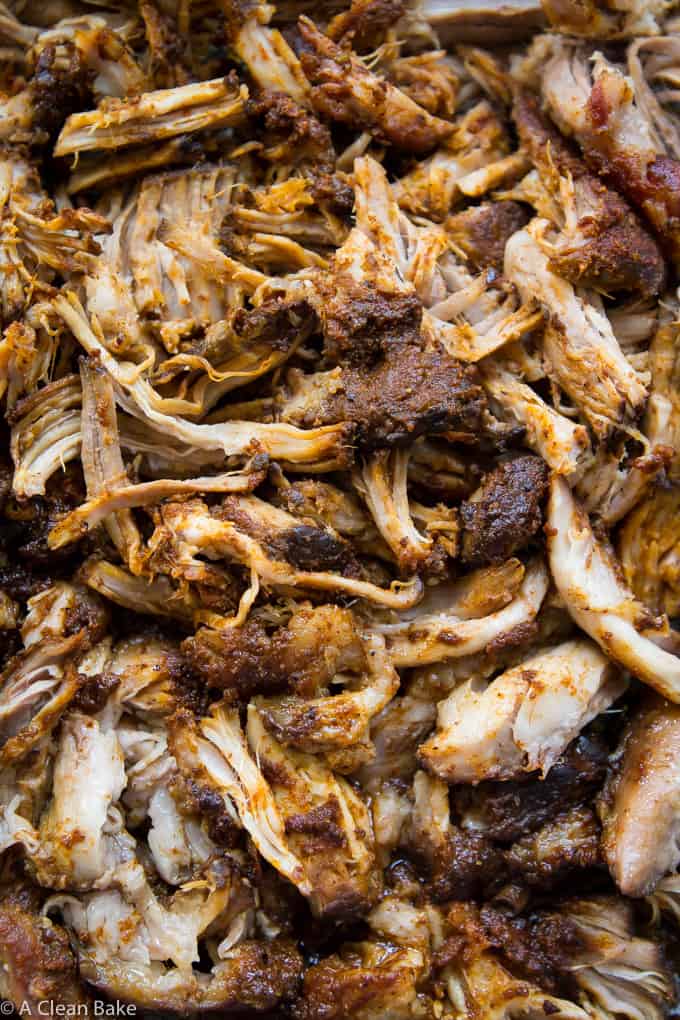 The alternatives are eating every meal out (no, thanks) or figuring out a way to make the process a little bit more effortless, which brought me back to my old reliable strategies:
Last weekend, I actually made a plan for all four dinners, then carried it out! And I made a huge (HUGE) batch of slow cooker pulled pork and chicken for us, which we ate throughout the weekend and have some leftovers in the freezer.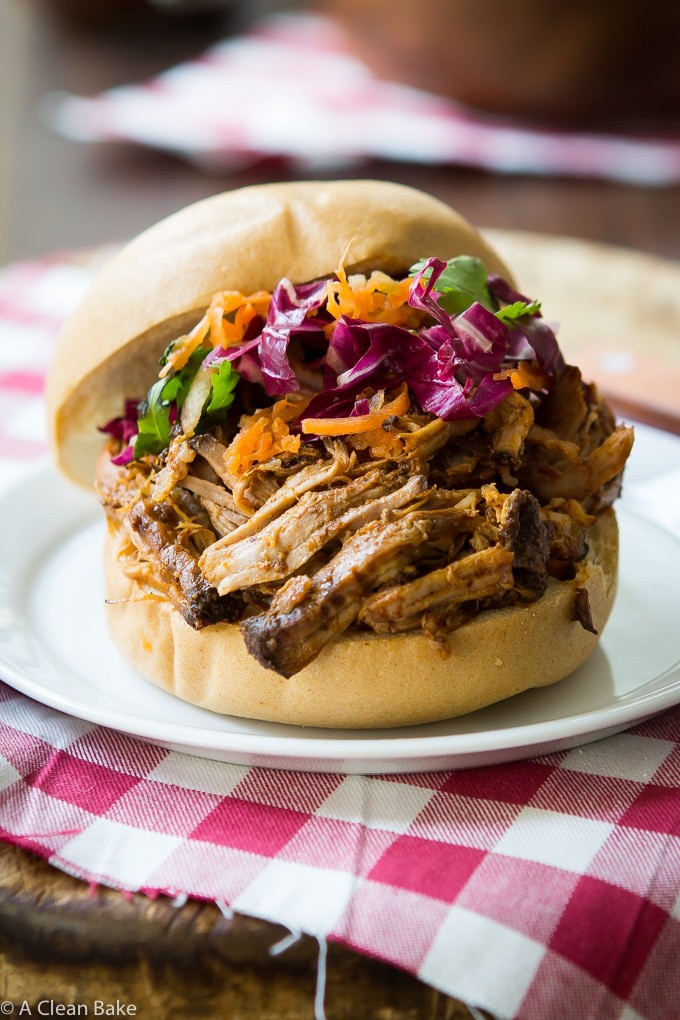 Besides its meal-saving capabilities, there is so much to love about how flexible this recipe is.
Make the sauce yourself, or not.
No pressure here, but making the sauce is so incredibly easy using – you guessed it! – the slow cooker and this recipe*. I like to let the sauce cook during the day and, when it's done, add the meat to the bowl and cook overnight. If you don't have the time to do both recipes back to back, you can certainly make the sauce ahead of time and store it in the fridge until you're ready to cook your meat! Or, use any sauce you want. You'll need about 1 1/2 cups.
*The homemade recipes makes twice what you'll need – around 3 cups. So, either make a half recipe, or just remove what you don't need and stash it in the fridge (or freezer), for  future use, before adding the meat to the slow cooker.
Adapt the dry rub recipe to your taste.
If you see a spice in the recipe that you don't love, just skip it. Add extra red pepper flakes for a more noticeable spice, or leave them out completely for none. Or, use your favorite homemade or bottled rub, if you prefer.
Make a half recipe – or double it.
Feeding a crowd? This recipe doubles nicely (notwithstanding the size of your slow cooker, so make sure the bowl can handle it all and heat everything through well).
On the other hand, do you want to one or two people, but not for the next six weeks? Simply make a half recipe.
Freeze the leftovers.
This is the real reason I love this recipe: you can freeze slow cooked pulled pork and you should freeze it! Future, hungry you will thank you.
Store the pulled meat, plus a little sauce, in a zip top bag. Let the air out (to prevent freezer burn!) and stash it in the freezer for a future meal.
Pork or chicken works well.
I'll be honest: I'm not a huge fan of pork, which is why you don't see a lot of pork recipes on this site. My husband, on the other hand, loves it. So I've made this with both pork and chicken breast, and both meats work equally well!
The only thing to keep in mind is that chicken will not take quite so long to cook. I used very thick chicken breasts, and they only needed 6-8 hours of cooking time. By comparison a 1-2 lb pork shoulder needs 10-12 hours to reach the moist consistency and tender texture you are looking for.
Make it a salad or a sandwich
Use paleo bread or biscuits to serve this as a sandwich, or make extra slaw and serve the meat on top for a salad. The latter option travels really well and makes for a great office lunch!
Make it Whole30
Simply leave the coconut sugar out of the barbecue sauce and you have a Whole30-friendly meal!
There you have it! This recipe does it all!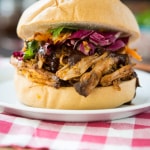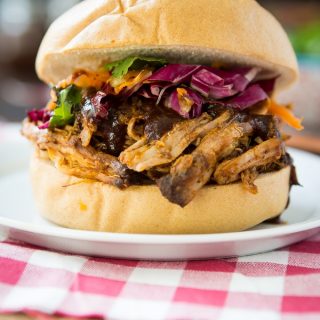 Crockpot Paleo Pulled Pork (or Chicken) with Radicchio-Apple Slaw
Ingredients
Ingredients for cooking
1 1/2

cups

barbecue sauce

2

lb

boneless pork butt,

or thick chicken breasts
Ingredients for the slaw
2

heads

raddichio,

sliced thin (about 8 cups)

6-8

large

apples,

shredded (about 2 cups) and drained of excess juice

6-8

large

carrots,

peeled and shredded (about 1-2 cups)

2

cups

cilantro,

roughly chopped

2

small

onions,

sliced thin (about 1/2 cup, or to taste)

1/2

cup

extra virgin olive oil

1/2

cup

lime juice

(juice of about 8 limes)

1

teaspoon

granulated garlic,

or to taste

1/2

teaspoon

salt,

or to taste

1/2

teaspoon

black pepper

or to taste

Red pepper flakes,

to taste (optional)
Instructions
Prepare the rub by stirring all of the ingredients together until combined.

Rub it all over the meat, covering both sides as much as possible. Set aside.

Add the barbecue sauce to the bowl of your slow cooker.

Cover and cook 10-12 hours (or 6-8 hours for chicken), until the meat is tender and falls apart easily.

Remove the meat from the slow cooker and transfer to a cutting board. Using two forks, roughly shred to meat.

Return the meat to the slow cooker and mix into the sauce, or transfer the meat to a serving platter and serve the sauce alongside for drizzling.

Make the slaw: toss together the radicchio, apple, carrots, cilantro and onion.

Whisk together the remaining ingredients to make the dressing, then toss the dressing with the slaw and serve.
Recipe Notes
If you are making your own barbecue sauce, I recommend using this recipe (you'll only need a half recipe, though).  It is made in the slow cooker, and as soon as it is done, just add your spice-rubbed meat and start the cooking process. It's so easy and hands-off when you do the sauce and meat back to back!
If you're using chicken instead of pork, get the thickest breasts you can find. They will need less cooking time than the pork - around 6-8 hours.
If you're making this ahead of time, warm the meat and sauce before serving, and do not dress the slaw more than a few hours in advance. 
Products from Amazon.com
‹
›
Pin for later 👇

This post contains affiliate links, which means that if you click through and purchase a product, A Clean Bake receives a small commission. All proceeds go toward continuing to bring you delicious, healthy recipes every week, and this does not affect the price you pay. Thanks for supporting A Clean Bake!