You are familiar with pineapple upside down cake, right? Of course you are! Well, this paleo peach cake is the late-summer version of that spring classic. It's a simple, one(ish) bowl recipe that produces an unpretentious cake that is perfect with a cup of tea!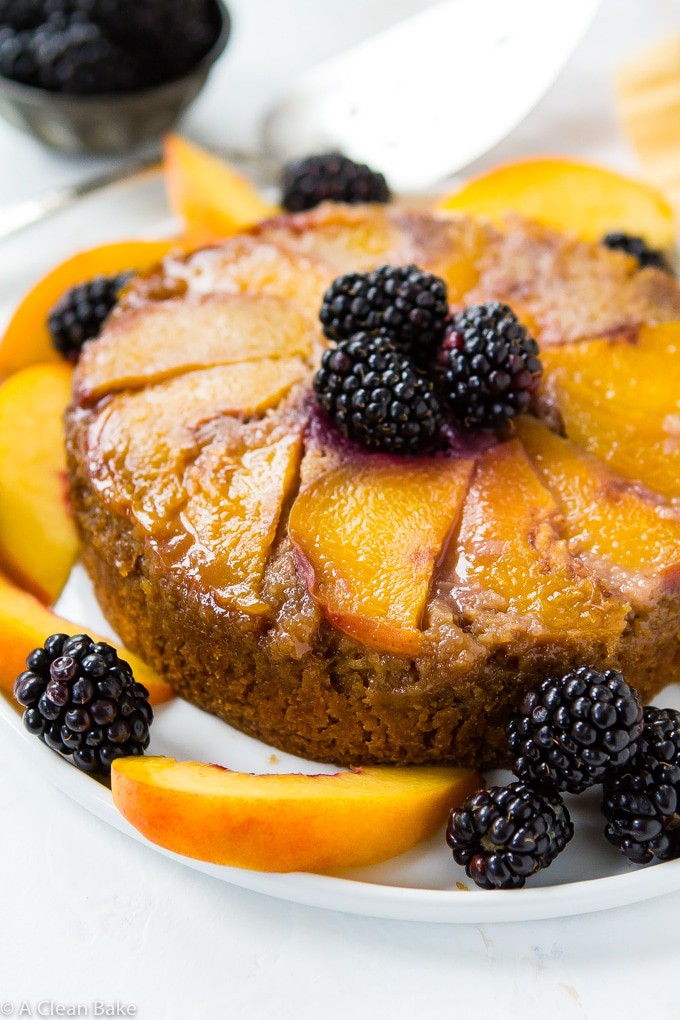 There's nothing quite like a one(ish) bowl, fuss free cake to get you through the last work day before a holiday weekend. When life is coming at you so fast that you can barely keep up, and all you need is a few extra days off to get your bearings and stuff your face with cake.
And you should probably also clean your house. And by you, of course, I mean me. But that has nothing to do with this cake except, maybe, for a few errant crumbs.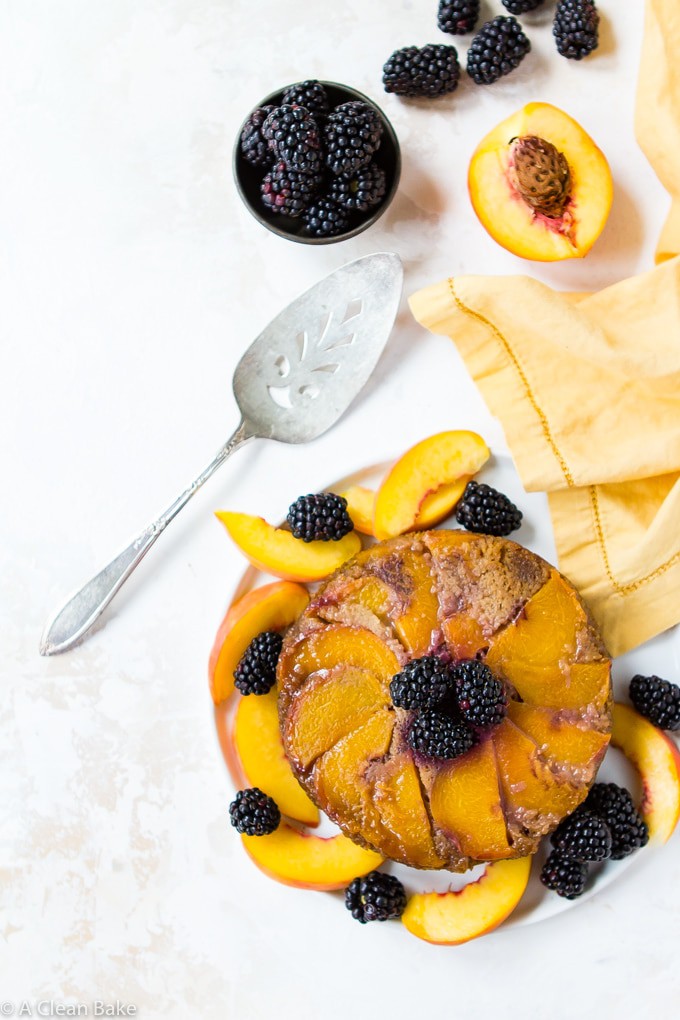 You know that saying "a dirty house is a sign of a life lived" or something to that effect? Well this is the cake equivalent of that. It is "quick and dirty" to make, as they say (although, is it just me, or is that a very unappetizing way to characterize food?), and because the peaches break down slightly during the cooking process, it isn't always the most perfect looking right out of the pan, but man oh man is it a pleasure to eat.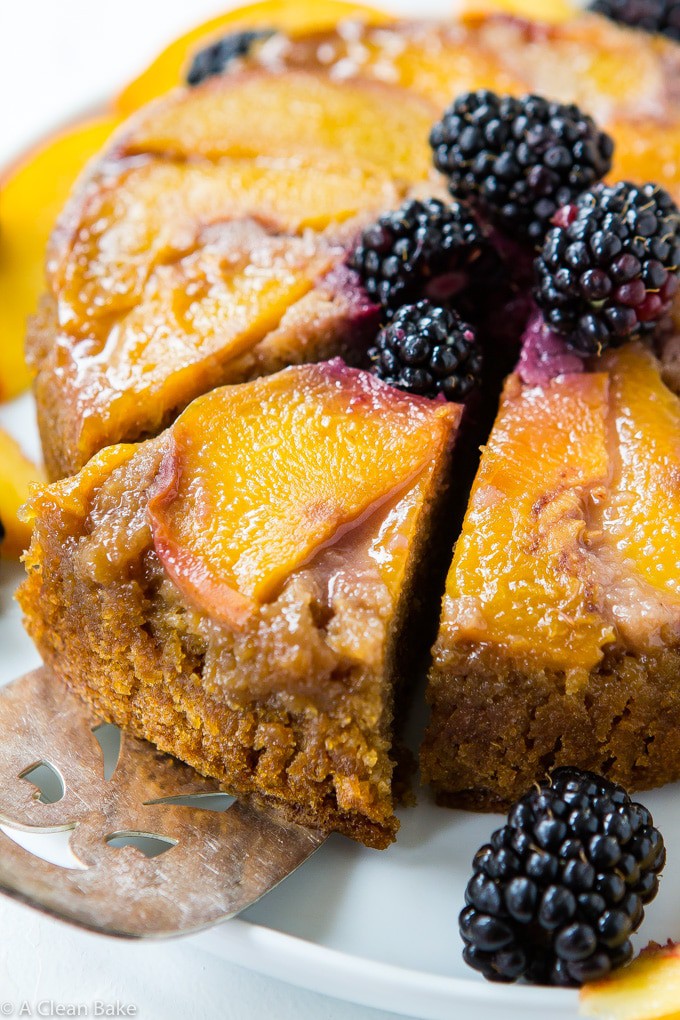 There are three layers to this cake, and they're all super simple, and complement each other perfectly:
The glaze.
Two ingredients, and you make it in the microwave. It keeps the outside of the cake moist and sweet, and just makes the cake that much more pleasant to dive into.
The peaches.
It's literally just 1-2 peaches, sliced and arranged in a sunburst pattern to cover the bottom of the pan! The cooking process softens them and cooks down their sweetness into something slight concentrated, just … peachier than a normal bite of a peach. It's divine.
The cake.
Super simple to make with a couple of bowls and spoons. It's based on this reliable, beloved recipe, so you know you can't go wrong. The coconut sugar in the recipe turns into a vaguely caramel-y flavor, and I don't know if you've ever had peaches and caramel, but if not, you will want to after a bite of this cake.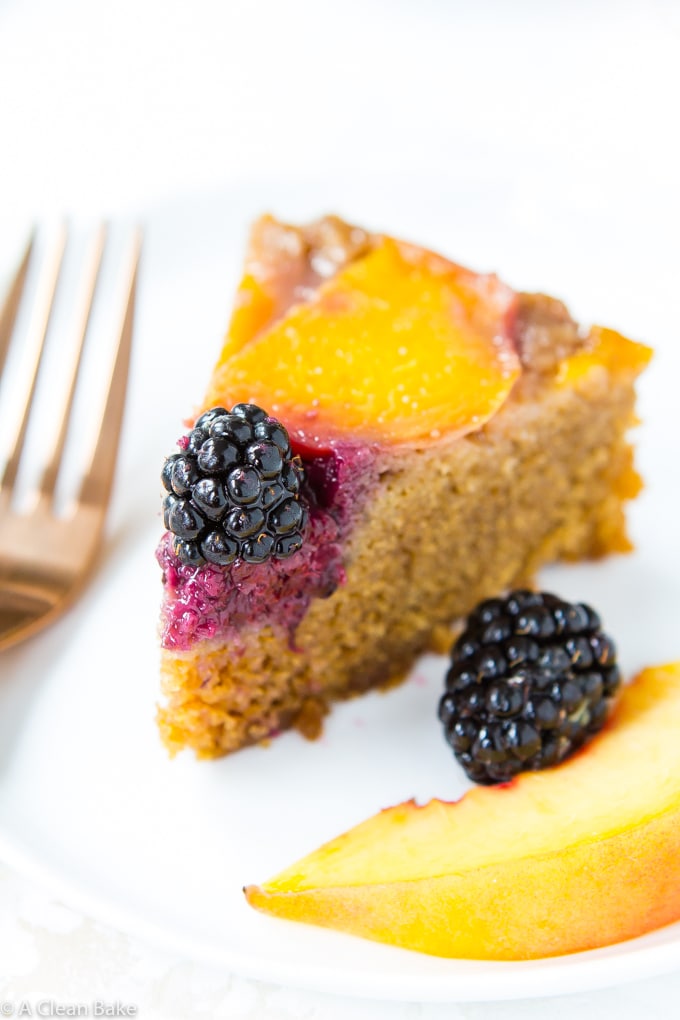 Oh, there is one more important thing to note about this cake, and that is the pan. I used a 6″ round pan for this one (this is the one I use) because it just seemed like the kind of cake that you make for no reason at all, rather than for a crowd.
The result is that this is more of  a mini cake, intended for snacks or to accompany a quiet cup of tea. I don't know, maybe that's just the mood I'm in after a summer of constant activity/deadlines/socializing/traffic/construction right outside my door. Since I don't experience many moments of zen anymore, I sort of baked them into a cake instead.
But that's just me. You go ahead and enjoy this cake however and whenever you want to. 😉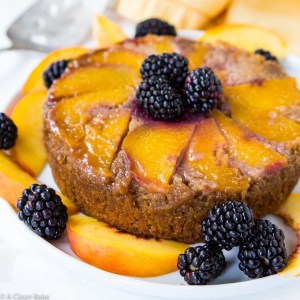 Peach Upside Down Cake
You are familiar with pineapple upside down cake, right? Of course you are! Well, this paleo peach cake is the late-summer version of that spring classic. It's a simple, one(ish) bowl recipe that produces an unpretentious cake that is perfect with a cup of tea!
Print
Pin
Rate
Instructions
Preheat the oven to 350°F. Lightly grease a

6" round pan

and set aside.

In a heatproof bowl, melt the butter in the microwave (or over a double boiler on the stove). Then, stir in the maple syrup.

Pour the butter and maple syrup into the prepared pan.

Thinly slice the peach. Arrange the slices in a fan pattern that covers the bottom of the cake pan. If you have any holes, you can use a small piece of peach, or a few berries to fill them in. Set the pan aside.

In a medium mixing bowl, whisk the egg, then whisk in the oil, milk, vanilla, and vinegar. Set aside.

In a large mixing bowl, whisk together the remaining ingredients.

Pour the wet (egg, etc) mixture into the dry (flours, etc) and stir to combine.

Pour the batter into the pan, covering the peaches completely. Use a spatula to smooth into an even layer.

Bake for 35-40 minutes, until the cake is slightly domed, firm and slightly golden.

Let cool in the pan for about 10 minutes. Run a thin rubber spatula or a knife around the edge of the cake to separate it from the side of the pan. Cover the pan with a serving plate and hold firmly against the pan. Quickly flip the cake onto the plate and lift the pan off. Tap gently on the pan if you are having trouble getting the cake to release.

Serve immediately.
Notes
You can substitute coconut oil for the butter in the glaze, to make this dairy free. 
If you are not comfortable using canola oil, feel free to replace it with grapeseed oil or any other mild-flavored oil that is liquid at room temperature. I do not recommend coconut oil for this cake.
Nutrition
Calories:
276
kcal
|
Carbohydrates:
24
g
|
Protein:
5
g
|
Fat:
18
g
|
Saturated Fat:
2
g
|
Cholesterol:
36
mg
|
Sodium:
97
mg
|
Potassium:
26
mg
|
Fiber:
1
g
|
Sugar:
13
g
|
Vitamin A:
2.1
%
|
Calcium:
5.7
%
|
Iron:
5.1
%
[amazon_link asins='B00004S7YS,B00HS01I1A,B00NMDF0SE,B00D8L3B5E,B009NT3JD4,B005P0LW66,B00PDR8NOU' template='ProductCarousel' store='butterfanati' marketplace='US' link_id='048ddc68-8dcc-11e7-8ef4-0d55a6248066′]
Nutrition Facts
Peach Upside Down Cake
Amount Per Serving
Calories 276 Calories from Fat 162
% Daily Value*
Total Fat 18g 28%
Saturated Fat 2g 10%
Cholesterol 36mg 12%
Sodium 97mg 4%
Potassium 26mg 1%
Total Carbohydrates 24g 8%
Dietary Fiber 1g 4%
Sugars 13g
Protein 5g 10%
Vitamin A 2.1%
Calcium 5.7%
Iron 5.1%
* Percent Daily Values are based on a 2000 calorie diet.
Pin it for later 👇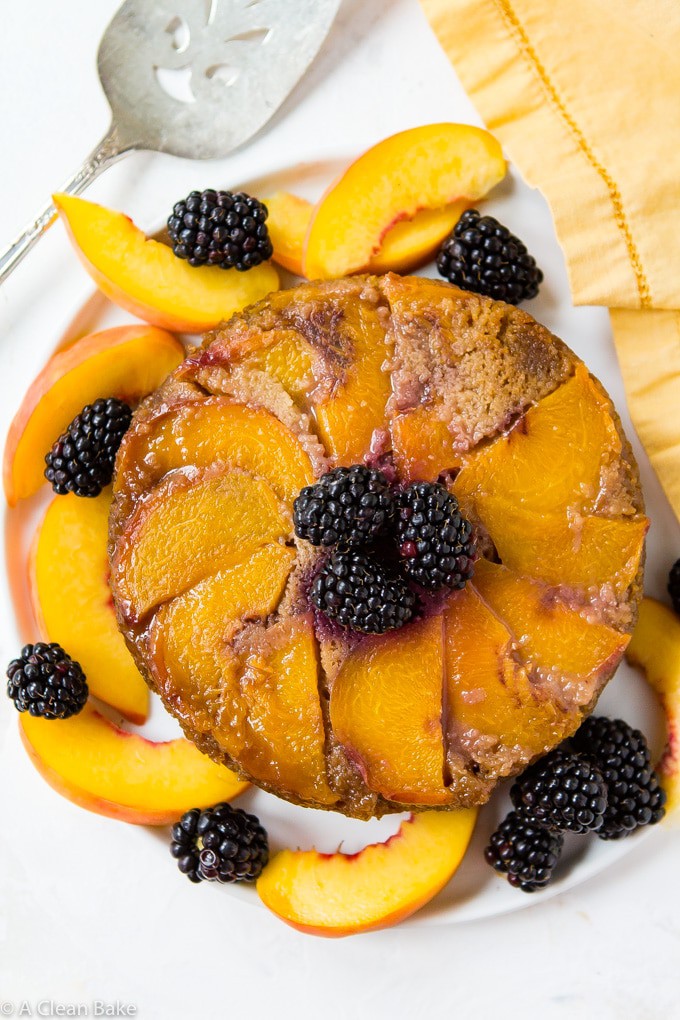 This post contains affiliate links, which means that if you click through and purchase a product, A Clean Bake receives a small commission. All proceeds go toward continuing to bring you delicious, healthy recipes every week, and this does not affect the price you pay. Thanks for supporting A Clean Bake!