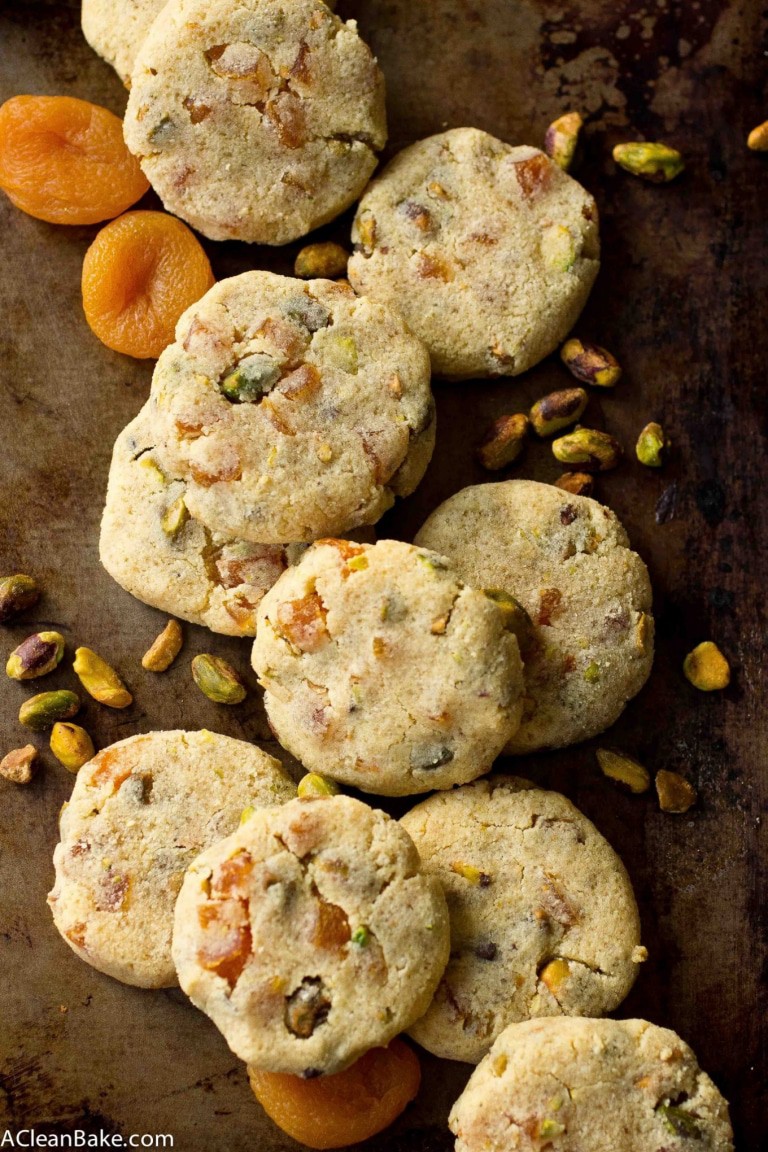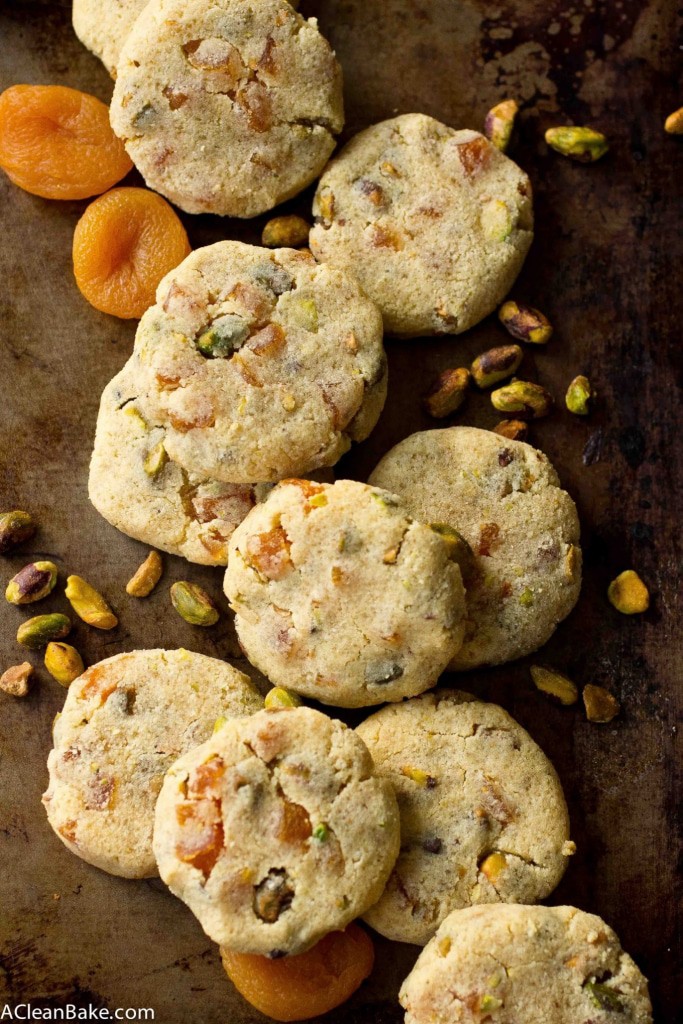 After the chocolate–fest last week, I thought it might be time to balance the scales a bit with some fruit. Dried fruit stuffed inside a cookie, that is. Why? What did you think I meant? There will be plenty of healthier food after the first of the year, but right now, let's party.
Have you been attending holiday parties lately? What did you bring? I went to a Hanukkah dinner on Sunday and brought the roasted carrot salad that I shared with you a few weeks ago, plus the grain free quiche so many of you have enjoyed (though I spiked it with a little fresh rosemary for a holiday-ier twist), and both were a hit. In fact, this was the fourth time I've made this salad for a party since Thanksgiving, and so far, it has gotten nothing but rave reviews. I'll be honest, though: I left these apricot pistachio cookies behind only so they wouldn't overshadow my other dishes!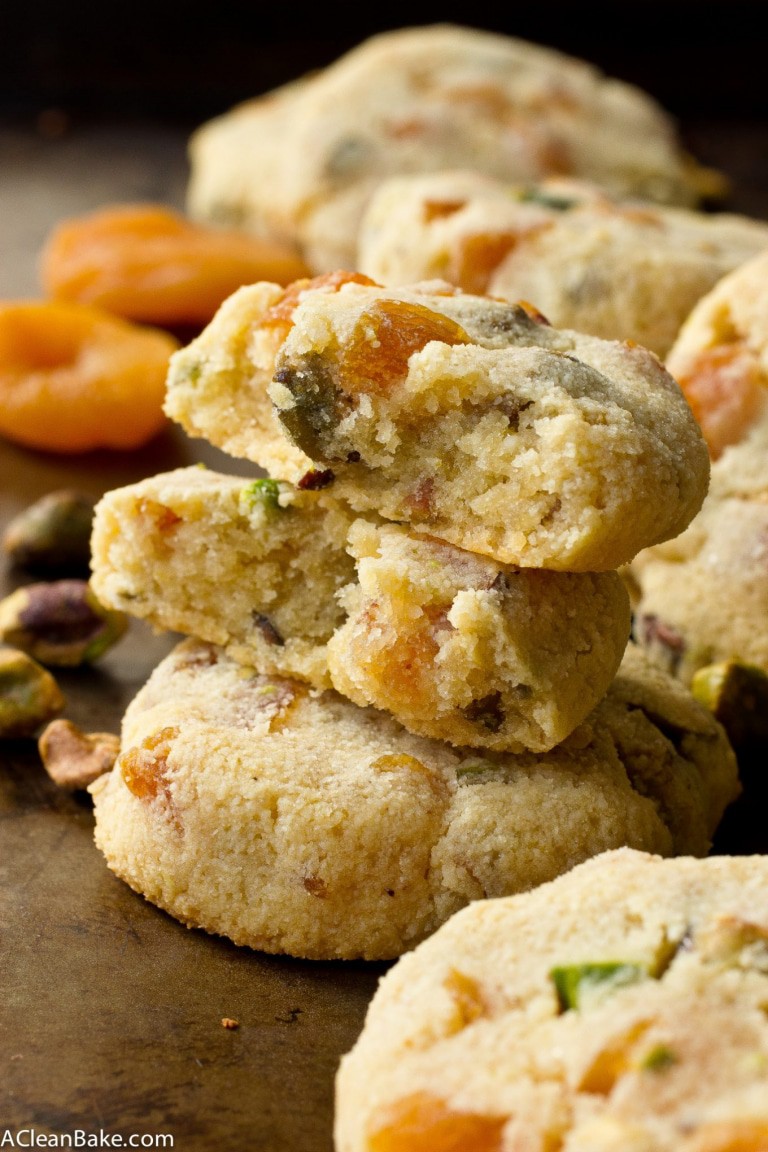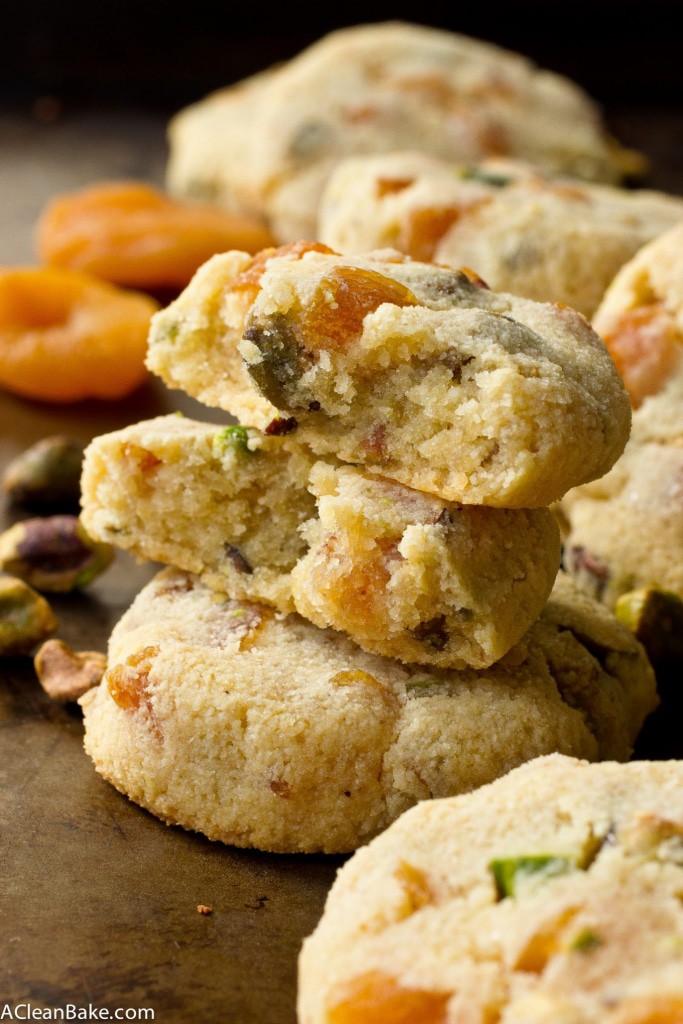 It's hard for me to love something so simple as a drop cookie full of fruit and nuts, and it took all of my self control not to drizzle it with white chocolate or something, but I'm glad I resisted. These are great because they're so simple.
They start with the same soft base that I love from my grain free chocolate chip cookies that are so popular that they're on track to break the internet soon (Kidding) (sort of) (hopefully not) with just a few tiny tweaks. Then, instead of chocolate chips, you add two flavors that, for me anyway, are so familiar this time of year: dried apricots and lightly salted pistachios.
The apricots are sweet and chewy, while the pistachios lend a tiny bit of saltiness (that compliments the sweetness perfectly) plus, of course, some crunch. That's really all there is to it.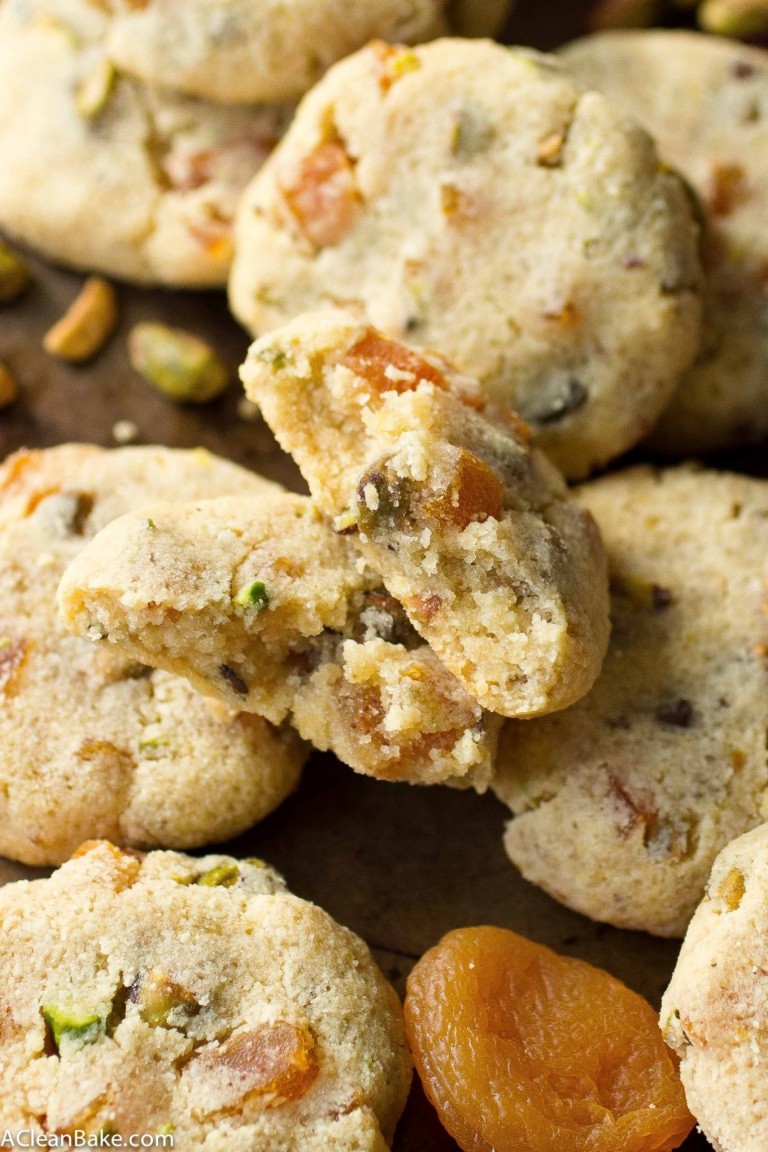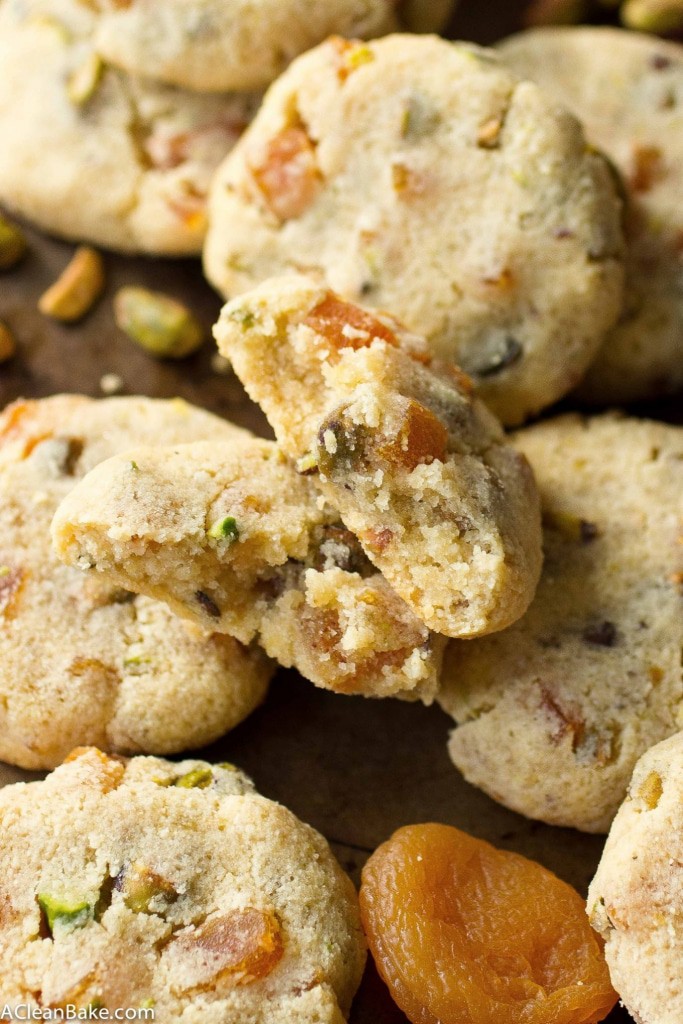 Despite being so simple, they're so satisfying! I know you're all probably very busy this week, the last full week before Christmas and then the New Year, so I hope this quick and easy apricot pistachio cookie helps to simplify your holiday prep!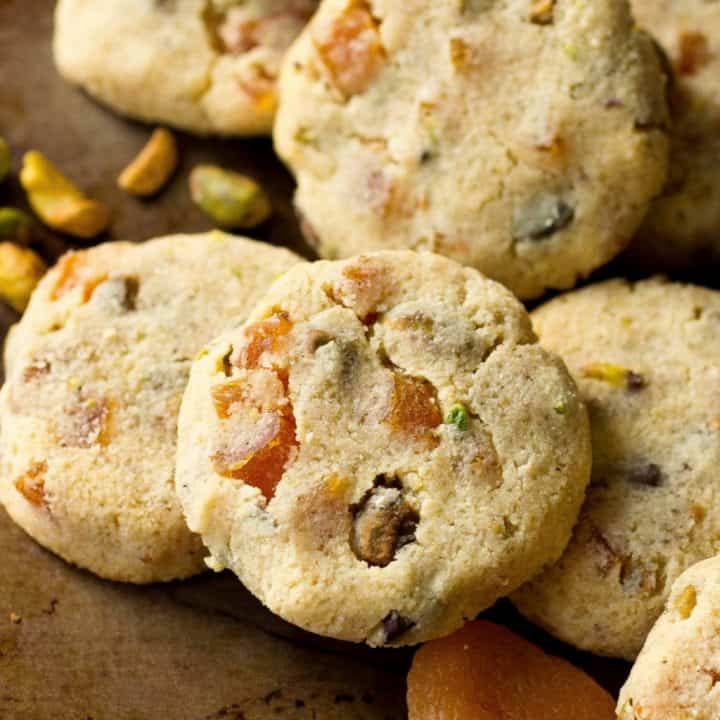 Pistachio Apricot Cookies
Additional Time:
10 minutes
Soft and satisfying apricot pistachio cookies are perfect for the holidays! (gluten free, grain free, paleo friendly, low carb, dairy free and sugar free)
Ingredients
1 1/2 cups blanched almond flour
1/4 cup coconut flour
2 Tablespoons granulated monk fruit sweetener , or granulated stevia
1/8 teaspoon fine sea salt
1/8 teaspoon baking soda
1 large egg, lightly beaten
1/2 teaspoon vanilla extract
1/4 cup honey
1/4 cup melted coconut oil
1/4 cup shelled pistachios,, lightly salted, if possible, finely chopped
1/3 cup whole dried apricots,, finely chopped
Instructions
Preheat the oven to 350F and cover a cookie sheet with parchment paper or a nonstick pad.
Add the flours, sugar, salt and baking soda to a large mixing bowl. Use a fork or whisk and stir gently until combined.
In a separate, heat proof bowl, pour the warm melted coconut oil over the honey. This will soften the honey and make it easier to work with.
Stir briefly to cool it down slightly, then add the oil/honey mixture, egg and vanilla to the dry ingredients.
Use an electric mixer if possible, or else stir vigorously with a whisk or fork, to make sure all of the wet ingredients are distributed equally throughout the dry ingredients.
Fold in the pistachios and apricots.
Scoop 2-Tablespoon portions of dough and press firmly into a ball. Press down slightly into a thick disc and repeat with the rest of the dough.
Place dough discs on a cookie sheet, about 1" apart.
Bake 13-15 minutes, until golden brown around the base. They will still be very soft.
Allow to cool for 5-10 minutes on the cookie sheet, where they will firm up a bit, before transferring to a rack to cool completely.
Serve immediately, or store in an airtight container at room temperature for up to a week, or in the freezer for up to three months.
Notes
You can sub butter for coconut oil, if you prefer.
If you'd like to add an unexpected element of flavor to this recipe, try replacing the vanilla extract with rosewater (just add an equal amount to the batter when it calls for the vanilla extract). Rosewater is exactly what it sounds like: water that is infused with the scent of rose pedals. It's used in many middle eastern pastries, and compliments Mediterranean flavors like apricot and pistachios really well. You can find it at middle eastern markets or online.
Yield: 1 dozen cookies
Nutrition Information:
Yield:

12
Amount Per Serving:
Calories:

179
Saturated Fat:

5g
Cholesterol:

15mg
Sodium:

47mg
Carbohydrates:

13g
Fiber:

2g
Sugar:

8g
Protein:

4g
[wprm-nutrition-label align="center"]
 This post contains affiliate links, which means that if you click through and purchase a product, A Clean Bake receives a small commission, which goes toward continuing to bring you delicious, healthy recipes every week. This does not affect the price you pay. Thanks for supporting A Clean Bake!