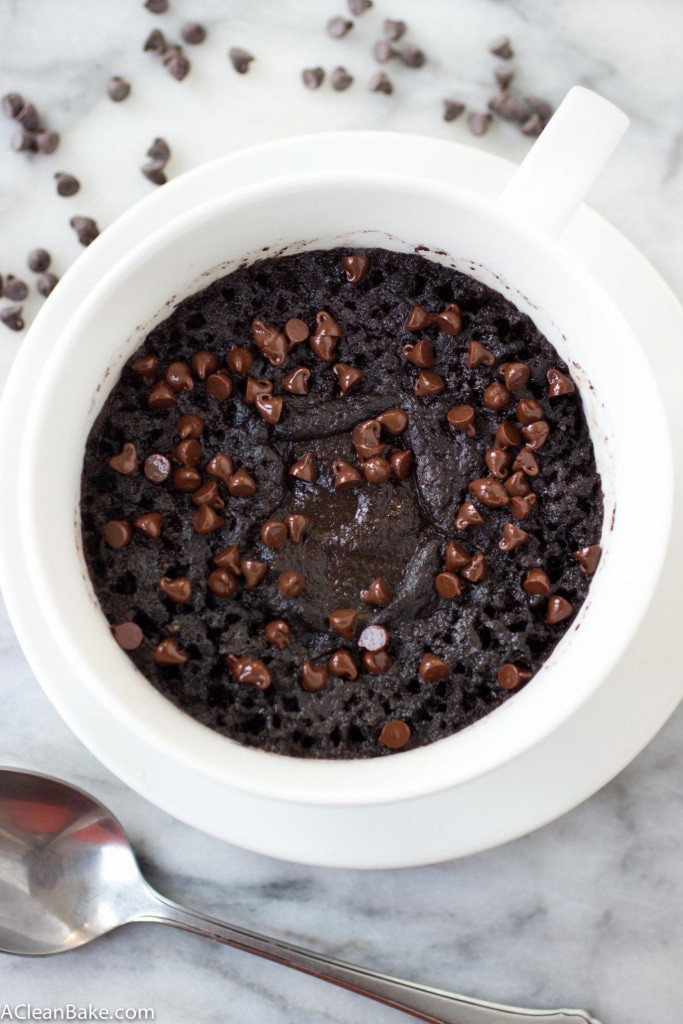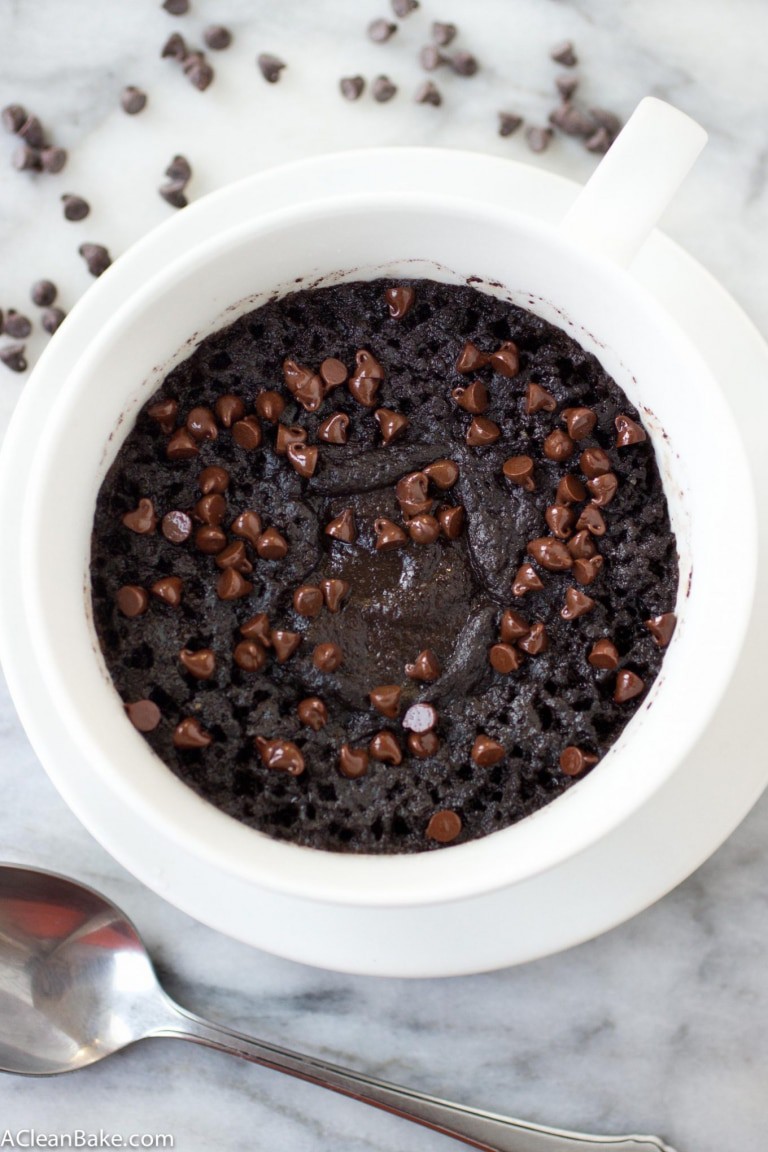 Holy chocolate, you say? I warned you!!
For all of you who love a molten lava cake (why, oh why did those go out of style!?) but are too afraid or impatient to make them at home (guilty), or for any of you who aren't the most confident when it comes to baking, or for those of you whose chocolate cravings must be satisfied immediately (!) if not sooner (!!), or for the maybe few of you who have a birthday today (also guilty) this mug cake* is most definitely, without a doubt, THE cake for you.
There isn't much I can say about it that it doesn't say for itself except: loooooooooook at that molten chocolatey center. Imagine that first scoop of warm, gooey, almost pudding-like cake meandering toward your tongue. "Lift that spoon faster!", your tastebuds scream.
You have to be a hard core chocolate lover to appreciate this mug cake, and in this house, we really, really are.
Well, I am. Bryan wavers. Sometimes he appreciates chocolate, and when he's in the mood, he means business. He single-handedly took out this entire dreamboat of a mug cake (which, incidentally, contains double the recipe that you see below), so you know it must be good. It not only gets the seal of approval from serious card-carrying chocolate lovers, but it also has the unique ability to convert your loved ones to the cause. The more chocolate lovers, the better, don't you think?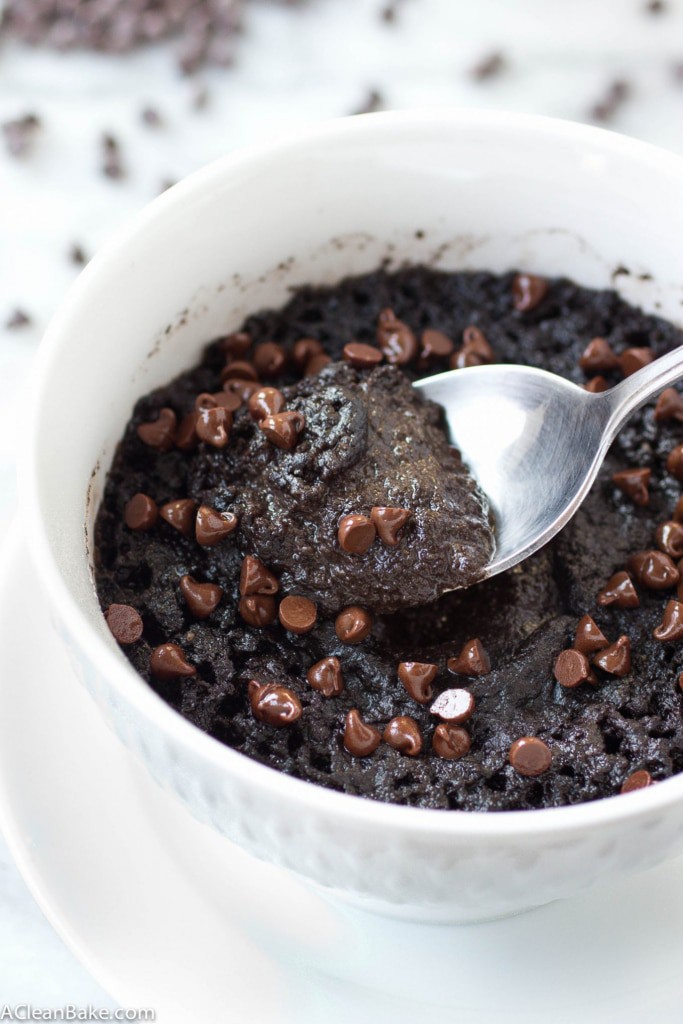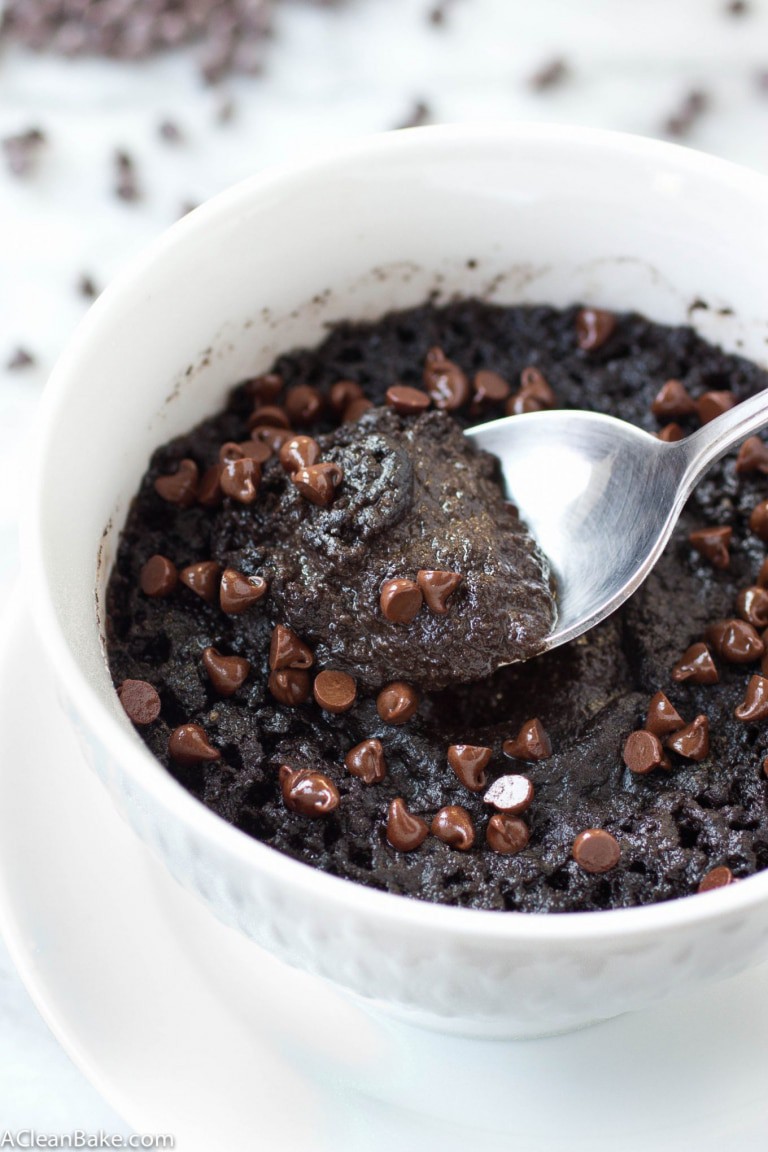 *What's a mug cake? Glad you asked! A mug cake is a single-serve dessert that can be made and cooked in under 5 minutes. The secret is that you cook the cake in the microwave (thus the quick cooking time), which may sound horrifying at first, but don't knock it until you've tried it.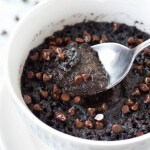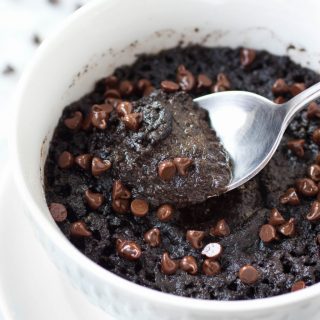 Chocolate Lover's Mug Cake
gluten free, grain free, sugar free, low glycemic, vegan, dairy free
Ingredients
2

Tablespoons

almond flour

1

Tablespoon

coconut flour

1 1/2

teaspoon

granulated monk fruit sweetener or granulated stevia

(like Norbu or Natvia)

1

Tablespoon

cocoa powder

Pinch salt

1 1/2

Tablespoons

dark chocolate chips

optional; skip to make this sugar free, plus more for garnish

2

Tablespoons

oil

3

Tablespoons

milk of choice
Instructions
Lightly spray or grease a small, microwave-safe coffee mug and set aside.

In a small mixing bowl, whisk together the flours, sweetener, cocoa powder and salt. Stir in the chocolate chips and set aside.

In another small bowl, whisk together the oil and milk.

Pour the wet mixture (oil and milk) into the dry mixture (flours, etc) and stir vigorously to combine.

Pour the batter into the prepared mug.

Microwave on high for about 90 seconds until the cake rises and crackles on top.

Garnish with extra chocolate chips, if desired, and let cool for a minute or so before digging in.
Recipe Notes
If using coconut oil, melt it and then let it cool enough to be able to hold your finger tip in it for a count of 5. You can also use melted and slightly cooled butter.
Yield: One mug cake
Thank you to Natvia for providing the ingredients that inspired this delicious recipe. This post contains affiliate links, which means that if you click through and purchase a product, A Clean Bake receives a small commission, which goes toward continuing to bring you delicious, healthy recipes every week. This does not affect the price you pay. Thanks for supporting A Clean Bake!