Easy Marinated Onions with sumac will be your secret weapon for elevating any dish. Try them on salads, sandwiches, burgers and more!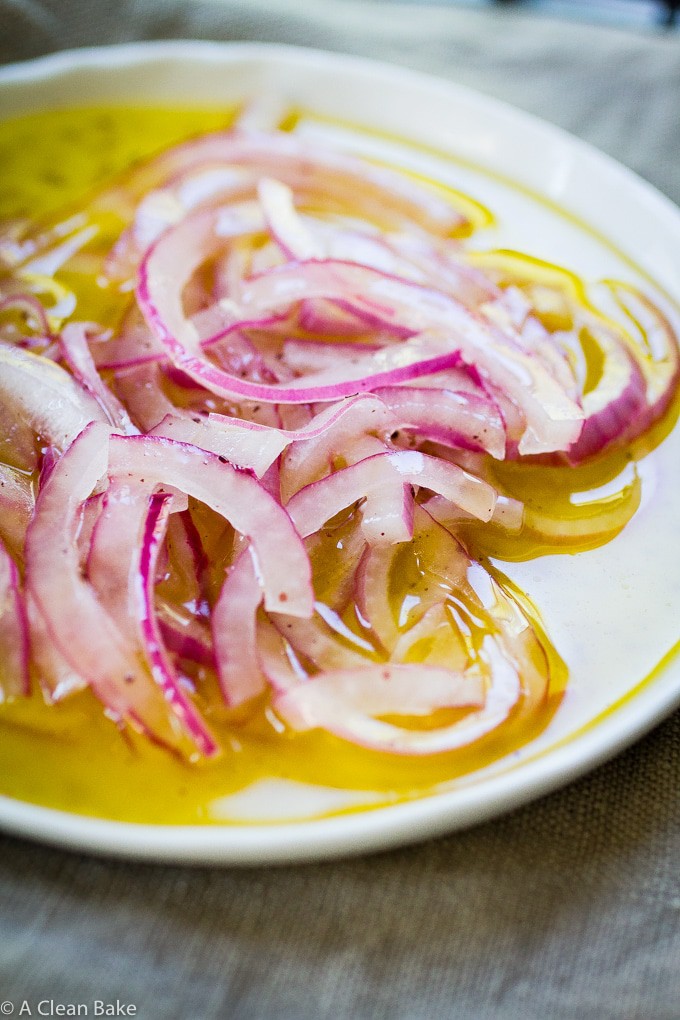 While, on the surface, a post called "easy marinated onions" may seem like filler content for a week when I have run out of ideas, let me be the first to assure you that this isn't a phoned in recipe. In fact, this may be the recipe that elevates your summer to The Summer of Awesome Meals.
Here's how you do it:
Prepare your meal. Add these easy marinated onions. Meal Immediately Becomes Awesome.
Here: let's run an experiment. What are you having tonight?
Burgers? Top with marinated onions.
A sandwich? Layer on marinated onions.
Salads? Oh, this is too easy.
Tacos? Eggs? You get the gist.
Even soup – no kidding – tastes wonderful with these marinated onions. Despite it being 90 degrees outside, we had the quickest cream of tomato soup (our go-to meal around here) for dinner on Sunday night, and garnished it with – surprise, surprise – marinated onions.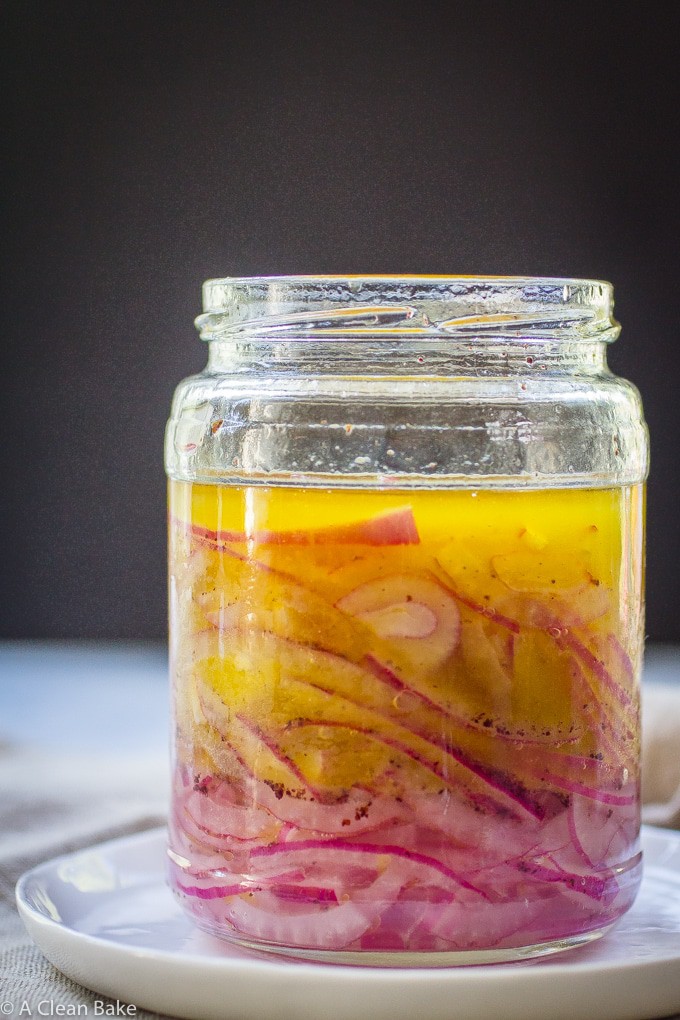 Ask me why I'm a maniac about these random, overly simple food. Go ahead.
Glad you asked!
Onions are a tricky ingredient. While, on the one hand, they impart essential flavor and are also, incidentally, an excellent prebiotic food (meaning they feed the probiotics, or good bacteria, in your gut that are so essential to good health and digestion), they are, on the other, really, really stank-ay, tainting your breath for far longer than seems reasonable. Not cute. Also, if you have IBS or an otherwise finicky digestive system, they can be irritating.
But when you marinate them in oil and acid, all that changes. Their harsh flavor and odor mellows and the little slices become soft and pliable – all the better for flopping a forkful on whatever you're eating and, anecdotally speaking, digesting without any trouble. (Well, keep in mind that my sample size for this finding is one, so if you are terribly intolerant to onions, just avoid these.)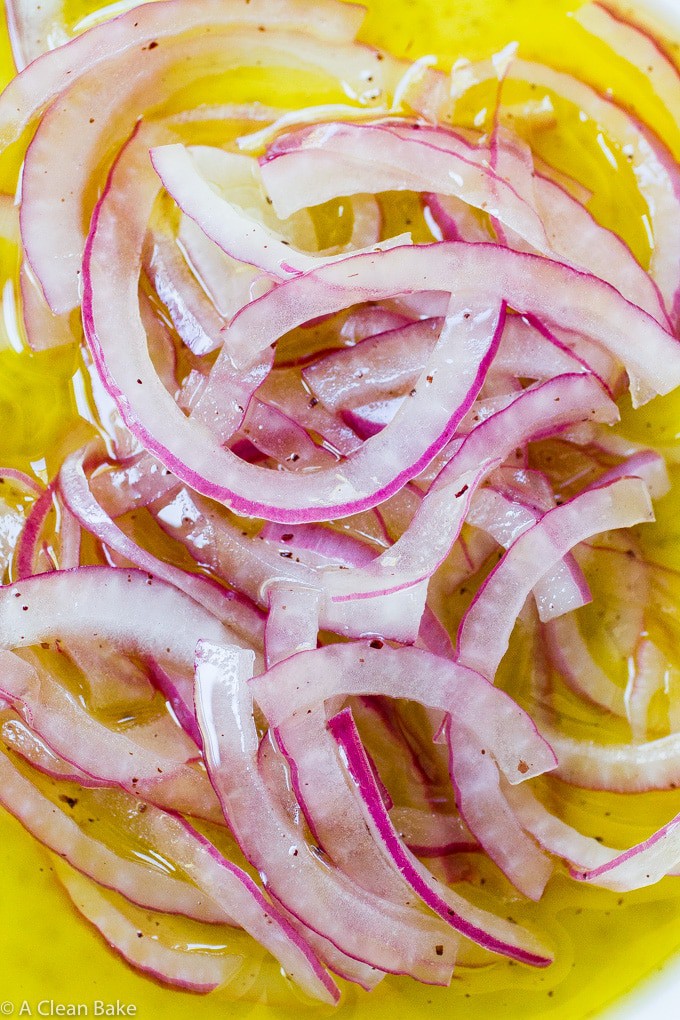 Since you're smart enough to take it from here, I'll leave you with the recipe so that you can get to marinating and start topping everrrrrything with these onions!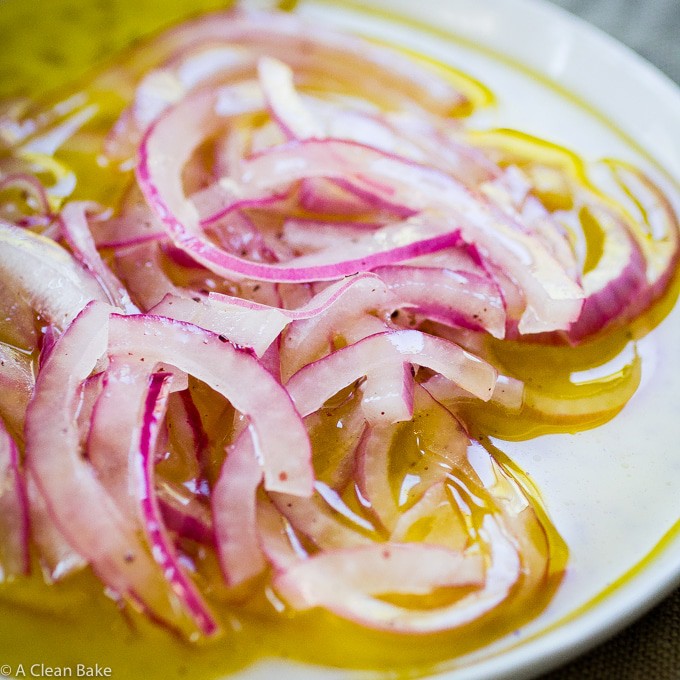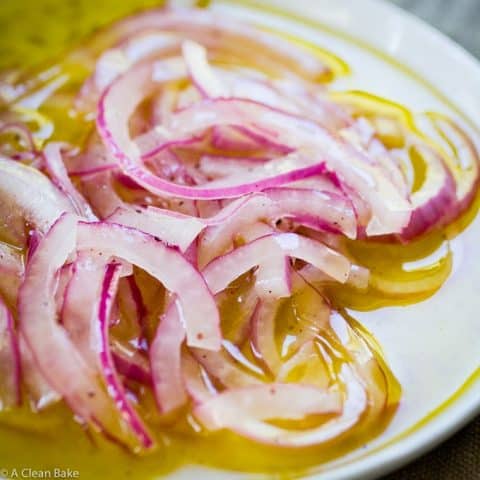 Sumac Marinated Onions
Easy Marinated Onions with sumac will be your secret weapon for elevating any dish. Try them on salads, sandwiches, burgers and more!
Ingredients
½ red onion,, thinly sliced
6 Tablespoons extra virgin olive oil
¼ cup white balsamic vinegar
½ - 1 teaspoon sumac, (to taste)
1/8 teaspoon salt
Instructions
Add the sliced onion to a medium jar or airtight container.
Add the rest of the ingredients to the container. Seal and shake vigorously for 10 seconds.
Taste, adjust ingredients to your preference. Reseal the jar and allow to marinate at least 10 minutes, and up to 48 hours.
Notes
Multiply the recipe as necessary
Store leftovers in an airtight container in the fridge for up to a week.
One you finish the onions, you can add more sliced raw white or red onions to the marinade and reuse it once or twice!
Makes about 1/2 a cup; 1 Tbsp is assumed serving size
Nutrition Information:
Yield:

8
Serving Size:

g
Amount Per Serving:
Calories:

102
Saturated Fat:

1g
Sodium:

38mg
Carbohydrates:

2g
Sugar:

1g
[amazon_link asins='B00PDR8MRS,B000JSQ282,B00OV7O5BS,B009NT3JD4,B00LB69GK2′ template='ProductCarousel' store='butterfanati' marketplace='US' link_id='686eb014-65e5-11e7-9407-3fd4f113db52′]
[wprm-nutrition-label align="center"]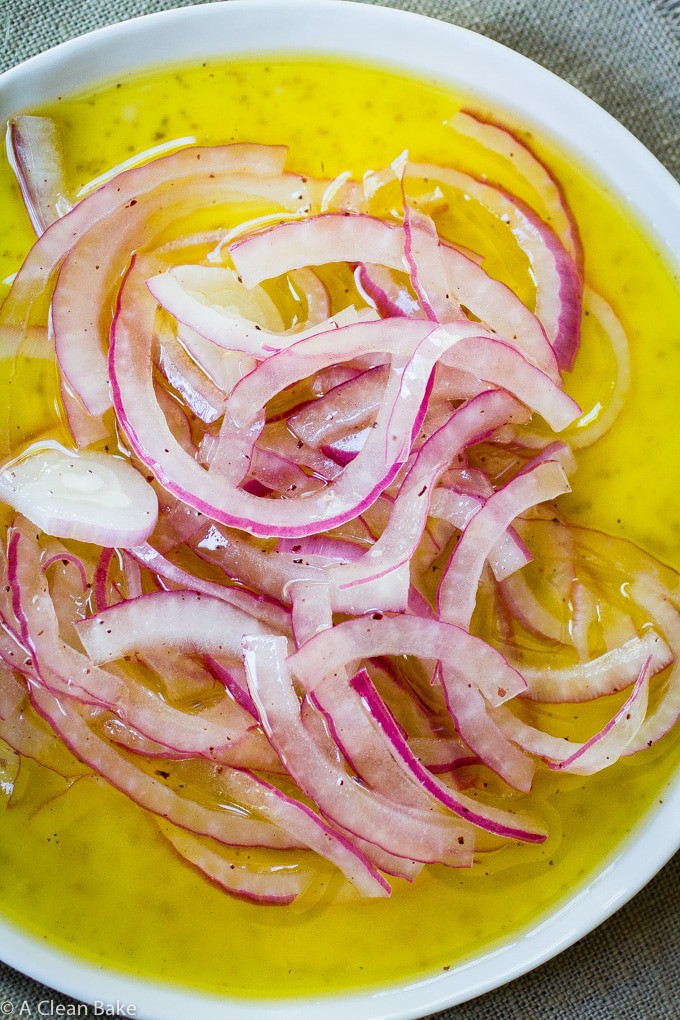 Note: This recipe was part of a chicken kebab dish I made for Simple Mills. Check it out here!
This post contains affiliate links, which means that if you click through and purchase a product, A Clean Bake receives a small commission. All proceeds go toward continuing to bring you delicious, healthy recipes every week, and this does not affect the price you pay. Thanks for supporting A Clean Bake!