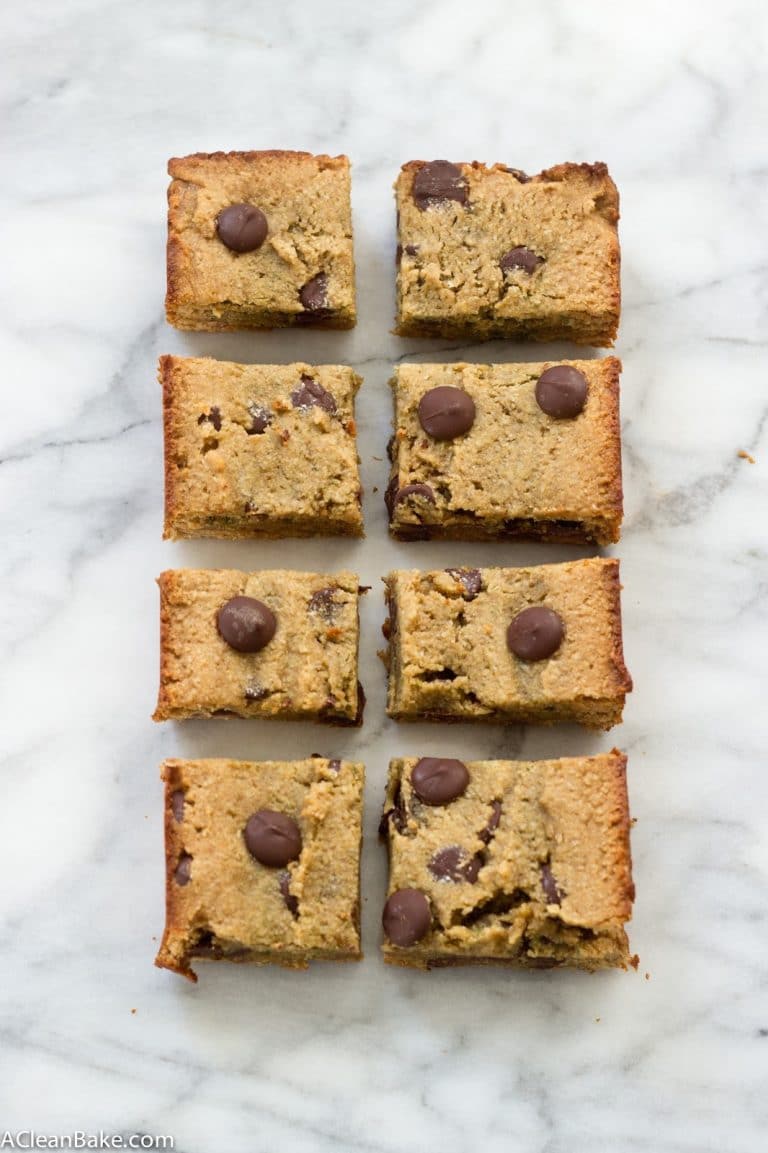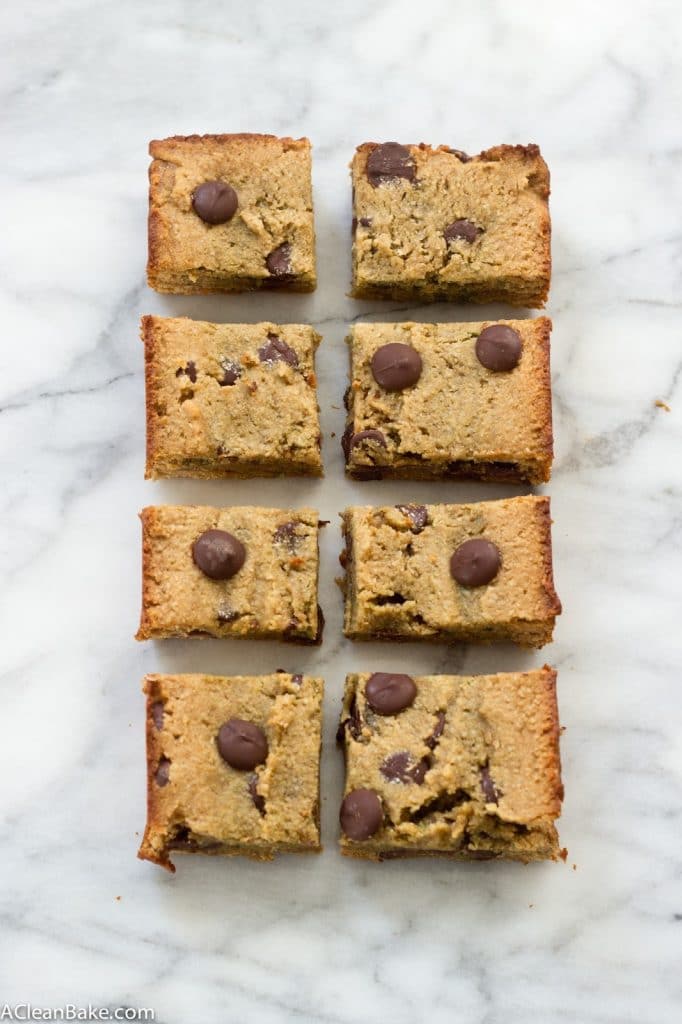 Does this blondie need much of an introduction? Has any blondie ever needed any sort of introduction? Doubtful.
Ever since these cookies, I have had a hankering for grain-free blondies. Like the cookies, they are satisfyingly thick and pillowy soft, to the extent that biting into them is actually kind of relaxing in a really bizarro way. But they are even more moist than the cookies, if you had believe that.
The extra moisture is thanks to the addition of sunflower butter (which, to the unfamiliar, is basically the equivalent of peanut butter, but sunflower seeds are pureed instead of peanuts), which I like to use as the base of these because peanut butter has too strong of a flavor and almonds, or rather their flour, are already pretty heavily represented in the ingredient list.
Sun butter has a wonderful texture and one of the more neutral flavors of the nut/seed butters, in my opinion. It works perfectly as a base for a bar cookie. What's the catch, you ask? I wish I could tell you that there isn't one, but there is (it's a tiny one): Unlike peanuts or almonds, sunflower seeds contain an enzyme called chlorogenic acid, which reacts with baking soda and results in a greenish hue (source) after they have had a chance to sit for a little while. Luckily, this recipe doesn't contain much sun butter or baking soda so the reaction is minimal – in fact, it looks like you mixed green sanding sugar into the batter – and it took about 12-24 hours to appear. You can see it in the photos below, if you look very closely. See? It's really no big deal.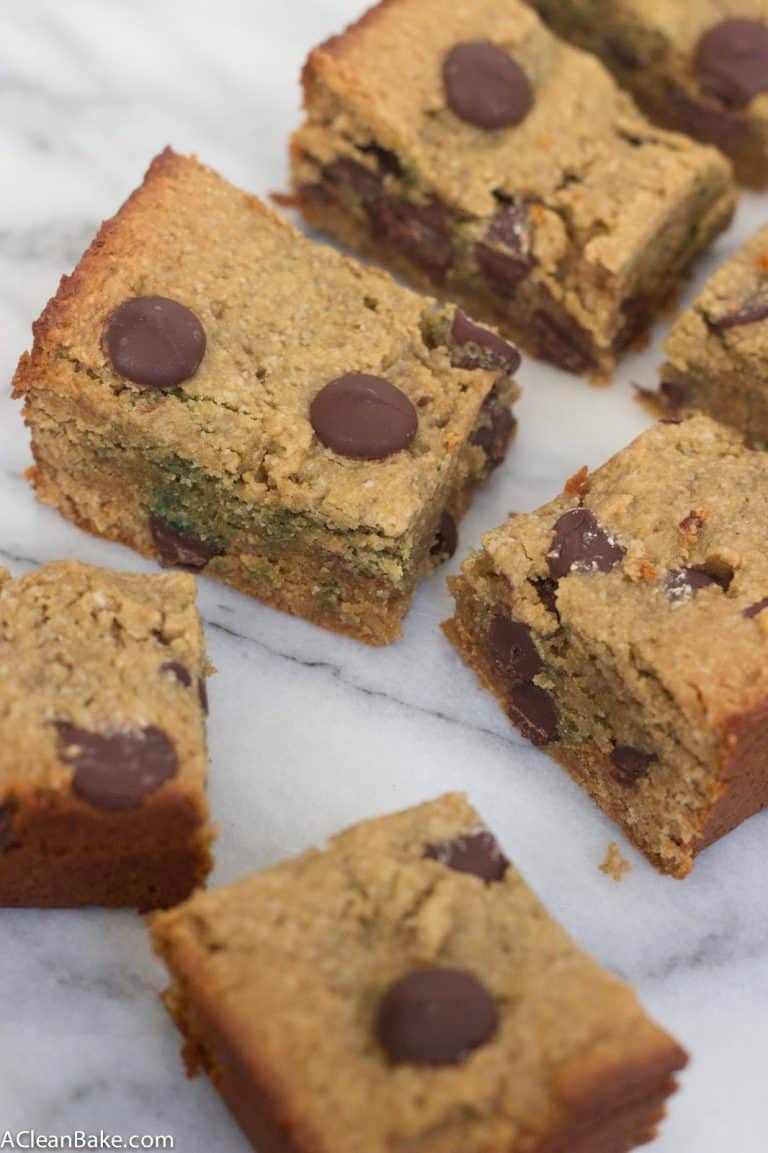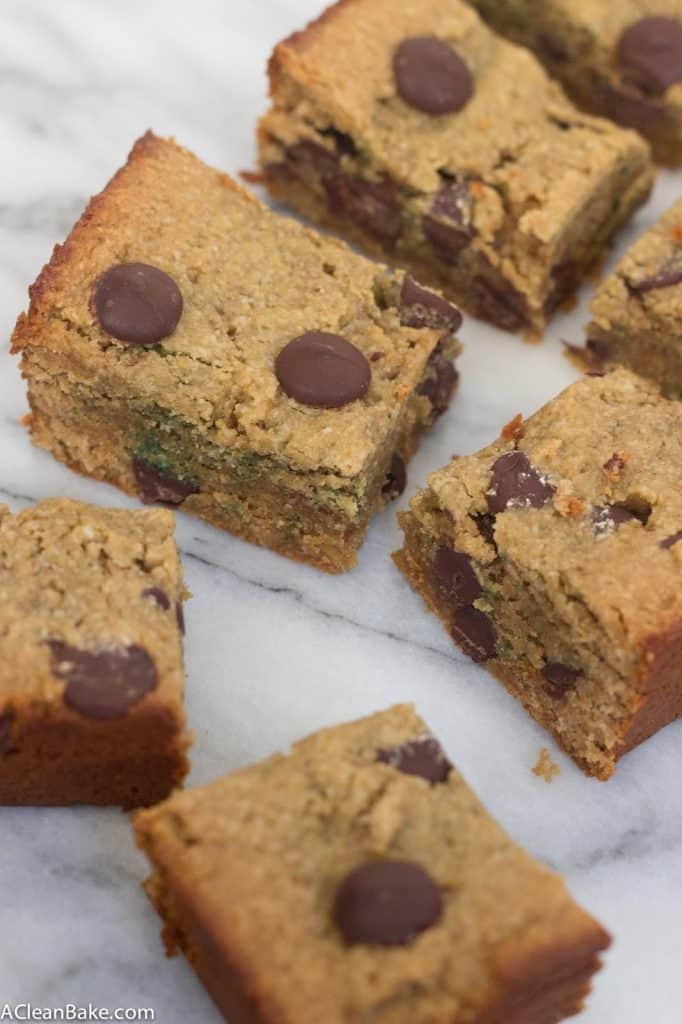 If it bothers you, you can swap in peanut or almond butter, or even cashew butter for extra super creaminess. But we ate them with the festive green flecks and were so distracted by the taste that we didn't even notice. In fact, it took me some time to convince the people who ate them that they were, indeed, "healthy". No one thought it was possible that these contain no flour, butter or sugar.
Don't believe me? Give them a try and see what you think!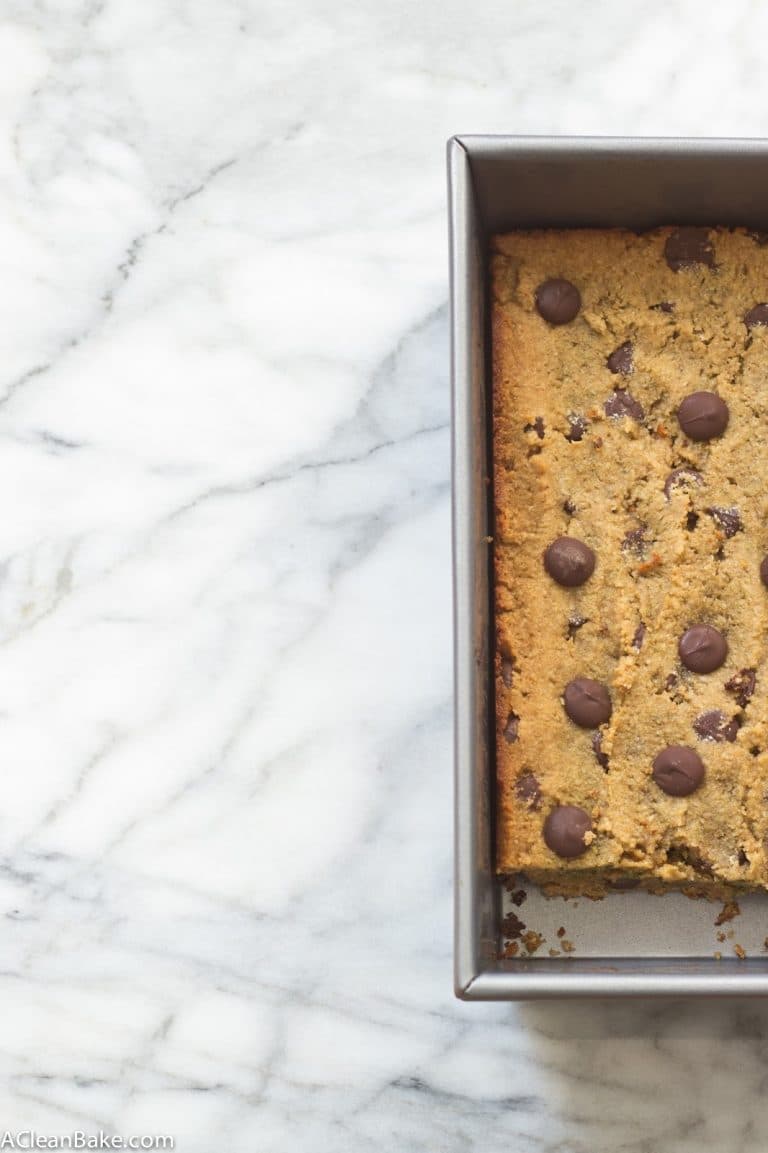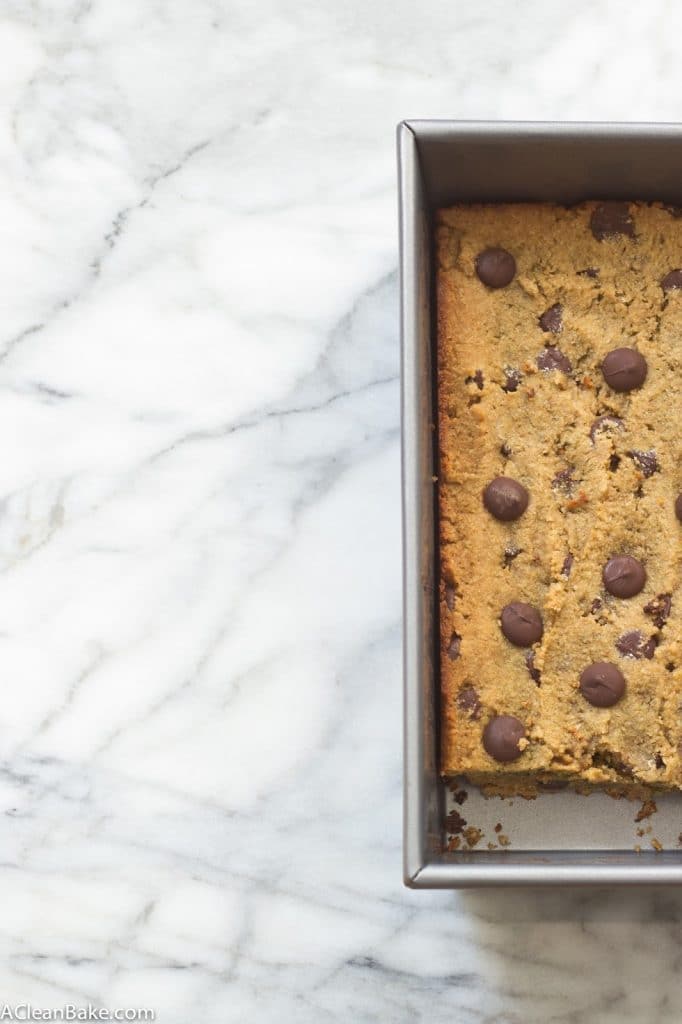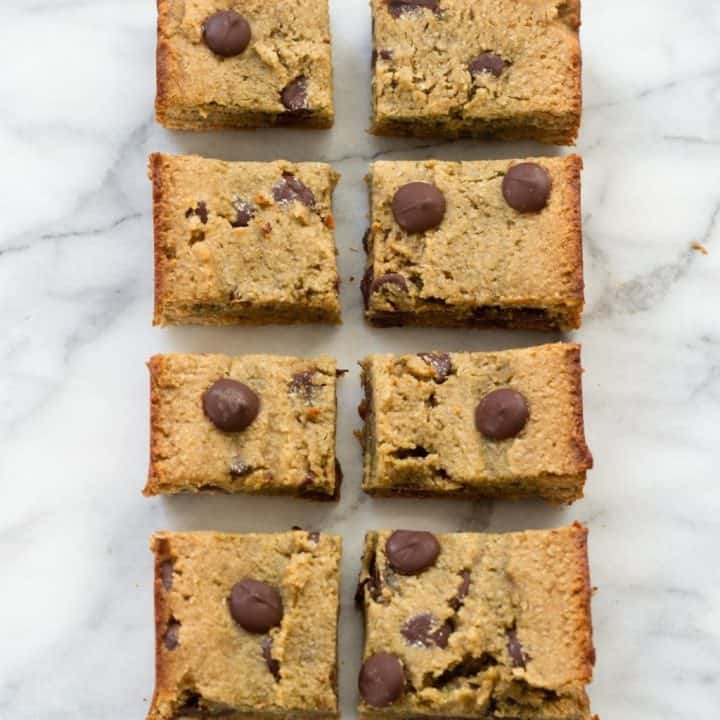 Grain-Free Blondies
Ingredients
1 1/2 cups blanched almond flour
1/4 cup coconut flour
1/4 teaspoon coarse salt + more for garnish, optional
1/2 teaspoon baking soda
1 large egg
1/2 cup creamy unsweetened sunbutter, see note, almond butter, or your favorite nut or seed butter
1/2 cup honey
1/2 teaspoon vanilla extract
1/4 cup vanilla almond milk
Coconut sugar, optional, to taste
1/2 cup dark chocolate chips
Instructions
Preheat the oven to 350F. Grease a 12" rectangular tart pan or an 8" square baking dish and set aside.
In a large mixing bowl, whisk together the dry ingredients (almond flour, coconut flour, salt and baking soda).
In another bowl, beat the egg, and then stir in the rest of the wet ingredients (nut butter, honey, vanilla, and almond milk) until smooth and completely combined.
Pour the wet ingredients into the dry ingredients and stir to completely combine. If you prefer a sweeter taste, add coconut sugar until you get the flavor you desire.
Fold in chocolate chips.
Pour batter into prepared pan and gently smooth into an even layer. The batter will be very thick, so be sure to work it into the corners, etc. Garnish with a sprinkle of coarse salt, if desired.
Bake for about 15-20 minutes and cool completely before slicing.
Notes
After about a day, the baking soda begins to react with an enzyme called chlorogenic acid in the sun butter, resulting in tiny green flecks in the bars. It's actually sort of pretty, and looks like you stirred green sanding sugar into the blondies. But if that bothers you, simply replace the sun butter with peanut butter, almond butter or another favorite nut butter. Whatever you use, make sure you use a creamy, unsweetened, natural variety that has been very well stirred to the point where it is nearly pourable. That ensures the oil is evenly distributed and the recipe will contain the right amount of fat, which is vital to the texture.
My batch was perfect after 19 minutes of baking time, but the tester did not come out entirely clean. That's because these continue to cook and firm up as they cool. I know it's a lot to ask but they have to cool to room temperature (or be chilled in the fridge) before slicing, or else they will totally fall apart.
Store in an airtight container at room temperature for up to 5 days or in the freezer for up to 3 months.
Yield: 10-12 large blondies or 20-24 blondie bites