~ This frittata with turkey Italian sausage and kale is an easy, one-pan dinner, lunch or brunch dish. It's gluten free, paleo and low carb. ~
While I'm off getting married, several of my beloved blogging buddies are stepping in to share some recipes so that you, my wonderful readers, don't get too lonely (or hungry). I will finally be back next week, but before I do, Amy is making us dinner. Or breakfast. Or, lunch if you prefer. Frittata is an incredibly forgiving and adaptable one-skillet dish that is appropriate for any meal and any fridge (or, usually, in my case, fridge clean-out effort). Amy dressed this one up for winter with hearty sausage and sturdy greens, which not only makes it nutritious and seasonally appropriate but makes it pretty darn gorgeous as well. 

Amy's food is always beautiful, though (especially these little pavlova petite fours, which I am more than a little infatuated with, that she made for my virtual bridal shower). If you like what you see – and you will! – make sure to check out the rest of Amy's wonderful food, exciting travel stories and beautiful photography at Club Narwhal, and on Facebook, Instagram and Pinterest.
**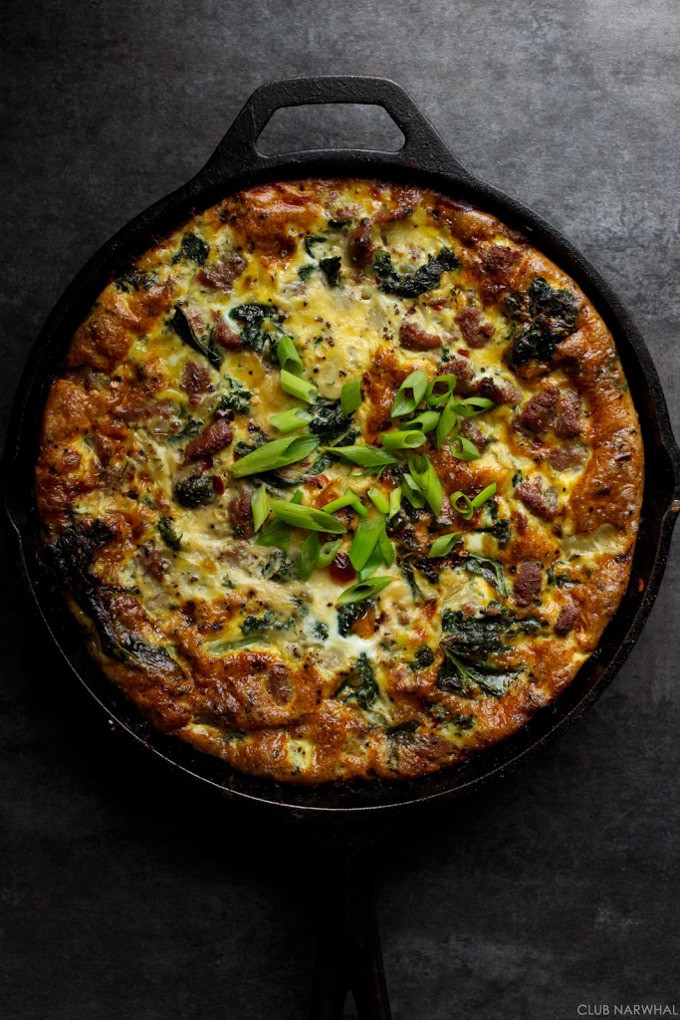 Hi, lovelies! My name is Amy and I blog about my adventures inside and outside of the kitchen on Club Narwhal. You might remember me from Nora's surprise blogger bridal shower–I brought Pavlova Petit Fours. I loved the excuse to buy gold sprinkles! Like all of you, I just plain adore Nora and am so pleased that I can pitch in while she is in full blown wedding mode. 
While I don't follow a full-time gluten/dairy-free diet like Nora, I have done a few paleo and whole food challenges. During my last one, I wanted to figure out how to makeover one of my favorite brunch recipes so I could eat it all the time! And as much as I love indulging in frittatas oozing with melty cheese, I found myself making this paleo frittata over and over again–long after the challenge ended. It is both light and filling and downright delicious.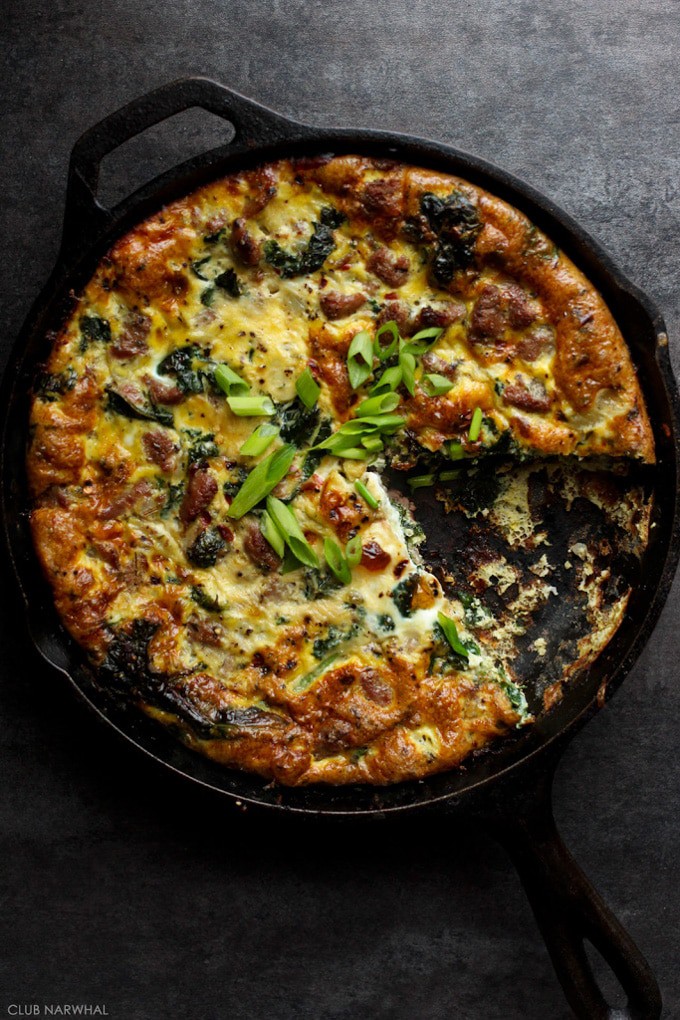 This frittata is the perfect kitchen sink meal because you can add pretty much any veggie with spectacular results. Sausage and kale is my favorite combination, plus I don't have to bust out my kitchen knives to prepare it. All you do is rinse the kale leaves, rip them up, and saute them with the sausage! It's almost too simple. 
We love making this frittata after a busy day at work. It's on the table in twenty-five minutes and feeds at least four hungry adults. You really can't go wrong here! Oh, and I'm super excited to play around with using this frittata base as the filling for my favorite hash brown crust quiche!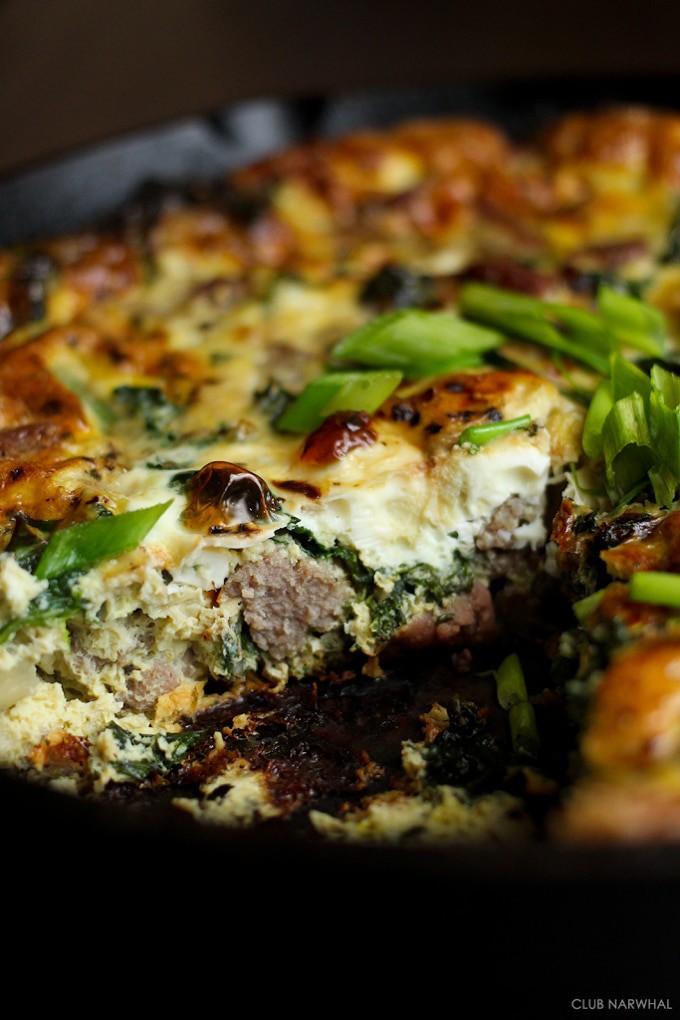 Paleo Frittata with Turkey Italian Sausage and Kale
3 tablespoons coconut oil

1/2 cup yellow onion, diced

3 links gluten free turkey Italian sausage, removed from casings

3-4 kale leaves, de-stemmed and ripped into 1-inch pieces

1 teaspoon dried thyme

1/2 teaspoon garlic powder

1/2 teaspoon kosher salt

1/2 teaspoon red pepper flakes

pepper to taste

8 large eggs

2 tablespoons water

green onion for garnish
Preheat oven to 350 degrees. Melt coconut oil in a cast iron skillet (or oven-safe skillet) over medium heat on the stove top. (Make sure the oil gets up on the sides of the skillet so you can easily remove the frittata when it's ready.) Saute onion and sausage until the sausage is cooked through. Stir in kale leaves, herbs, salt, and pepper and cook for another minute or two. 

While the sausage is cooking, whisk eggs and water in a medium bowl. Add whisked eggs to the sausage mixture. Reduce heat to low and let the frittata cook, undisturbed, for about 2-3 minutes, until the edges of the frittata are set and the middle is bubbling.

Finish cooking the frittata in the oven for 12-15 minutes, until the middle is just set and the top is golden brown. Let the frittata cool for 5-10 minutes before serving. Sprinkle with chopped green onions and serve!