It's never been easier to make low carb sandwich bread. This version uses all real food ingredients and comes together in your blender!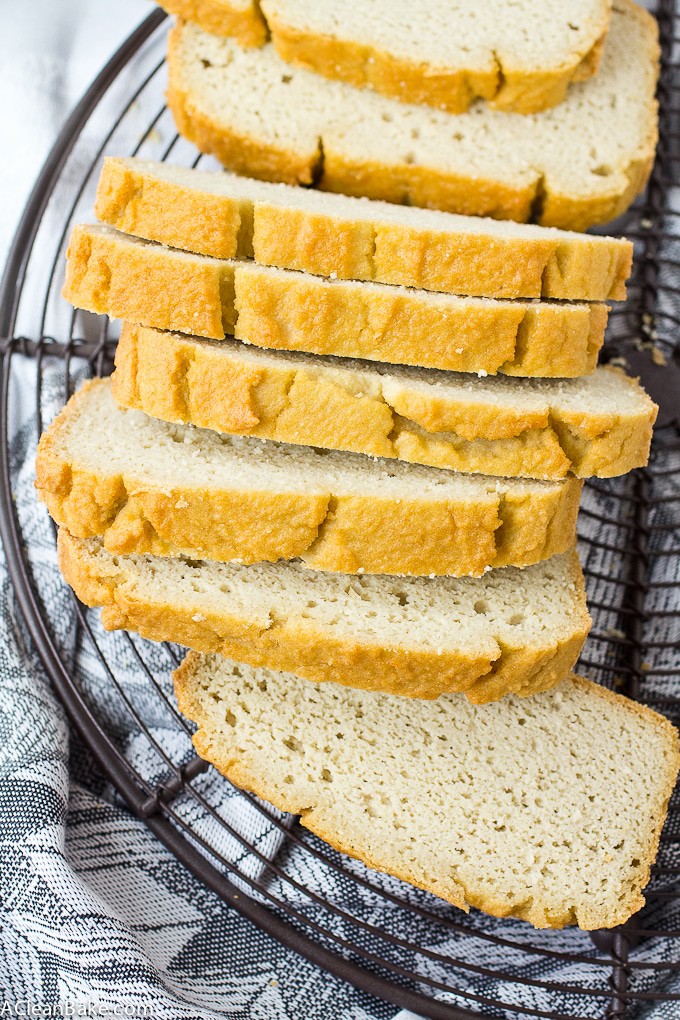 I feel like a total scrooge admitting this but I'm kind of glad the holidays are over. Not about going back to work, or waking up early, or the promise (threat, really) of 3-5 more months of weather ranging from uncomfortably chilly to I'm-so-cold-I-might-shatter-if-touched. No, certainly not that. Cold weather feels colder to me when I'm not surrounded by twinkly Christmas lights; this is a universal experience, right?
It's not that I am opposed to holiday cheer or twinkly, cold-weather-justifying lights decorating the neighborhood, but the whole cheese/cookie holiday diet was really starting to get to me.
December is a busy month in my family – more so than normal – because we have so many birthdays, and we celebrate Christmas and Hanukkah. I don't think there was a weekend without a celebration for about 6 straight weeks there. I'm out of jolly. (Ack. I really sound like a scrooge now.)
And my body can't take it anymore!
I've never been more relieved to return to a diet of mostly protein and veggies, of eggs for breakfast and hearty salads for lunch. But it's hard to go cold turkey and every once in awhile I really crave the comforting texture of something doughy. That's where this low carb sandwich bread comes in (but you probably already figured that out!)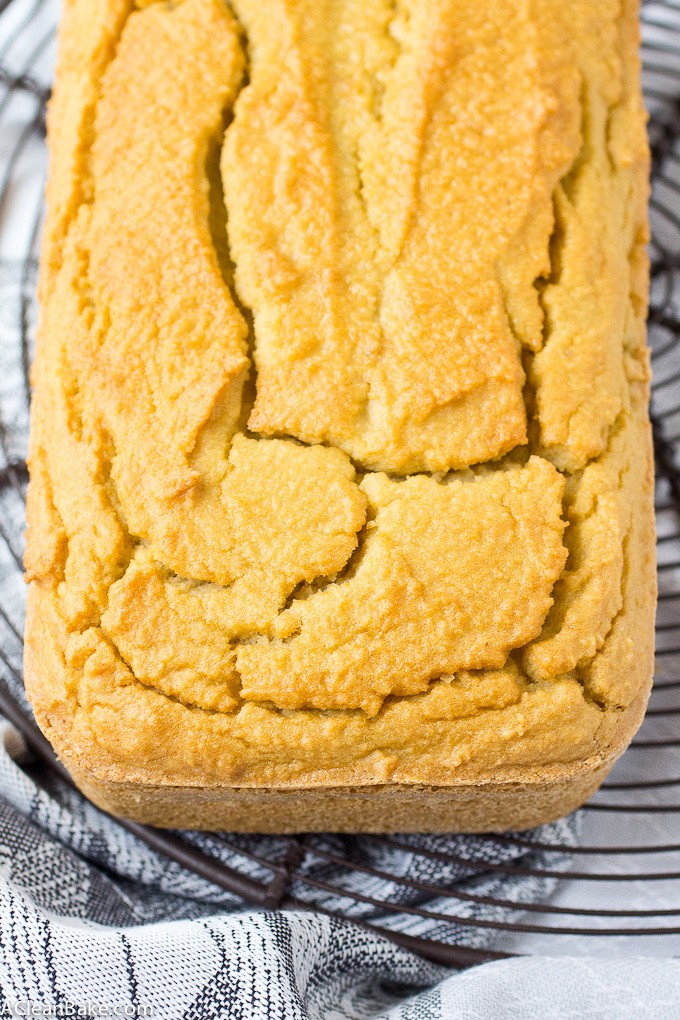 I'm not doing a Whole30, per se, but most of the "Nora Reset" diet falls into that camp, including, technically, this low carb sandwich bread – though I know that this is blasphemy because Whole30 forbids any copycat recipes made of legal ingredients but in the form of a forbidden food. Since I'm doing the "food that makes me feel good" diet, this bread is totally LEGAL.
What's different about this version?
I tinkered with the paleo sandwich bread that you have seen before to remove the tapioca starch (a seemingly easy task, until you actually try it. The first few loaves tasted like bland, gummy cakes) and the baking powder (which can contain cornstarch, causing a reaction in some people), leaving only the low(er) carb ingredients that are less likely* to trigger a reaction.
It couldn't be easier to make!
Unlike the original sandwich bread, you can make this low carb sandwich bread in about one minute: if you have a high speed blender, you can use it to prepare the batter – but be careful not to tax the motor. Dump the dry in and mix quickly and at high speed. The batter gets very thick very quickly, so if you hear or smell your blender's motor struggling, just pour the batter into a bowl and stir until the batter is smooth.
I haven't tried making this bread ahead and freezing it yet, but I imagine that, like it's slightly plusher, carbier counterpart, it freezes well, once completely cooled, sliced and wrapped tightly.
*Unless you are allergic to tree nuts or coconut, in which case, stay away.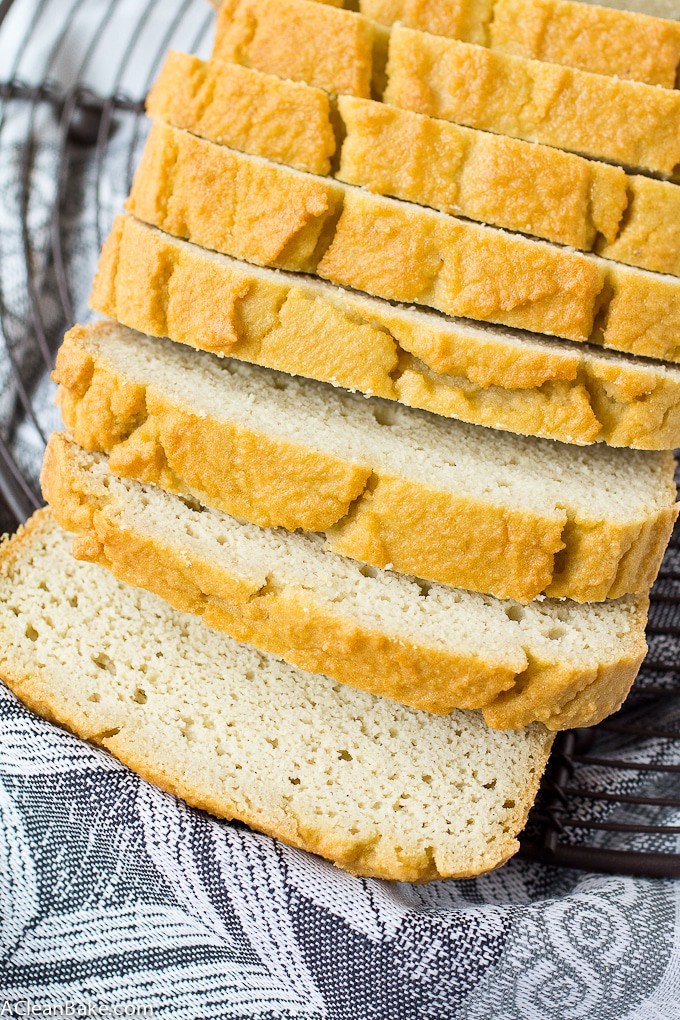 Now, go enjoy a sandwich!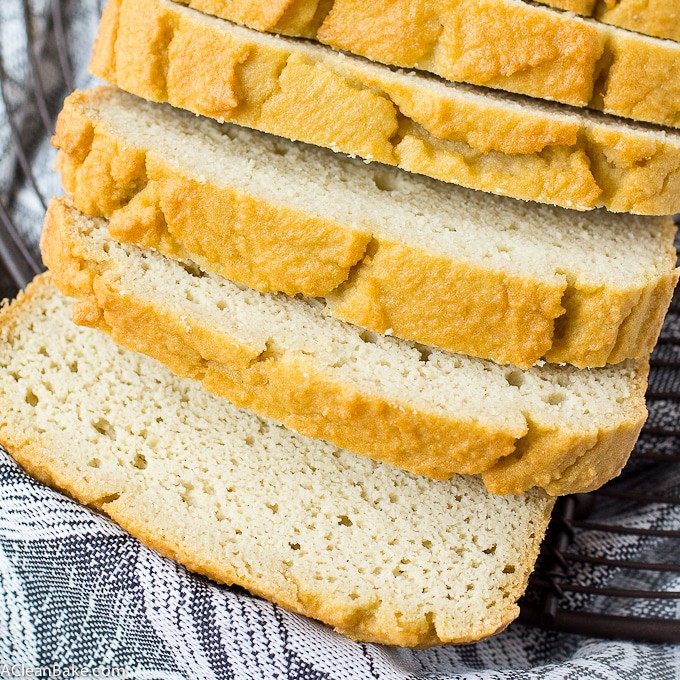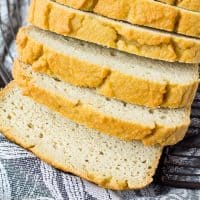 Low Carb Sandwich Bread
Total Time:
1 hour
5 minutes
It's never been easier to make low carb sandwich bread. This version uses all real food ingredients and comes together in your blender! 
Ingredients
Instructions
Preheat the oven to 350F. Grease an 8.5" loaf pan and set aside.
In a large mixing bowl, whisk together the almond flour, coconut flour, and salt and set aside.
Separate the eggs. Set aside the whites. 
Blend the egg yolks, oil, water, vinegar, and baking soda in a high speed blender on medium speed for 5 seconds until combined. 
Turn off the blender and allow the mixture to sit for 1 minute.
Add the egg whites, and mix for 10-15 seconds until the mixture is frothy.
Add the dry ingredients all at once and immediately process on high for 5-10 seconds until the batter is smooth. 
Pour the batter into the prepared loaf pan and smooth the top into an even layer.
Bake for 50-70 minutes, until a tester inserted into the center comes out clean.
Allow the bread to cool for 10 minutes in the pan before turning out onto a wire rack to cool completely. 
Notes
A note about mixing with the blender: You have to work very quickly before the dry ingredients absorb the wet and the batter becomes too thick for your blender to handle. If you hear or smell the motor straining, pour the batter back into the bowl that the dry ingredients and use a hand mixer to finish making the batter.
If you have trouble releasing the bread from the pan, run a thin knife around the edges before you turn it over.
Store fully cooled slices (or the whole loaf) in an airtight container in the fridge for up to a week or in the freezer for up to three months.
Recommended Products
As an Amazon Associate and member of other affiliate programs, I earn from qualifying purchases.
Nutrition Information:
Yield:

12
Serving Size:

1 slice
Amount Per Serving:
Calories:

102
Total Fat:

8g
Saturated Fat:

2g
Trans Fat:

0g
Unsaturated Fat:

6g
Cholesterol:

78mg
Sodium:

226mg
Carbohydrates:

3g
Fiber:

1g
Sugar:

1g
Protein:

4g
[amazon_link asins='B00HS01I1A,B00PD2B68K,B00K1JFC0S,B009NT3JD4,B003QJF33Q,B001ID6MIC,B01688AFFC,B00FN3M1RE' template='ProductCarousel' store='butterfanati' marketplace='US' link_id='a290b4a9-3062-11e7-ac1b-9f2742f61ba8′]
[wprm-nutrition-label align="center"]
Pin it for later! ????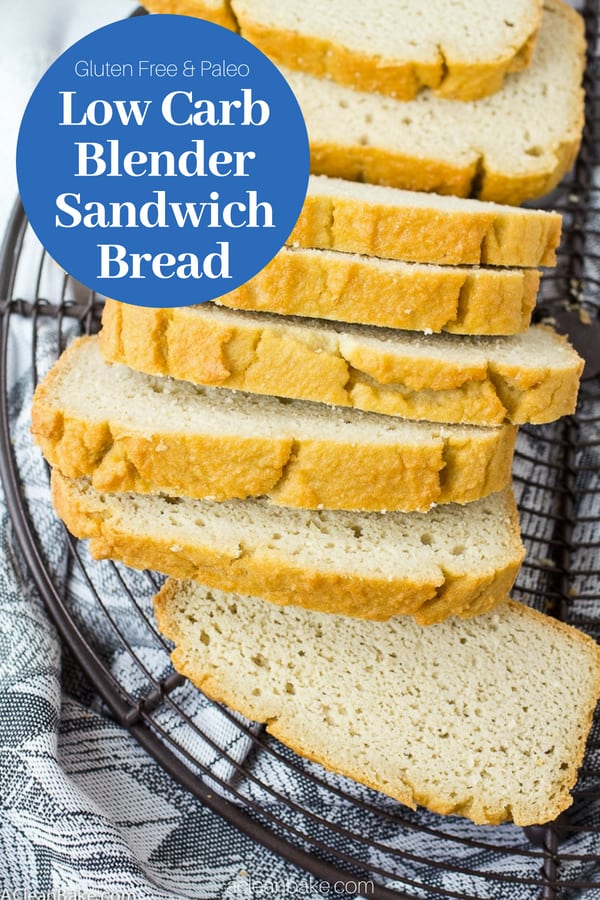 This post contains affiliate links, which means that if you click through and purchase a product, A Clean Bake receives a small commission, which goes toward continuing to bring you delicious, healthy recipes every week. This does not affect the price you pay. Thanks for supporting A Clean Bake!