Oh these cookies. These soft, chewy, stuffed-full-of-add-ins cookies.
They're chewy and hearty, the way a good oatmeal cookie should be, yet still pillowy-soft. They are packed with nutty whole rolled oats, chewy raisins, smooth chocolate chips, and crunchy walnuts, so you get lots of flavor and texture in every bite. And best of all, they are SO easy to make – all it takes is one bowl, a spoon, and ingredients you probably already have on hand. Oh, and they couldn't be more dunkable.
These cookies leave me speechless. (Well, almost.)
You'll be as utterly obsessed with these cookies as I am, but you'll have to try them for yourself!
To get the (quick and easy) recipe, click through to my friend Zainab's blog, Blahnik Baker, where I am guest posting for her while she works on a huge presentation for work. (Or just scroll down.)
And, psst, don't forget, you don't have to go out and buy any oat flour to make these; it's so easy to make your own!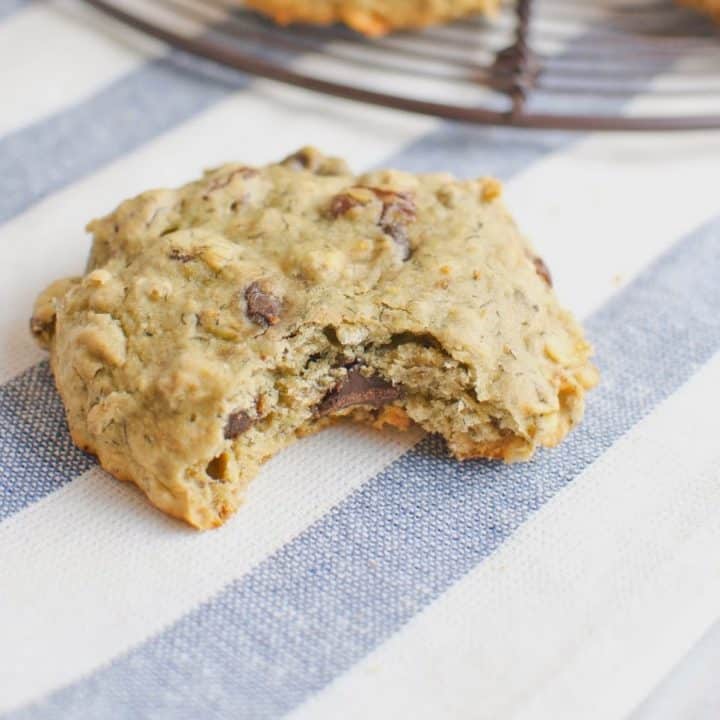 Gluten Free Oatmeal Raisin Chocolate Chip Walnut Cookies
Ingredients
2 large very ripe bananas, thoroughly mashed
1/3 cup coconut oil or butter, melted and slightly cooled
1/4 cup honey
1 large egg (or 1 flax egg if vegan), lightly beaten
1/2 teaspoon vanilla extract
1/4 teaspoon of salt
1½ teaspoons baking soda
1 cup rolled oats
1/2 cup chocolate chips
1/2 cup raisins
1/2 cup walnuts, roughly chopped
Instructions
Preheat the oven to 350F.

Line 2 baking sheets with parchment or a nonstick pad.

In a large mixing bowl, stir bananas, butter, honey, egg/flax egg, and vanilla together until combined.
Stir in salt and baking soda.
Stir in oat flour. Make sure it is well-incorporated and there are no lumps.
Fold in oats, then chocolate chips, raisins and walnuts.
Use an ice cream scoop to portion out approximately 3 Tablespoon balls of dough. Press down slightly with your palm. Arrange 8 per cookie sheet and bake for 10 minutes until the edges are slightly golden.
Allow to cool on the pan for 5-10 minutes during which time they will firm up a bit. Then transfer to a wire rack to cool completely.