Vegan and Paleo Homemade Sugar Free Dark Chocolate. You wouldn't believe how easy it is to make homemade chocolate with just a handful of clean ingredients!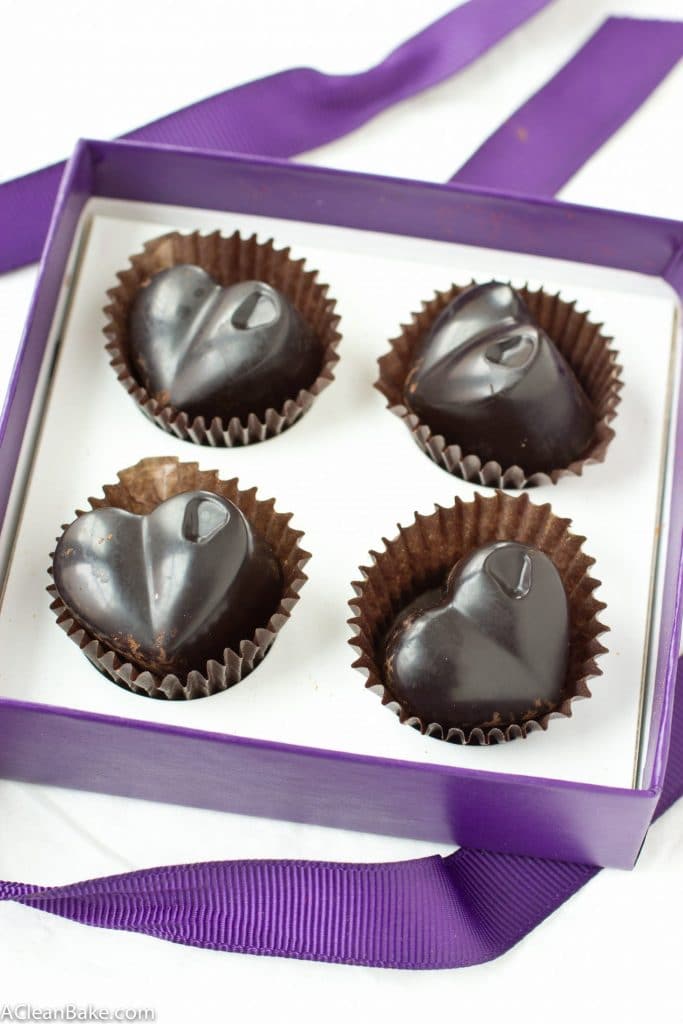 While I have nothing at all against someone buying me a lovely box of chocolate for Valentine's Day,
my finicky stomach
has forced me to resort to what I thought was extreme measures this year: making my own chocolate. It sounds bananas. Did you even know you could make chocolate at home from scratch? What's more, did you know it takes 5 minutes???? Well, then there is a little more time required for it to set, but in terms of hands on time, it goes mix, stir, pour, [wait,] eat.
Chocolate is nothing more than cocoa, fat, sweetener, and flavorings, like salt and vanilla, which enhance the rich flavor of the chocolate. When you buy chocolate chips, or even many chocolate bars, they contain additives to make them shelf stable or hold a shape (like chips that stay chip-shaped when you heat them) or resist "bloom" – that light brown or white-ish powdery look that chocolate gets when it is old or freezer burned or heated and cooled too quickly. You'll see a teeny bit of it on these chocolates, but it doesn't affect the taste or enjoyment of the chocolate in the slightest. And it's a sign of the simple composition of these chocolates.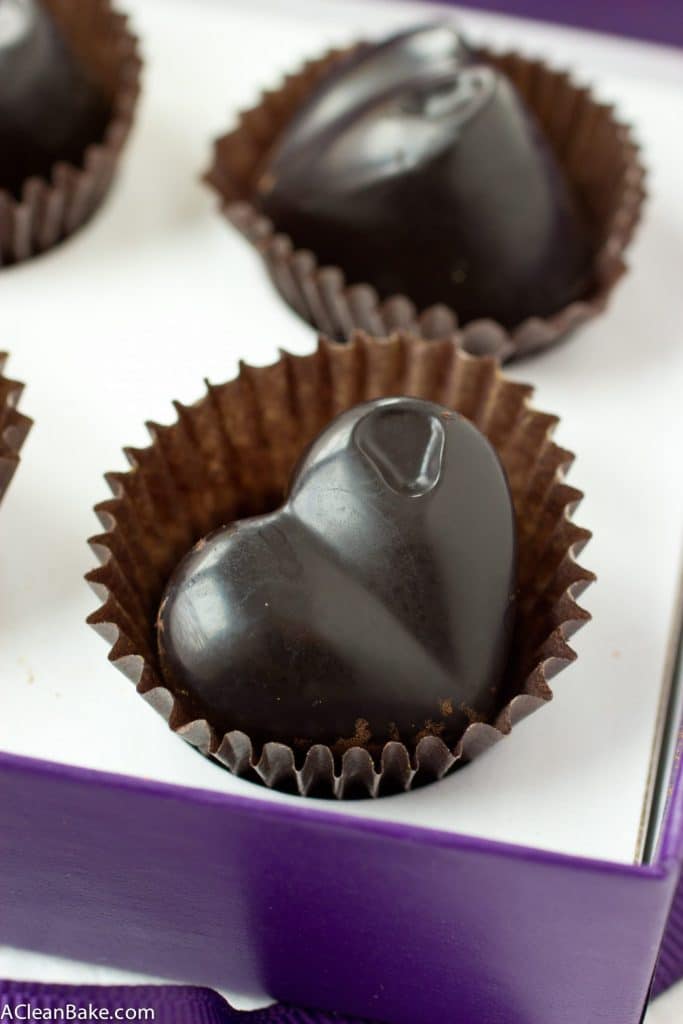 Here are a few things to keep in mind when you are making these:
I tested these with two granulated sweeteners – a stevia product (Natvia) and a monk fruit product (Norbu) – both of which worked perfectly due to their mild flavor and fine grain.
The sweetener won't fully dissolve because there is no water in this recipe for them to dissolve into, so make sure that if you aren't going to use either of these options, you replace it with something that is equally fine-grained. You can use coconut or raw sugar, but I would strongly recommend that you pulse it in a coffee grinder or food processor so that it will be as fine as possible before you incorporate it into the recipe.
I love super-dark, almost coffee-like dark chocolate so I used 1 Tablespoon of sweetener and darker (Hershey's Special Dark) cocoa powder. For a milder flavor, use a natural cocoa powder, though make sure it is a good quality one. And for a sweeter, less bitter flavor, add an additional Tablespoon of sweetener, or to taste.
Follow the instructions on adding the coconut oil and then setting the chocolate; this method reduces the dreaded bloom as much as possible.
I think I am making this seem much more complicated than it is, when in fact, it is a simple recipe with lots of potential little tweaks to make it exactly as you want it to be. Or, exactly how your sweetheart wants it to be. Because nothing says I love you more than a homemade gift… except, of course, homemade chocolate!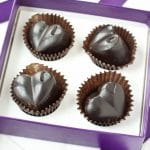 Homemade (Sugar-Free) Dark Chocolate
Ingredients
1/2

cup

good quality cocoa powder

4

Tablespoons

coconut oil,

melted and cooled slightly

3

Tablespoons

granulated stevia or monk fruit sweetener

(or to taste)

1/8

teaspoon

vanilla extract

Pinch salt
Instructions
Mix the coconut oil into the cocoa powder, 1 Tablespoon at a time. Scrape down the sides and bottom of the bowl periodically to make sure it all gets incorporated.

Stir in the sweetener, vanilla, and salt.

Divide between two lightly greased

mini loaf pans

or a lightly greased chocolate mold (

here

is the heart mold I used, but

here

is a more traditional bar mold).

Allow it to set at room temperature for 30 minutes, then transfer to the fridge to set completely.

Store in the fridge until you're ready to eat it. This gets a little mess if kept at room temperature.
Recipe Notes
I used only 1 Tablespoon of Norbu because I like a super strong cocoa flavor. It tastes like a 90% bar. Feel free to add an additional Tablespoon or two to adjust to your taste.
I highly recommend using granulated stevia or monk fruit sweetener, which has a finer grain. If you would like to use raw or coconut sugar, you may want to grind it to a finer consistency in a coffee/spice grinder or mini food processor so that your chocolate doesn't end up gritty.
Yield: 2x6" bars or about 9-10 mini chocolate bites
Thank you to Natvia for providing the ingredients that inspired this delicious recipe. This post contains affiliate links, which means that if you click through and purchase a product, A Clean Bake receives a small commission, which goes toward continuing to bring you delicious, healthy recipes every week. This does not affect the price you pay. Thanks for supporting A Clean Bake!