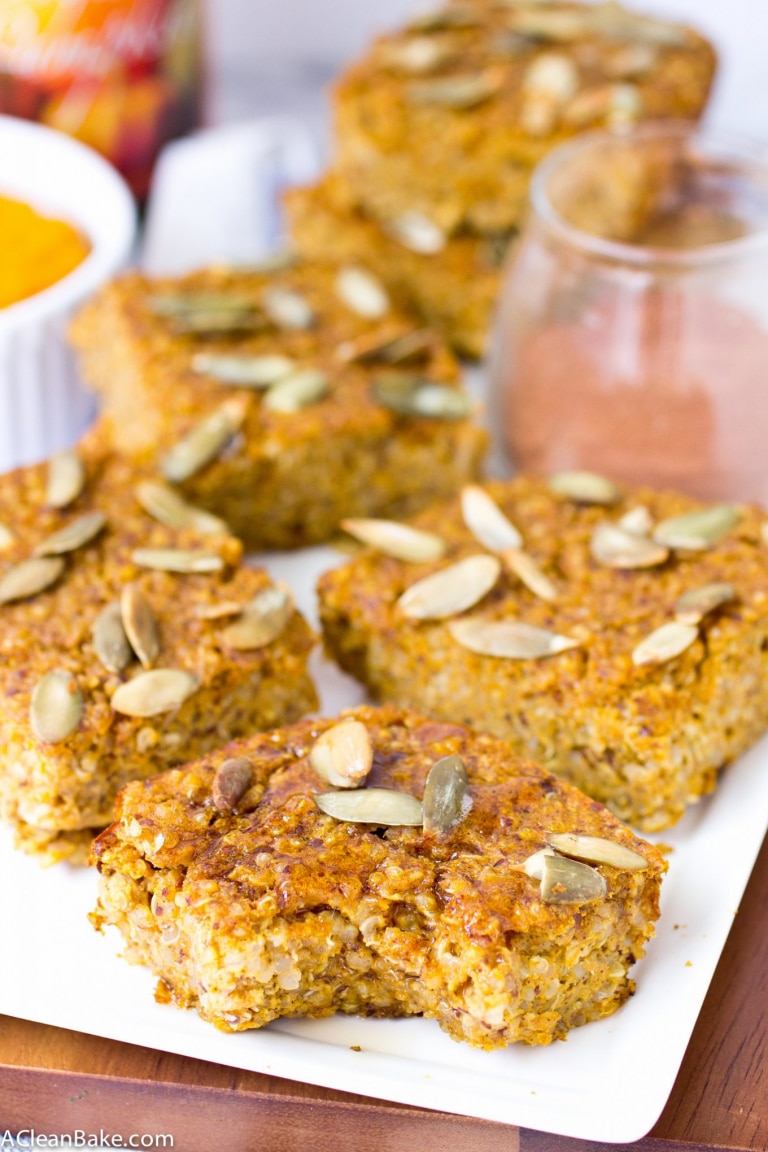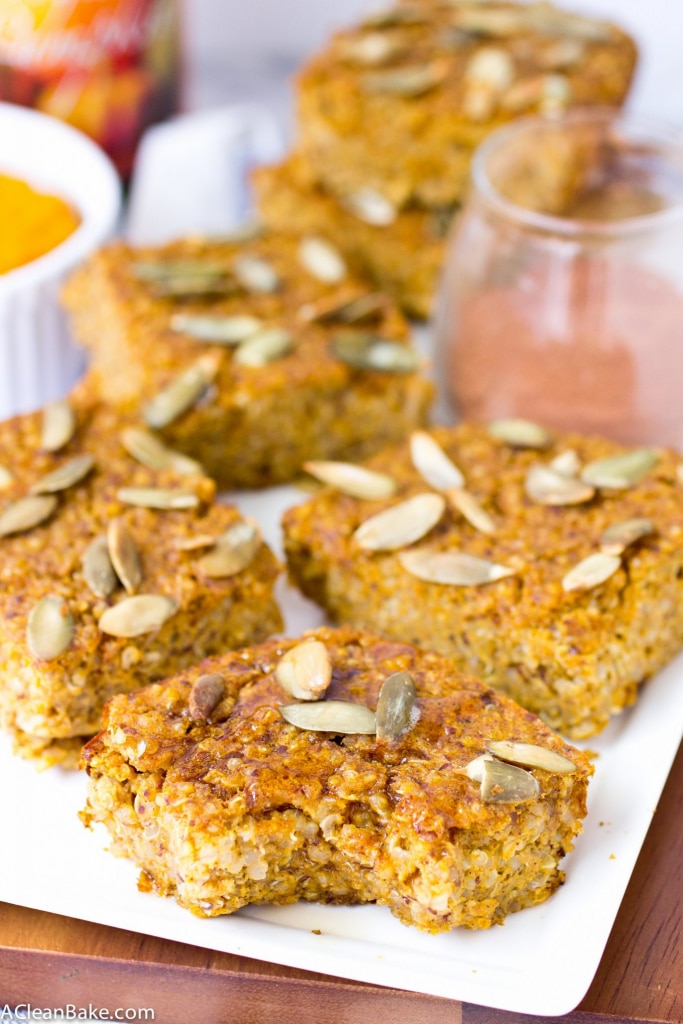 I really wanted to call this post "Pumpkin: The Reckoning" because, apparently, the return of pumpkin season stirs up all kinds of thoughts in me, but actually, mostly, the lunatic ones. Alternate titles included: "Now Would Be A Good Time To Stage a Pumpkin-vention and "Pumpkin's Back – ALL RIGHT!" (please tell me you get that reference. Now I am guiltily watching the video. Join me? What is the deal with that dance? Were they paying homage to Michael Jackson or was it just blatant theft? Ok new potential title: "Anthropology 101: Unpacking The Symbolism of the "Everybody" Video".)
…Is anyone still out there?…
Right. Ok. Back to the topic at hand.
Now that Starbucks says that this is a socially acceptable time of the year to re-introduce pumpkin to our diets, I think that is also a great cue to shake up the ol' breakfast routine. Because I don't know about you, but I could really use a break from my two-egg morning routine.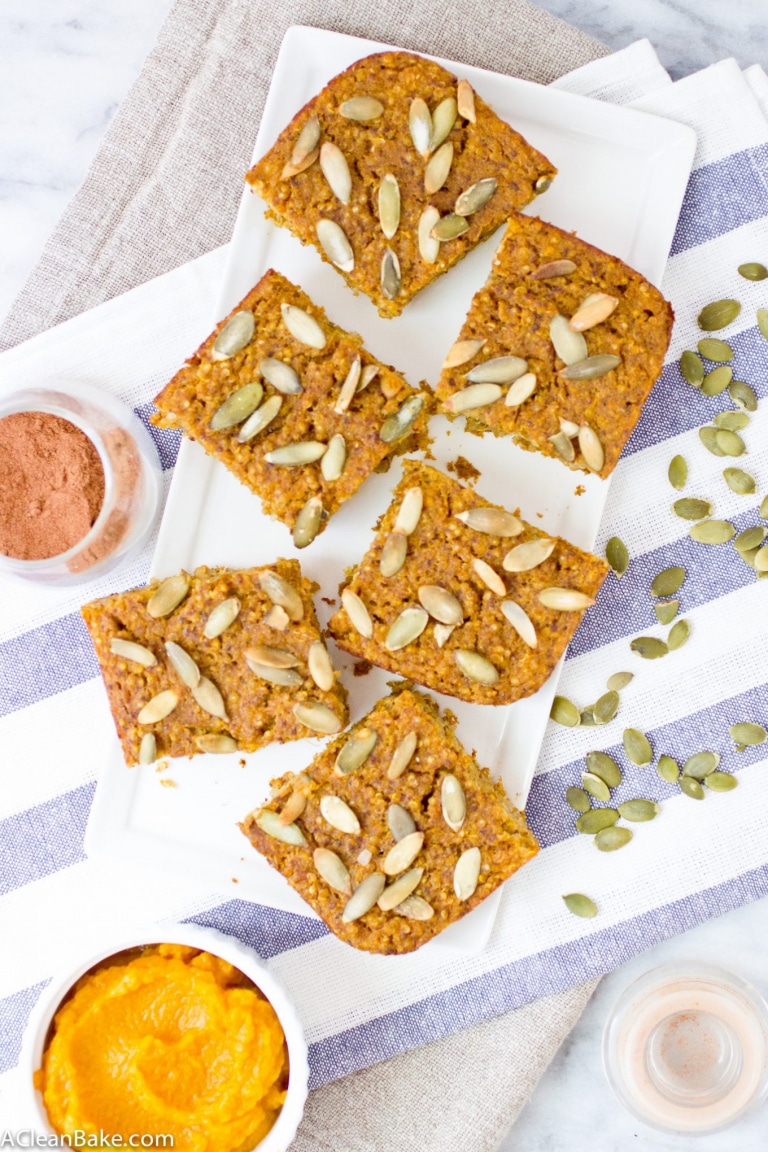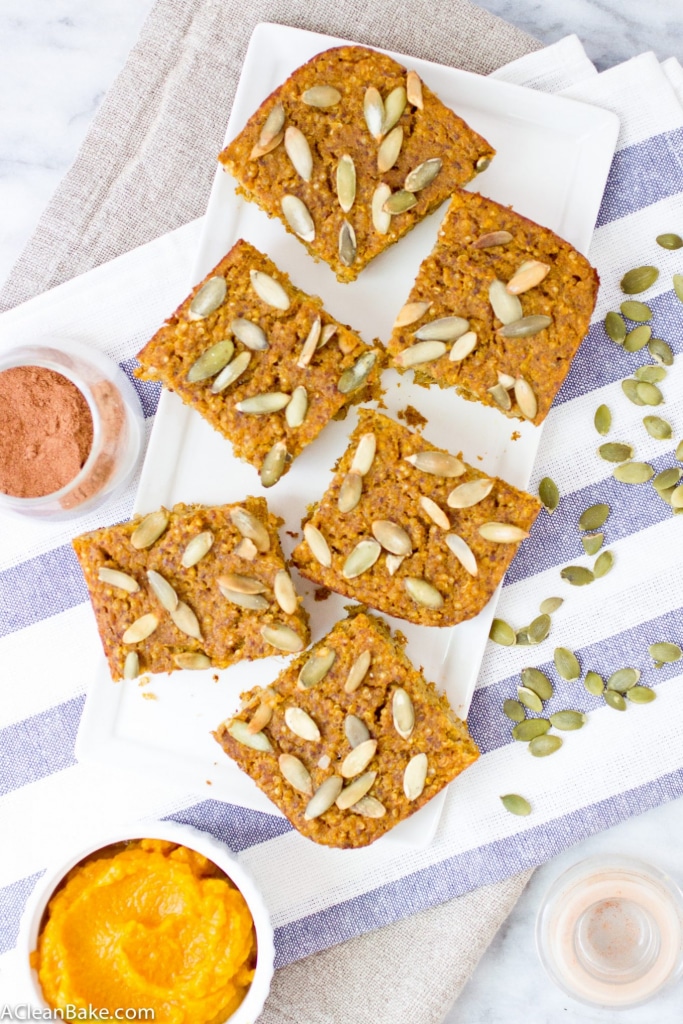 Baked quinoa bars aren't really as odd as it sounds when everyone and their mother is all about the baked oatmeal, and this is really just a grain-free alternative. That said, since you are using cooked quinoa instead of dry, as you would with oats (which don't break your teeth in their uncooked state, like quinoa is prone to), these are more moist and therefore slightly less sturdy than their oatmeal counterparts. While they do hold up just fine to things like a morning commute, and being eaten with one hand while standing over a dresser applying makeup with the other hands (in case you were curious), don't expect them to be sturdy, like a granola bar would be. If you want a granola bar, bake this, this, this or this in a pan instead. But they do stand up well enough for a busy morning.
These bars are ridiculously easy to make vegan, simply by eliminating the chicken egg and adding an additional Tablespoon of flax meal. As far as substitutions, you can use any kind of squash (except maybe spaghetti); I have found in the past that butternut puree stands in for pumpkin very well from a texture and moisture standpoint, but it gives the dish a little bit more "vegetable-ish" flavor, so you may want to increase the maple syrup to compensate. Acorn is also an excellent replacement because it has a similar sweetness. Oh, and of course, feel free to replace the pepitas with whatever you have around. Pecans would be an excellent alternative, as would walnuts, or…well chocolate chips never hurt anyone either.
Oh, and if you warm them up and they taste like square breakfast porridge. Break out the pumpkin, everyone, it's time for breakfast!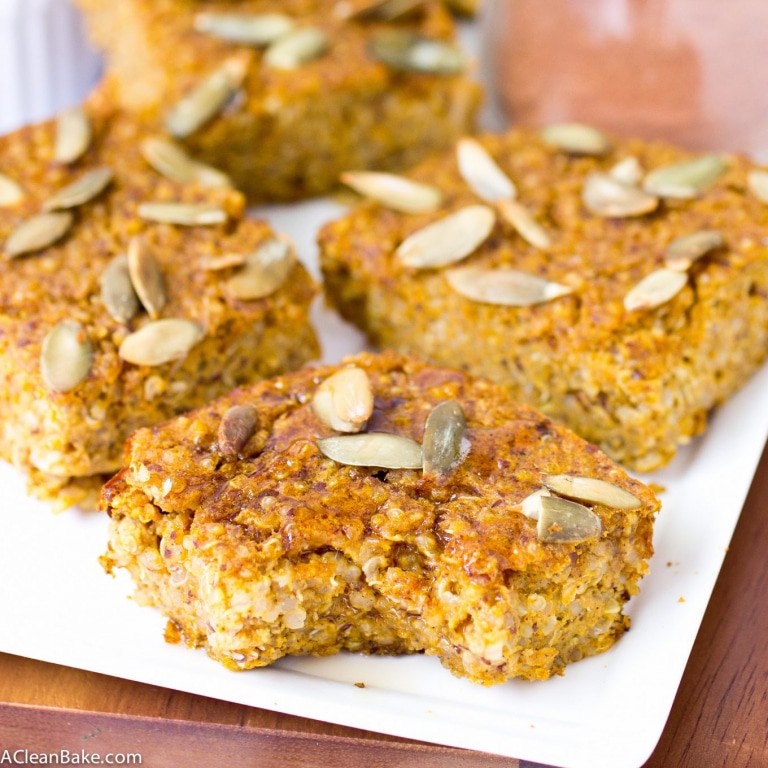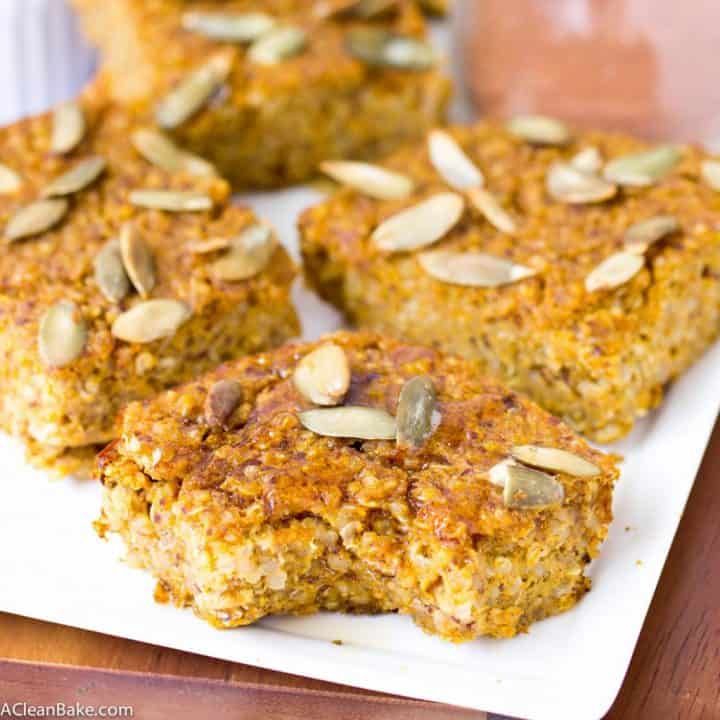 Pumpkin Baked Quinoa Bars
gluten free, whole grain, naturally sweetened
Ingredients
2 cups cooked quinoa
1 1/2 teaspoons pumpkin pie spice
1/4 cup quinoa flour
Pinch salt
1/4 cup flax meal
1 cup pumpkin puree
2 Tablespoons maple syrup
1 Tablespoon granulated monk fruit sweetener , or granulated stevia
2 large eggs
1/4 teaspoon vanilla extract
Pepitas for garnish, pumpkin seeds, optional
Instructions
Preheat the oven to 350F. Coat an 7x11" baking pan with nonstick spray and set aside.
In a large mixing bowl, combine the quinoa, spice, flour, salt and flax meal.
In a small mixing bowl, stir together pumpkin, maple syrup and egg until combined.
Stir pumpkin mixture into quinoa mixture and allow to sit for about 5 minutes, which allows the flax to start to absorb some of the liquid.
Pour the batter into the prepared pan and spread into an even layer. Sprinkle pepitas evenly across the top.
Bake for 40-50 minutes or until the top is golden and set.
Allow to cool completely before cutting into bars.
Serve with a drizzle of maple syrup on top.
Notes
Make sure you are using pumpkin puree, which is cooked and mashed pumpkin, instead of pumpkin pie filling, which is pumpkin puree mixed with lots of sugar and artificial flavors.
There are lots of add-in possibilities, if you want. Try more pepitas, dried cherries, chopped toasted pecans or walnuts, or chocolate or cinnamon chips.
To make this completely sugar free: omit the maple syrup and add an additional 1/2 - 1 tablespoon granulated stevia or monk fruit, to taste. Reduce baking time by 5-10 minutes. 
You may omit the stevia entirely if you want this to be completely unsweetened, but I wouldn't recommend it. If you do omit all sweeteners, double the vanilla and add additional pumpkin pie spice (to taste). 
Store in an airtight container in the fridge for up to 5 days, or in the freezer for up to 3 months.
This recipe was updated in August 2015
Pin for later: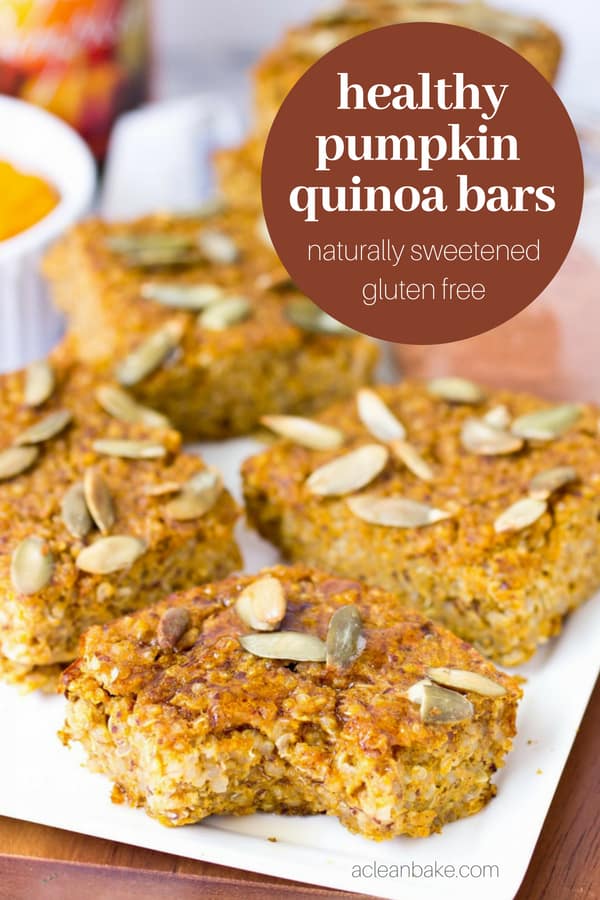 This post contains affiliate links, which means that if you click through and purchase a product, A Clean Bake receives a small commission, which goes toward continuing to bring you delicious, healthy recipes every week. This does not affect the price you pay. Thanks for supporting A Clean Bake!