Welcome back to A Clean Bake Weddingstravaganza (Part 1)! Today, I have the second of this week's wonderful guest posts for you, and before you ask, the drool running down your chin is courtesy of the amazing Justine, who runs the blog Cooking And Beer. The name pretty much speaks for itself: Justine is not just a whiz in the kitchen, whipping up everything from breakfast to dinner to dessert, she is also the single most informed and experienced beer aficionado I have ever met! With each dish, she suggests a beer pairing and I don't know how she finds some of these picks but they are all really interesting brands and flavor profiles that you probably would not have come across otherwise. At least I wouldn't! Beer is an area that I am not so well-versed in, so I rely on Justine to teach me a thing or two. She's a master!
But her beer expertise hardly comes at the expense of the food, of course. She is so incredibly tuned in to interesting flavor profiles and ingredient combinations, and her food always demonstrates the perfect balance between comforting/familiar and interesting/unexpected With so much variety of dishes, ingredients and beer (!!) on her site, there really is something (or, actually, many things for everyone), so make sure you check out the rest of her wonderful recipes on her blog, as well as Facebook, Twitter, Instagram and Pinterest.
Although she typically doesn't adhere to the strict dietary guidelines that I do, she whipped up this "noodle" bowl like she's been making grain-free/dairy-free/sugar-free fare for ages. Who's impressed?? And, as though it's not versatile enough already, you can swap out the chicken for beans or tofu to make it vegan. Read on for the recipe!
**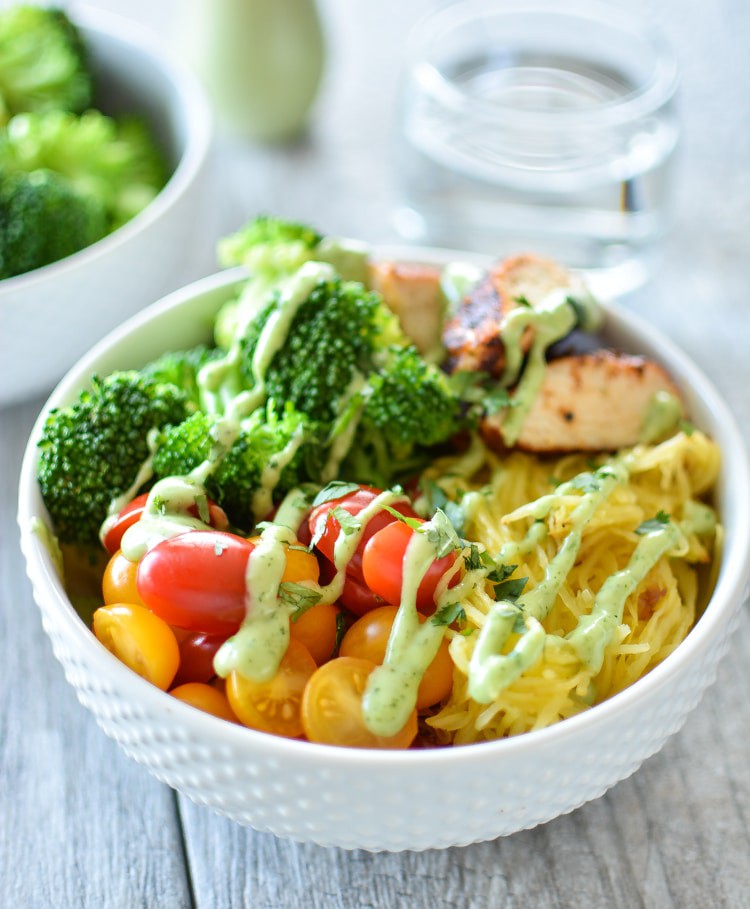 Hello everyone! I'm Justine, and I'm the brains, recipe creator and photographer behind
Cooking and Beer.
I was super excited when Nora asked me to do a guest post for her, as she is my go-to blog for all things healthy and oh so good for you!
Nora inspires me to eat better and healthier, and I'm in endless awe at her baking skills!
I decided to go savory this time around, and I'm totally not sad about it. These spaghetti squash "noodle" bowls are one of my favorite current recipes. I make them all the time, subbing in different kinds of veggies, fruits, and protein…pretty much whatever I have on hand. The sky is the limit in what you can add to a noodle bowl, and here is one variation that I just adore.
Spaghetti squash is roasted to perfection in the oven. I scoop out the flesh and add it to a bowl with all kinds of other goodies. I add a spicy chicken breast (this can be eliminated for a vegetarian version), halved cherry tomatoes and steamed broccoli. Drizzled over top is the best avocado sauce in the history of mankind. I'm telling you, I could literally eat it with a spoon. It's that good.
I love noodle bowls for a quick lunch (it's the perfect make-ahead meal) or dinner. It's hearty, healthy and delish.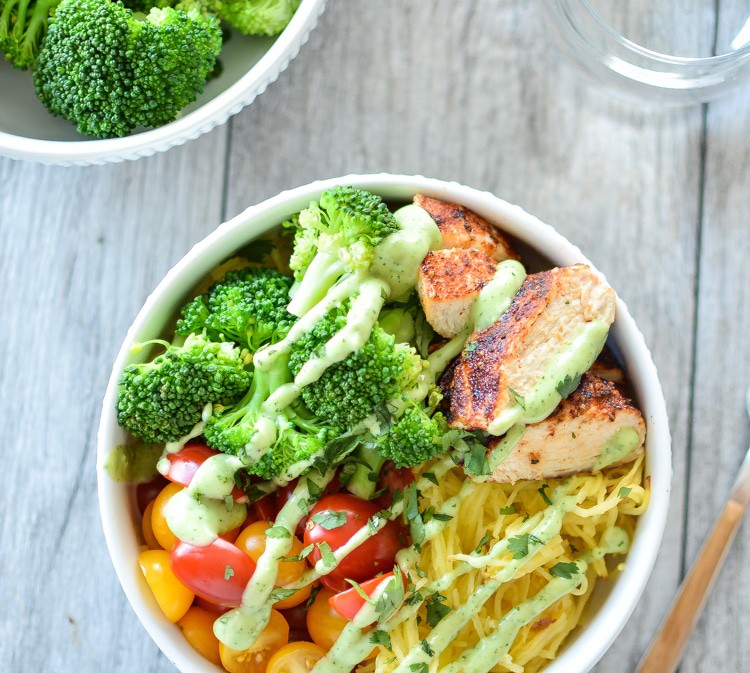 At this point over on Cooking and Beer, I would pair with a craft beer of some kind. For those of you who are just as obsessed with craft beer as I am, I suggest pairing this dish with a crisp pilsner which is just perfect as we near the end of summer!
I hope you guys enjoy the recipe!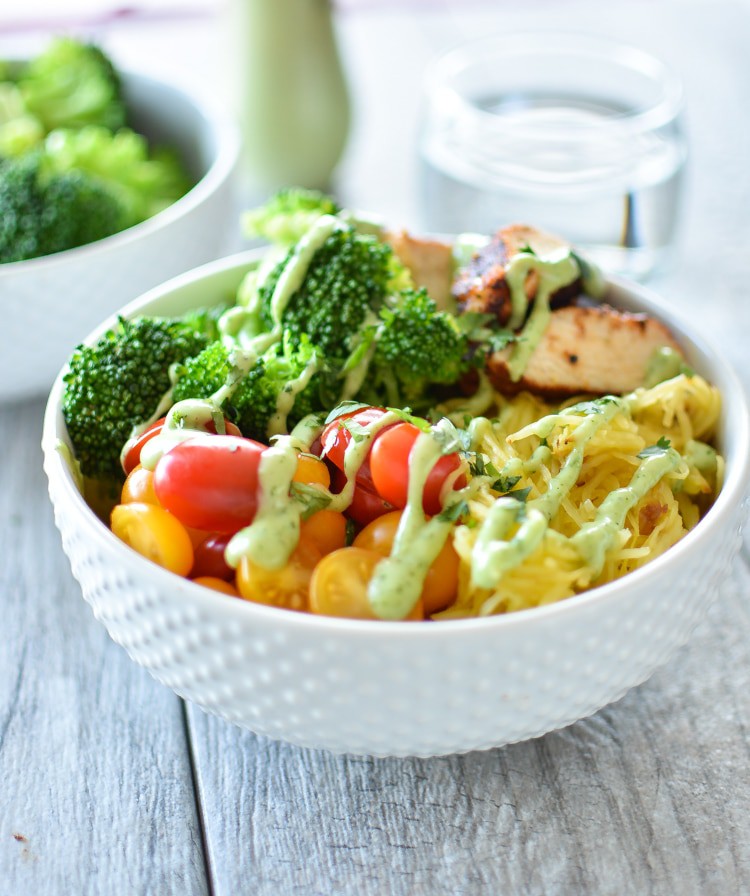 Spaghetti Squash "Noodle" Bowls with Spicy Chicken
Ingredients
2 avocados, pitted and diced

2 cloves of garlic, finely minced

1 jalapeño pepper, seeds and stem removed, diced

1 green onion, chopped

2 tablespoons fresh cilantro, chopped

1 cup coconut milk

2 tablespoon lime juice

1 teaspoon lemon juice

1 spaghetti squash (3-4 pounds)

black pepper

2 boneless and skinless chicken breast (eliminate for a vegetarian version)

2 tablespoons chipotle chili powder (more or less to taste)

3 cups broccoli florets, steamed

2 cups cherry tomatoes, halved

Cooking Instructions
Begin by preparing your avocado sauce. To a blender, add the avocados, garlic, jalapeño pepper, green onion, cilantro, coconut milk, lime juice, lemon juice and a dash of salt. Blend until smooth and creamy. If the sauce is too thick for your liking, add more coconut milk, lime juice or water until you get the consistency you desire. Set aside or refrigerate until you are ready to use.

Next, prepare your squash. Preheat your oven to 400 degrees F, and line a large baking sheet with foil. Slice your squash in half, lengthwise. Remove all of the seeds and gooey stuff from the center. Season the flesh with salt and pepper, and place the squash, flesh side down, on the prepared baking sheet. Poke the skin with a fork. Roast the squash for 40-45 minutes or until the squash is tender and soft. Remove from oven and let cool for at least 15 minutes before handling. Leave the oven turned on, as you will use it to bake the chicken. Once the squash is cool enough to handle, scrape the flesh out with a spoon. It should be stringy and look "spaghetti-like." Set aside.
While your squash is cooking, prepare your chicken. Line a large baking sheet with foil and place a wire rack on top. Spray the wire rack with a non-stick spray. Cut the 2 chicken breasts lengthwise, so that you have 4 total pieces. Season both sides of the chicken generously with salt, pepper and chipotle chili powder. Place the chicken on the prepared wire rack. Bake the chicken at 400 degrees F for 15-17 minutes, or until the chicken is cooked through. Remove from oven and let cool for 1-2 minutes. Slice the chicken into strips and set aside.

Finally, assemble your noodle bowls by dividing the spaghetti squash, chicken, steamed broccoli and cherry tomatoes into 4 bowls. Drizzle the avocado sauce on top or serve on the side. Garnish with fresh cilantro and enjoy!