Loosely translated, "galette" means "literally easier than pie" (ok VERY loosely translated), and that's just what this apple pastry is: a batch of pie crust is rolled out into a large disc, but instead of fussing with the pie plate, long cook time, and dreaded double crust, you simply turn out apple filling onto the crust, fold up the edges, and pop it in the oven. It impresses like pie with a fraction of the work!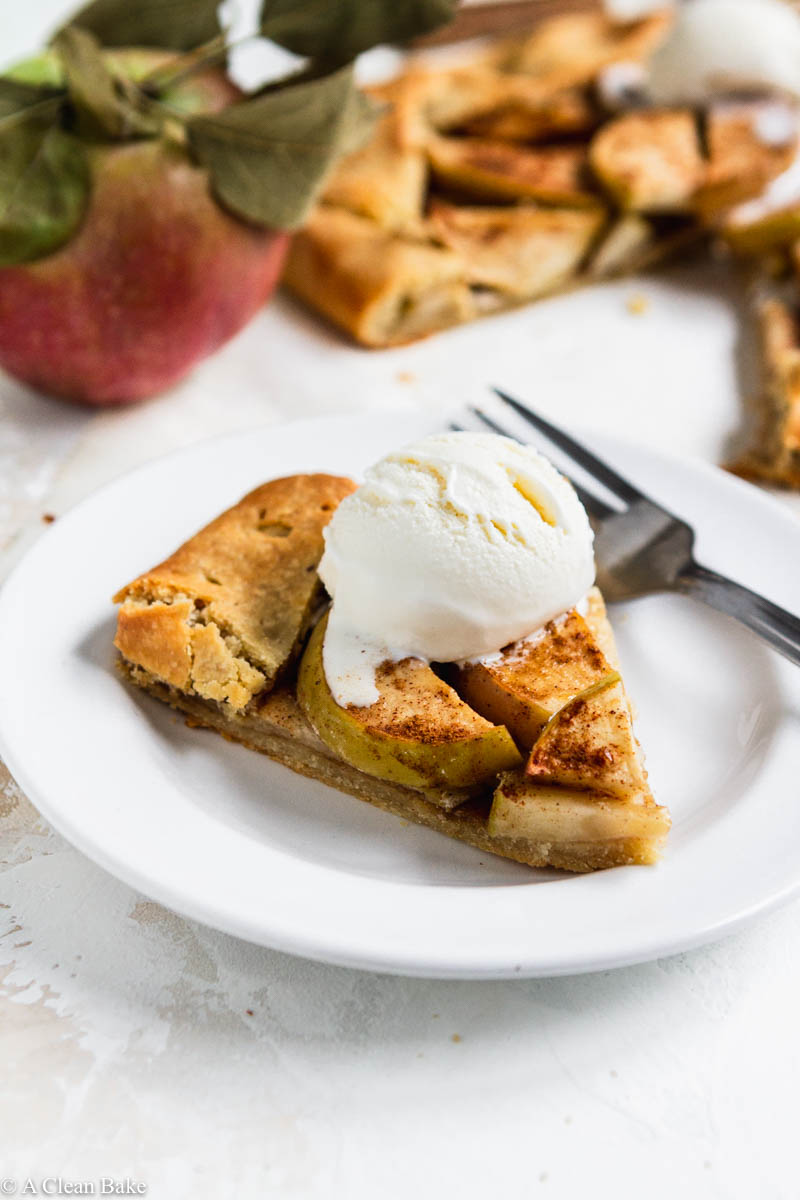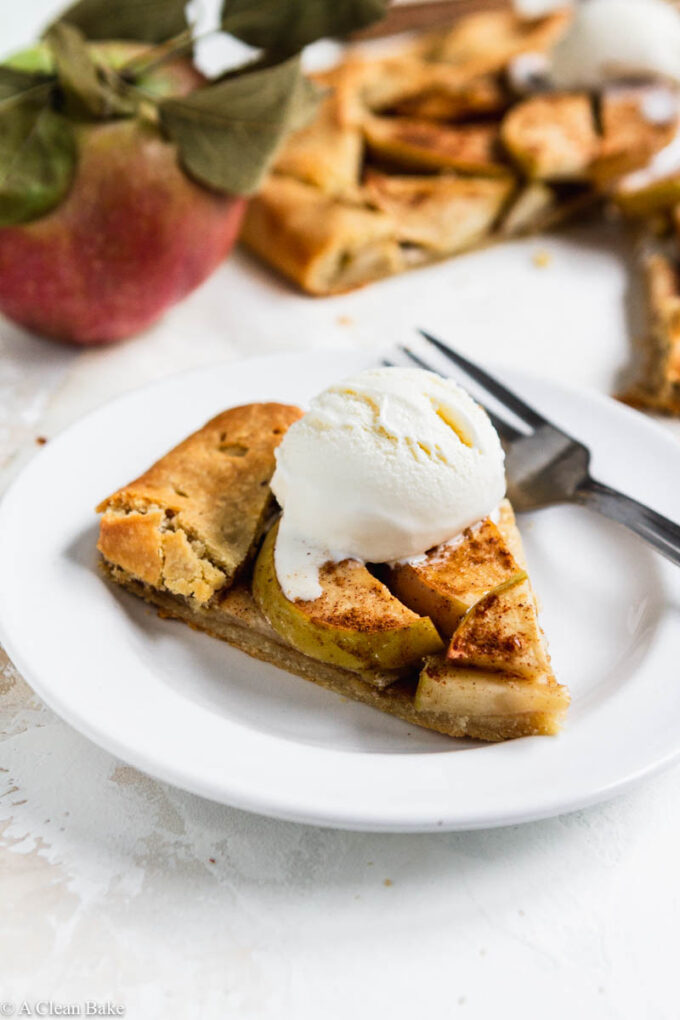 This fall, I found myself buried in apples. I'm talking up to my eyeballs, how did this happen, takes up 1/3 of my fridge kind of quantities here. It happened when I suggested to my family that we visit an apple orchard just over the border in Indiana back in September. My husband and I were so excited that we both filled 2 huge bags to the brim, not realizing that the other one was doing the same. (My son just stood in between rows of trees chowing down on apples which, in retrospect, was probably lucky. I don't know what we would have done with another enthusiastic picker's haul!)
I thought I'd be able to use them up quickly but even after making all my favorites – vegan and paleo apple crisp, to-die-for paleo Dutch apple pie, pork chops with apples and onions, and countless batches of apple sauce (and an attempt at apple butter that just turned into more apple sauce) – I found myself with way more apples than I knew what to do with.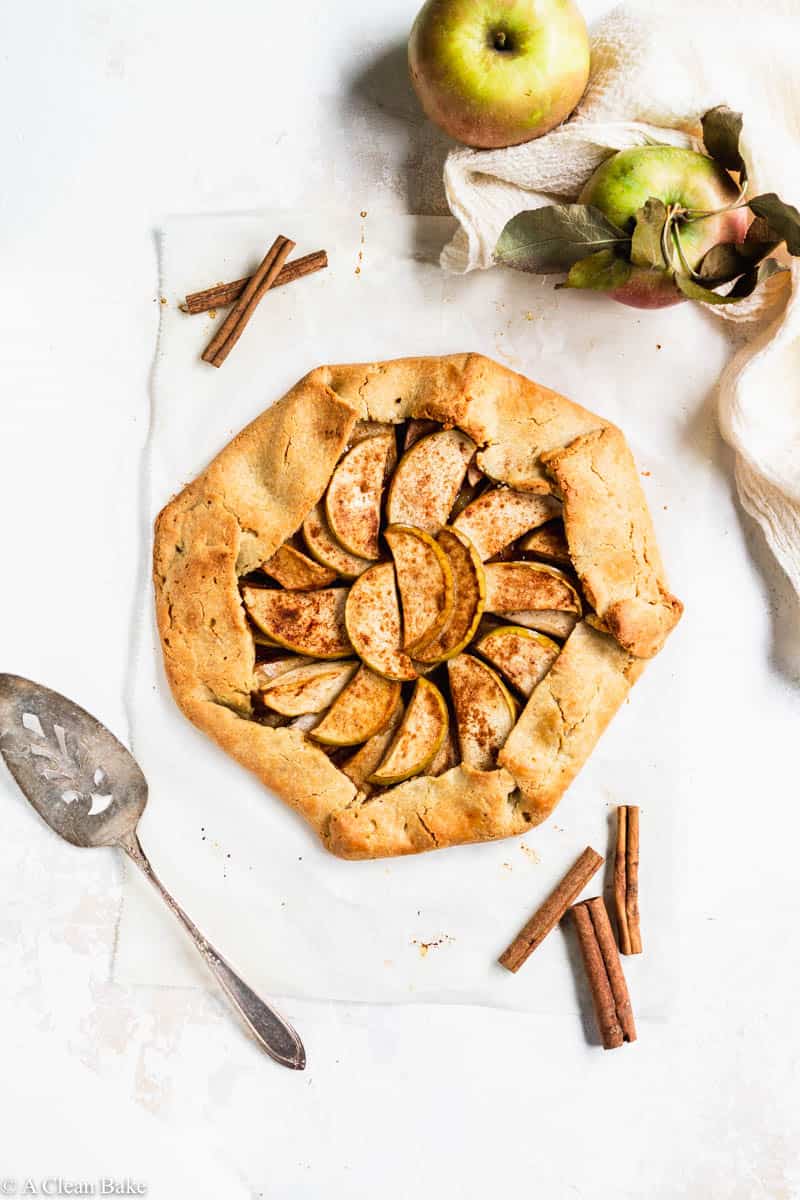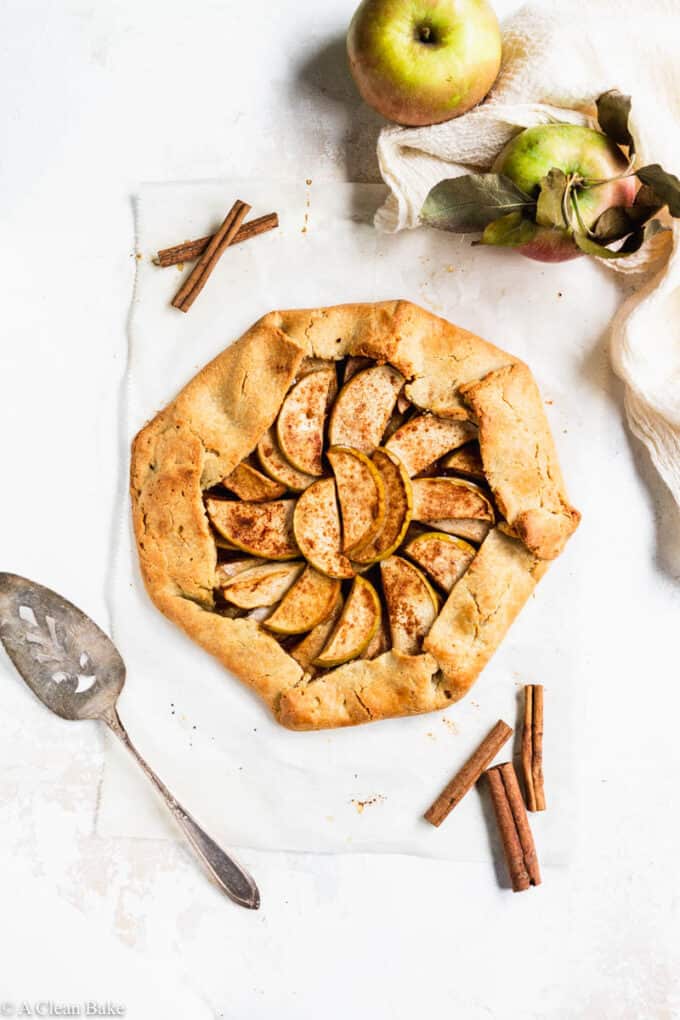 You might (or might not) be surprised to learn that with everything else I have going on – job, family, attempting to get enough sleep, etc. – I don't do as much recipe development as I used to. So I was grateful to this excess of apples for pushing me to try something new.
Something a little fancy.
Something that would make anyone stop in their tracks muttering, "Man.does.that.look.good."
And because I love a good galette for sounding fancy but actually being the lazy baker's alternative to apple pie, I went with it.
Recipe Inspiration for a Grain-Free Apple Galette
If you know me at all, you know I am not a fan of overcomplicating things. Life is complicated enough already, so the last thing you should have to use your remaining drops of patience on is dinner or dessert. Baking, especially, should be fun, unintimidating, and carefree.
I maintain in my belief that you can have a completely delectable, show-stopping dessert without A) running to the store for unusual ingredients or B) spending all day in the kitchen. That's why I love a good galette.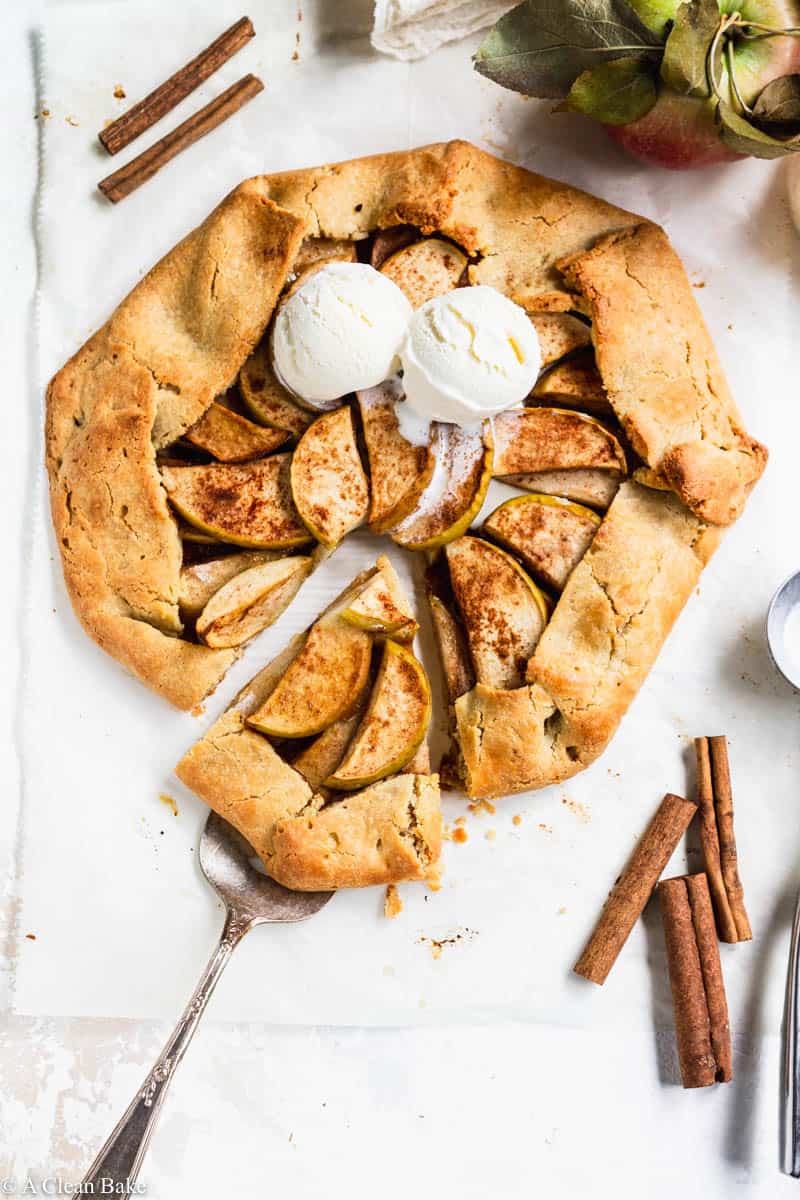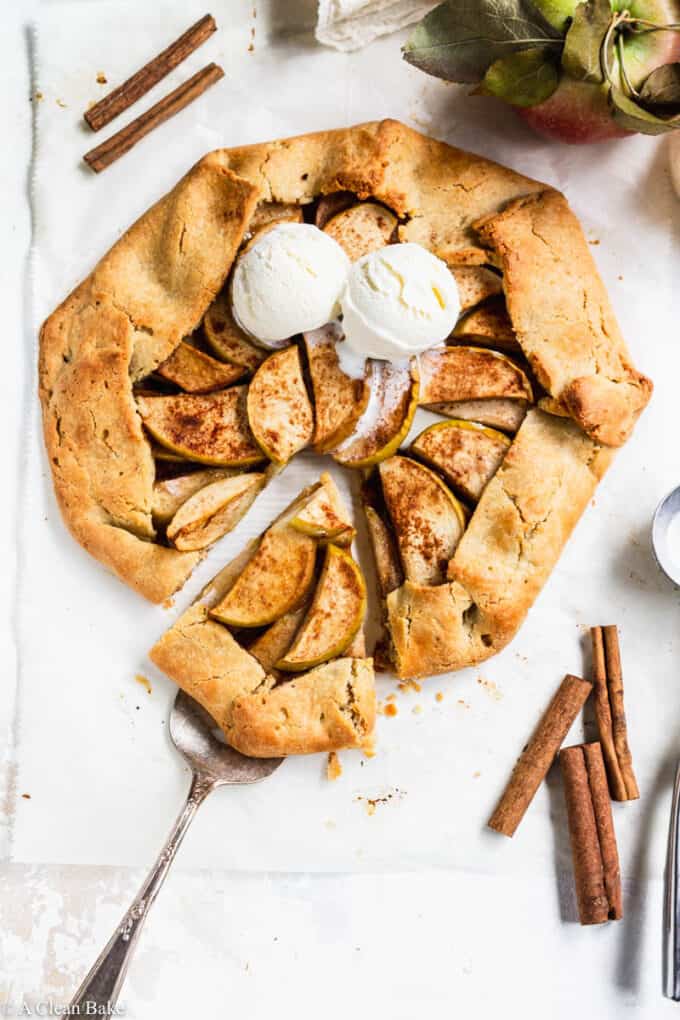 Whereas to make a pie, you have to press the dough into the pan, making sure not to break it on the way from the cutting board (which never happens), make the edges pretty (the most intimidating part, amirite?) and then make a ton of filling that takes forever to cook. Meanwhile, the pretty crust edges you slaved over are thisclose to burning and you may or may not have smoke pouring out of your oven from apple juices that dripped out of the pan…. just, no. Oof and forget a double crust pie. The pressure!
I have nothing at all against apple pies, and I'm 100% on board with putting in the time to make them for the right occasion, but they do require time, patience, and monitoring.
A galette, meanwhile, should be subtitled "A Pie For Weekdays". Really! I threw this together for a random Thursday dinner. Instead of fussing over the crust, you just roll it out in a piece of parchment paper, place the filling on top and rustically (read: don't be too concerned about making it pretty or perfect!) fold the edges of the dough over the apple filling. Then, use the parchment to transfer the whole thing to the baking sheet. Or, you assemble and bake it on the same sheet to avoid moving the delicate dough (hooray!).
It's perfect for dinner parties or, dare I say, holidays, where you are trying to make an entire meal and don't have all the time in the world to attend to dessert.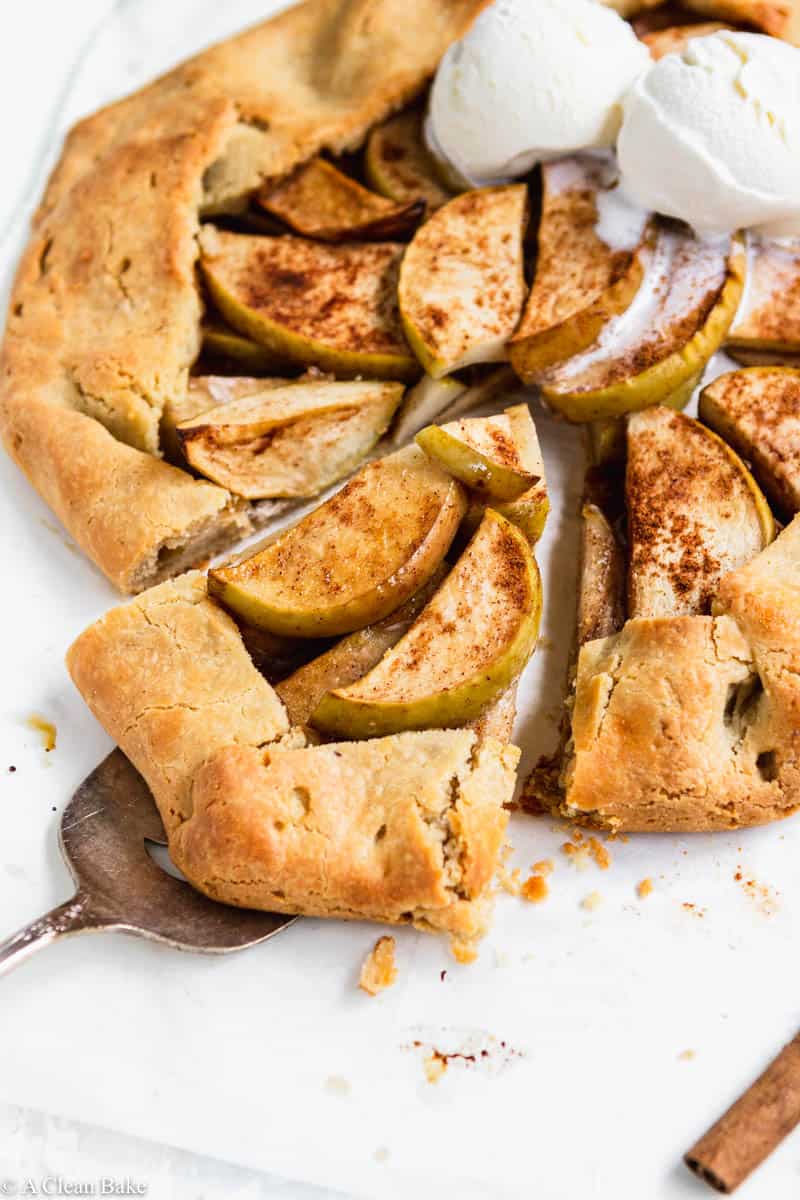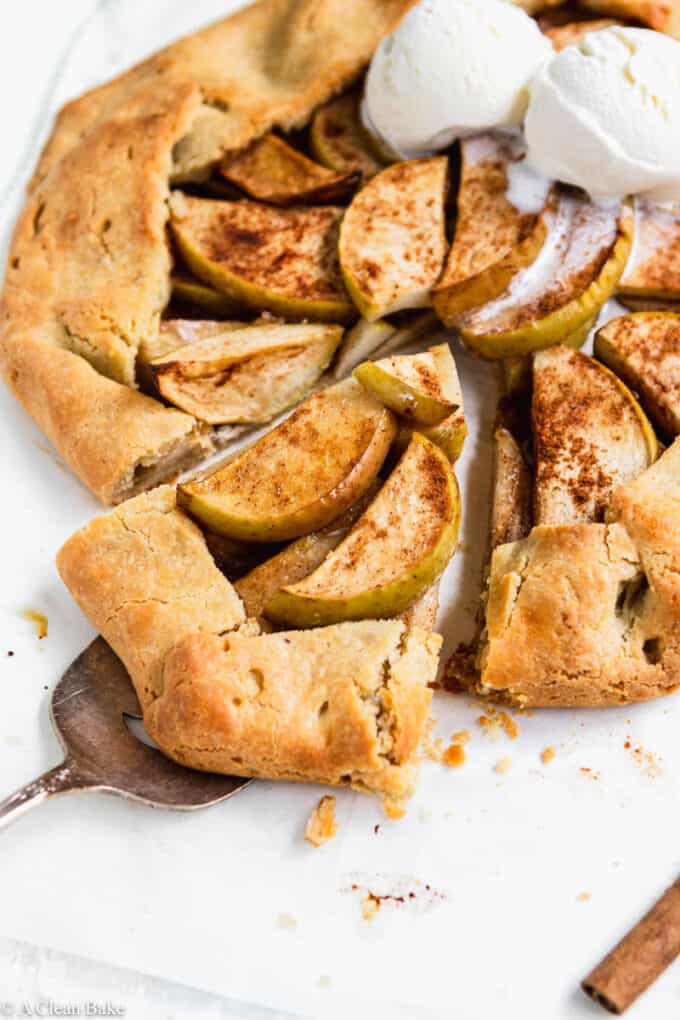 How to Make a Gluten-Free Apple Galette
To start, you'll need to make one pie crust. Use this recipe for pie crust, rolling it out with a rolling pin and placing onto a baking sheet.
Next, peel, core, and slice your apples. Toss all of your filling ingredients together in a large bowl, including the apple slices, coconut sugar, lemon juice, cinnamon, and tapioca starch. Then, turn your ingredients out into the center of the dough, living a two inch border between the pile of apples and the edge of your crust.
Finally, fold your crust border over the apple filling.
In some places, your crust will overlap itself. Using your hands, try to crease the dough as much as possible in order to make your crust lay flat. Brush the top border crust with an egg wash, then sprinkle with coconut sugar or turbinado sugar if you wish.
Place into the preheated oven, and bake until the apples have softened and the crust is golden brown.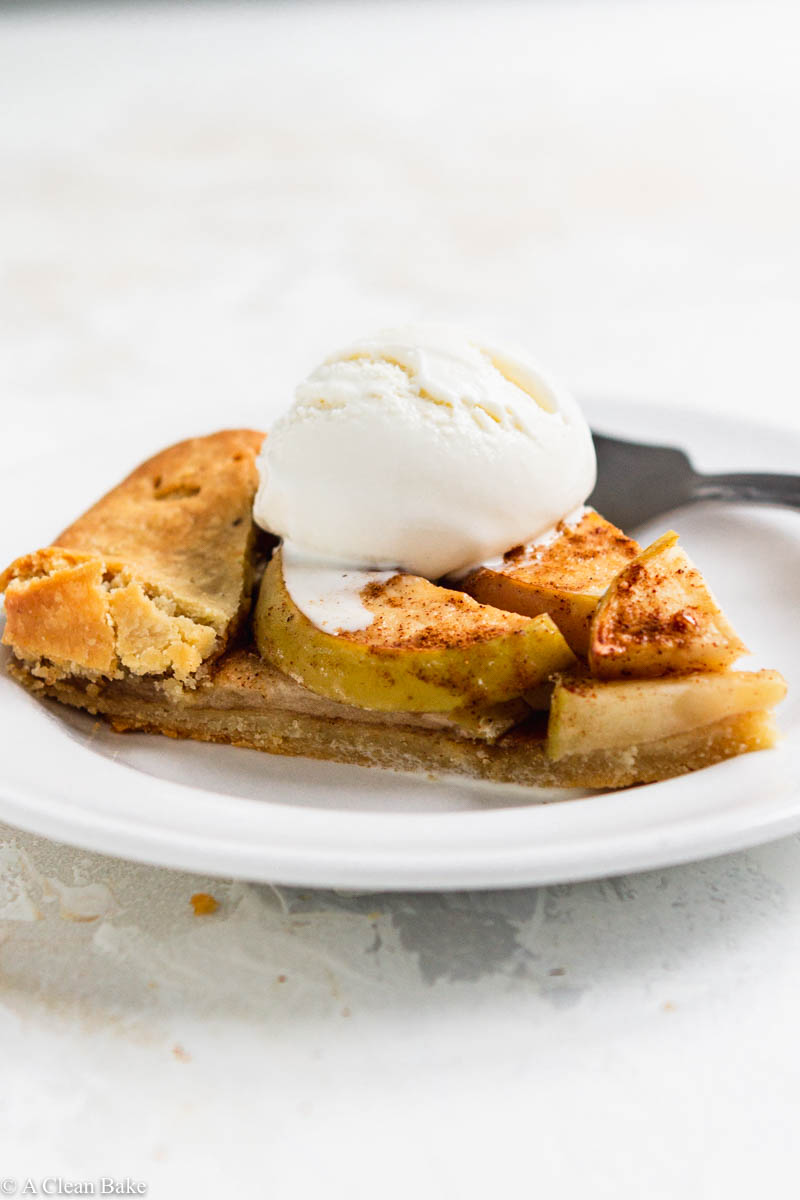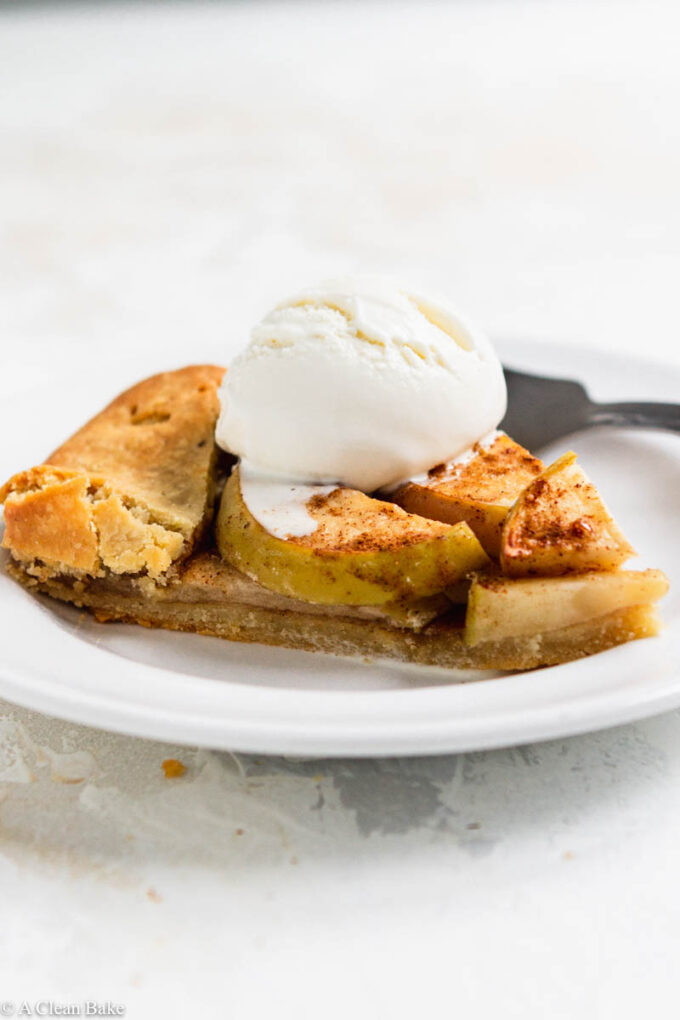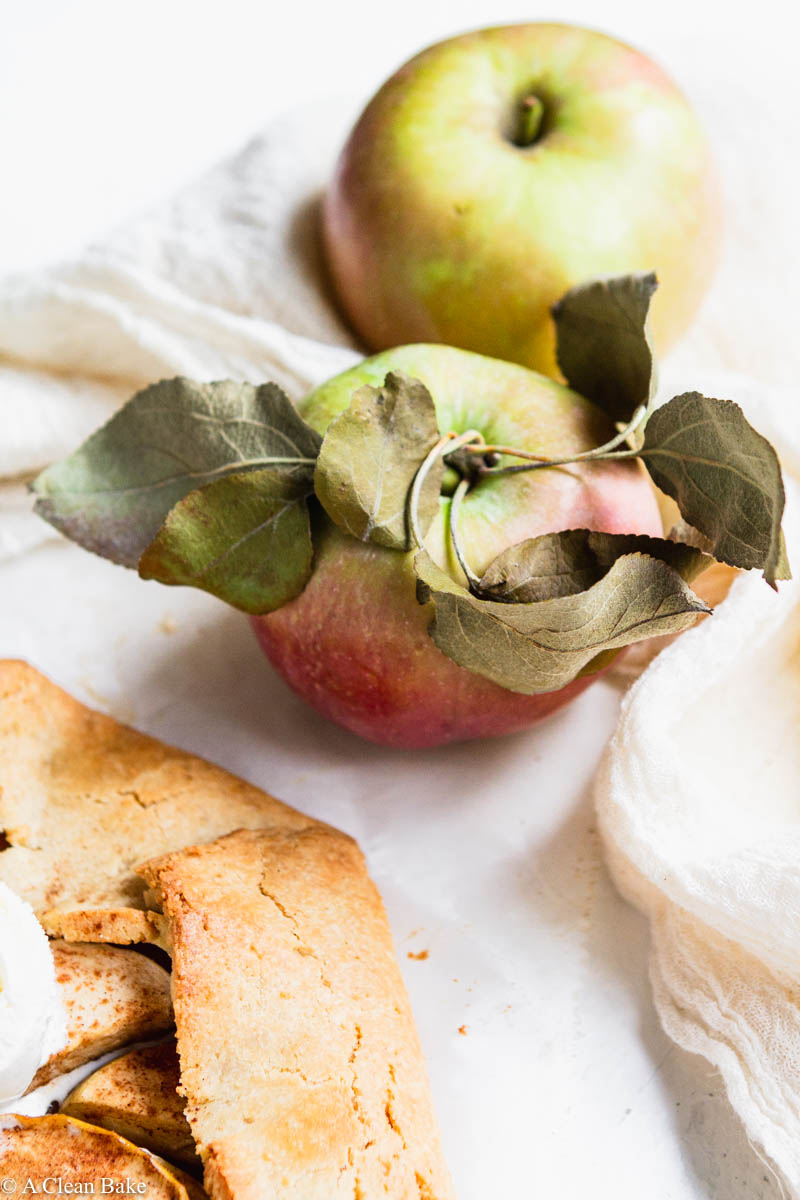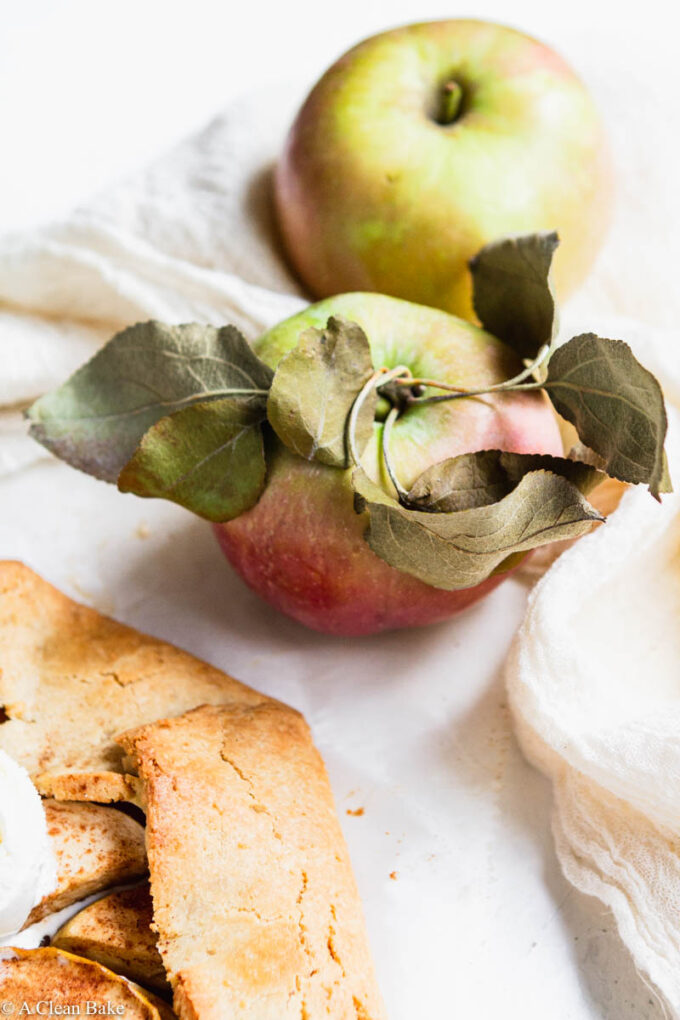 Tips for Apple Galette Recipe Success
I think you'll be pleasantly surprised at how easy this recipe is to bake. That being said, if it's your first time making an apple galette, or your first time making a grain-free pie crust, you may have a few questions. Hopefully these tips and tricks set you up for success:
What kind of apples should be used for an apple galette? I used a mix of tart varieties from our orchard sojourn. You can use any cooking apple, such as a macintosh, honeycrisp, or granny smith apples.
What makes this apple galette grain- and gluten-free? The crust is made from a gluten free flour mixture consisting of almond flour, coconut flour, and cold unsalted butter. Most, "regular crusts" are made with all-purpose flour.
Can you substitute almond meal for almond flour? Technically yes, but since almond meal is a coarse meal, you should run it through the food processor first to grind it into a fine flour.
Can you substitute the coconut sugar for another ingredient? Yes, you can swap out the coconut sugar for another cup of granulated sugar, such as maple sugar or brown sugar.
The edges of the crust are burning! What should I do? If the edges of your apple tart are getting extra brown and crispy, cover the edges of your galette with tin foil, then return to the oven.
Where can I buy coconut flour and almond flour? Most major grocers carry the two flours you'll need for your pie dough. Otherwise, you can order them on Amazon.
Can I substitute the tapioca starch? Yes, you can substitute tapioca starch for potato starch or arrowroot.
How do you do that fold thing with the crust? Check out this post for a visual guide!
How can I jazz this up a bit? For an added indulgence, consider adding a drizzle of caramel sauce to the top of your crust, or a dollop of dairy-free whipped cream.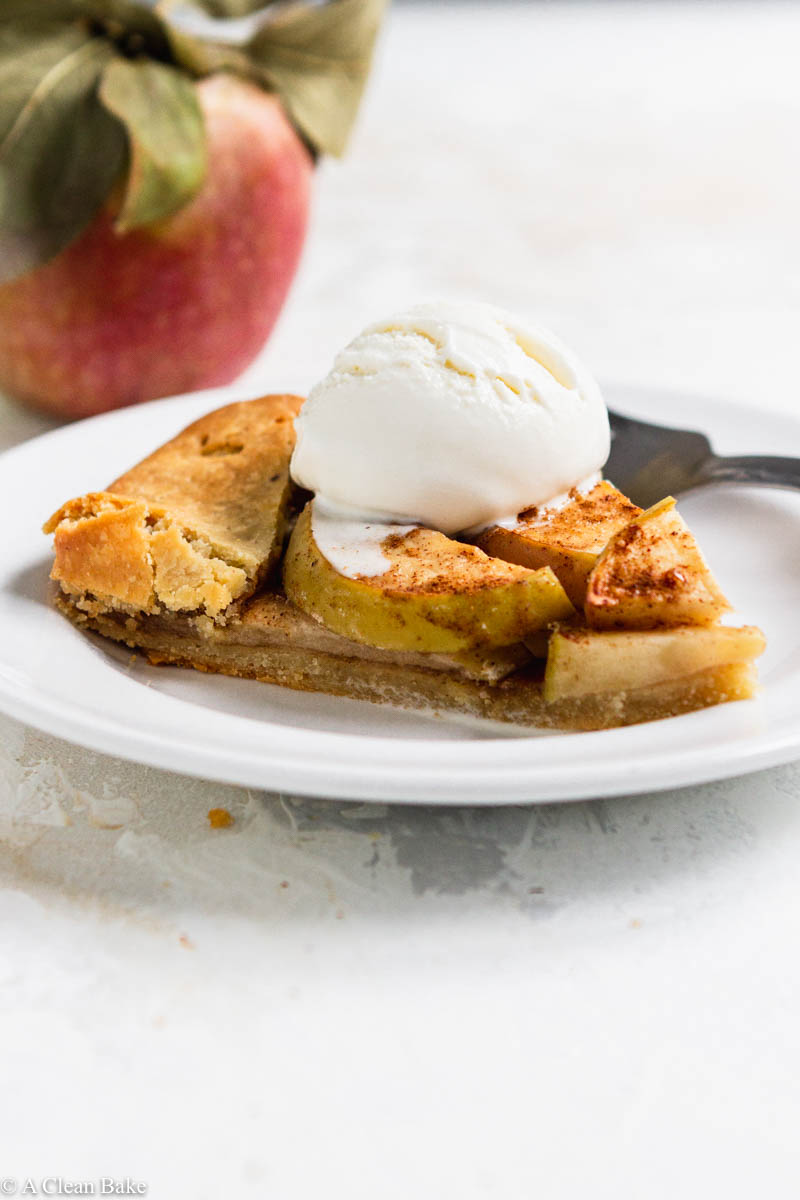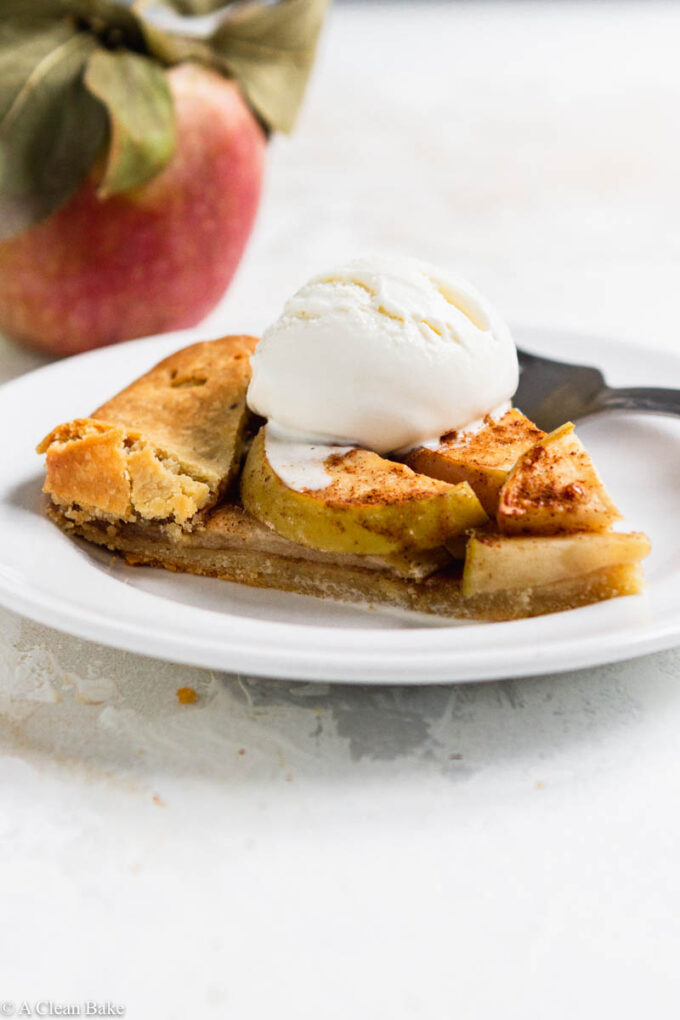 Enjoy this Apple Galette For a Grain-Free Treat
This apple galette makes a delicious, grain-free treat for your holiday table, or other special occasion. To serve, allow to cool slightly after coming out of the oven. Then, serve warm with a dollop of ice cream, or a drizzle of caramel.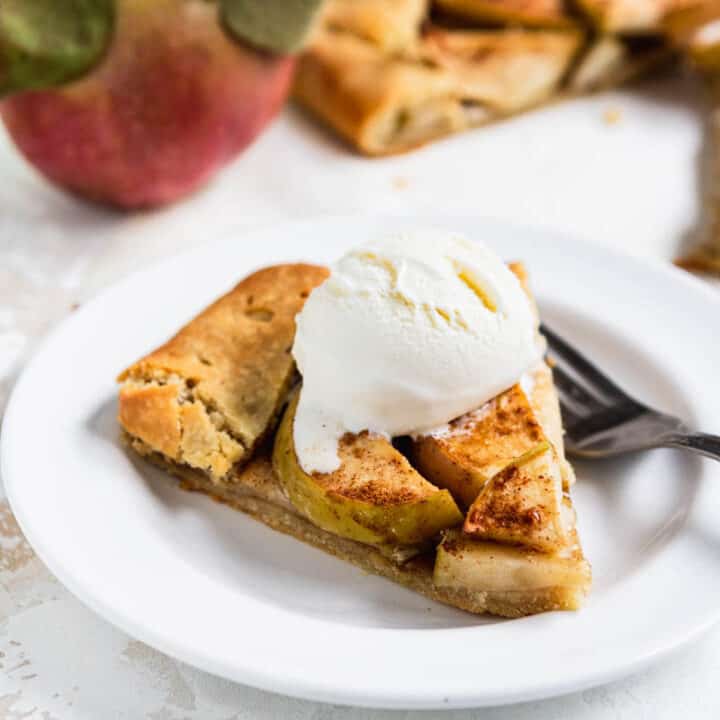 Paleo & Gluten Free Apple Galette
Loosely translated, "galette" means "literally easier than pie" (ok VERY loosely translated), and that's just what this apple pastry is: a batch of pie crust is rolled out into a large disc, but instead of fussing with the pie plate, long cook time, and dreaded double crust, you simply turn out apple filling on to the crust, fold up the edges, and pop it in the oven. It impresses like pie with a fraction of the work!
Ingredients
3-4 large tart apples, sliced
1/2 cup coconut sugar, plus more for crust
1 teaspoon lemon juice
1/2 teaspoon cinnamon
3 tablespoons tapioca flour, plus more for rolling dough
1 egg white
1 1/2 tablespoons milk
Instructions
Preheat the oven to 350°F. Cut a piece of parchment paper to fit into your cookie sheet, or make sure you have a silicone mat that will fit your cookie sheet.
In a large mixing bowl, toss together the sliced apples, coconut sugar, lemon juice, cinnamon, and tapioca flour. Set aside.
Roll out the prepared pie crust dough into a circle about 10-11" in diameter on top of the silicone pad or parchment paper. You can use a large dinner plate to guide you.
Turn the apple filling out of the bowl onto the prepared crust, leaving about a 2" border of crust . There will be some liquid with the apple filling, but if the mixture is soupy, leave most of the liquid behind in the bowl (discard it).
Fold a portion of the crust border up over the apples. Then work your way around the edge, folding large sections up and over the apple filling, creasing the excess dough (where one portion of crust meets the last) until all of the dough border has been folded up.
Prepare your egg wash by whisking together the egg white and milk.
Brush the exposed dough with egg wash, then sprinkle with additional coconut sugar.
Bake for 30-40 minutes until crust is golden and apples are softened.
Serve immediately.
Notes
Galettes are best fresh from the oven. If you're pressed for time, it would be better to prepare the dough, slice the apples, and whisk the remaining filling ingredients ahead of time. Store everything in airtight containers in the refrigerator. When you are ready to bake, toss the apples with the filling ingredients, roll out the dough, fill, fold, garnish, and bake.
Store leftovers in an airtight container in the fridge for up to three days.
Nutrition Information:
Yield:

8
Serving Size:

1
Amount Per Serving:
Calories:

346
Total Fat:

13g
Saturated Fat:

5g
Trans Fat:

0g
Unsaturated Fat:

7g
Cholesterol:

0mg
Sodium:

217mg
Carbohydrates:

54g
Fiber:

4g
Sugar:

23g
Protein:

3g