Freezing potatoes in advance is an easy way to cut down on the holiday meal prep. When you're ready to serve them, simply fry, boil, or microwave them until fork tender — without any need to thaw them. You'll have mashed potatoes, french fries, or crispy roasted potatoes on the table in minutes.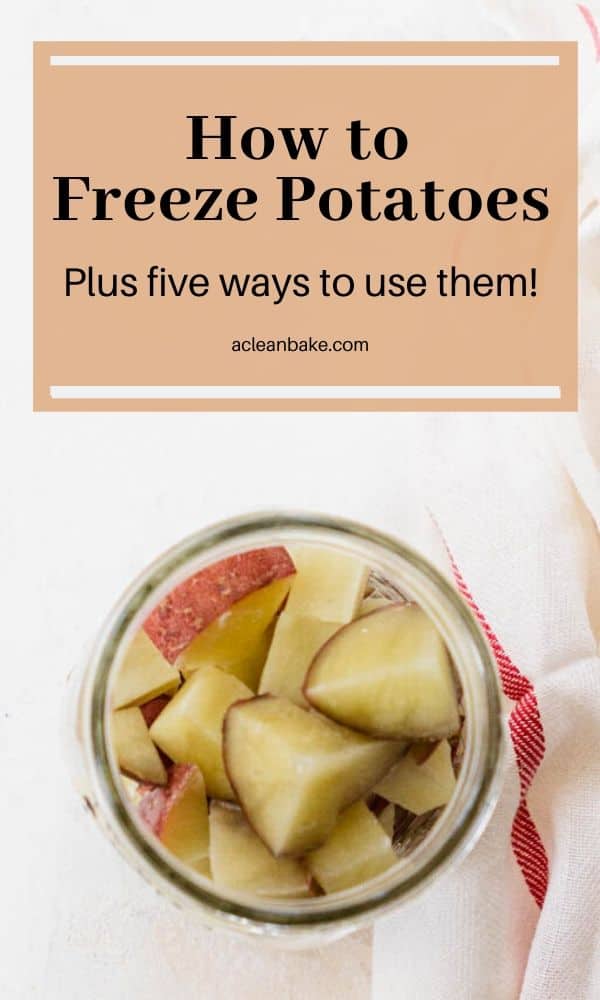 It snowed here, twice in the last 3 weeks, and I'm really not okay with it.
Don't get me wrong; I think snow is pretty, and my kid finds it delightful. But to have snow so early in November (October, even! It snowed all day on Halloween! Talk about a scare ?) is a sign of a very, VERY cold Chicago winter ahead.
Dropping temperatures are the clear signal that the holidays are just around the corner. And if you're reading this thinking, "Psssh, you've clearly been prepping your Thanksgiving dinner for months," you are oh, so sorely mistaken. Last year, I put off the menu for so long I was this.close to ordering Thai food.
This year, in my efforts to stay just a half step ahead, I'm trying the prep things well in advance. There will be no cooking six different dishes within a 24-hour timeframe. I will not (I repeat, will not) be running four burners, a slow cooker, and an oven until I lose my mind (or blow a fuse). I'm not joking; I actually did this last year when I made an entire Thanksgiving meal all by myself.
This year, I'm going to try to simplify the meal by getting as much prepped in advance of the holiday food rush. And to do that, I'm taking advantage of the one kitchen appliance often ignored Thanksgiving morning: the freezer.
Why Prepare Frozen Potatoes?
Freezing potatoes in advance will get you one step closer to a holiday side dish well in advance of the meal. So, to be clear, when I say in advance, I don't mean 24 hours out. I mean days, or even weeks, ahead of the meal. I wasn't kidding when I said I am simplifying the holiday prep.
Potatoes always seem to find their way onto any festive menu, and making them the day of the meal takes up prime oven space that you don't have to spare. In my humble opinion, an oven should be left for turkey, stuffing, and pie (see? Three dishes down and you're already hurting for space).
Freezing potatoes in advance allows you to have them partially cooked, and finish cooking them from frozen. Rather than roasting from raw, you can cook them in the oven during the time the turkey is roasting. Or, you can avoid the oven altogether, and instead microwave, fry, or boil them directly from frozen to have them ready in just minutes when the big day comes.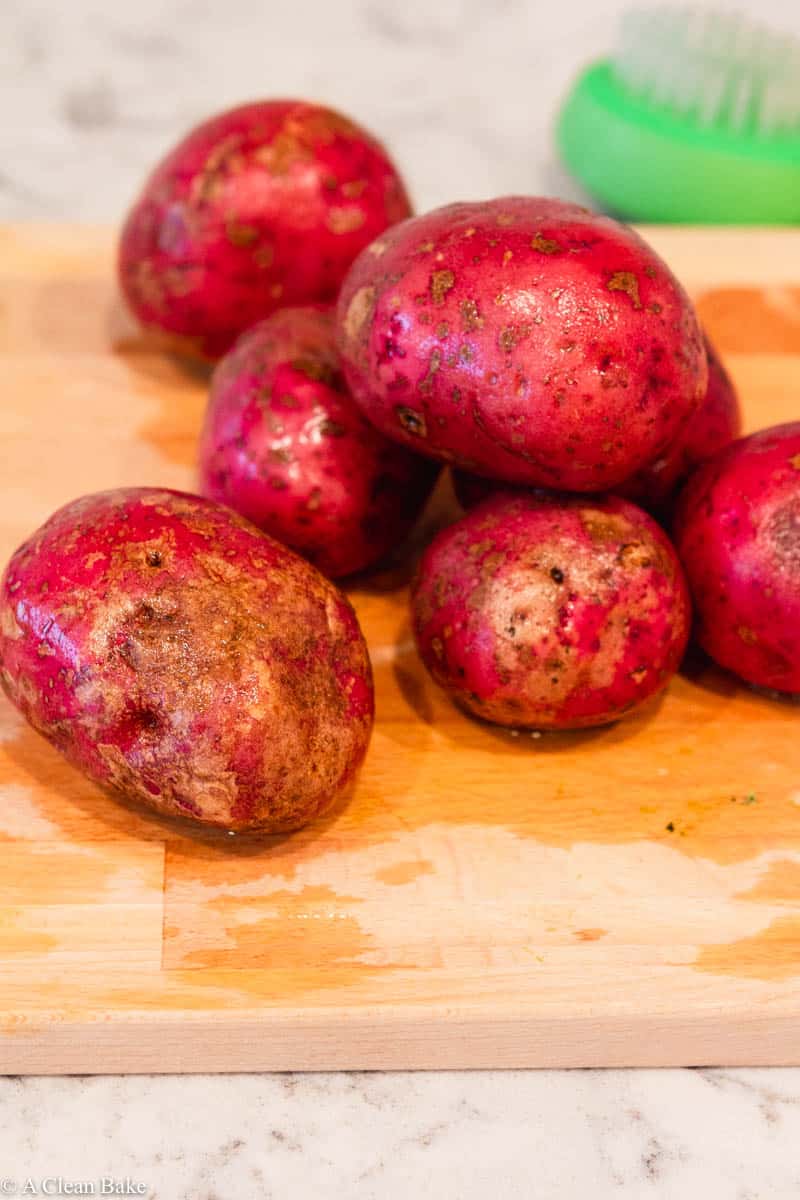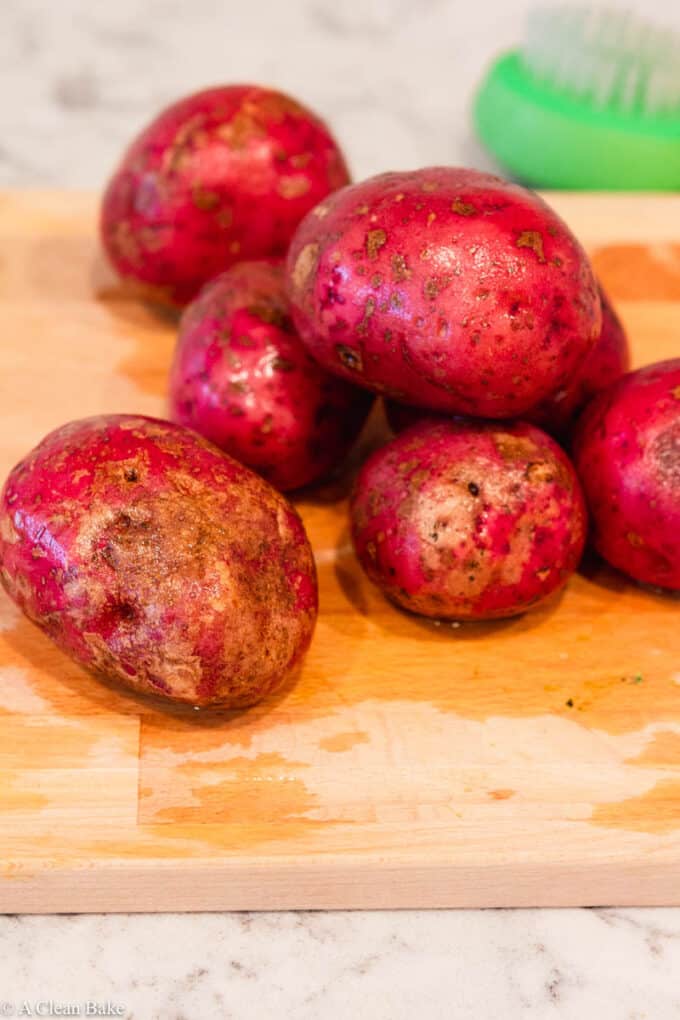 How to Freeze Potatoes
You'll start by chopping them into whatever shape or size you wish to serve them — shredded hashbrowns, potato wedges, or fries, for example. It's your choice as to whether you peel them or leave the skin on. I roughly chopped them with the skin on so I could use them for oven-roasted potatoes in the future.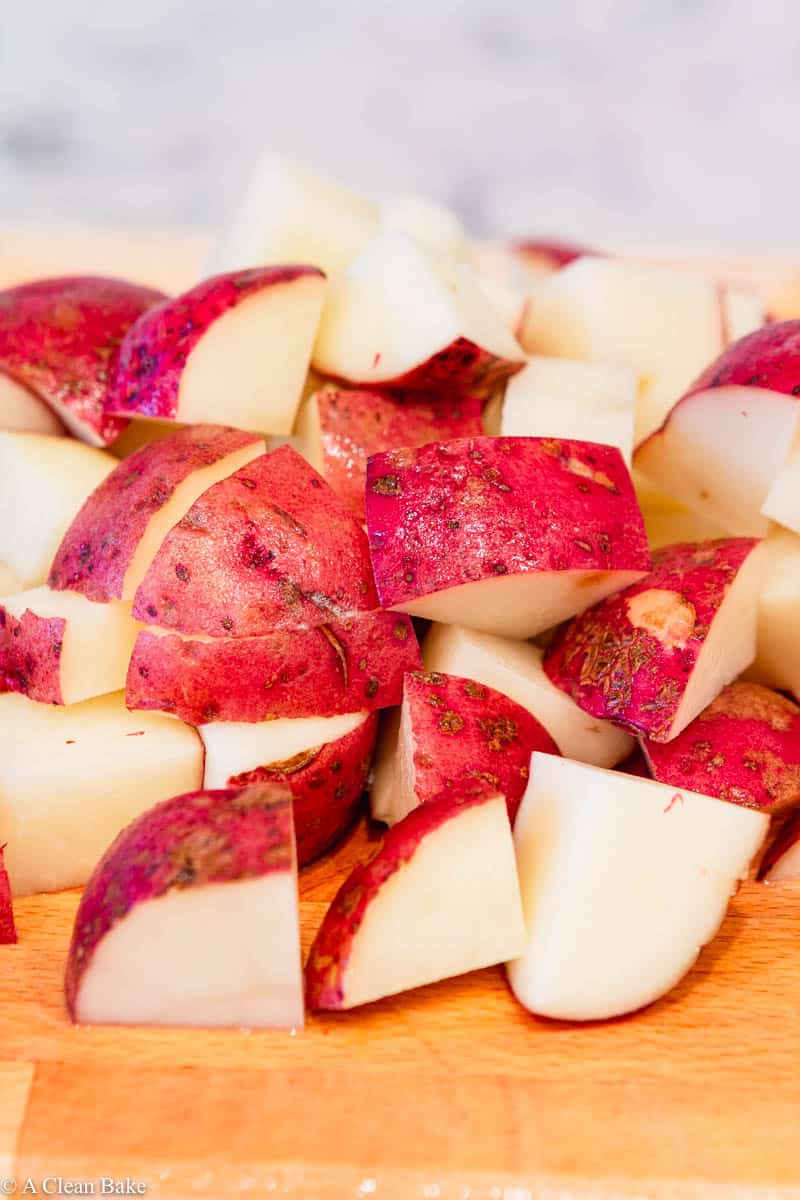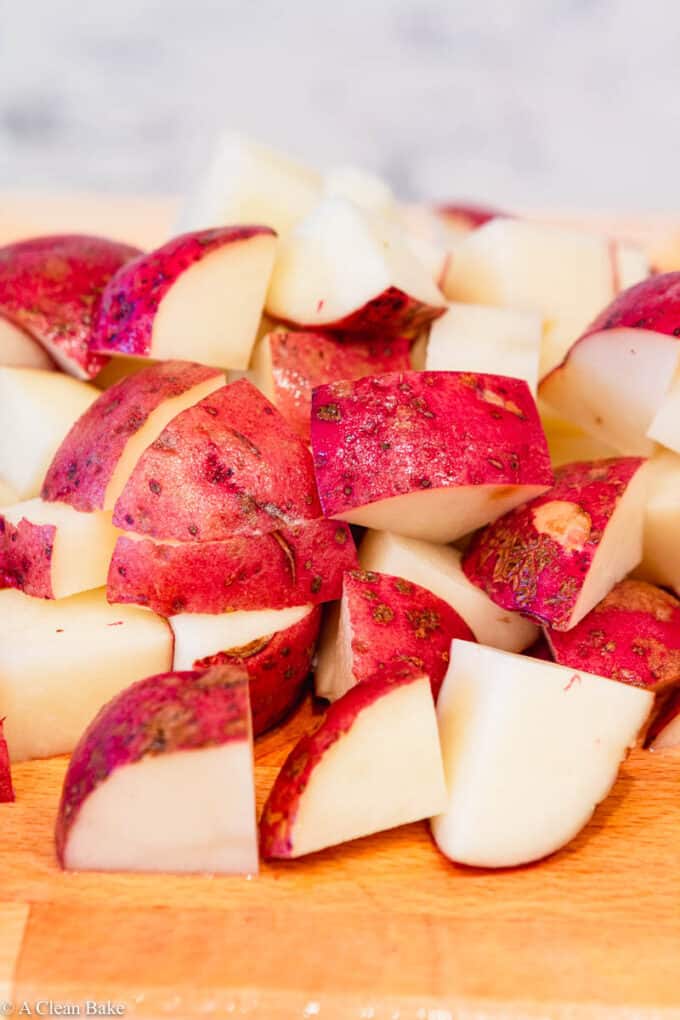 Next, steam them on the stovetop until they are al dente (tender but with a bit of bite left to them, not quite soft enough to eat), but not cooked all the way through. The key to freezing potatoes is cooking them just enough — not raw, not cooked all the way through. That way they are most of the way there, but have just enough cooking time left so that you can soften or crisp them to your preference just before you're ready to eat them. The cooking time will vary based on the shape and size that you've cut your potatoes into.
Once your potatoes are al dente, drain them, and immediately transfer to a large bowl of ice water (this stops the cooking process). After a few minutes in the ice bath, drain the ice water and allow the potatoes to cool completely on a clean kitchen towel.
Once the potatoes are completely cooled, arrange them in a single layer on a baking sheet. The baking sheet should be small enough to fit inside your freezer, but large enough to allow space between each potato. If the potatoes touch during the freezing process, they'll freeze together. You may need to place your potatoes on multiple, smaller baking sheets to do this.
Freeze your potatoes for 6-12 hours, or until frozen solid. At this point, you'll remove the cookie sheet(s) from the freezer and transfer your frozen potatoes to a Ziploc bag or freezer-safe container (once frozen, it's fine if they touch!). You can store your frozen potatoes in their freezer bags or containers for up to 3 months.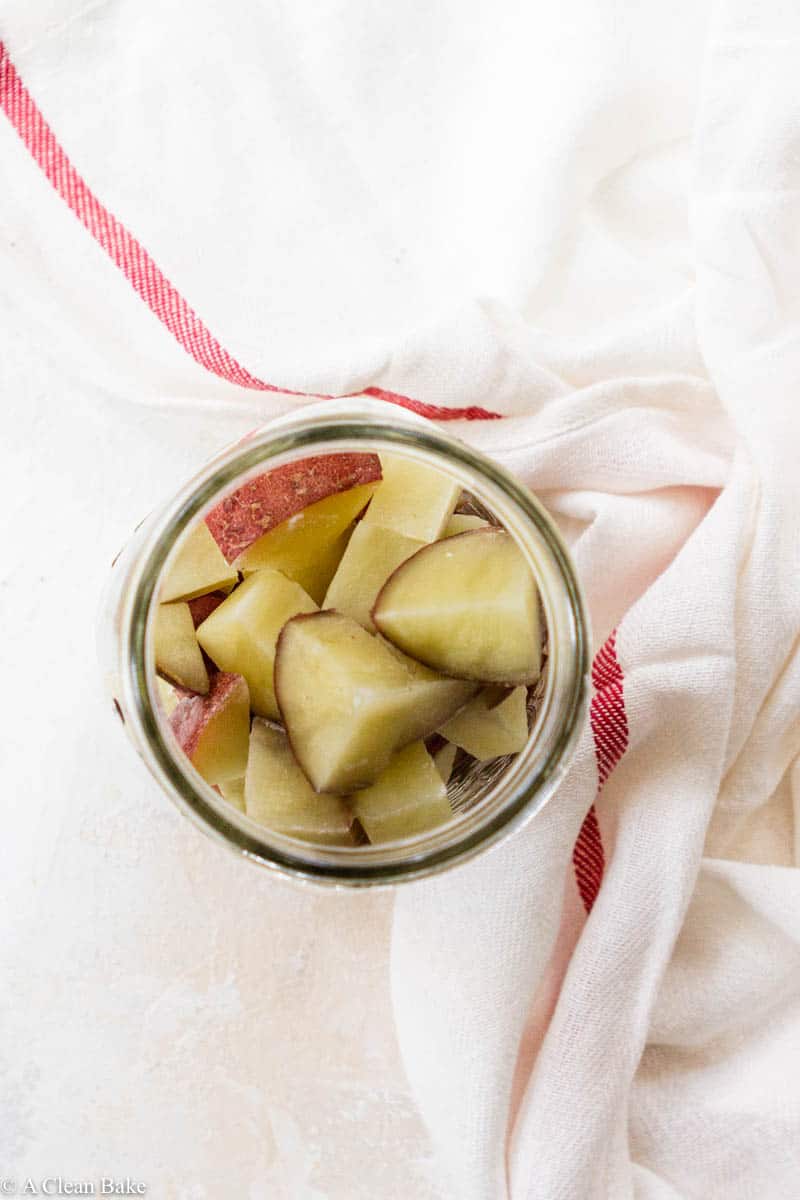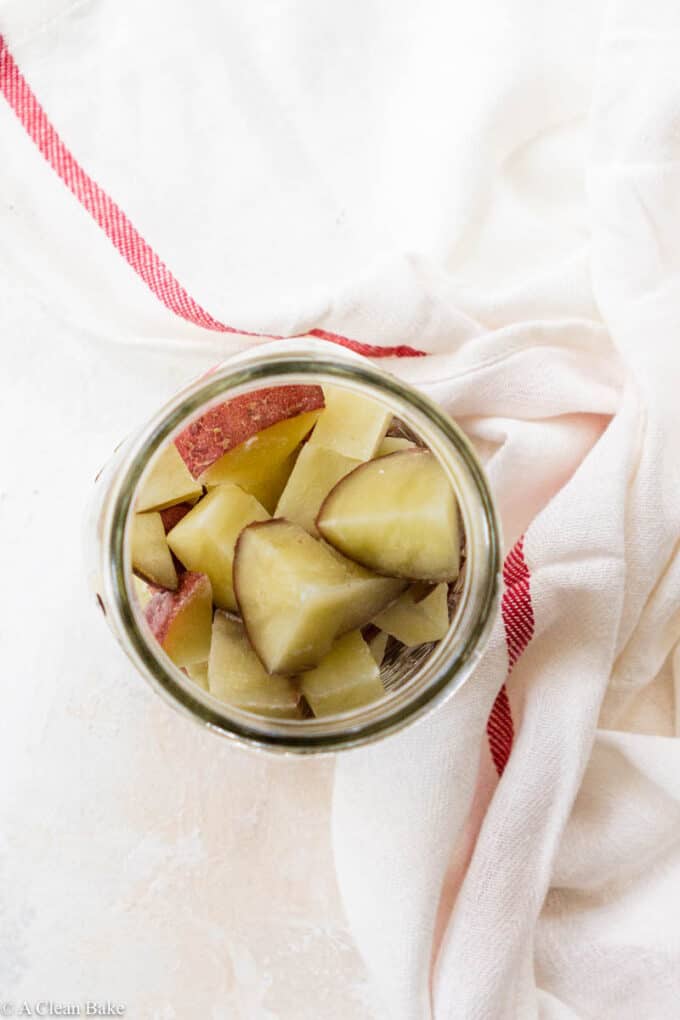 Speeding Up the Potato Prep: 5 Recipe Ideas
I may be spinning this as a holiday recipe, but that's not the only time this technique comes in handy. Since you don't have to thaw your frozen potatoes in advance, this method can help speed up burger night, an impromptu brunch, and just about every other meal in between.
The next time you find your cupboards inundated with pounds of potatoes, use this one technique to create a number of side dishes:
French fries:

Cut your potatoes into strips (or "fries,") leaving the skin on, before you cook and freeze. When you thaw them, you can follow

this recipe

, beginning at step #3. However, instead of baking them for over half an hour, simply bake them at 400F for 10-12 minutes, or fry them in

olive oil

for roughly 3-4 minutes per side, or until lightly

golden brown

.

Perfectly roasted potatoes:

Before you cook and freeze your potatoes, cut them into bite-sized

potato cubes

, leaving the skin on. When take them out of the freezer, skip to step #5

on this recipe

, placing them in a cast iron skillet in a preheated oven. Bake them at 400F for until crispy, flipping them halfway through.

Mashed potatoes:

If you're hoping to prep

mashed potatoes

, be sure you

peel

them before freezing. Chop into small pieces and cook until completely soft before cooling and freezing. Do not mash them before you freeze. When you're ready to take them out of the freezer, place them in a

large pot

of

boiling water

on the stovetop

for 5-10 minutes, or until soft. Mash and season according to your favorite recipe.

Breakfast casseroles:

If you're planning a holiday brunch, frozen

hashbrowns

make the perfect addition to any casserole. You'll need to cook the hashbowns from frozen, to make sure all the excess moisture cooks out of them, before you bake them into the casserole. Follow

this recipe

, swapping the bread slices out for your frozen potatoes.

Potato salad:

To make

potato salad

,

peel

your potatoes and cube your potatoes before boiling. When you're ready to prepare your salad, steam or boil your potatoes until they're fully cooked, then follow

this recipe

.
Tips for Frozen Potato Success
Hopefully, you find this method fairly straightforward. That being said, hopefully this answers to frequently asked questions set you up for success:
What kind of potatoes should be used?

This recipe works with any potato, although I recommend a

waxy potato

like yellow,

russet potatoes

, or

yukon gold

for mashed and

fried potatoes

, and a starchy potato, like

red potatoes

, for roasted potatoes.

Can you freeze sweet potatoes as well as white potatoes?

Yes, you can! Just be aware that the cooking times might be slightly longer for sweet potatoes than they would be for white potatoes in the same application.

Could I bake a potato using this method?

I don't recommend it. This method works best for cut potatoes, since they will cook through evenly, even from frozen.

When you try to cook a whole frozen potato, the potato might not heat all the way through evenly, leaving a burnt skin and a frozen core. Not very appetizing at all!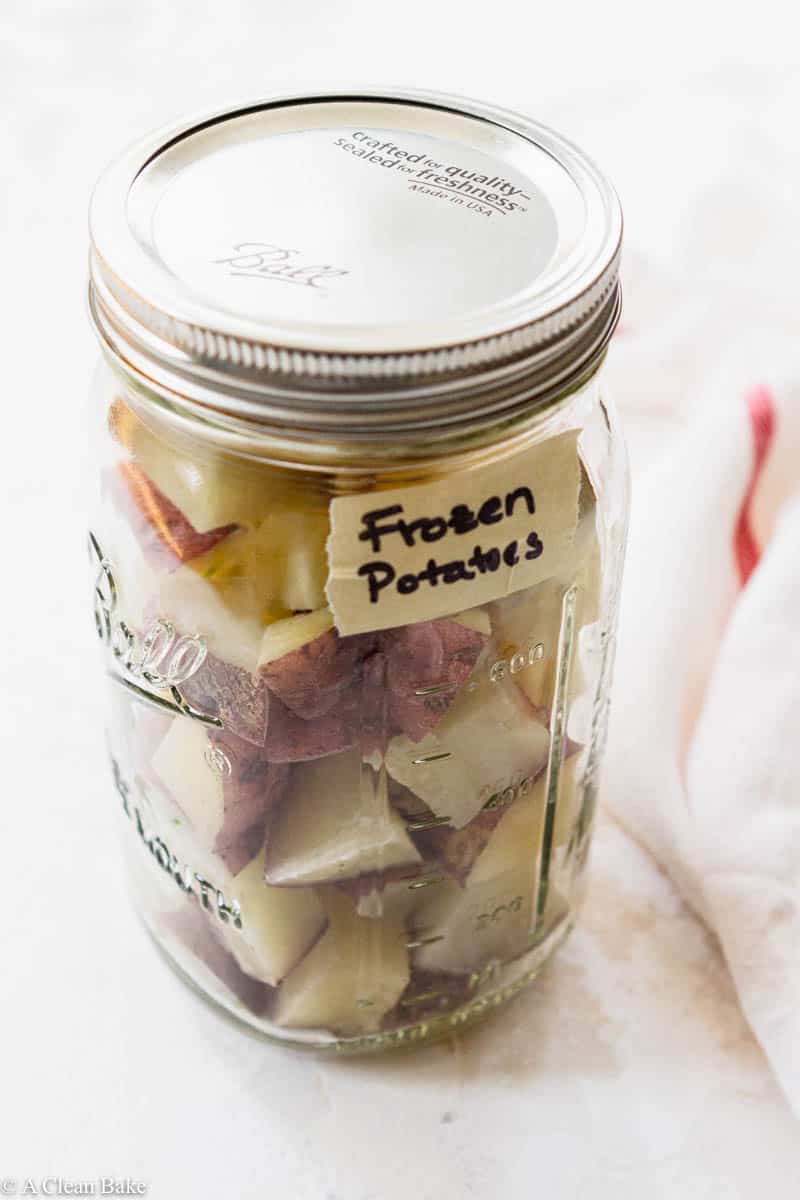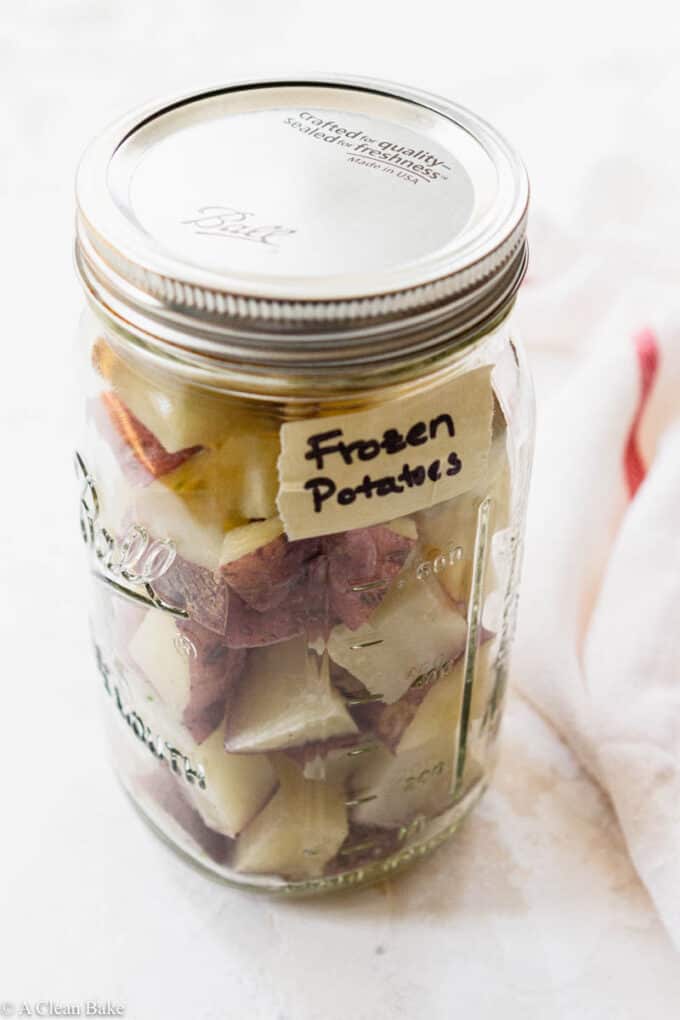 Enjoy These Frozen Potatoes To Cut Down on the Holiday Rush
Give yourself a break this season and don't try to create an entire feast in one day.
Using frozen potatoes is an easy way to get a little bit of prep work out of the way before any other work is done. And when the holidays come, you can finish your frozen potatoes in the microwave — sparing your stovetop and oven for other dishes.
Or, if your holiday menu is already set, make and freeze these ahead of time for post-holiday meals. They're great all year round!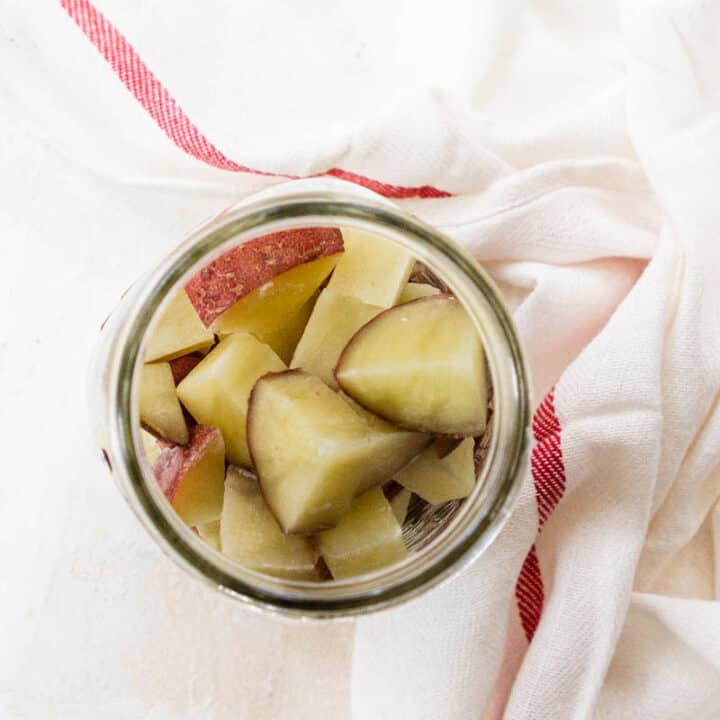 How to Freeze Potatoes
Total Time:
6 hours
20 minutes
Freezing potatoes in advance is an easy way to cut down on the holiday meal prep. When you're ready to serve them, simply fry, boil, or microwave them until fork tender — without any need to thaw them. You'll have mashed potatoes, french fries, or crispy roasted potatoes on the table in minutes. 
Tools
Chef's knife
Cutting board
Lidded pot
Steaming basket 
Large mixing bowl
Baking sheet
Silicone baking pad
Zip-top bags or mason jars
Permanent marker
Instructions
Scrub your potatoes, peel them if you want, and chop or shred them to your preference (Note: for mashed potatoes, I recommend chopping into very small cubes. Do not freeze mashed.)
Steam your potatoes until they are just tender, but not cooked through.
Immediately transfer the potatoes into an ice bath (large mixing bowl full of ice water) to stop the cooking process.
Cool completely.
Spread cooled potatoes on a plate or baking sheet that is sized to fit in your freezer. Make sure the potatoes are not touching, or they will freeze together.
Freeze 6-12 hours until solid.
Transfer frozen potatoes to a zip top freezer bag or freezer-safe container and keep frozen until ready to use.
Notes
To cook frozen potatoes: steam, boil, bake, or microwave from frozen until cooked to your preference.
Recommended Products
As an Amazon Associate and member of other affiliate programs, I earn from qualifying purchases.