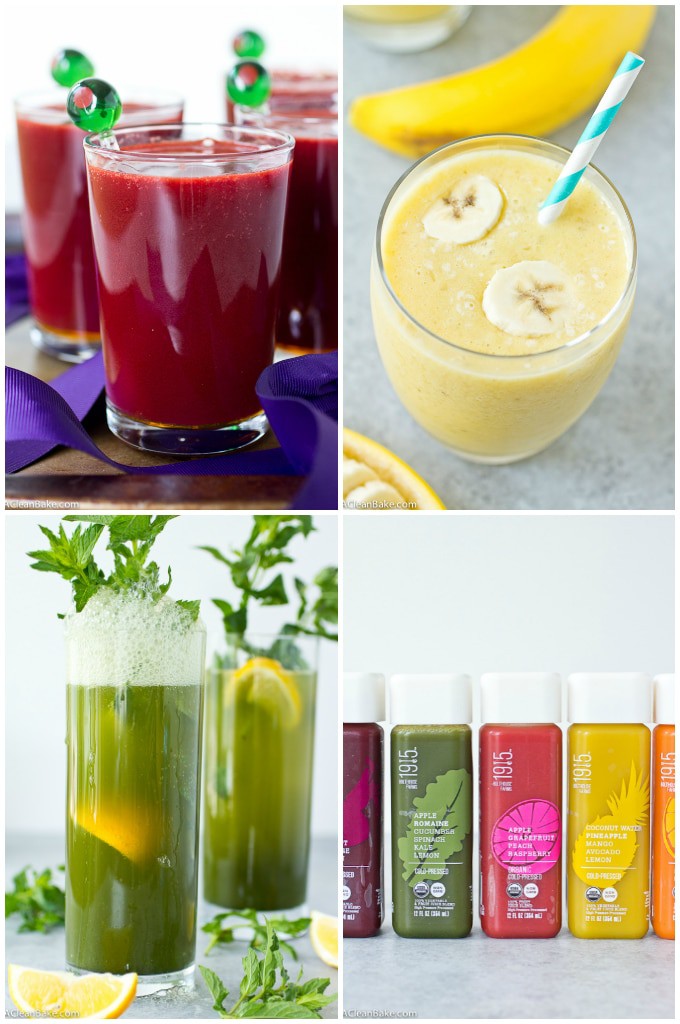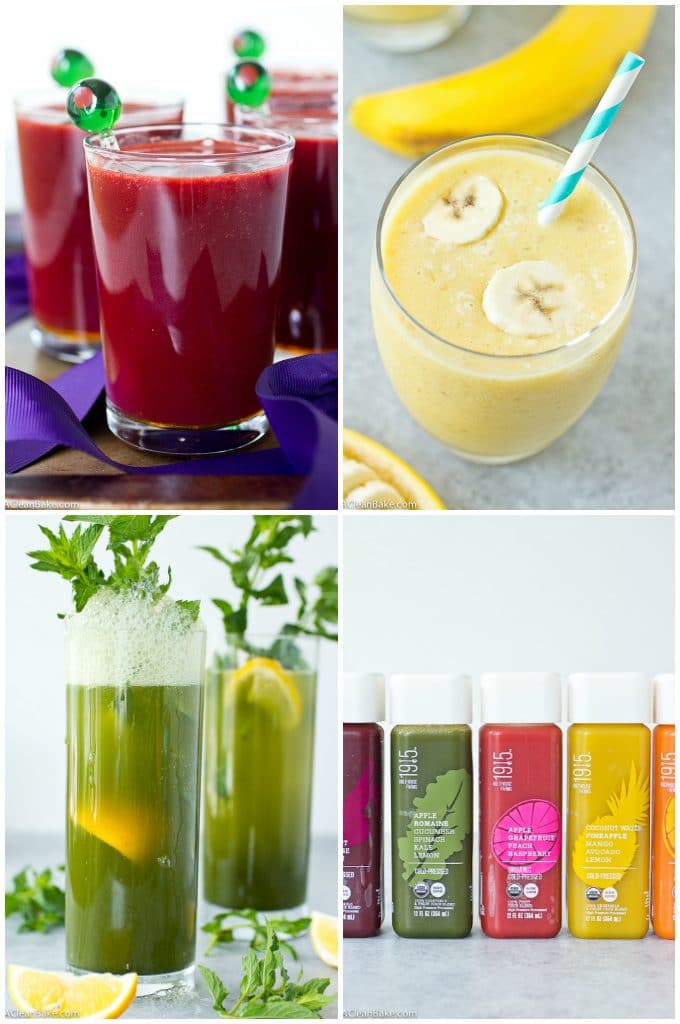 Today, I have a little something different for you: I created three different mocktails that you can either make for yourself, or create a make-your-own bar for your next party, and they all require only three ingredients (and of course, you can also feel free to make them into cocktails!).
All three of these drinks have one thing in common, and that's a base of cold-pressed juice. Cold-pressed juice is my hydration of choice this summer (ok, and every summer) because it's refreshing, nutritious and SO GOOD. Whenever I'm out and about and need a pick me up, I maniacally seek out a fresh juice. And since I prefer a juice that mixes fruit and vegetables, I can justify the price and the hassle of finding them by reminding myself of all the bonus nutrition juices contain. It's like eating an extra salad (… in my mind, anyway).
For these recipes, I took my obsession love of juice a step further by  using my favorite juices as the base of even fancier beverages. I'm calling these mocktails because I like to drink them to refresh and rehydrate any time of day, but if you add a splash of a fourth (adult) ingredient to each glass, they'd also be a perfect signature cocktail at your next barbecue. No one needs to know that they're secretly getting extra fruit and veggie nutrition in every glass. 😉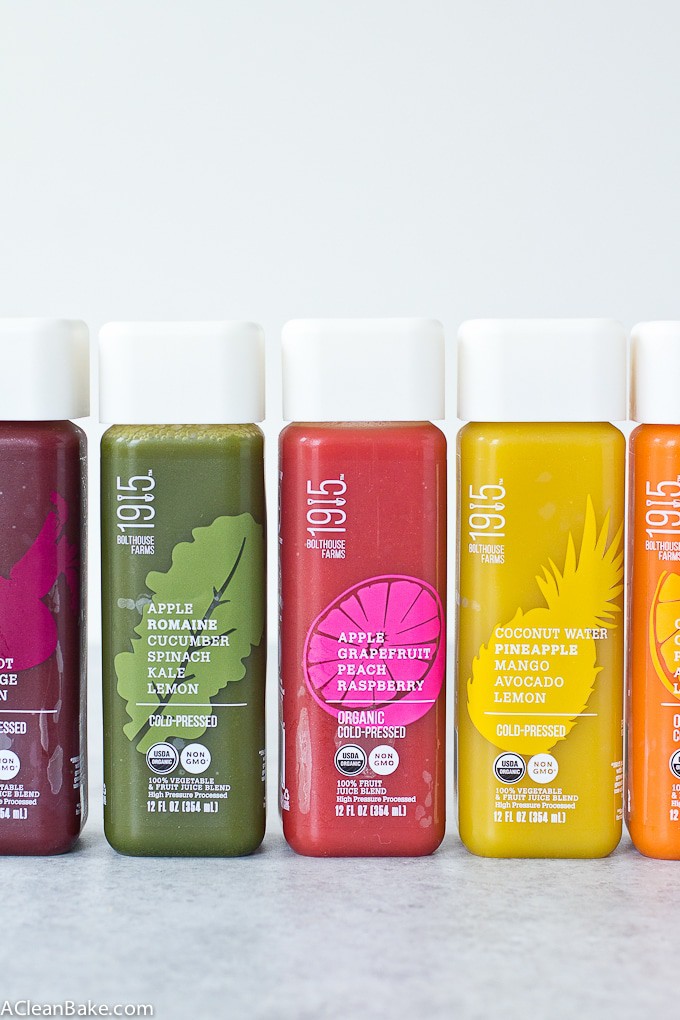 These recipes call for 1915 Bolthouse Farms™, my new favorite line of bottled juices, which are easier to find and much more affordable than the stuff I usually seek out from juice shops, but they still pack the same caliber of flavor and nutrition. 1915 is an organic, ultra-premium line of beverages that includes 8 cold-pressed fruit and vegetable juice blends and 3 protein smoothies. Everything from 1915 is organic and non-GMO – which, I know, I know, I am such a yuppie, but totally sold me.
Better yet, you don't have to hunt down a juice shop in some high-rent neighborhood; you can get 1915 juices (and smoothies) at normal stores like Walmart, Kroger and Safeway. And the price tag? Only $3.99 a bottle. I'm not even going to tell you what I've been paying at those juice shops. I'm making it even easier for you to swap in these healthier beverages for whatever you've been drinking this summer: if you scroll down to the recipe section of this post, you'll also see a giveaway where you can enter to win a box of 1915 Bolthouse Farms beverages ($40 ARV)!
So, as I said, I have three (!) mocktails for you today.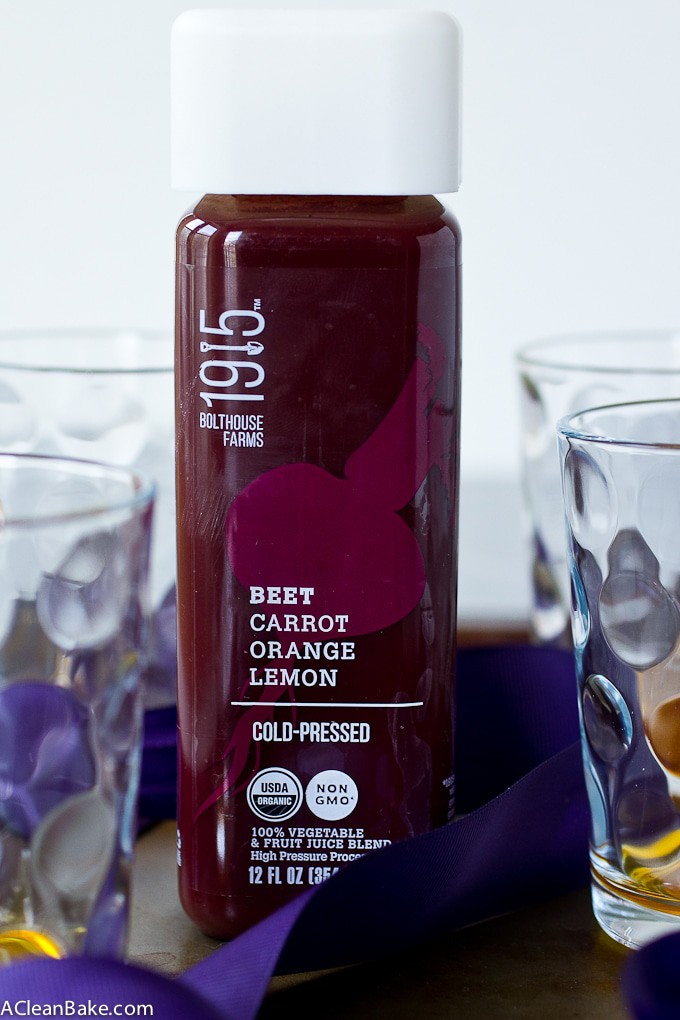 The first one uses 1915 Beet/Carrot/Orange/Lemon juice. Since it is such a lovely shade of plum, and I love alliteration, I call it the Purple Probiotic. You can just call it "something I want to drink" if that's easier. For this drink, all you need is the juice, kombucha and honey.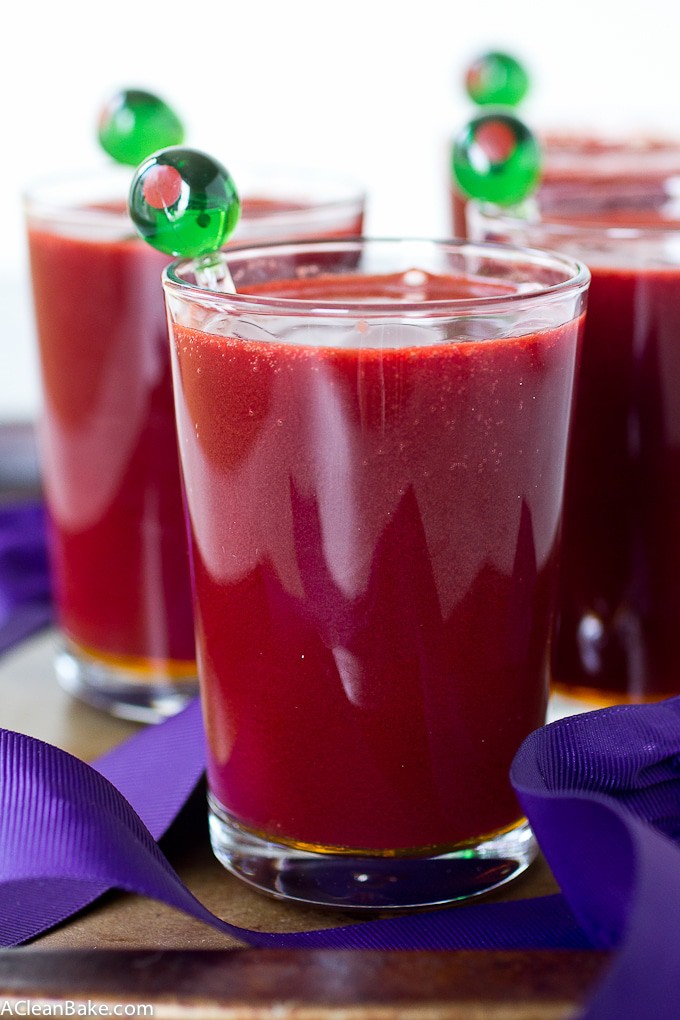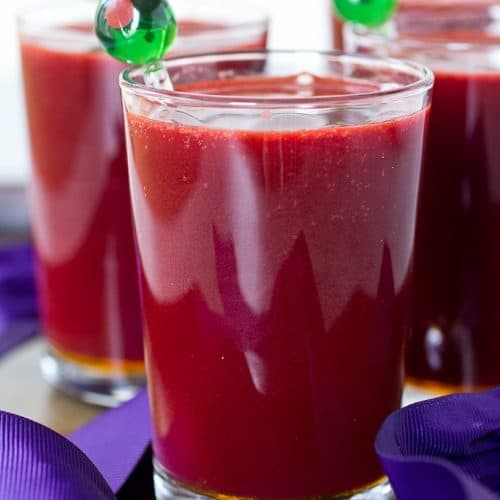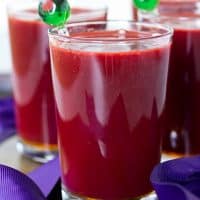 Purple Probiotic Mocktail
gluten free, grain free, paleo-friendly, vegan adaptable, dairy free, egg free, low carb
Print
Pin
Rate
Ingredients
2

Tablespoons

honey

One 16-ounce bottle of 1915 Bolthouse Farms Beet/Carrot/Orange/Lemon Juice

12

ounces

plain kombucha

unflavored
Instructions
Pour 1 Tablespoon honey into each of two tall cocktail glasses.

Divide the 1915 juice between the two glasses and stir vigorously to incorporate the honey into the juice.

Divide the kombucha between two glasses. Stir gently once more time to combine, add ice if desired, and enjoy immediately
Notes
Sub agave or maple syrup for honey if vegan.
Yield: 2 servings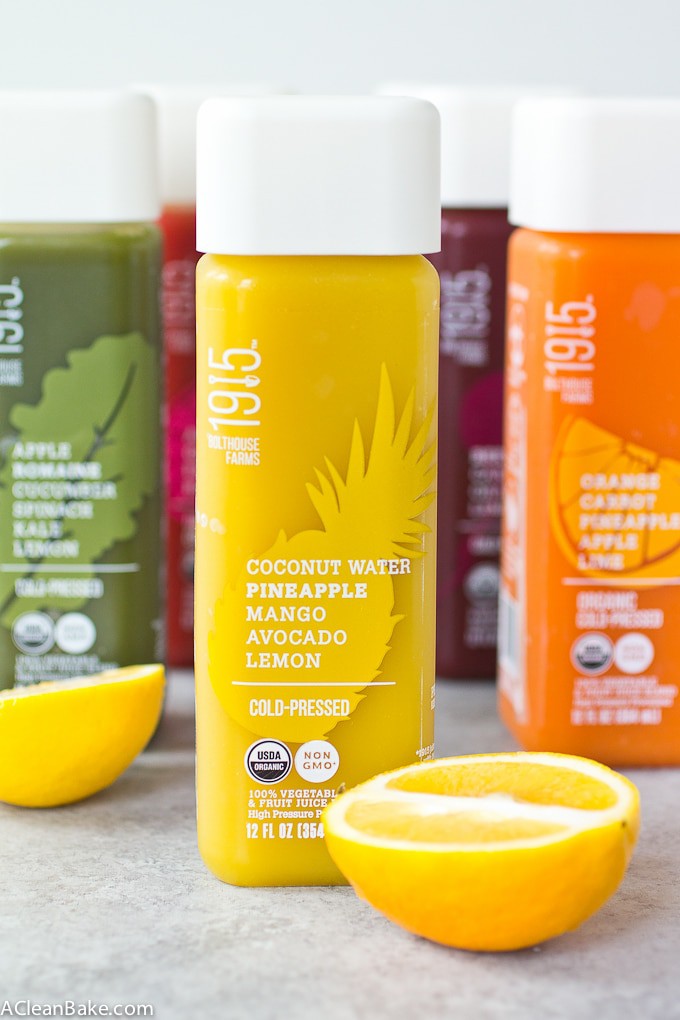 Next up, I have a heartier frozen mocktail for you. Imagine a pina colada, but minus the coconut and rum, and plus a shot of protein. Told ya I "healthied" these up!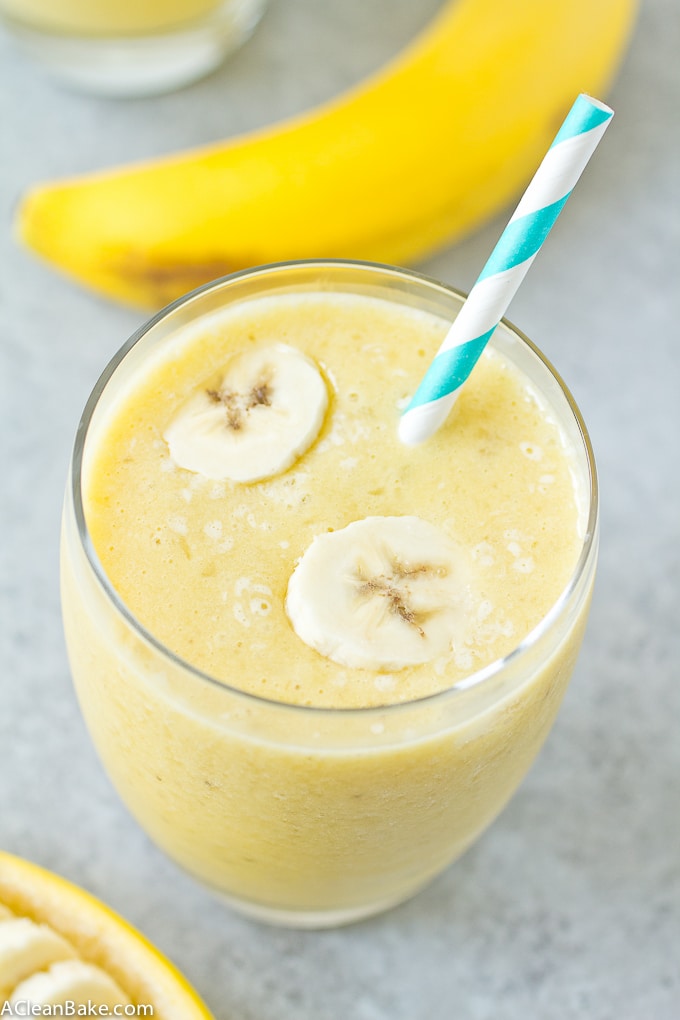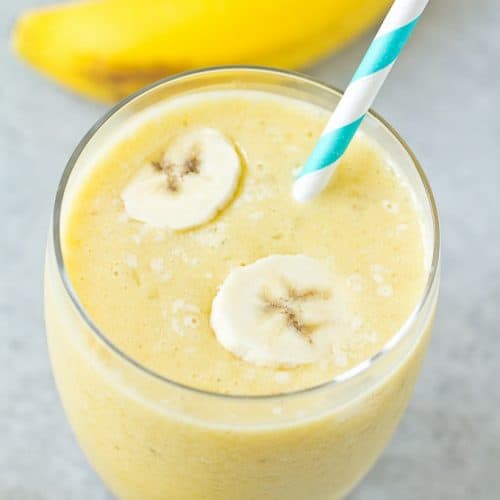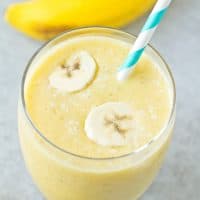 Frozen Pineapple Banana Protein Mocktail
gluten free, grain free, paleo-friendly, vegan, dairy free, egg free, low carb
Print
Pin
Rate
Ingredients
12

ounces

1915 Bolthouse Farms Pineapple juice

coconut/mango/avocado/lemon

2

scoops vanilla protein powder of choice

1/2 cup

1

large or 2 small frozen sliced bananas

1

cup

ice
Instructions
Combine all ingredients in a high speed blender. Puree until smooth.

Divide into two glasses, garnish with extra banana slices (optional), and enjoy immediately.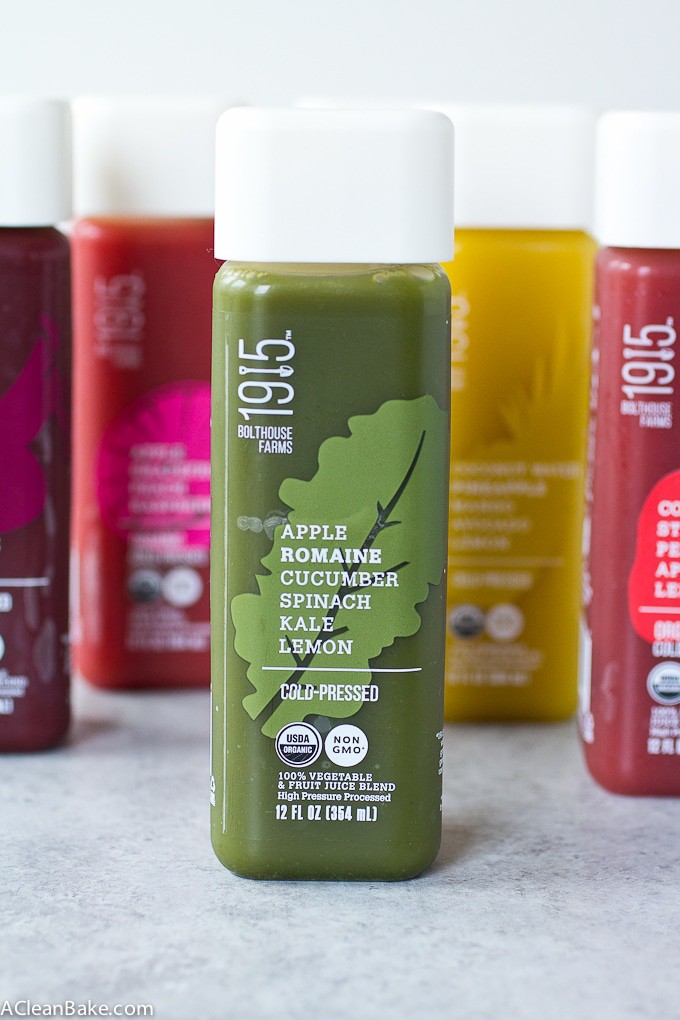 Last but certainly not least (this one is my personal favorite), I made a sparkling green juice. Green juices are my favorite, both for the sweet-tart flavor combination and the salad-in-a-bottle appeal. Add some extra zing using milder Meyer lemons, and some sparkle and all of a sudden a salad in a bottle turns into a special occasion beverage!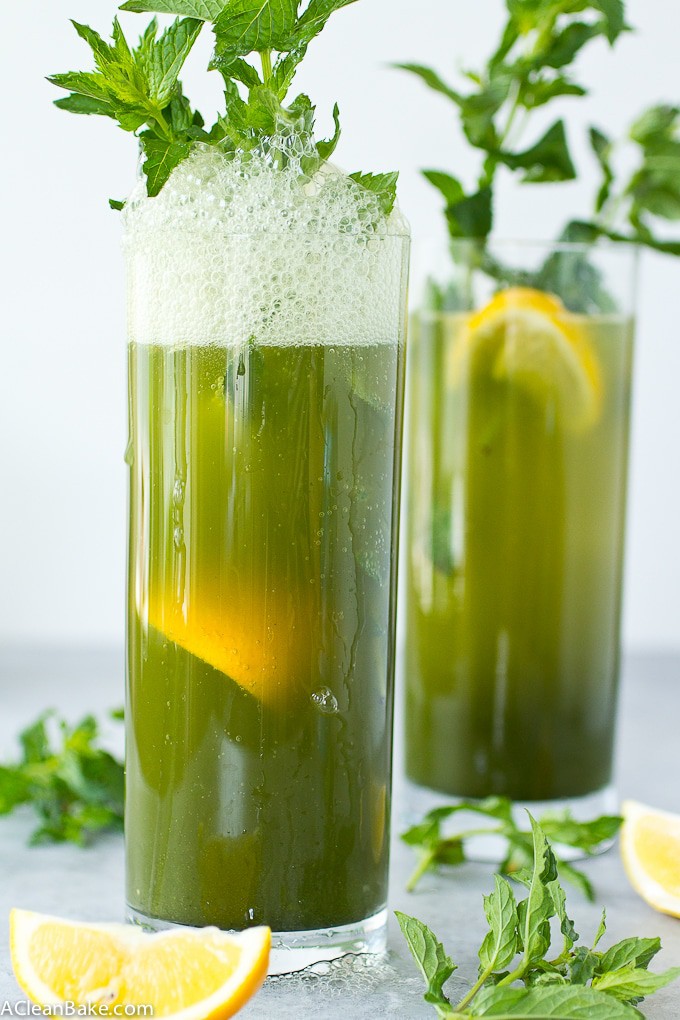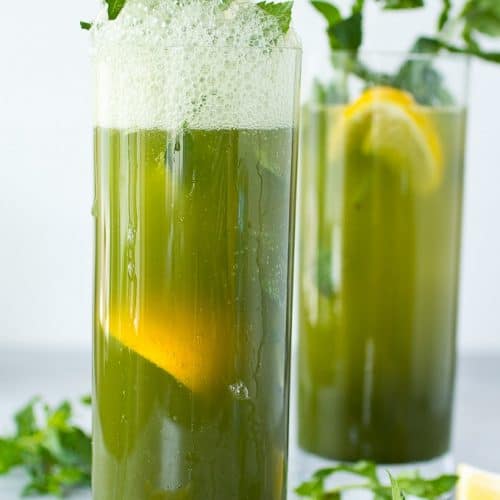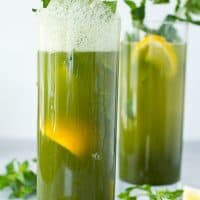 Hydrating Green Goddess Sparkler
gluten free, grain free, paleo-friendly, vegan, dairy free, egg free, low carb Purple Probiotic Mocktail uses fresh fruit and vegetable juices for a nutritious boost and kombucha for extra probiotics (for gut health!). GF and vegan.
Print
Pin
Rate
Ingredients
12

ounces

1915 Bolthouse Farms Apple juice

romaine/cucumber/spinach/kale/lemon

1 1/2

Tablespoons

fresh meyer lemon juice

or to taste

12

ounces

plain unsweetened seltzer water or club soda
Instructions
Divide the 1915 green juice between two large cocktail glasses.

Stir 3/4 Tablespoon lemon juice into each glass.

Top each glass with 6 ounces seltzer.

Enjoy immediately.
So, there you have it: three drinks, three ingredients each, infinite satisfaction!
Catch? No catch. It's 90 degrees out so I think we all deserve a 1-minute, 3-ingredient beverage to cool off with. And if you can sneak in some extra goodness for your body – in the form of nutrient dense 1915 juices – then… well, what are you waiting for? Happy sipping!
Ready to make yourself a mocktail? Check your local supermarket (probably in/near the produce aisle) for 1915 juices and/or you can enter to win a box of 1915 Bolthouse Farms beverages:
Please note that the giveaway runs from July 1 to July 30,  2016. Bolthouse Farms will contact the winner directly, and in order to qualify you  must be 18 or older and a US resident. Only one winner is allowed per household. Good luck!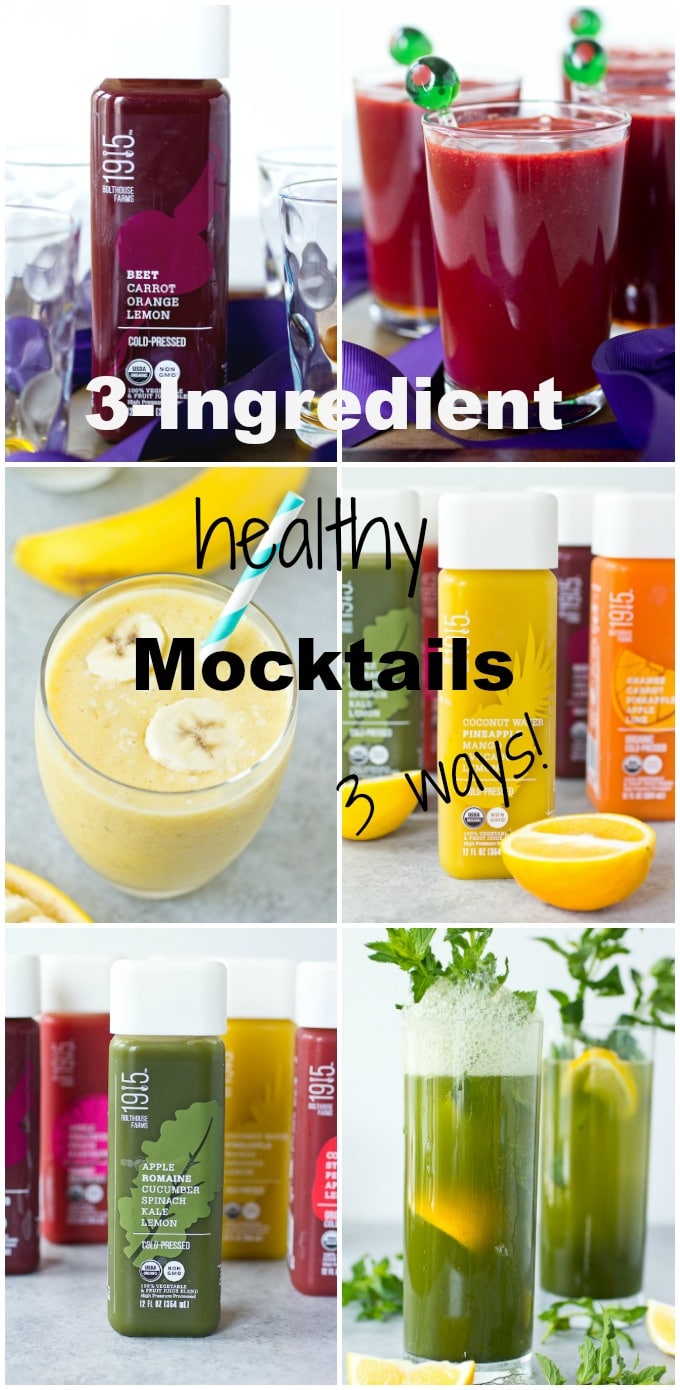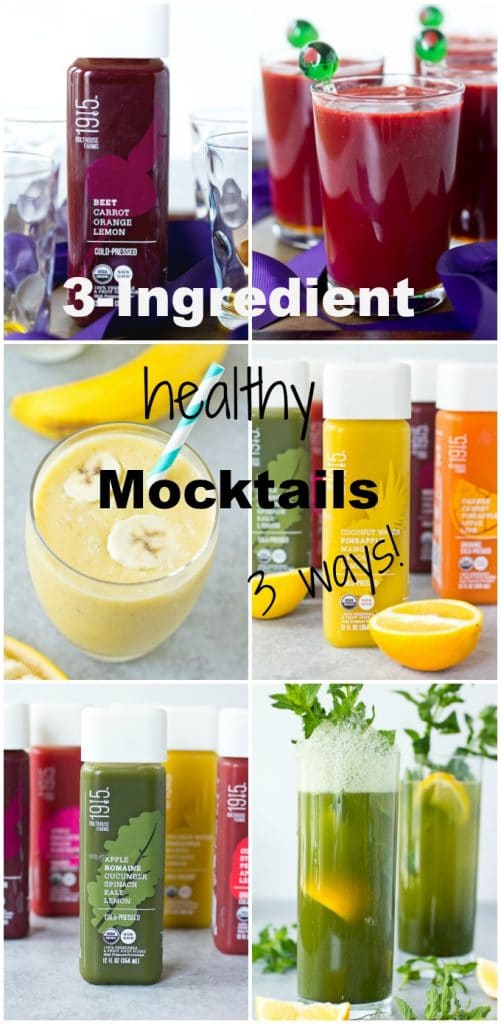 I was selected for this opportunity as a member of Clever Girls and the content and opinions expressed here are all my own.