Like many of you, I have an abundance of leftover sweet potatoes in my fridge right now, and I wanted to make something else with them besides more roasted sweet potatoes. So, I used them like carrots in this paleo sweet potato spice bread, which makes a delicious, easy, and freezer-friendly gluten free, dairy free, and paleo dessert or breakfast treat!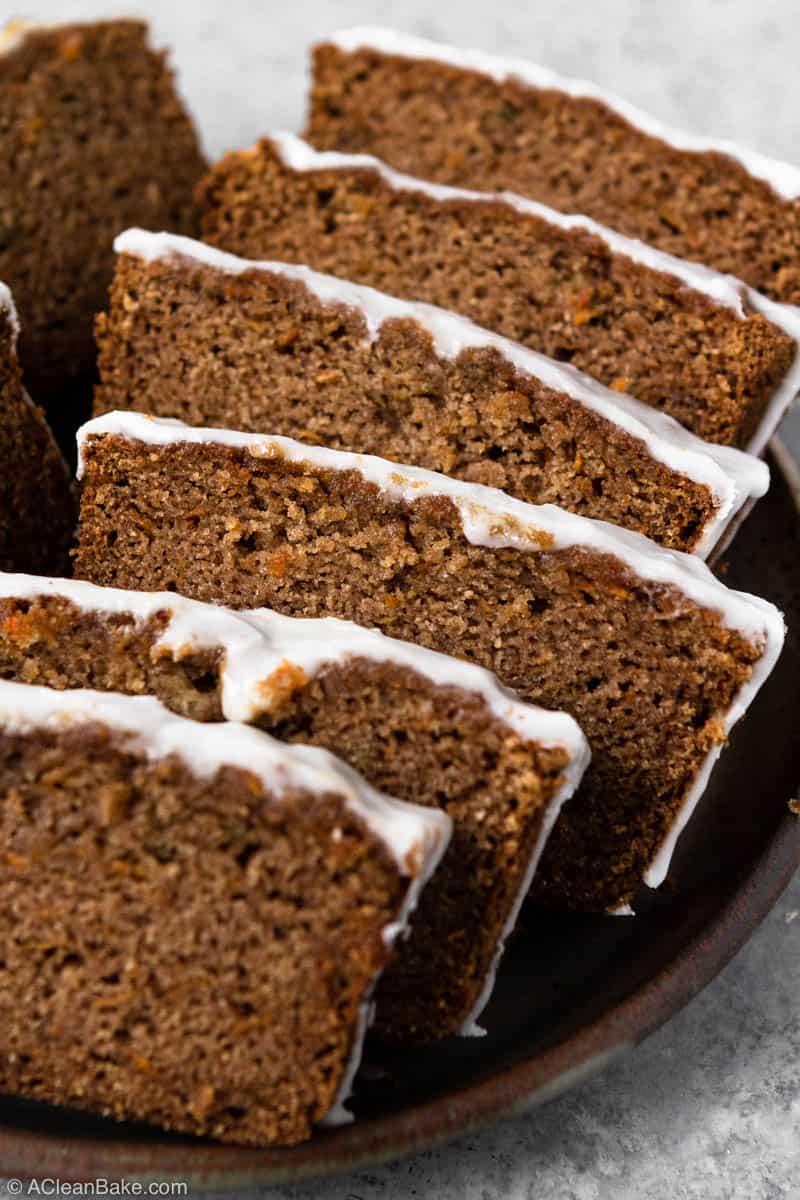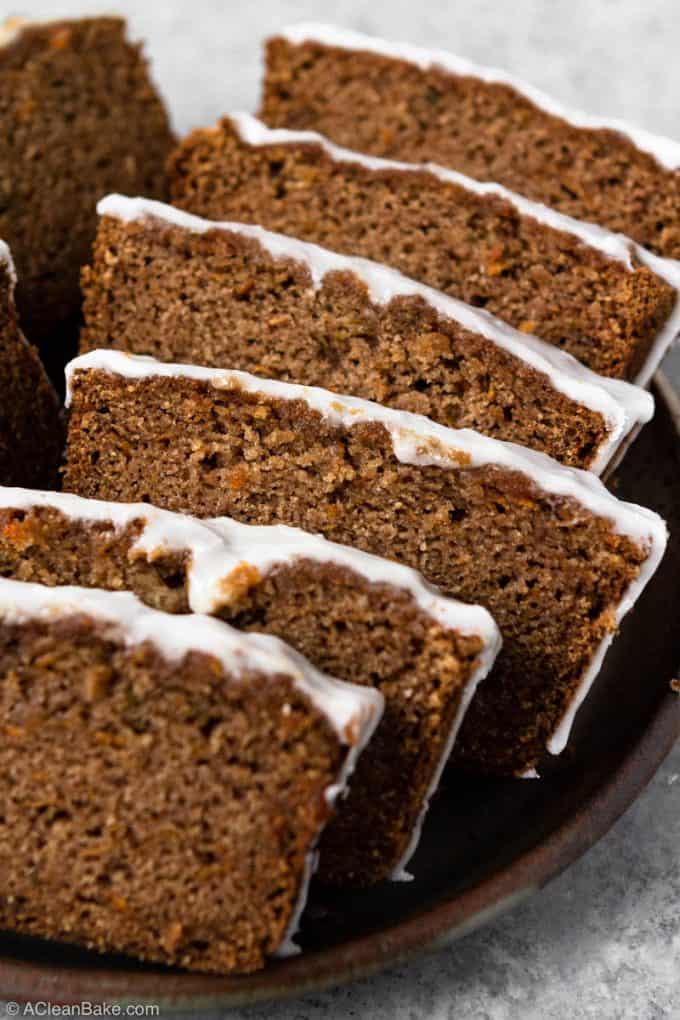 While the rest of the internet is bickering about who makes the best mashed potato sandwich, I'm staying out of the fray.
That's for two reasons: First, because I made a very small meal and we don't have any leftovers. And second because the idea of putting mashed potatoes in a sandwich low-key horrifies me.
But I'm not neglecting the leftover question – not at all. I assume that everyone else overbuys sweet potatoes for Thanksgiving like I do (right?). We are our weight in roasted sweet potatoes this year as a Thanksgiving side dish, and I need a break.
So what's a gal supposed to do with all of the sweet potatoes lingering in my fridge? Bake with them of course.
I'll bet you already knew the answer to that one almost as soon as I asked the question ????
Tell me more about paleo sweet potato spice bread
Well, you're already familiar with other types of starchy vegetable breads masquerading as cakes like carrot bread or pumpkin bread or anything of that sort. So if you could do it with one root vegetable, why not others?
The answer is: you can.
As the mother of a toddler who swore, pre-children, that I would never resort to hiding vegetables in things (har har. Now that's the only way I get him to eat vegetables!), I can call myself the proud creator of beet muffins, turnip muffins, and of course sweet potato muffins and bread.
One of these days I'll get around to sharing my recipe for blueberry-beet muffins, which is one of my son's favorite breakfasts. He doesn't even know there are beets in them – and neither will you. But that's not what we're here to talk about today!
But speaking of covert vegetables, you don't really know that there are sweet potatoes in this bread, either. Sure, you see little orange flecks throughout the bread – but you can't distinguish them, texture-wise, from the rest of the bread. And as far as flavor goes, the sweetness of the potatoes means they could just as easily be apples (especially to picky eaters!).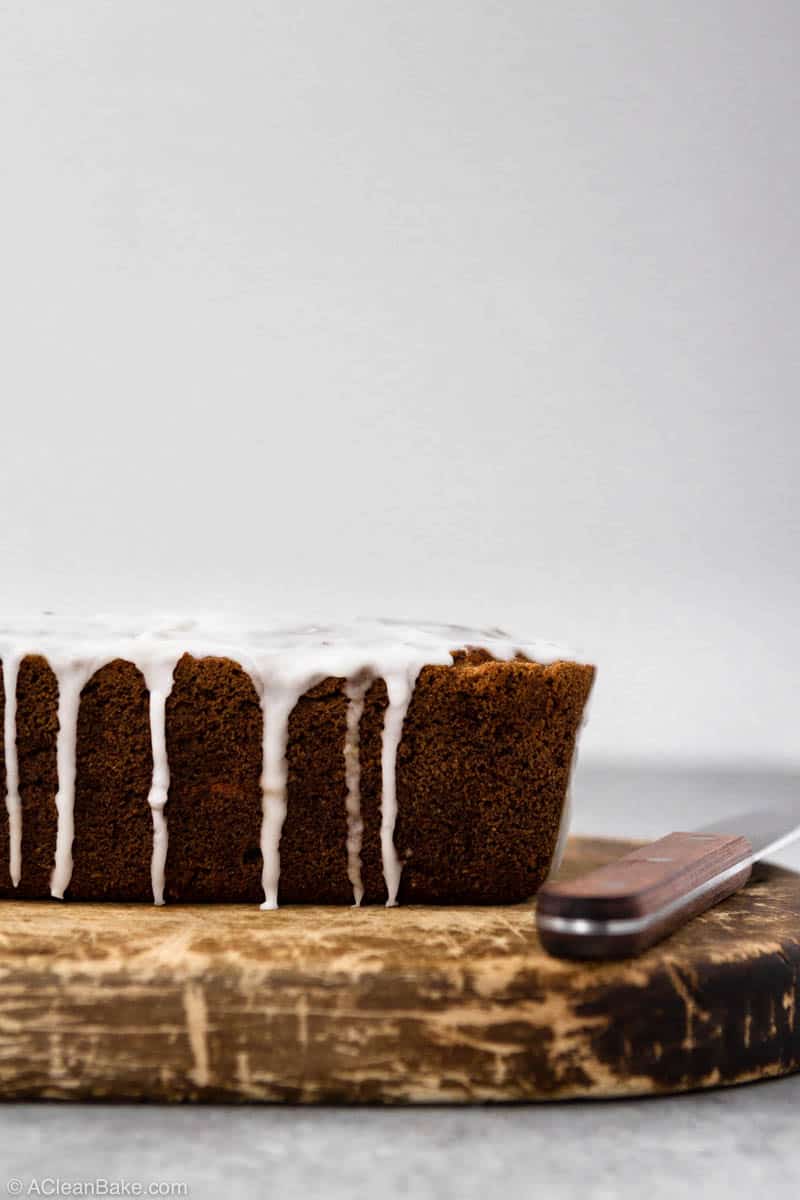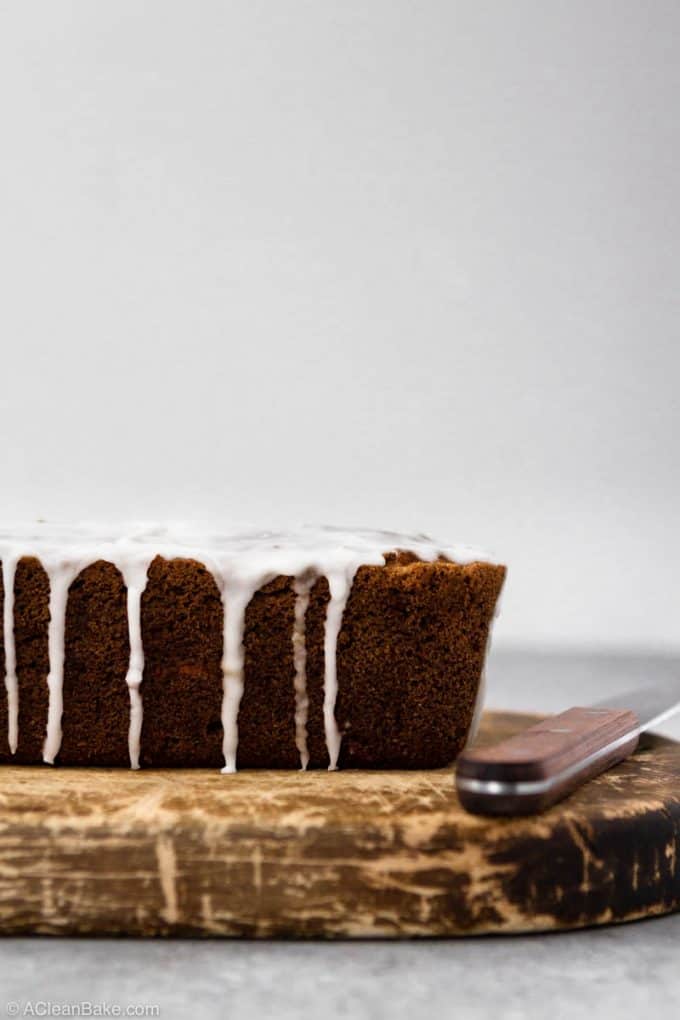 How to make sweet potato spice bread
Like most of the rest of my paleo dessert recipes, I kept this one as simple as possible. Simplicity is even more important, if you ask me, when dealing with these sorts of recipes, because I know that if you're just trying to use up leftover ingredients, you probably haven't set aside a ton of time to do it. Save your leisurely baking time for special occasion projects like birthday cake.
So what does that mean in terms of what this recipe requires from you? Not much.
There's a standard list of ingredients, most of which you probably already have handy (particularly if you made sweet potato casserole or other sweet potato recipes for Thanksgiving dinner last week).
The ingredient list contains the normal flours you expect in paleo-friendly baking, like blanched almond flour, coconut flour, and arrowroot flour. Beyond that, you'll need a couple of other dry ingredients like fine sea salt and baking soda. You'll also need eggs, oil, maple syrup, vanilla, and of course your shredded sweet potatoes.
The method itself is simple: you mix the wet ingredients and, separately, the dry ingredients. You mix the wet and dry mixtures together to form a batter, fold in the grated sweet potato, and bake!
Mashed vs Shredded Sweet Potatoes
This recipe, unlike many fruit or vegetables breads or loaf cakes that use purees, calls for shredded raw sweet potatoes.
Why? Well, because shredded raw sweet potato requires the least possible effort to prepare – and adds the least possible additional moisture to the cake. Moisture imbalance is, as you know if you've been here long enough, a huge deciding factor in whether a paleo baked good (or a conventional one) is a success or a flop.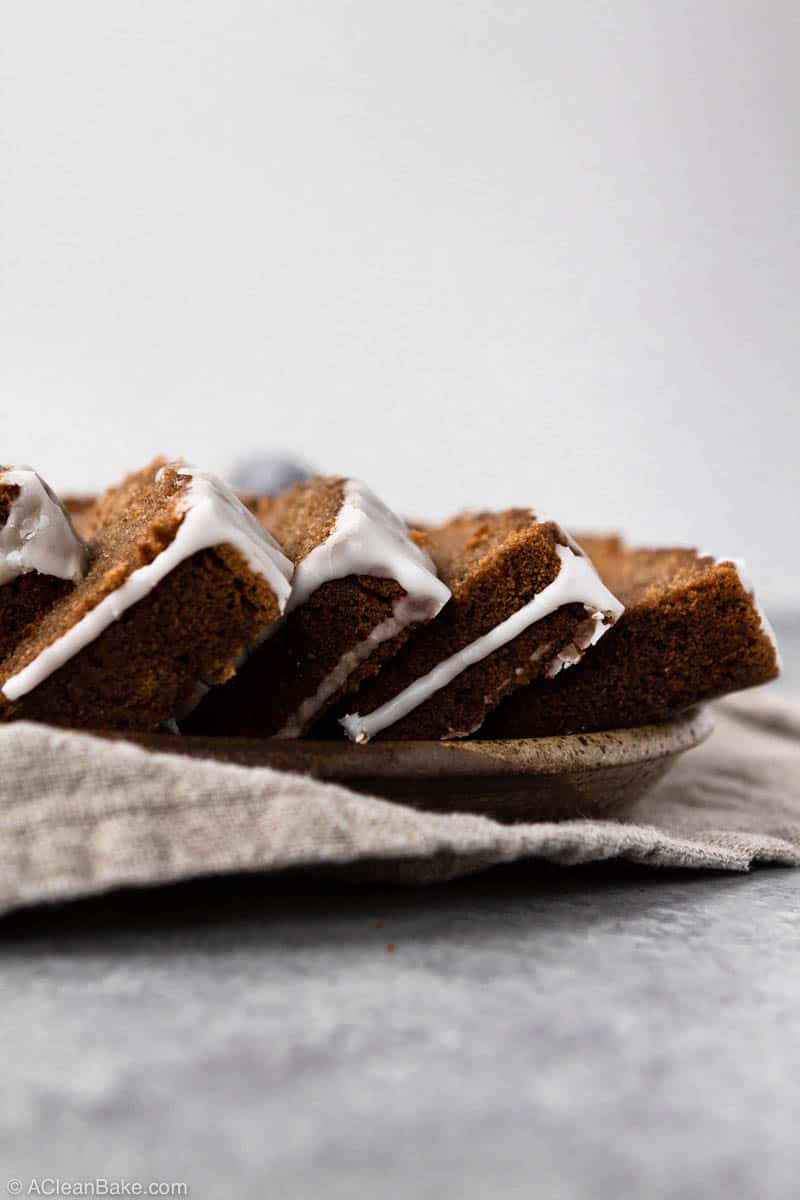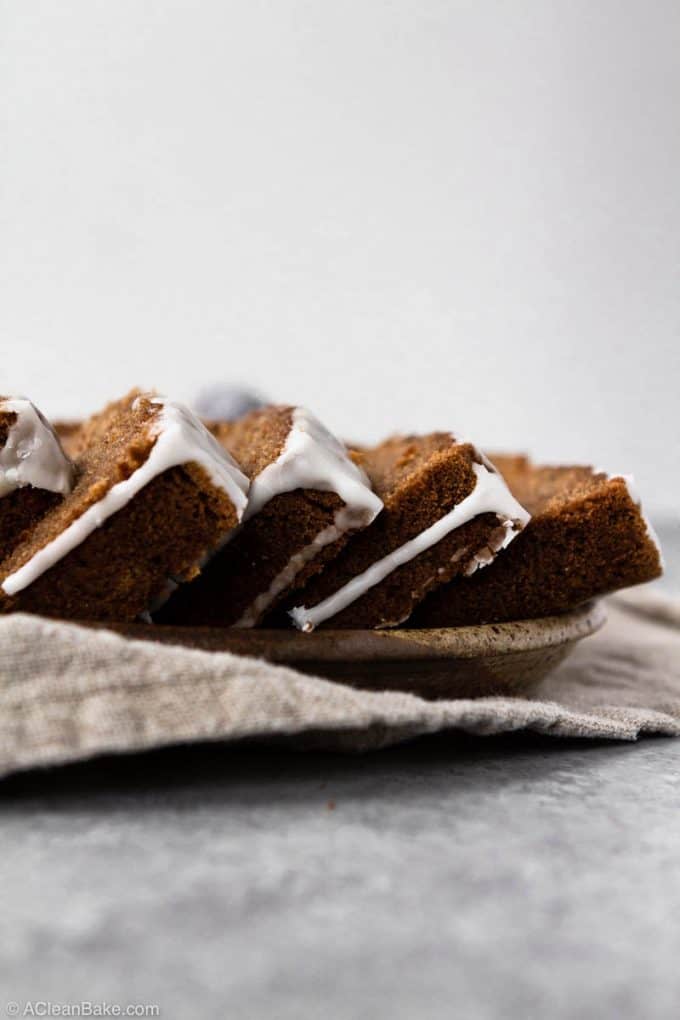 I initially set out to use sweet potato puree (which is just cooked, mashed sweet potatoes) in this recipe, but it didn't turn out because the steaming process added too much water to the potatoes, and ultimately to the bread, that it was too hard to balance it out with dry ingredients.
So I tried raw, grated potato instead. Luckily, using grated sweet potatoes yields both a better bread and also a much easier process, since this is the easies possible preparation short of dumping a whole, unwashed potato into the bread batter (Caution: not recommended!) All you have to do is wash and quickly shred your sweet potato rather going to the time consuming process of cooking, cooling, and mashing your potatoes – then you're ready to fold them into the batter.
A quick word about the glaze…
It does not adhere to the paleo diet, because it contains powdered (cane) sugar. Although you can make a paleo-friendly glaze it usually requires a lot of ingredients and a lot of lowering your standards. So when I do the occasional glaze, like the occasional frosting, I do it right.
That said, I know that many of you can't tolerate cane sugar, even rarely. So the glaze is completely optional. The bread tastes just as good – and is much more breakfast-appropriate – without it!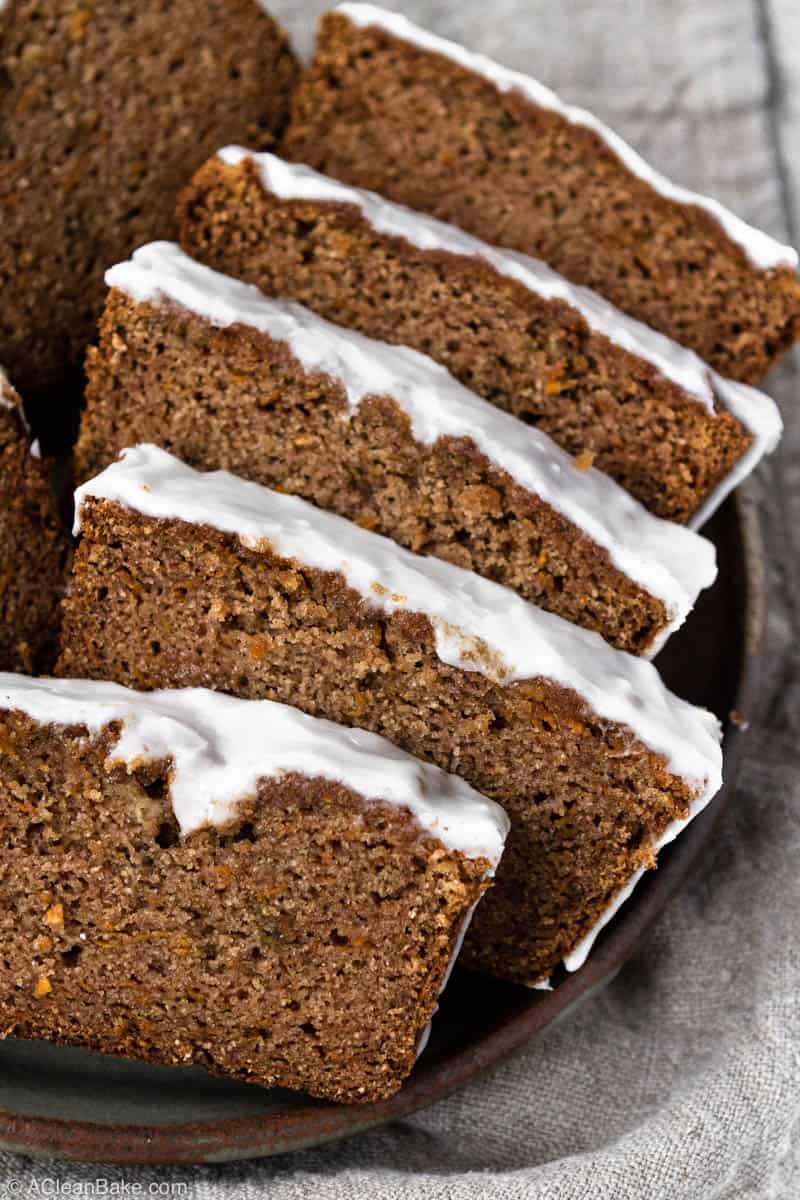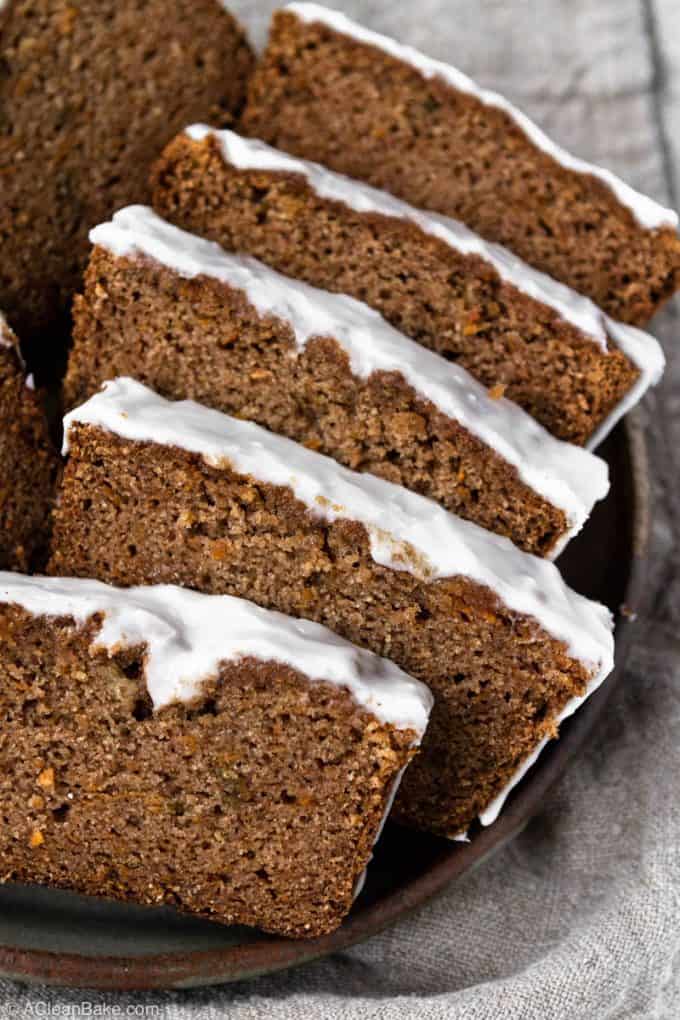 FAQs
Can I substitute the almond flour? I haven't tried it, and don't recommend it. But if you absolutely must, I've heard that cashew flour is a good sub for almond flour, if you can tolerate other tree nuts.
Can I substitute the coconut flour? No, I'm sorry.
Ok, what about the arrowroot flour? You can use tapioca flour, but will get a slightly denser, slightly gummier texture.
Where do I get pumpkin pie spice (aka pumpkin spice)? You can buy it in the spice aisle of the grocery store, or in the bulk spices section of Whole Foods or other health food stores. You can also make your own (google for recipes!). Or, simply substitute cinnamon for pumpkin spice.
Can I make this dairy free? It's already dairy free! Eggs are not dairy, a term which only applies to milk and the products we make from it (like butter, yogurt, and cheese).
What kind of oil should I use? I recommend avocado oil. If you can't find that, use another oil that is flavorless and liquid at room temperature, such as grapeseed oil or organic canola oil. I don't recommend using coconut oil. Because it is solid at room temperature, it affects the texture of the bread. Using a liquid oil produces a softer, fluffier bread.
How do I jazz this up? Add 3/4 cup roughly chopped walnuts, pecans, or dark chocolate.
What is a loaf pan? It's a rectangular 8.5″ long pan with high sides that encourage batter to bake up into a loaf shape. You can also find loaf pans in a larger size (10″ long), so be aware of what size you're using. You can use a 10″ loaf pan but you'll have to reduce the baking time by about 15-20 minutes, and you'll end up with a loaf that doesn't appear to have risen as much.

Still have potatoes left over?
Here are a few ways that you can use up your leftover sweet potatoes:
Bottom line: sweet potatoes are the basis of so many wonderful comfort foods this time of year. This Paleo sweet potato spice bread is just the beginning!
Looking for more paleo diet recipes? Check out plenty more easy sweet and savory options here!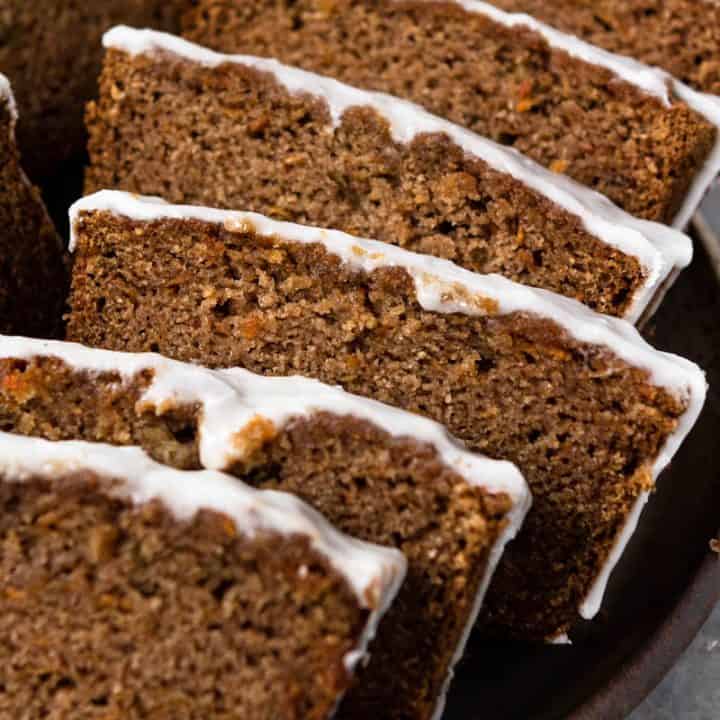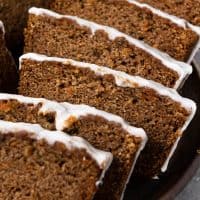 Paleo Sweet Potato Spice Bread
Total Time:
1 hour
20 minutes
Paleo sweet potato spice bread is a delicious, easy, and freezer-friendly gluten free, dairy free, and paleo dessert or breakfast treat!
Ingredients
Ingredients for the bread
1 cup blanched almond flour
1/2 cup coconut flour
1/2 cup arrowroot flour
1 1/2 teaspoons baking soda
2 teaspoons pumpkin pie spice, (or cinnamon)
1/2 teaspoon fine sea salt
2 large eggs
1/2 cup avocado oil
1/2 cup maple syrup
1/4 cup water, or almond milk
1 teaspoon vanilla extract
1 teaspoon apple cider vinegar
1 cup peeled, shredded sweet potato
Ingredients for the glaze (optional)
1 1/3 cup confectioner's sugar, (powdered sugar), sifted
2 tablespoons almond milk
Instructions
Preheat the oven to 350°F. Lightly grease an 8.5" loaf pan and set aside.
In a large mixing bowl, whisk together the almond flour, coconut flour, arrowroot flour, pumpkin spice, baking soda, and salt. Set aside.
In a medium mixing bowl, whisk the eggs until beaten, then whisk in the oil, water, maple syrup, vanilla, and vinegar. 
Pour the wet (eggs, etc) mixture into the dry (flours) mixture and stir until combined. Use a spatula to scrape the sides and bottom of the batter, making sure that everything is well combined. 
Fold in the shredded sweet potato until well incorporated. 
Pour the batter into the prepared pan and use your spatula to level the top of the batter. 
Bake for 60-65 minutes, until the bread has risen and springs back slightly when lightly pressed. 
Remove bread from oven and cool 15-20 minutes in the pan before removing from the pan and transferring to a wire rack to cool completely. 
Once the bread has come to room temperature, prepare the glaze (if using) by whisking together the sugar and milk, then slowly pouring it over the top of the loaf. Use a spatula to spread it into an even layer, if necessary. 
Allow the glaze to set before slicing and serving. 
Notes
Optionally, you can fold in 3/4 cup of roughly chopped walnuts, pecans, or dark chocolate with the shredded sweet potato.
Store leftover bread in an airtight container at room temperature for 2 days, in the fridge for up to 5 days, or tightly wrapped in the freezer for up to 3 months. The bread will keep best without the glaze. 
Nutrition Information:
Yield:

12
Serving Size:

1
Amount Per Serving:
Calories:

301
Total Fat:

16g
Saturated Fat:

2g
Trans Fat:

0g
Unsaturated Fat:

13g
Cholesterol:

31mg
Sodium:

271mg
Carbohydrates:

37g
Fiber:

3g
Sugar:

24g
Protein:

5g
[wprm-nutrition-label align="center"]
Pin it for later: