A classic paleo and gluten free banana bread that is ultra-moist, rich, and sweet just like banana bread should be. This easy recipe is made from almond and coconut flour, for a healthy, grain free twist on the classic breakfast or snack. You can make it with chocolate chips or without – but who doesn't like a bit of chocolate in every bite! This is a recipe you'll make again and again!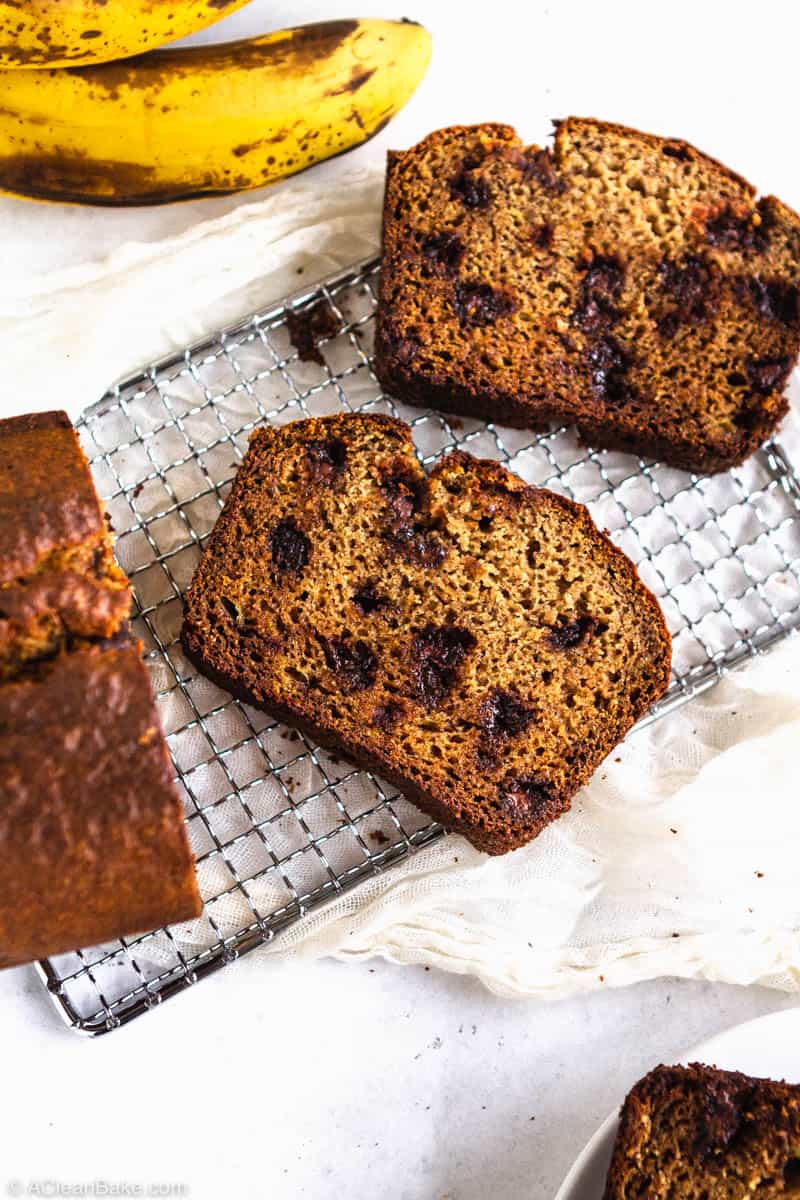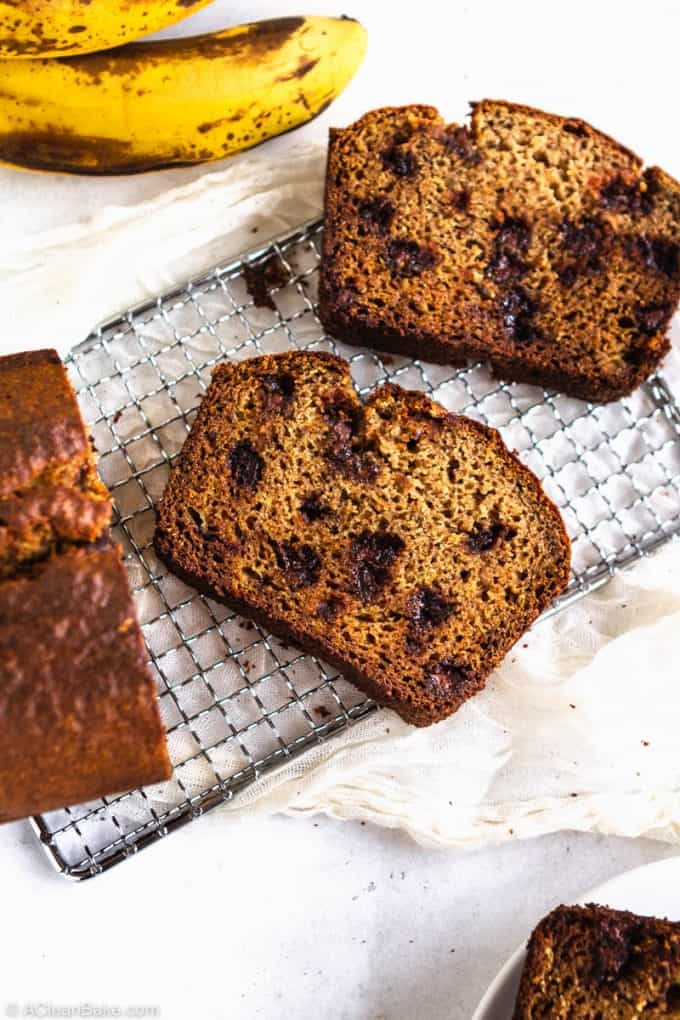 I don't think it is an overstatement to declare this the last banana bread recipe you'll ever need. A bold declaration, right? But one that holds up.
Here's the thing: this classic banana bread ticks all the boxes…
Super moist? Check.
Pure banana flavor? Check.
Pleasantly dense and hearty, but somehow still springy crumbed? Check, check, check.
Studded with pools of dark chocolate? Not mandatory but check!
So easy to make with not much more than a mixing bowl (ok, two) and a spoon? Check.
I have had more than one taste tester tell me there is no way that this can actually be healthy, and that this is one of the best banana bread recipes they've ever tried.
Let's talk through the process of making this classic American treat.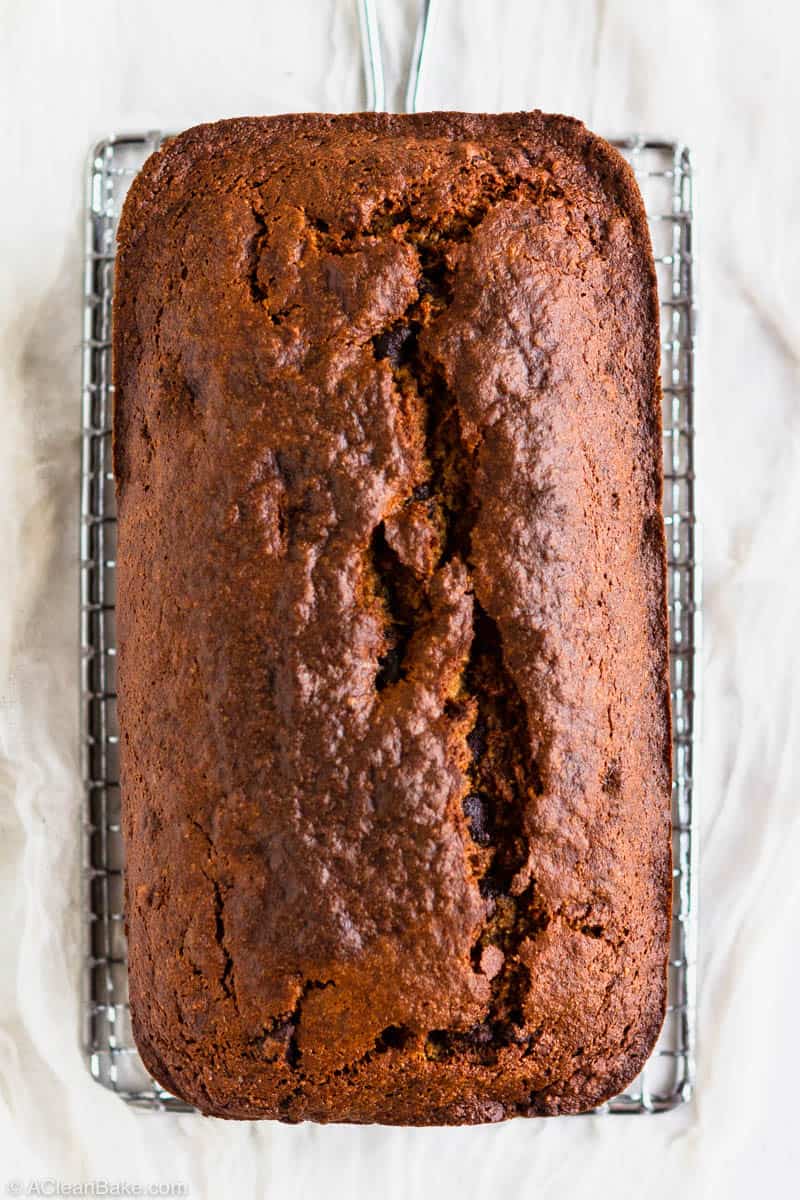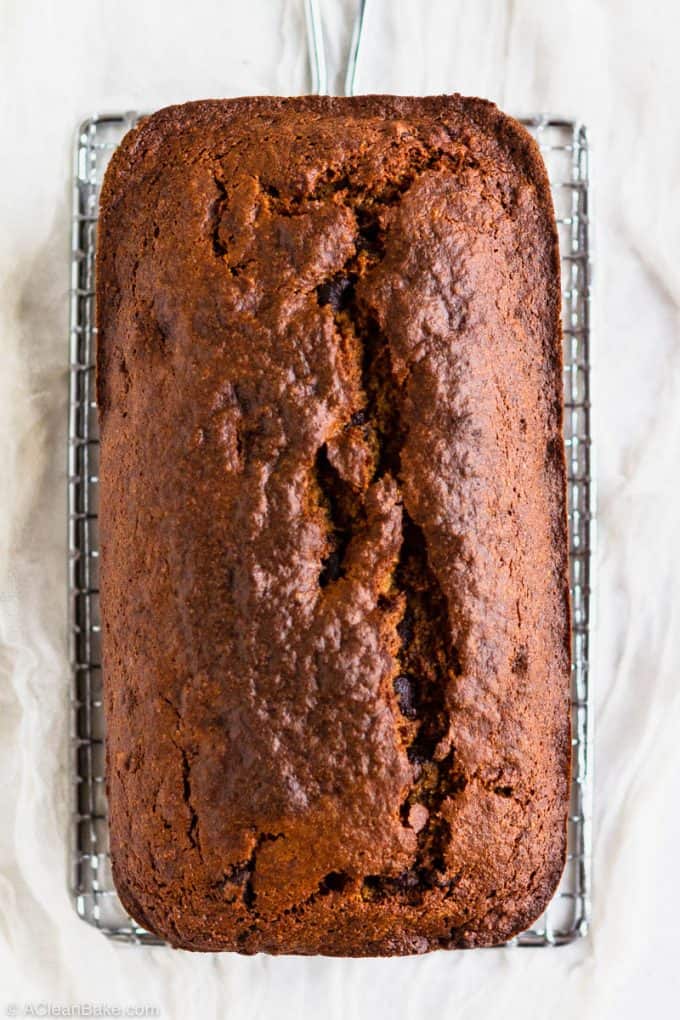 How to make Gluten Free and Paleo Banana Bread
You'll start by whisking together a dry mixture, which consists of a grain- and gluten-free flour mixture (almond flour, arrowroot flour, and coconut flour), coconut sugar, cinnamon, baking soda, and fine sea salt , in one bowl.
In another bowl, you'll put together a wet mixture, consisting of whisked eggs, maple syrup, apple cider vinegar, and pure vanilla extract. Then stir in mashed ripe bananas, mix the wet mixture together with the dry, fold in the chocolate chips, and bake.
The simple, familiar method for assembling this quick bread goes something like this: mix the dry ingredients in a large bowl, the wet ingredients in a small bowl, and then combine the two. Fold in your dark chocolate chips, pour into a greased 8.5-inch loaf pan, bake, and devour. (Note: I love using coconut oil or olive oil spray to avoid using canola oil.)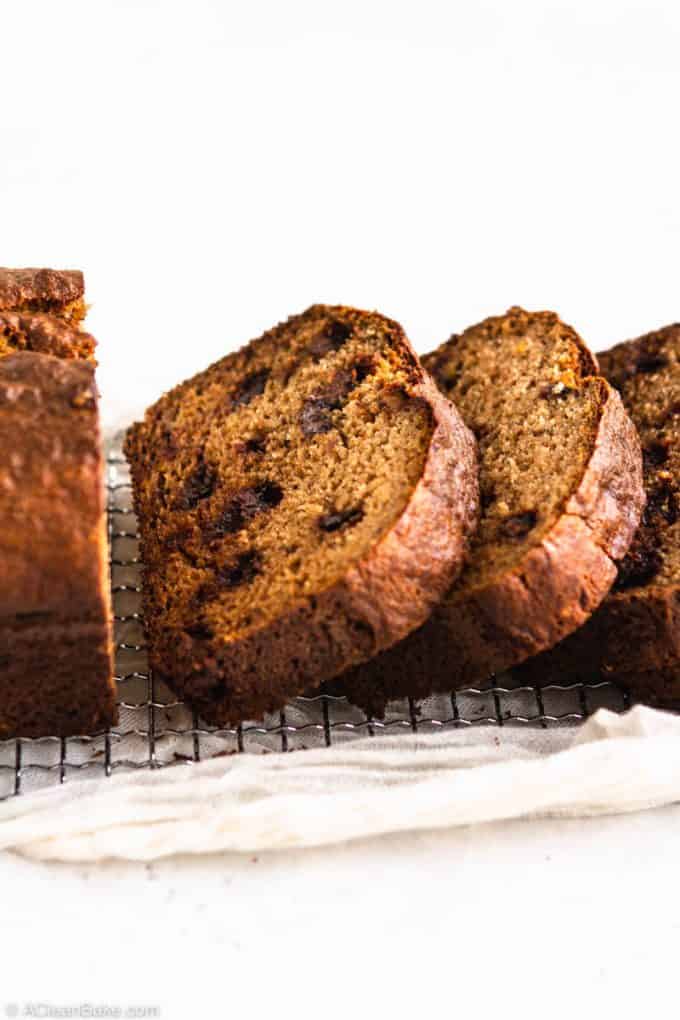 How to Make it Your Own
The base banana bread is perfect for all sorts of add ins, and not just the chocolate chips called for in the recipe.
Try other types of chocolate like a chopped bar, white chocolate chunks, or even chopped peanut butter cups, would be fun.
For a fruity twist, dried cherries or blueberries would be great! Bananas and blueberries are a fantastic flavor combination, FYI ????.
You can even do a combination of these options, but make sure the total amount of add-ins in the bread doesn't exceed about 3/4 of a cup.
To make it more breakfast-friendly, consider adding chopped walnuts or pecans, swirl about 1/4 cup – 1/2 cup of peanut butter or almond butter into the top of the loaf, or sprinkle the batter with a little bit of streusel topping.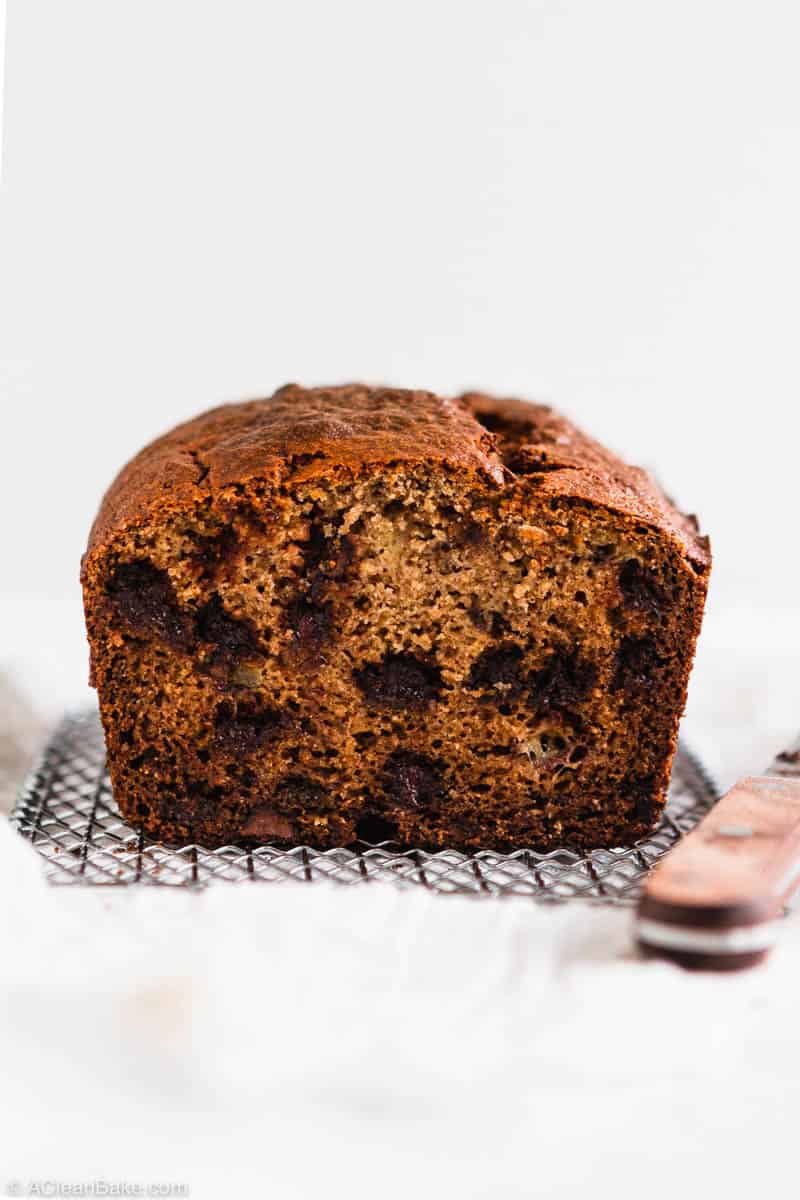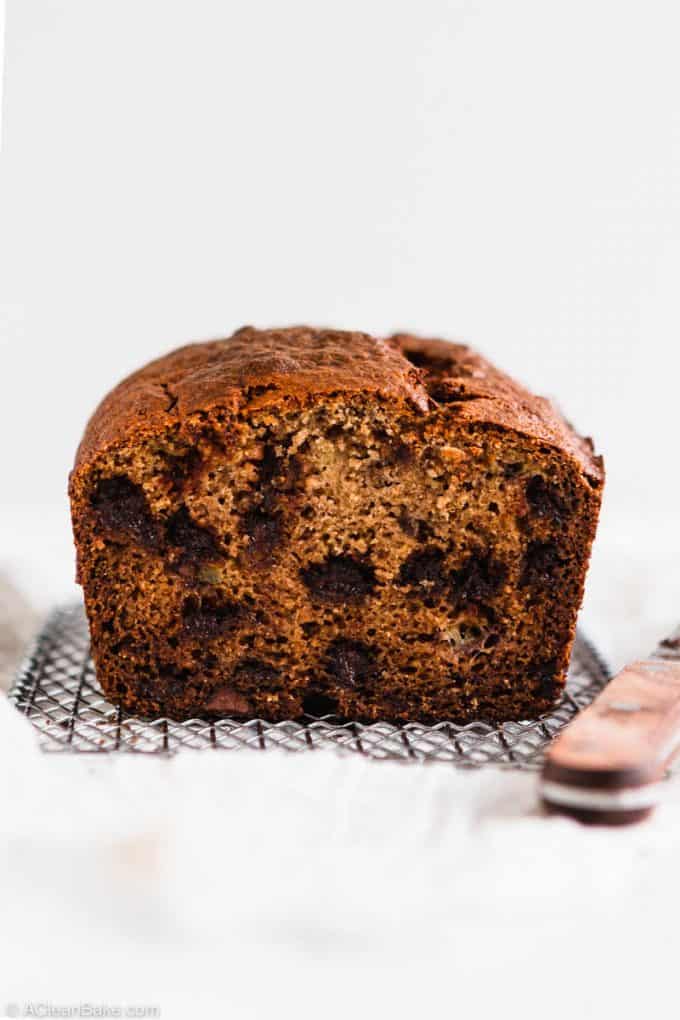 Paleo & Gluten Free Banana Bread Recipe FAQs
"Can I use almond meal instead of almond flour?"
Almond meal and almond flour are descriptive terms for a finely-ground almond product, and they're often used interchangeably. Read more about that here.
Regardless of what the product is called, you're looking for a blanched product (blanching is the process of removing the skins of the almonds before they're ground into flour) and one that is extremely finely ground. You can recognize a blanched almond flour because it will be a consistent cream or light yellow color. An unblanched product will contain flecks of dark brown (which is the ground up skins) throughout.
My preferred almond flours are Honeyville brand and Bob's Red Mill brand, both available online and in health food stores. You can also typically find Bob's Red Mill brand flours in the baking aisle of large grocery stores.
"I'm allergic to tree nuts. Can I replace the almond flour with more coconut flour?"
Unfortunately, no. Yeah, I know, it's frustrating, but grain- and gluten-free baking is kind of finicky, especially when coconut flour is involved. Coconut flour is highly absorbent, and is unlike really any other flour out there, grain free or otherwise.
Almond flour is a moisture-rich flour that, along with the arrowroot, is responsible for the soft crumb of this banana bread. Coconut flour, as I said, is highly absorbent, and helps to balance out the bananas, which contain a lot of water. In other words, they react almost exactly opposite when it comes to moisture in the recipe, so too much coconut flour would produce a very dense and dry banana bread.
The flour blend in this recipe is finely tuned to produce the perfect texture, and I don't recommend altering it at all, at the risk of your bread not turning out properly.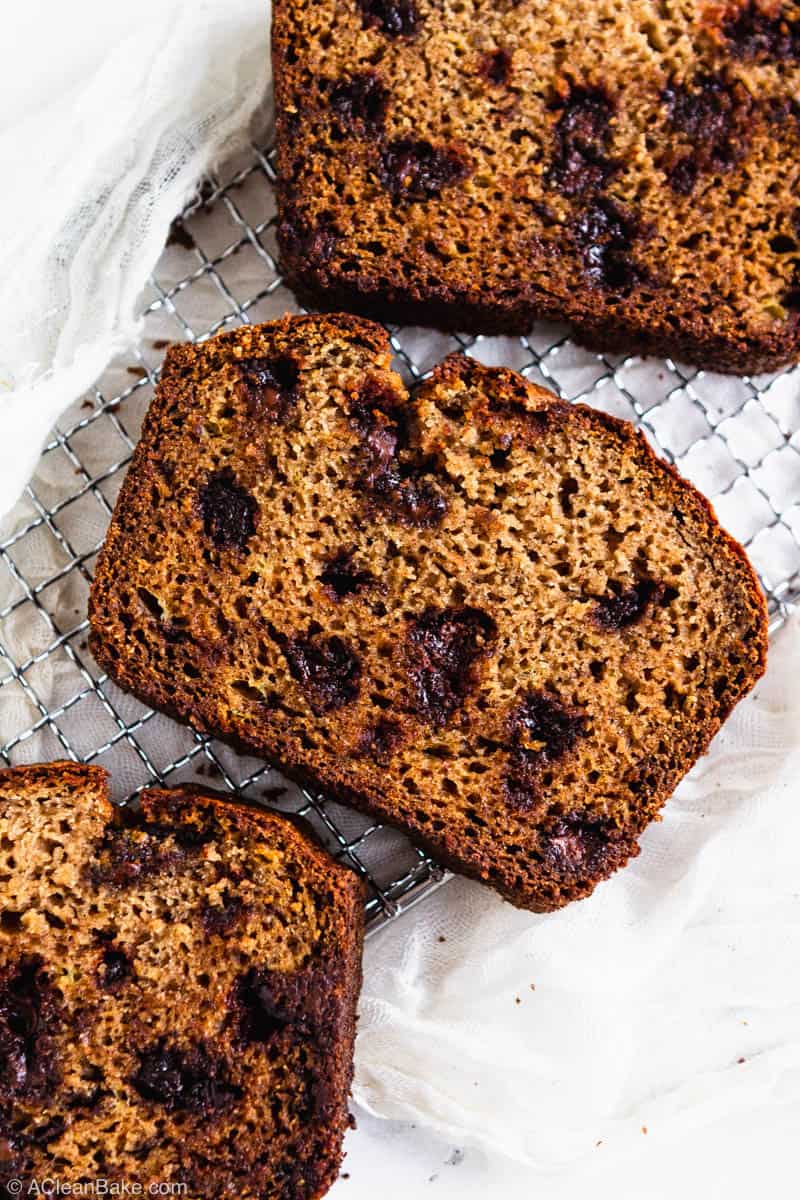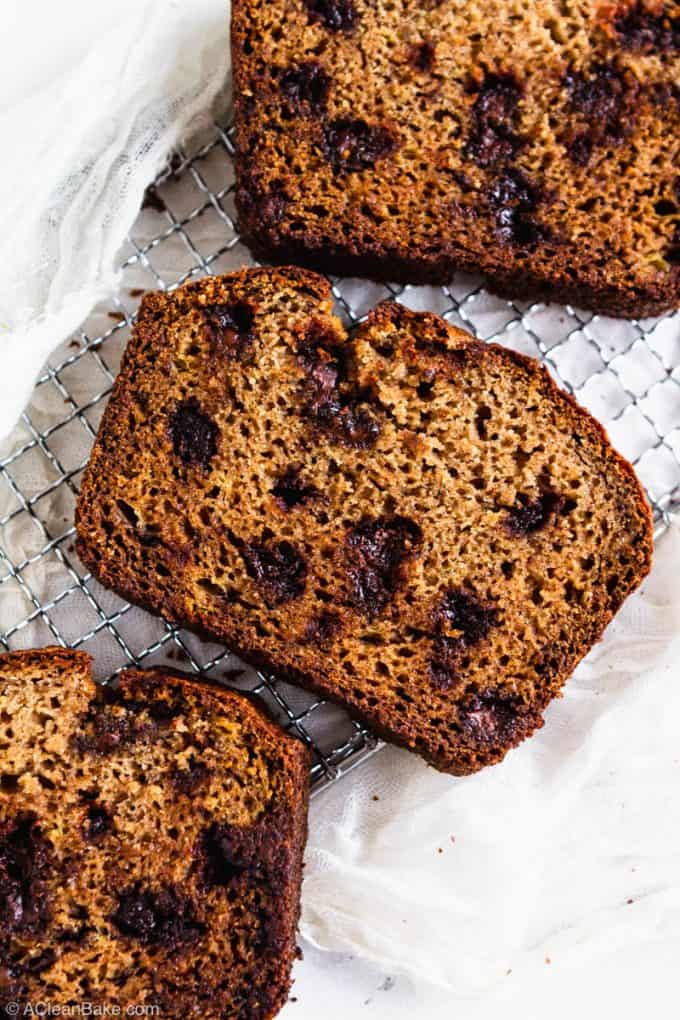 "Can I replace the flour mixture with gluten free all purpose flour?"
No, for the same reason as I just explained. Grain flours behave differently from grain free flours and produce a different texture. This recipe is meant to use grain free flours.
Plus, many gluten free flour blends contain xanthan gum, which many people don't tolerate well. So I steer clear of packaged GF flours.
"How do I measure the flours properly?"
GREAT question. Now that I've stressed the importance of each flour in its precise amount, you know how important it is to measure correctly.
The best way to measure your flours is the Spoon and Level method, which is exactly what it sounds like: first, shake or stir the container of flour to aerate it. Heavy grain free flours tend to get extremely packed down over time, in their containers.
Then, spoon the flour into the measuring cup and then use the straight edge of a butter knife to level off the measurement. This 2-step process is meant to ensure that the flour is measured accurately. If you don't aerate or scoop your flours, you can end up with a super-packed measuring cup and up to 1/3 more flour than the recipe calls for. Talk about a recipe for disaster! (See what I did there…?)
If you're feeling extra fancy, you can sift your flours, but I don't do that unless the recipe explicitly calls for it. Just be sure to break up any clumps you see in the flour mixture.
"Can I use baking powder instead of baking soda?"
No, you cannot replace the baking soda with baking powder. They react completely differently in recipes.
Baking soda is a basic ingredient that is intended to react with an acidic ingredient to produce rise. That's why you frequently see a small amount of vinegar or lemon juice, both highly acidic ingredients, in recipes that call for baking soda only.
Baking powder is a product that contains both and acid and a base, and therefore will not react with the acid in the recipe but will rise on its own. It's generally more powerful than baking soda, so an amount of baking powder will create much more rise than the same amount of baking soda.
They are not interchangeable in this, or any, recipe.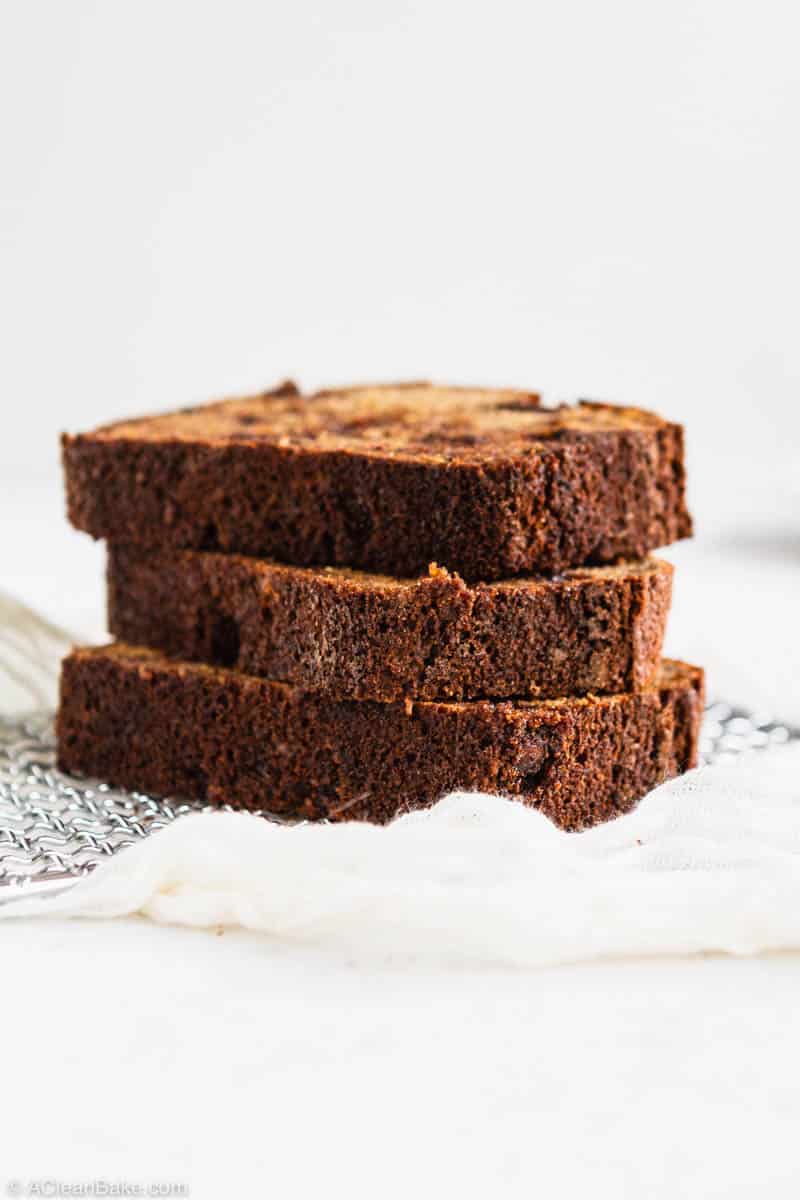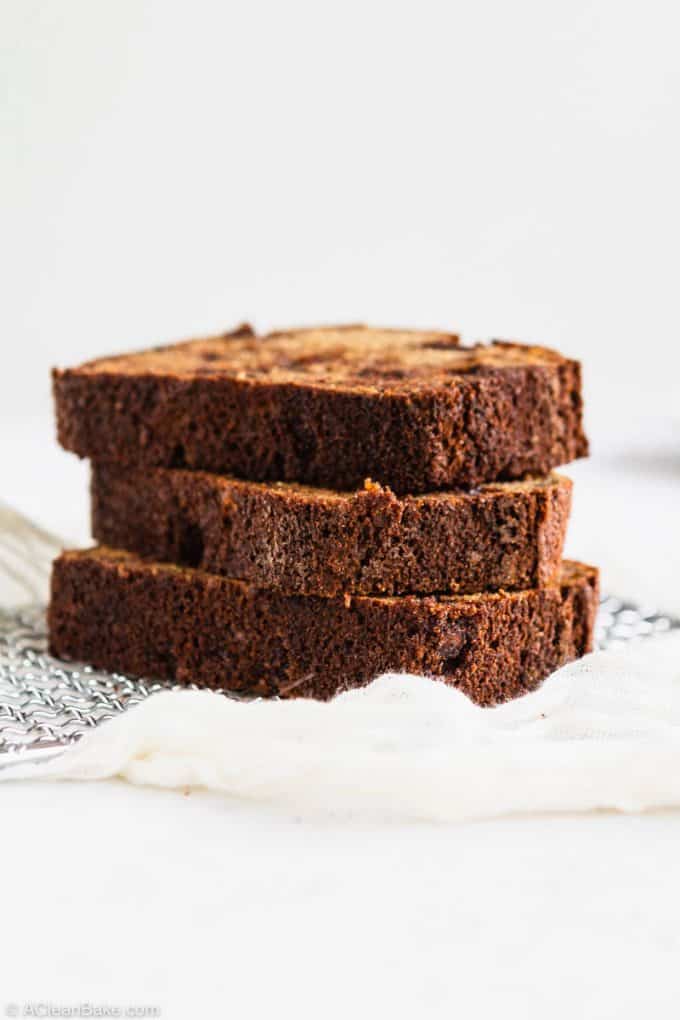 "How do I make this recipe dairy free?"
Luckily, it is dairy-free as written! If you are using chocolate chips, make sure they are dairy free too (I like Enjoy Life brand, or you can chop up a bar of Alter Eco dark chocolate)- or you can leave out the chocolate entirely.
"How do I make this recipe sugar free?"
Bananas have a great deal of natural sugar, so this recipe will never be completely free of all sugars. Because so much of the sweetness of this recipe comes from the bananas, there isn't a lot of added sugar, but the small amount of maple syrup and coconut sugar in the recipe adds the molasses-y flavor of brown sugar, but from a lower-glycemic source.
But if you're looking for a no-sugar-added banana bread, I recommend using my monk fruit-sweetened paleo banana bread recipe instead.
"What do I do if my loaf is browning too much in the oven?"
This is a common problem with thick, moist batters: the top is perfectly golden but the center is still liquid.
Because this loaf is so dense, and takes awhile for the heat to make it all the way through, you may need to protect the top of the loaf from direct heat for the entire baking process, or risk it burning.
According to the recipe notes below, check your loaf around the 20-30 minute mark during baking. If the loaf is starting to look golden, and you want to prevent it from browning too much more, simply create a loose layer of tinfoil over the top of the loaf. This is called tenting the loaf, and protects the top of the loaf from the direct heat of the oven, which slows down the browning.

Substitutions
Since I often get many of the same substitution questions, I'll try to answer some of them here. If I missed your question, please leave me a comment below and let me know!
Almond flour: if you can tolerate other tree nuts, you can replace the almond flour with 1 1/4 cups cashew flour
Arrowroot flour: you can sub the same amount of tapioca flour
Coconut sugar: you can use the same amount of maple sugar or date sugar instead.
Eggs: I have not tested this with flax eggs, so sub at your own risk
Maple syrup: honey works fine, too
Apple cider vinegar: you can use white vinegar instead, if that's all you have on hand. If you have to avoid vinegar, use the same amount of lemon juice instead.
Chocolate chips: Carob chips, dried fruit, or chopped nuts work in place of chocolate chips.
Print, Pin, or Bookmark this!
So, don't forget to bookmark (or pin) one of the best gluten free banana bread recipes out there (that would be this one, FYI!), so that next time you find yourself with a few over-ripe bananas, you can make them into a warm, satisfying loaf of banana bread in no time.
Well, if you've read this far, I applaud your patience and dedication to a good loaf of banana bread. I think it's time for me to stand back so that you can start baking and try this delicious banana bread for yourself!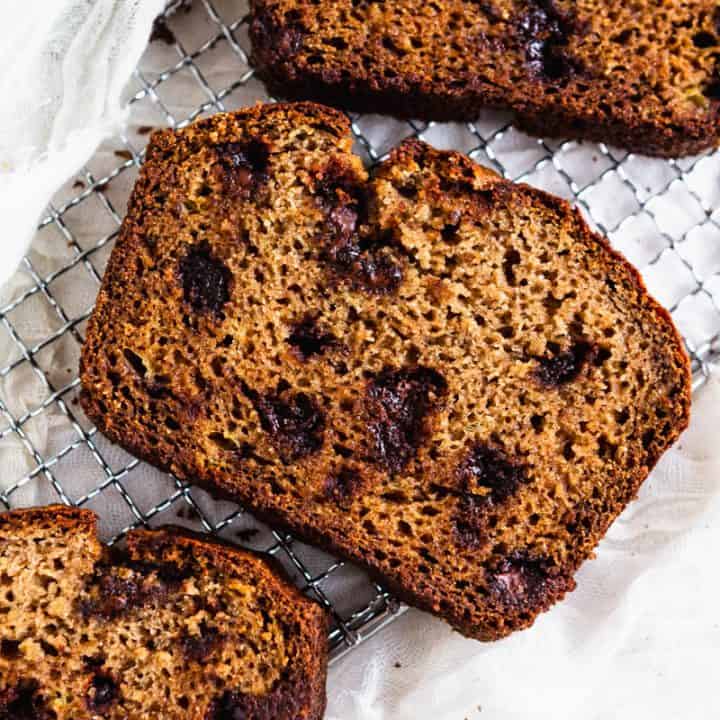 Gluten Free and Paleo Classic Banana Bread
Yield:
1 loaf (about 12 thick slices)
Total Time:
1 hour
15 minutes
A classic paleo and gluten free banana bread that is ultra-moist, rich, and sweet just like banana bread should be. This easy recipe is made from almond and coconut flour, for a healthy, grain free twist on the classic breakfast or snack. You can make it with chocolate chips or without - but who doesn't like a bit of chocolate in every bite! This is a recipe you'll make again and again!
Ingredients
2 teaspoons baking soda
2 large eggs, at room temperature
2 1/4 teaspoons apple cider vinegar
1 cup mashed ripe bananas (about 2 1/2 bananas)
Instructions
Preheat oven to 350°F. Grease or spray an 8.5-inch loaf pan and set aside.
In a large mixing bowl, whisk together the almond flour, arrowroot flour, coconut flour, coconut sugar, baking soda, cinnamon, and salt. Set aside.
In a smaller mixing bowl, whisk the eggs for about 10 seconds, then whisk in the maple syrup, apple cider vinegar, vanilla extract, and mashed bananas.
Pour the wet (eggs, etc.) mixture into the dry (flours, etc.) and stir until well combined. Use a spatula to scrape the sides and bottom of the bowl to ensure all of the ingredients are well incorporated.
Fold in the chocolate chips.
Pour batter into the prepared pan and garnish with additional chocolate chips, if you want.
Bake for 45-60 minutes, until the loaf is domed and springs back when you press it gently on the top.
Tent with foil at the 20-30 minute mark.
Remove from the oven and cool in the pan for 15-20 minutes before turning out onto a wire rack to cool completely.
Notes
Check the color of your baking bread around the 20-30 minute mark. If your loaf is starting to brown, tent it with foil for the duration of baking.
Please see the post above for lots of substitution notes
Recommended Products
As an Amazon Associate and member of other affiliate programs, I earn from qualifying purchases.
Nutrition Information:
Yield:

12
Serving Size:

1 slice
Amount Per Serving:
Calories:

212
Total Fat:

12g
Saturated Fat:

3g
Trans Fat:

0g
Unsaturated Fat:

8g
Cholesterol:

31mg
Sodium:

314mg
Carbohydrates:

25g
Fiber:

3g
Sugar:

17g
Protein:

5g
If you like this recipe, check out some more of my gluten free breads, muffins, and quickbreads:
More Muffins and Quickbreads You Might Like
And you can see all of my gluten free recipes here!