These hearty, chewy, and fun gluten free oatmeal chocolate chip cookies contain festive sprinkles and are topped with candy eyes for a literal monster of a surprise! They're gluten free, dairy free, and nut free, which makes them a perfect Halloween treat to share with your child's classroom.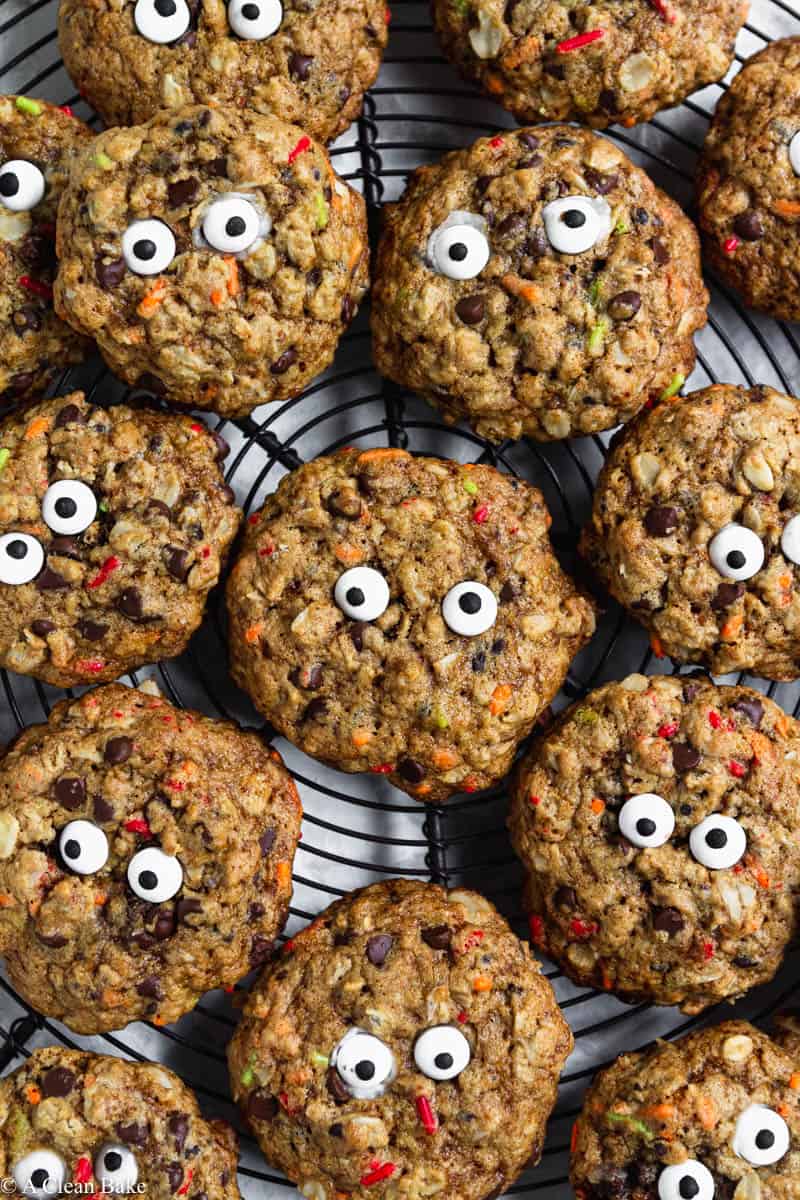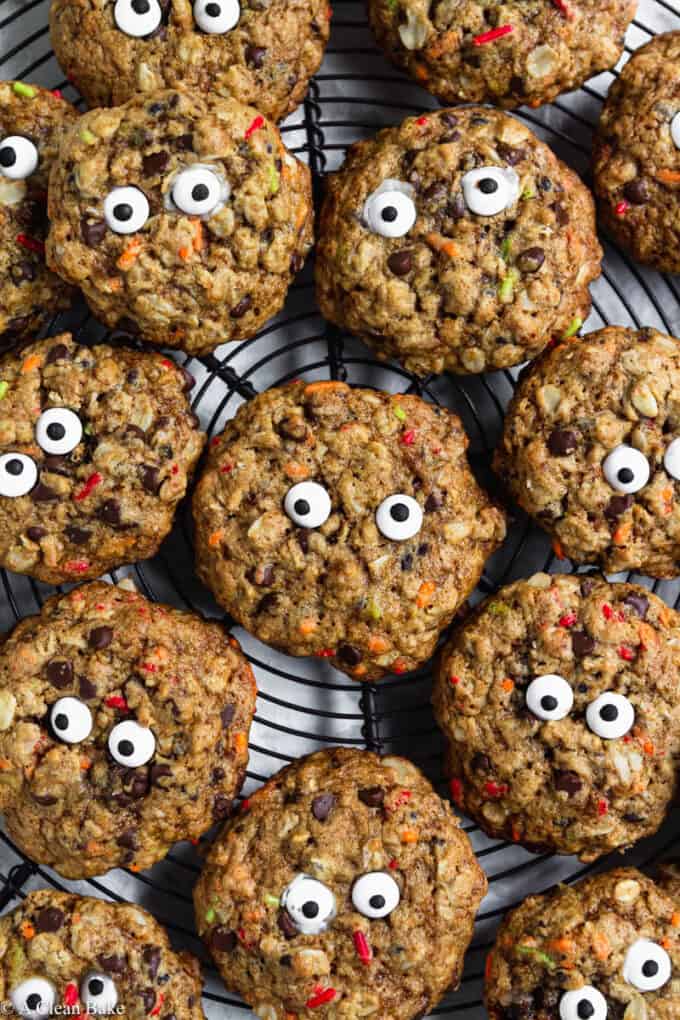 On the heels of the last cookie post comes a Halloween-centric adaptation that has been about a year in the making.
Let me back up. Last year, I was invited to my son's school to help the kids make cookies for their Halloween party. But, due to the school's nut-free shared snacks policy, I couldn't just use my go-to cookie recipe and add sprinkles (which is, otherwise, the formula for all kid's cookies – fellow parents, am I right?).
It actually took me a hot second to remember how to make a cookie without grain-free flours, but after a very long pause (#mombrain) I remembered that I'd already created a very tasty oat flour-based cookie, and all I had to do was adapt it.
Long story short, the cookies were a mess because what else could they be with 9 toddler sous-chefs and an unfamiliar oven, but that was the beginning of a year of tweaking that led to a pretty legit – but still wholesome, and free of super-refined flours and sweeteners – oatmeal chocolate chip cookie.
From there, it was just a hop, skip, and a jump to monster cookies.
What the Heck is a Monster Cookie?
Ah, excellent question. If you're familiar with Kitchen Sink cookies, it's in the same family of baking excess. You know, the one characterized by cramming as many add-ins into the recipe as the dough will hold, and then maybe sneaking in a little more?
The kind that is not much more than a huge collection of chocolate, and other accoutrements, laced together with bits of cookie dough? Yeah, we like that family of cookies.
I would describe a Monster Cookie as a Kitchen Sink Cookie Lite. Although much of the internet would disagree, to me, the defining difference is that the dough for a Kitchen Sink cookie usually contains creamy peanut butter, while a Monster Cookie is a classic chocolate chip cookie dough base. (If you're looking for a peanut butter cookie, try these flourless peanut butter cookies, or these peanut butter blossoms!)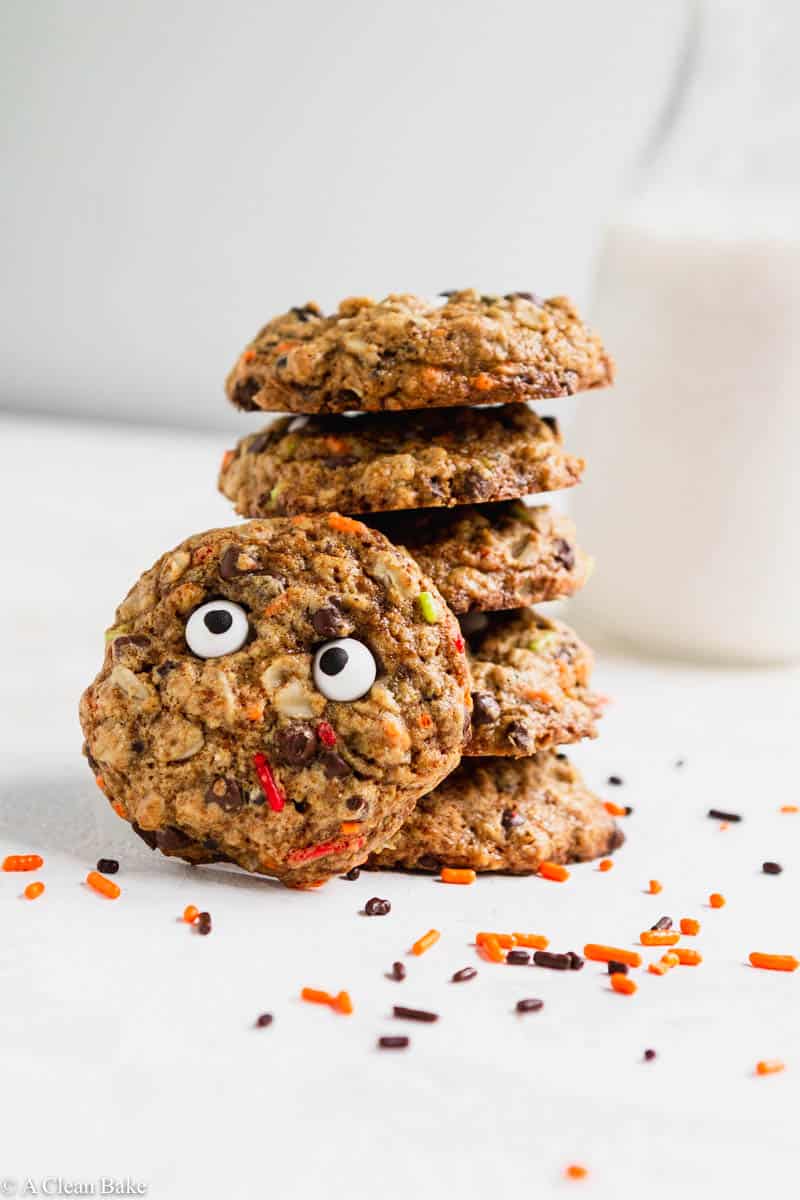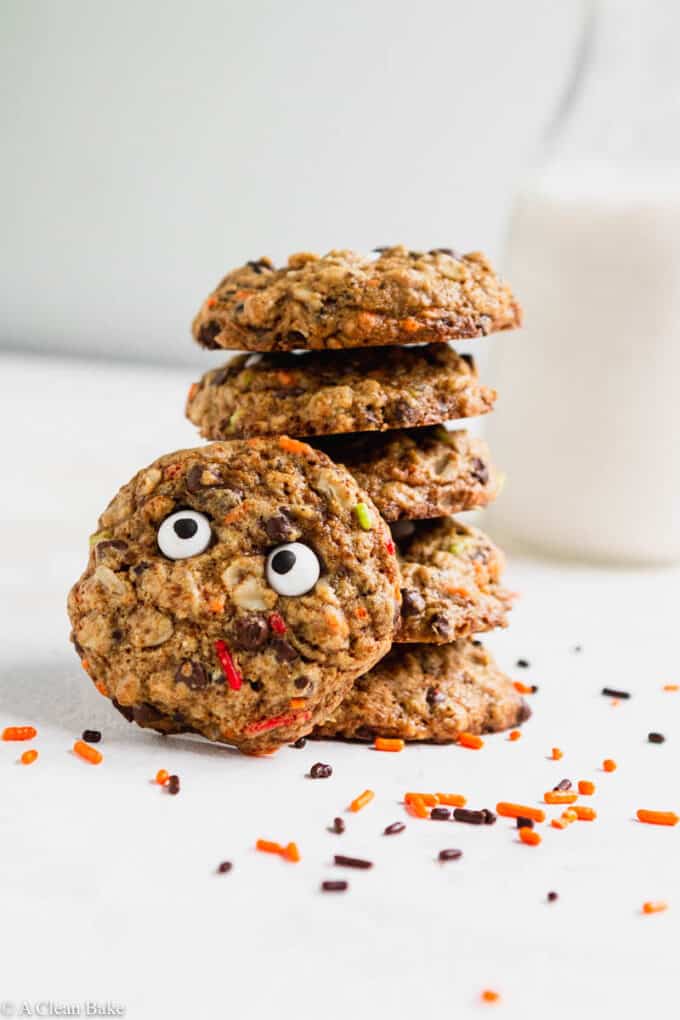 Also, unlike a Kitchen Sink cookie, a Monster Cookie isn't meant to hold everything you can reach in your pantry, so you'll want to stop short of adding the potato chips. But, in addition to standard chocolate chips, you can throw in sprinkles, coconut, peanuts or tree nuts (I left coconut, tree nuts, and peanuts out of this version, since there is a nut allergy kid at school and I'm bringing these to this year's Halloween party), leftover Halloween candy, and ok, fine, throw in some crushed gluten free pretzels.
Get Your Ingredients Ready To Make Gluten Free Monster Cookies
This is another recipe that is so simple, you probably already have all of the ingredients in your pantry.
All you'll need is gluten free rolled oats, gluten free oat flour (or you can buy extra rolled oats and make your own), coconut sugar (or brown sugar, if that's all you have on hand), tapioca flour, baking soda, cinnamon, salt, eggs, oil (or butter, if dairy-free is not an issue for you, maple syrup, and vanilla.
Then the add ins: I recommend chocolate chips, festive sprinkles, and candy eyes – but as I said above, you can use whatever you have on hand!
To assemble, you'll just need a couple of large bowls and spoons, and a cookie sheet. You can use your stand mixer, if you want to, but it's not necessary!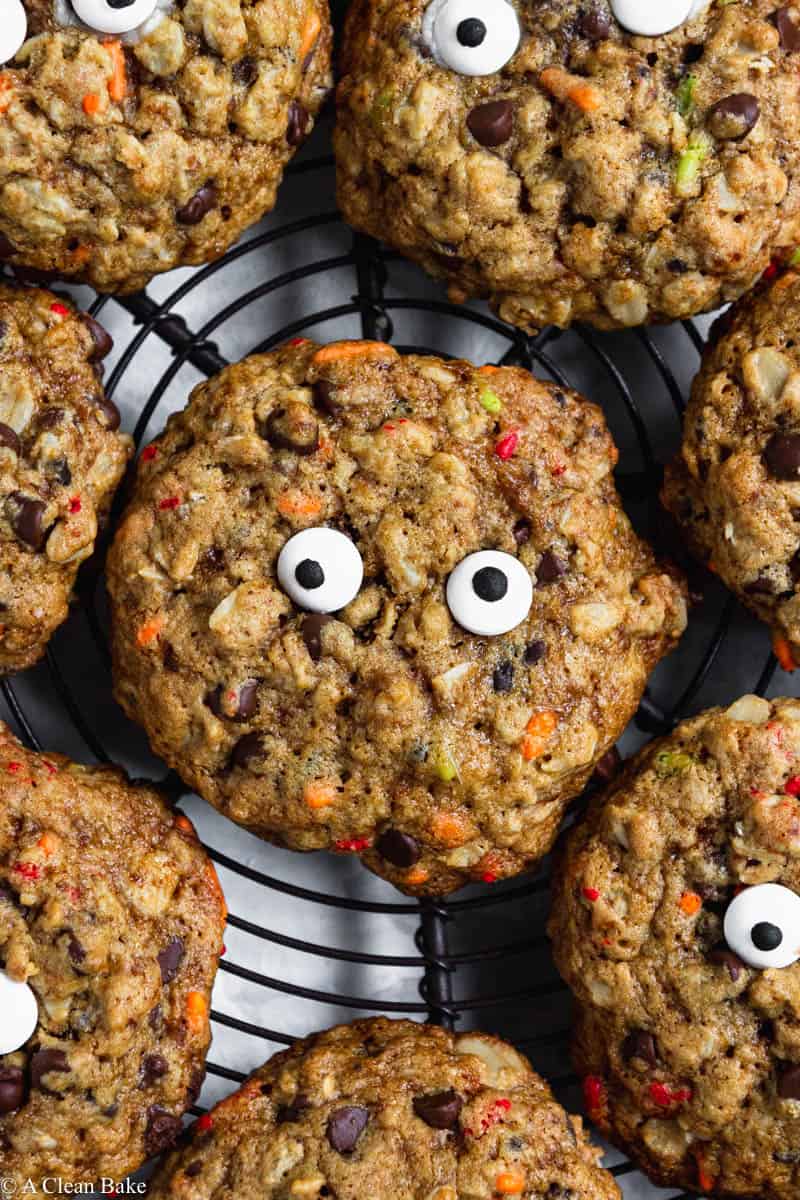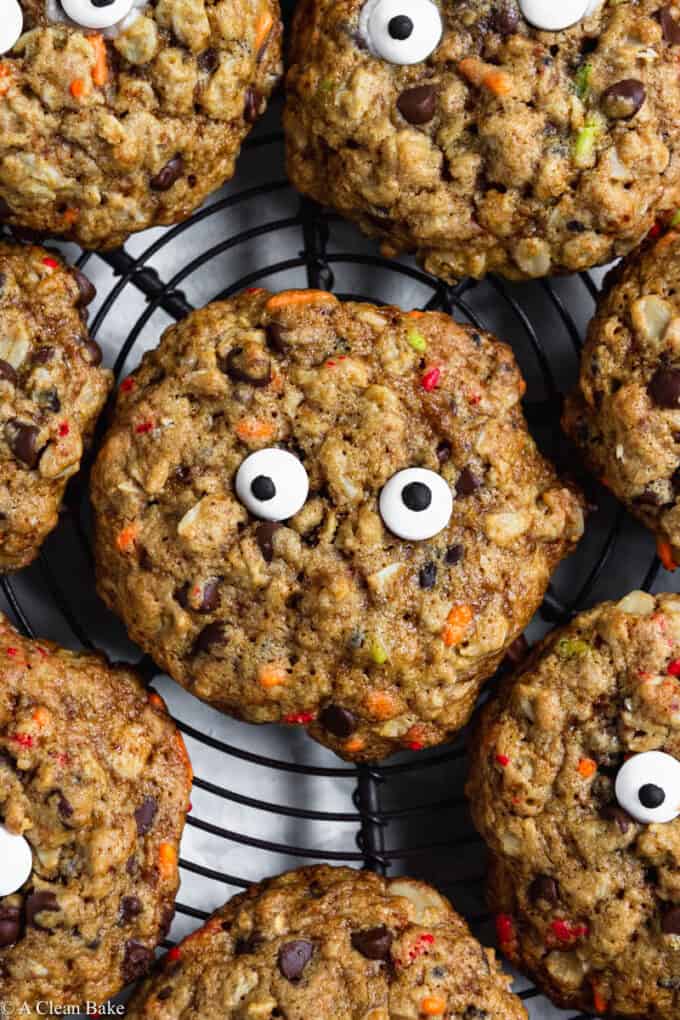 The Piece de Resistance
You guessed it: the candy eyes. They really take these gluten free monster cookies to the next level – by making them into friendly monsters!
I found the candy eyes I used at Michael's, but you can probably find something similar at any party store, and of course, online. These are the ones I used. Whatever you use, make sure they are edible – or you might really confuse people!
Since they're candy, they melt – and nothing is more depressing than an adorable googly-eyed cookie going into the oven, and a gooey mess of formerly-cute eyeballs coming out. So, make sure you reserve the eyes to press into the warm cookies immediately when they come out of the oven. At this point, the dough is still soft and pliable enough, but once they're transferred to a wire rack, the cookies will cool fast enough to avoid melting the candy eyes.
As the cookies cool and set, the eyes will melt slightly, just enough to glue themselves to the cookies.
HAPPY HALLOWEEN!
These hearty, chewy, and fun cookies have become an annual Halloween tradition in my kitchen, and I hope they will in yours, too!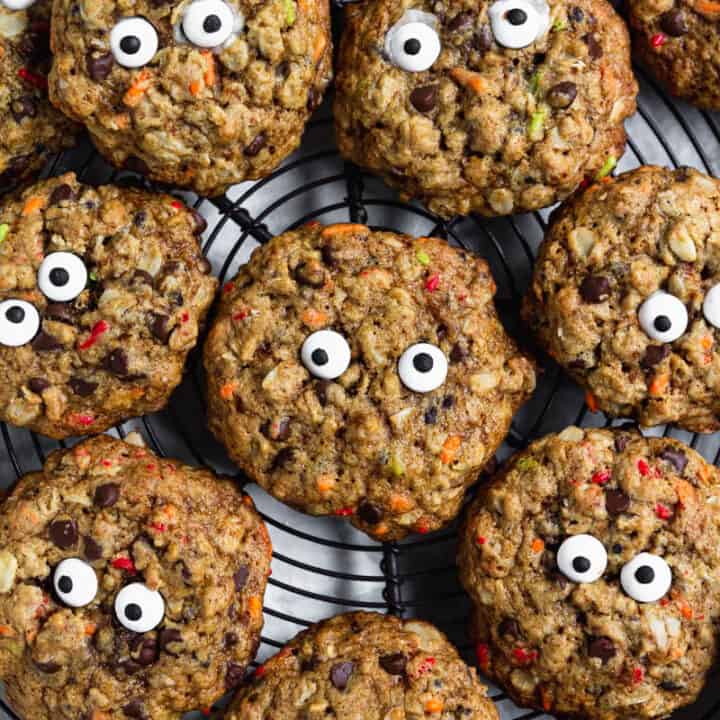 Gluten Free Monster Cookies
These hearty, chewy, and fun gluten free oatmeal chocolate chip cookies have become an annual Halloween tradition in my kitchen, and I hope they will in yours, too!
Ingredients
1 cup gluten free oat flour
1/2 cup coconut sugar
6 tablespoons tapioca flour
1/2 teaspoon baking soda
1/2 teaspoon cinnamon
1/4 teaspoon fine sea salt
3/4 cup gluten free rolled oats
1 large egg
6 tablespoons coconut oil, melted and slightly cooled
2 tablespoons maple syrup
3/4 teaspoon vanilla extract
1/2 cup mini chocolate chips or M&Ms
3 tablespoons sprinkles, plus more for decorating (optional)
Instructions
Preheat the oven to 350F. Line 2 large baking sheets with parchment paper or a nonstick pad, and set aside.
In the bowl of a stand mixer, or in a large mixing bowl, combine the oat flour, coconut sugar, tapioca flour, baking soda, cinnamon, and salt.
Stir the oats into the dry mix until everything is well combined.
In a small bowl, whisk the egg, then whisk in the oil, maple syrup, and vanilla extract.
Add the wet (eggs, etc.) mixture into the dry mixture until thoroughly combined.
Fold in the chocolate chips or chunks.
Scoop the dough, in approximately 1 tablespoon portions, onto the prepared baking sheets, leaving 2" between each cookie. Decorate with extra sprinkles, if desired.
Bake for 7-9 minutes, until just barely brown around the edges.
Remove from the oven and immediately press the candy eyes gently into the warm cookies.
Leave the cookies on the baking sheet to set for about 5 minutes before moving to a wire rack to cool completely.
Notes
Store fully-cooled cookies in an airtight container at room temperature for up to 3 days, or in the freezer for up to 3 months.
Make sure your coconut oil is melted, but no longer hot, before you mix it in to the other wet ingredients. Hot oil can cook the eyes! The best way to tell whether it is cool enough is to hold your fingertip in it for 10 seconds. If you can do that comfortably, it's fine.
Nutrition Information:
Yield:

24
Serving Size:

1
Amount Per Serving:
Calories:

123
Total Fat:

6g
Saturated Fat:

4g
Trans Fat:

0g
Unsaturated Fat:

2g
Cholesterol:

8mg
Sodium:

54mg
Carbohydrates:

16g
Fiber:

1g
Sugar:

9g
Protein:

1g
If you like this recipe, check out my Halloween Bark! It's an easy, fun way to use up extra Halloween Candy.
More Gluten Free Cookie Recipes