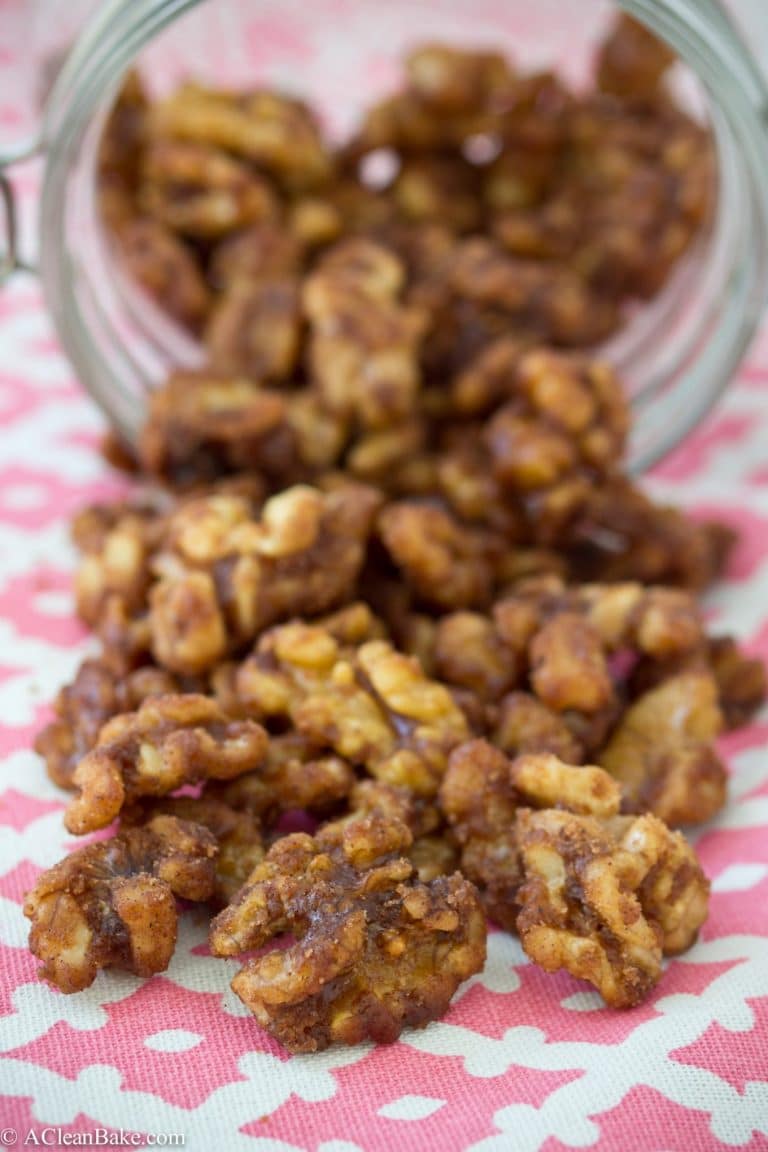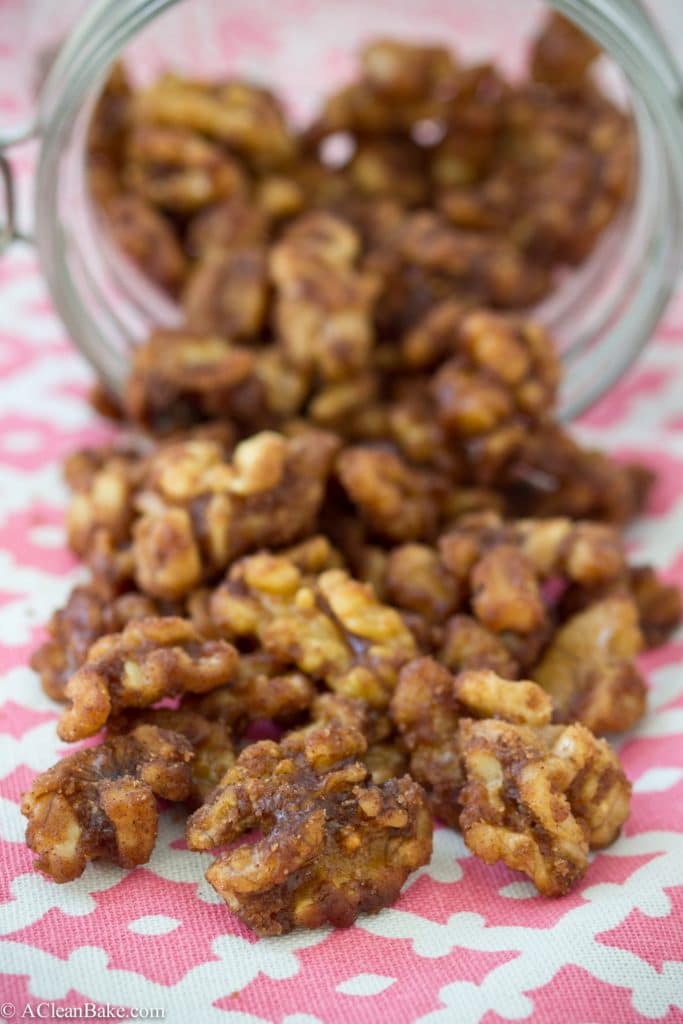 Hey, remember when I promised you more savory posts? That doesn't count this week.
Sorry to totally confuse you, but I have had this week's posts in the queue for a while now, since I knew this week would be kind of a crazy one (I'm in Dallas today. Any dinner recommendations!? If not, I'll probably go to my beloved Torchy's Tacos).
But the good news is that, while these candied walnuts are not exactly savory – which is to say they are not at all savory – they are sugar free because, wait for it, granulated stevia and monk fruit sweeteners actually melt (!!!). If this is old news to you, I apologize, but it was a wonderful discovery to me, one which opens up a brave new world of low-glycemic, non-stomach-irritating candied things and simple syrups.
It may depend on the brand (I tried these with both Norbu granulated monk fruit sweetener and Natvia granulated stevia – my two favorites), but the products I used are indistinguishable from sugar in the finished dish.
You guys are smart people and can certainly deduce for yourselves how exceptionally addictive these can be: chewy nuts encased in a rich, yet crisp, outer sweet-spicy shell. Imagine cinnamon toast crunch, but 100x better, and made with nuts instead whatever processed garbage they make those little squares out of. That's what we have going on here.
I tried to hide these from myself in the back of my pantry, but ended up eating most of them (my husband ate the rest), a handful at a time, long before this post was even written. I guess that just means it is time to make another batch, because there are so many other ways to use them that don't involve standing in a dark pantry licking the crumbs of cinnamon-"sugar" crust off of the palm of your hand. You could:
Garnish fruit salad, yogurt or ice cream
Or, while you're at it, add an extra layer of crunch to rice pudding or banana pudding
Add them to brownies, cookies, or banana bread
Toss them in with fruit salad
Replace regular nuts with these in nearly any granola recipe
Spread these in a single layer (nearly touching) on a nonstick pad or wax paper, and pour melted dark chocolate over them (the spiced version would be great, because of the cinnamon in the nuts) to make bark
Replace (or augment) the almonds in this popcorn snack mix
What will you use them for?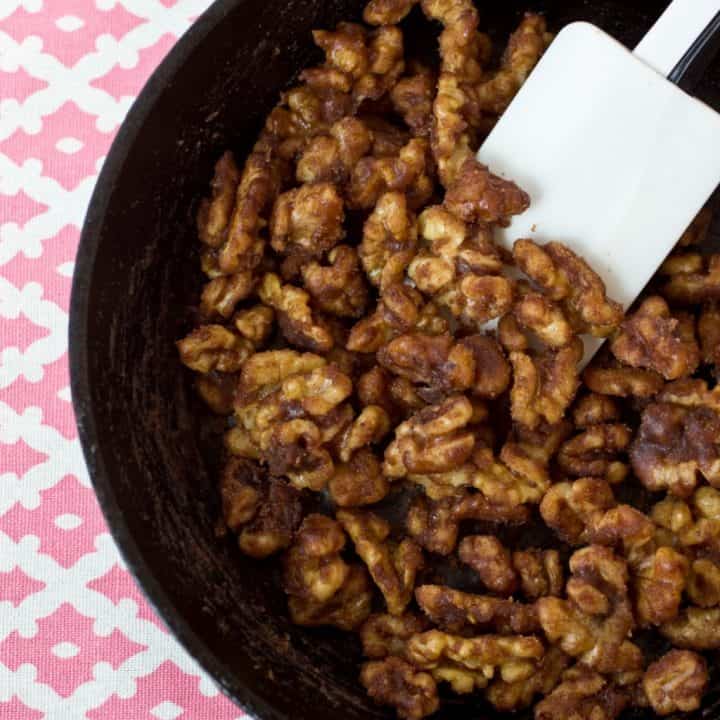 Sugar Free Candied Walnuts
Sugar free candied walnuts make a great sweet, yet low-glycemic snack! (gluten-free, grain-free, paleo and vegan)
Ingredients
2 Tablespoons butter or coconut oil
1/4 teaspoon vanilla extract
3 Tablespoons granulated monk fruit sweetener, or granulated stevia
1 teaspoon cinnamon
pinch salt
1 cup walnut pieces
Instructions
Melt butter in the bottom of a heavy-bottomed pan over medium high heat.
Stir in vanilla, sweetener, cinnamon and salt until sweetener is melted.
Remove pan from the heat and add the walnut pieces.
Use a spatula to gently toss the walnuts until they are fully coated with the syrup. At first, not much syrup will adhere to the nuts, but keep working. The syrup thickens and adheres as it cools.
Cool nuts completely before serving.
Notes
You can try to sub coconut oil for the butter, but I haven't tried it so I'm not sure how it will turn out.
If you'd prefer to use coconut or raw sugar, double the amount (1/4 cup + 2 Tablespoons) since it is not as sweet.
Do not use Splenda in this recipe. 
Store fully cooled nuts in an airtight container at room temperature for up to 2 weeks.
Yield: 1 cup
Nutrition Information:
Yield:

8
Serving Size:

1/8 of recipe
Amount Per Serving:
Calories:

130
Total Fat:

13g
Saturated Fat:

4g
Trans Fat:

0g
Unsaturated Fat:

8g
Cholesterol:

8mg
Sodium:

40mg
Carbohydrates:

3g
Fiber:

1g
Sugar:

1g
Protein:

2g