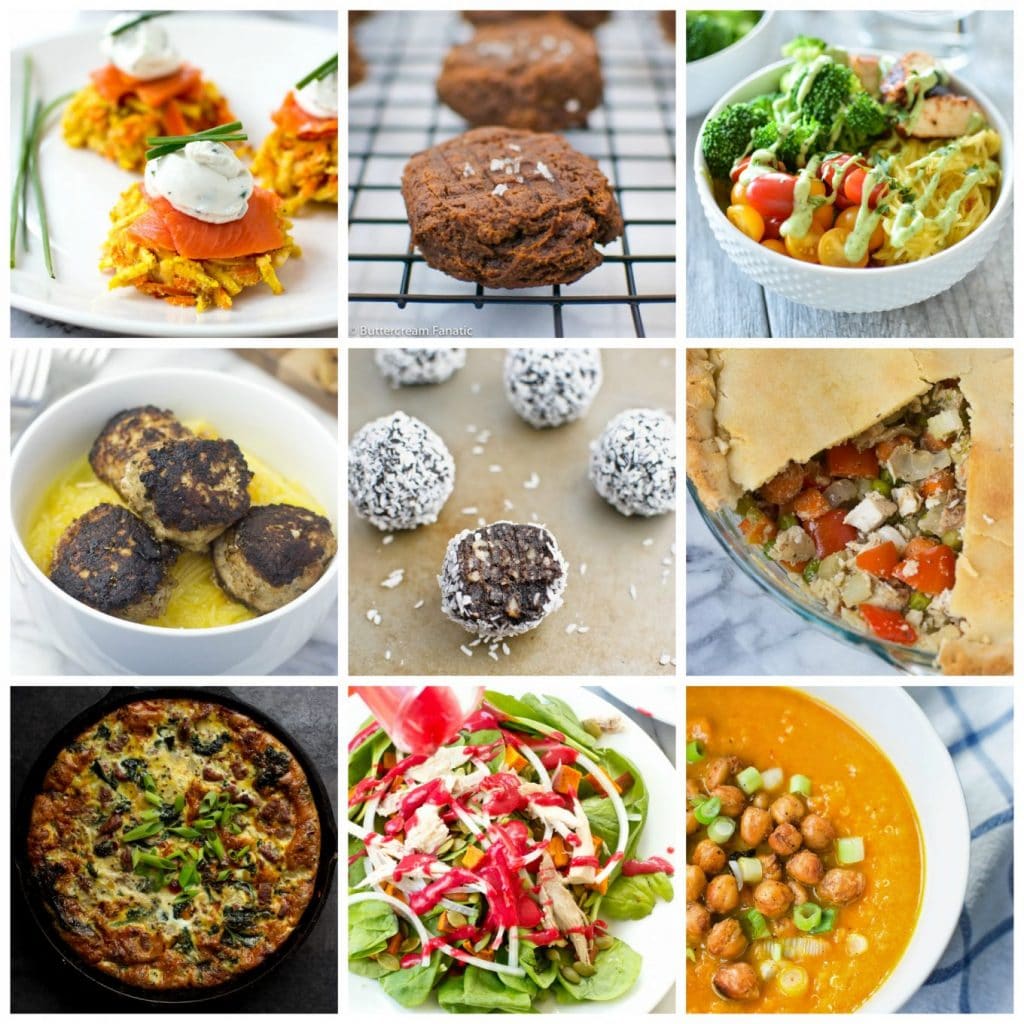 Happy New Year!
How was everyone's holiday? Do have any resolutions? Any health-related resolutions?
From looking at the most popular recipes from last year, it strikes me that you guys like savory recipes much more than I was giving you credit for. I think that, going forward, that means that there will be a better balance of savory and sweet recipes here, and I'll try to do a better job of sharing meal plans and entree ideas that I have been keeping to myself because I didn't think you guys were that interested.
My bad!
Last year, Bryan and I did sort of a loosely interpreted Whole30 diet and it was fantastic. It's not your typical diet: it just cuts out everything buy whole, nutritionally-dense foods, and emphasizes veggies, fruits and protein. We've been eating this way, on and off, ever since, and I always feel better when I am on it.
Whole30 is similar to Paleo, but a teeny bit more restrictive in my opinion. You can eat*…
…good quality (that means wild/grass-fed/sustainable/equivalent) meat, eggs and seafood
…most produce (the exception is dried fruit, because it tends to contain added sugar and preservatives
…healthy fats, like olives, olive oil, coconut products, and almonds. You can't eat grains, legumes, sugar/sweetener of any kind (though I make a bit of an exception, especially for a little bit of dark chocolate)
…ideally all organic (though, as I am sadly not rolling in $$$$$$$, I try to stick to buying the dirty dozen organic as much as possible, and make sure to wash everything really well)
 You can't eat…
…gluten/grains, and grain-like food (quinoa, buckwheat, etc)
…legumes
….dairy (note that, these days, most people do not include eggs in their definition of dairy. Dairy is milk-based food)
…processed, artificial, or chemically-altered foods (just stay away from anything packaged in a form that doesn't grow in the ground)
…alcohol
…treats, though, as I said, I make an exception for good quality, very dark chocolate (90%)
*Source. You can also get a downloadable version of the list by downloading this.
Here are some of my favorite recipes that are Whole 30 compliant (some require a few minor adjustments, so make sure you double check the list of Whole30 foods):
For Lunch and Dinner:
Turkey and Roasted Sweet Potato Spinach Salad
Roasted Acorn Squash (skip the wild rice and cranberry stuffing)
Roasted Carrot Soup (eliminate the quinoa and chickpeas)
Italian Sausage and Kale Frittata
Fish Taco Salad (top a large bowl of slaw with the fish and skip the tortillas)
Sweet Potato and Carrot Mini Latkes (top with salmon, but don't add goat cheese.)
Turkey, Apple and Sage Meatballs
For Snacking:
Plum, Pear and Chia Compote (dip apple slices in it)
Creamy Vegan Kale Pesto (use pistachios instead of walnuts; dip raw veggies in it)
Vegan 2-Ingredient Scallion Cream Cheese (dip raw veggies in it, or slather it on to large slices of cucumber)
To Drink:
Muddled Berry Arnold Palmer (skip the honey)
For a Healthy Cheat:
Flourless Chocolate Fudge Cake (leave out the honey)
Pumpkin Pecan Chocolate Chip Mug Cake (leave out the honey)
3-Ingredient Detox Cookies (if you switch the peanut butter for almond butter, these are completely compliant!)
Roasted Pears (top only with pecans tossed with olive oil)
4 Ingredient Chocolate Coconut Truffles
I'll have more Whole30 compliant recipes coming in the next few weeks, but in the meantime, leave me a comment below and let me know what your favorite Whole30 recipe is!