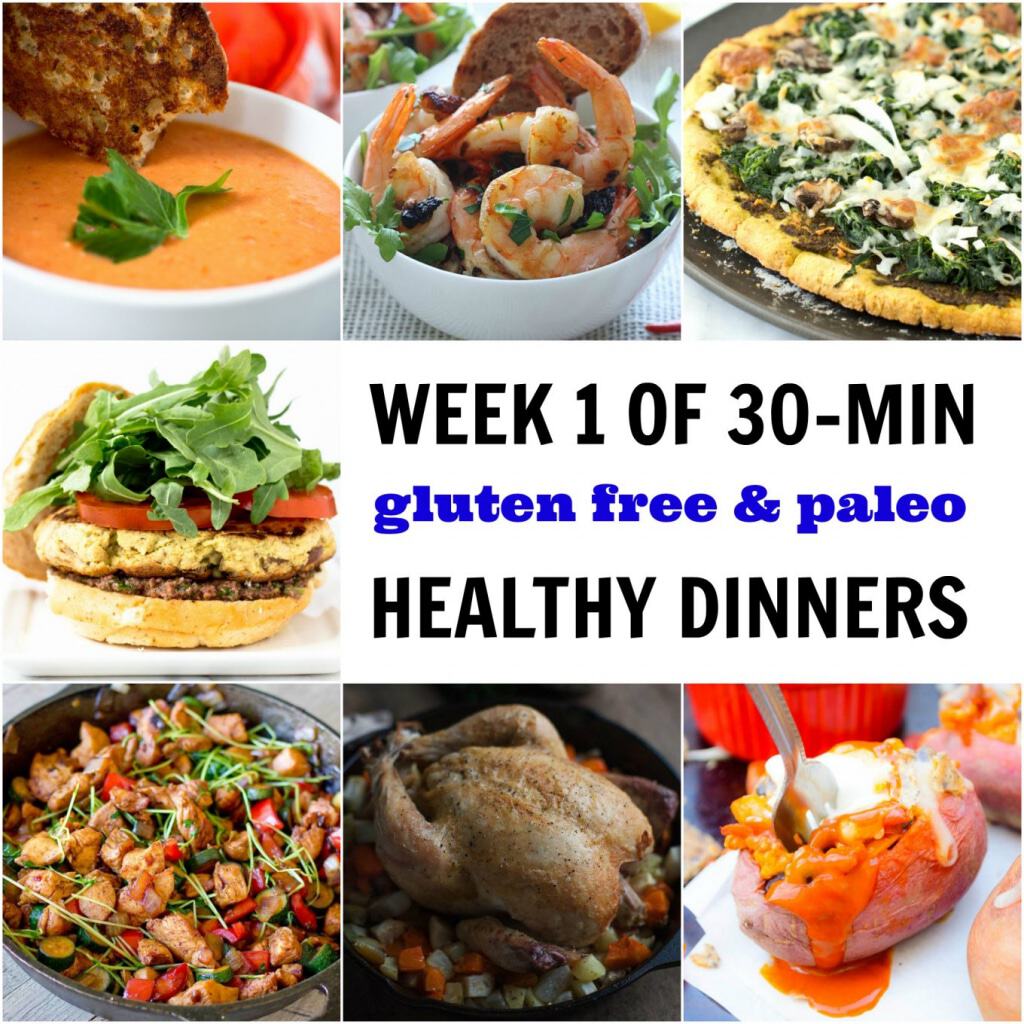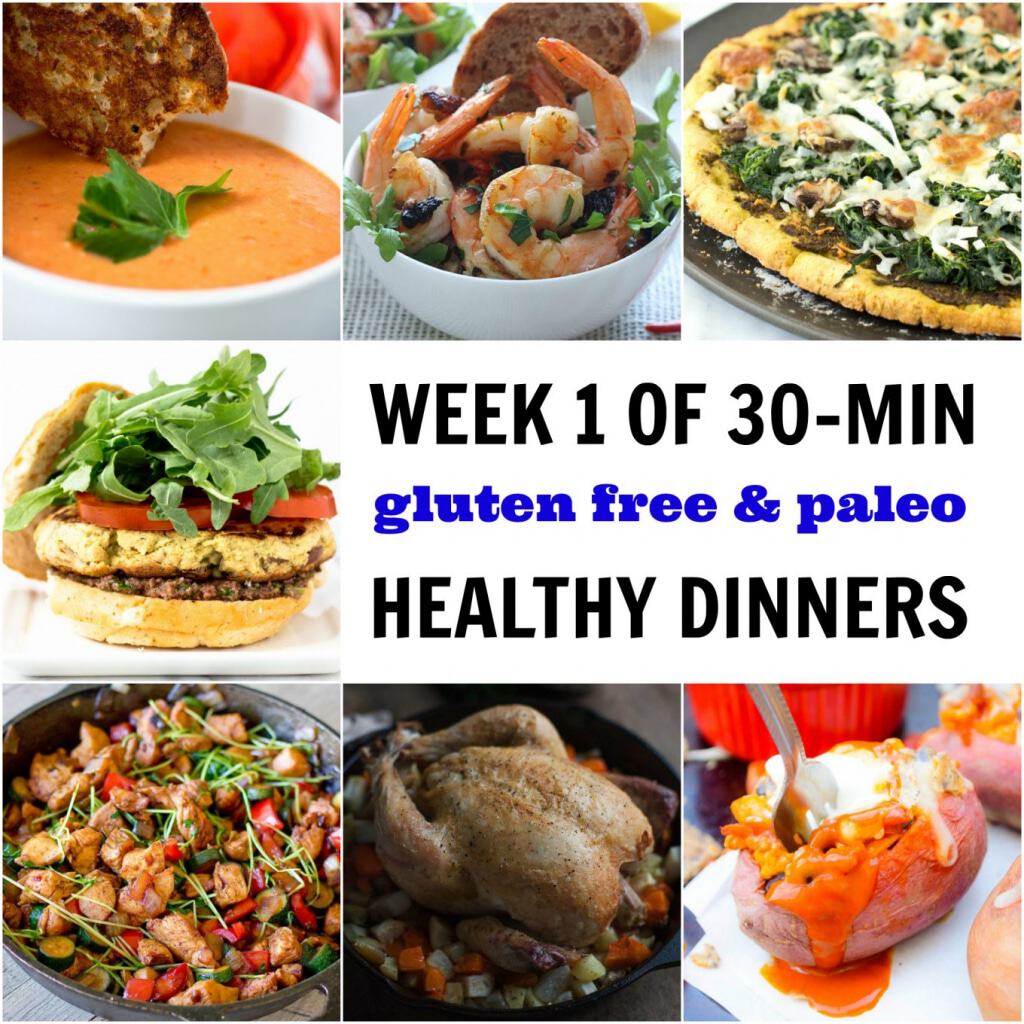 Happy new year, friends! How was your new year's eve? Did you ring in 2016 with a bang? Or, were you in bed by 11 so you could wake up and make the most of the first day of the new year? I was in the early-to-bed camp, because I was determined to start 2016 differently than how I spent most of 2015 (which is to say exhausted). It worked! I woke up early-ish, worked out, and made myself a healthy breakfast.
Then I ate a square of chocolate, but it was good quality dark chocolate, plus yolo, plus heart health, plus nobody's perfect, right?
I'm not a fan of January diets, but I am a fan of giving your body a break from all of the cookies, party food, cheese, pie, and, um, more cheese, that I've been bombarding my body with for the last several weeks. For those of you who are in the same boat, I put together a quick and easy plan for healthy dinners this week to help your body start to recover from Cookie-and-Cheese-Palooza 2015.
The best part? All of the weeknight recipes take about 30 minutes (or less) and I've also provided you with some tips on how to save even more time by making components ahead of time AND stretching the meal into leftovers or future meals.
And don't forget that if you're looking for even more wholesome, paleo-friendly recipes to take you beyond the next four weeks, you should check out The Best of Paleo 2015 e-cookbook.
Let's get down to business: what's for dinner this week?
Sunday: Simple Roast Chicken with Carrot Top-Kale Pesto
Do ahead: You could make the pesto ahead of time, but why bother? You can easily throw together the quick and easy pesto while the chicken is roasting. Note that this recipe takes more than 30 minutes, but it is mostly hands-off time, and it's worth putting in a few extra minutes for a nice Sunday meal, don't you think?
Serve it with: There are quite a few veggies that roast to perfection under the chicken, and if you want to add something green, try roasted broccoli: preheat the oven to 425. Toss broccoli florets with olive oil, salt, pepper, and granulated garlic. Spread in a single layer on a baking sheet covered with nonstick spray or a nonstick pad and roast for 10-20 minutes, until crispy on the edges.
Stretch the meal: Since you probably won't eat an entire roast chicken in one sitting, pull the remaining meat off the bone, roughly shred it, and make chicken salad. You can also use the bones to make chicken stock.
**
Monday: Vegan Cream of Tomato Soup (Meatless Monday)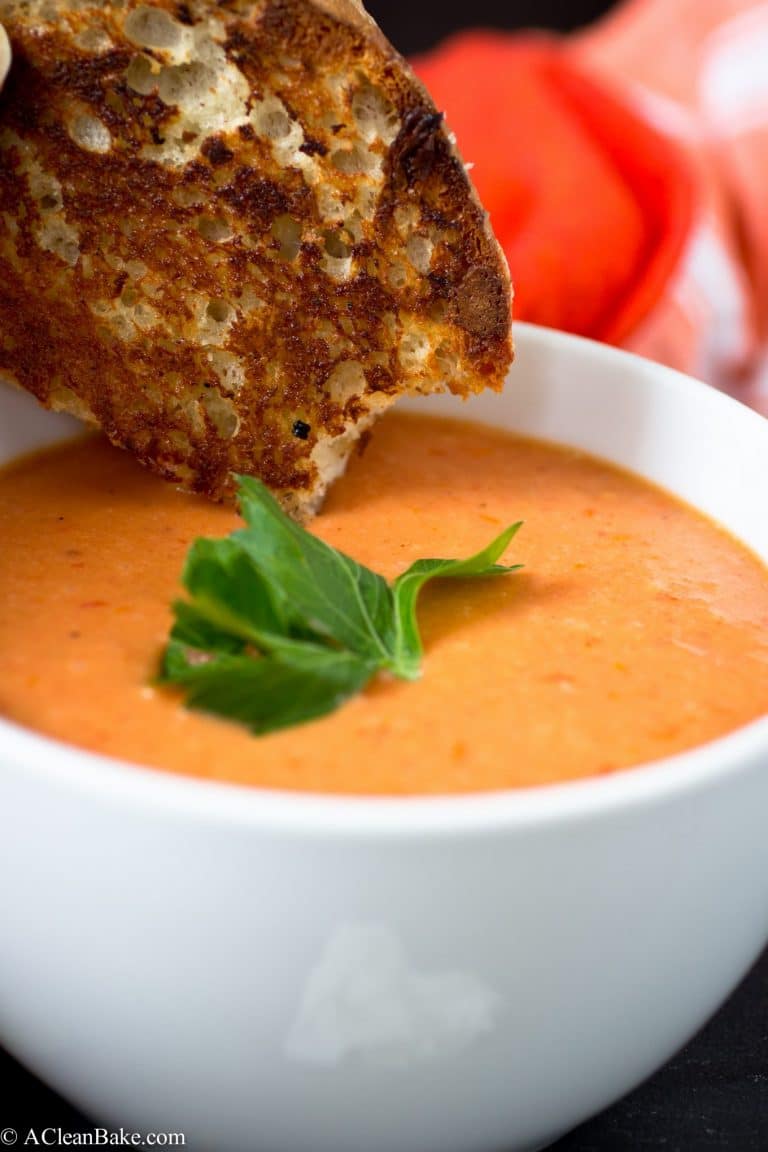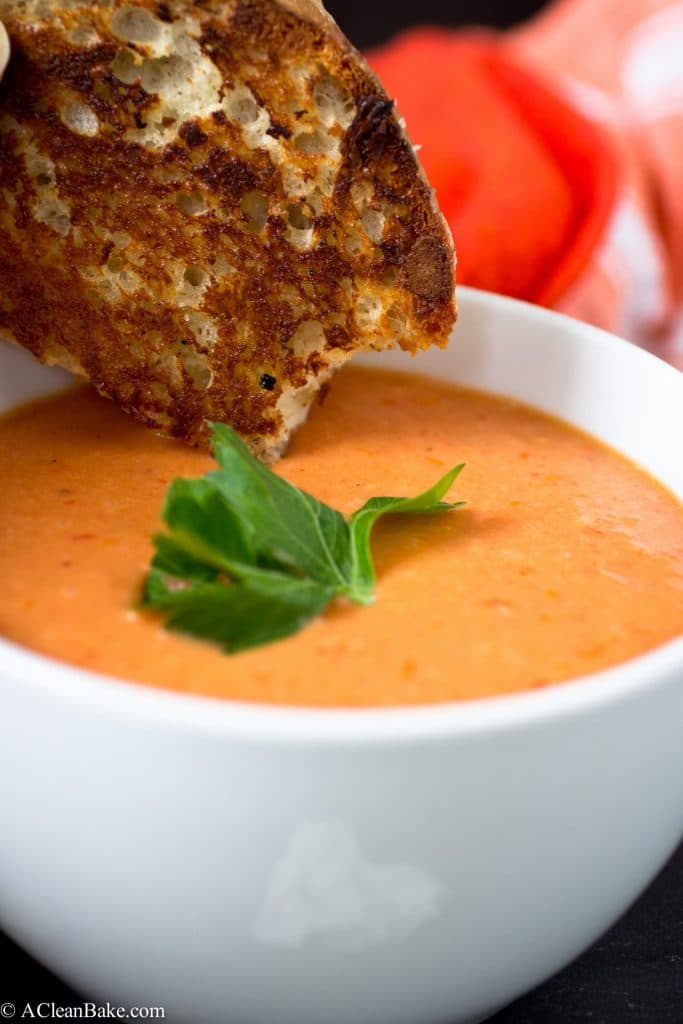 Do ahead: You can certainly make this soup ahead of time, if you want to throw it together during your Sunday meal prep, and store it (once cooled) in the fridge in an airtight container until you're ready to reheat it for Monday's dinner.
Serve it with: Grilled cheese, using grain-free sandwich bread and your favorite good quality dairy free or regular cheese.
Stretch the meal: Double the recipe and freeze the leftovers in airtight containers for a future dinner.
**
Tuesday: Asian Stir Fry with Pea Shoot Noodles
Do ahead: Chop the chicken and veggies and store them (separately) in airtight containers in the fridge until you're ready to cook. Also, if you don't want to use pea shoot noodles, you can use spaghetti squash (which you can bake or steam ahead of time), zucchini or sweet potato noodles (which you can cut ahead of time), or kelp noodles (which you can order online. This is the brand I use.).
Serve it with: Rice (Cauliflower or white), or as lettuce wraps.
Stretch the meal: Bring leftovers to work for lunch on Wednesday.
**
Wednesday: Spicy Shrimp with Chilis and Garlic
Do ahead: Nothing! This is a fast and easy recipe that is ready in 15-20 minutes.
Serve it with: A  simple Asian-inspired slaw (I love this one; leave out the edamame if you don't eat soy, and use almond butter instead of peanut butter to make it compliant with paleo or Whole30 diets.)
Stretch the meal: Lightly sautee cooked spaghetti squash and finely sliced green or red cabbage in olive or coconut oil. Season with salt and pepper. Toss with leftover shrimp and leftover dressing from the slaw and you have a really easy future lunch or dinner. Or, you can simply toss the leftover shrimp with the leftover slaw for a lunch salad on Thursday.
**
Thursday: Enchilada Chili Stuffed Sweet Potatoes
Do ahead: Prebake the sweet potatoes (Instruction #1 in the recipe) during your weekly meal prep on Sunday.
Serve it with: This is a pretty solid meal in and of itself, but a small side salad would be a great opportunity to get in a serving of greens.
Stretch the meal: Make extra filling and set it aside to make enchiladas out of for another meal, using grain free tortillas.
**
Friday: Lemon Dijon Tuna Burger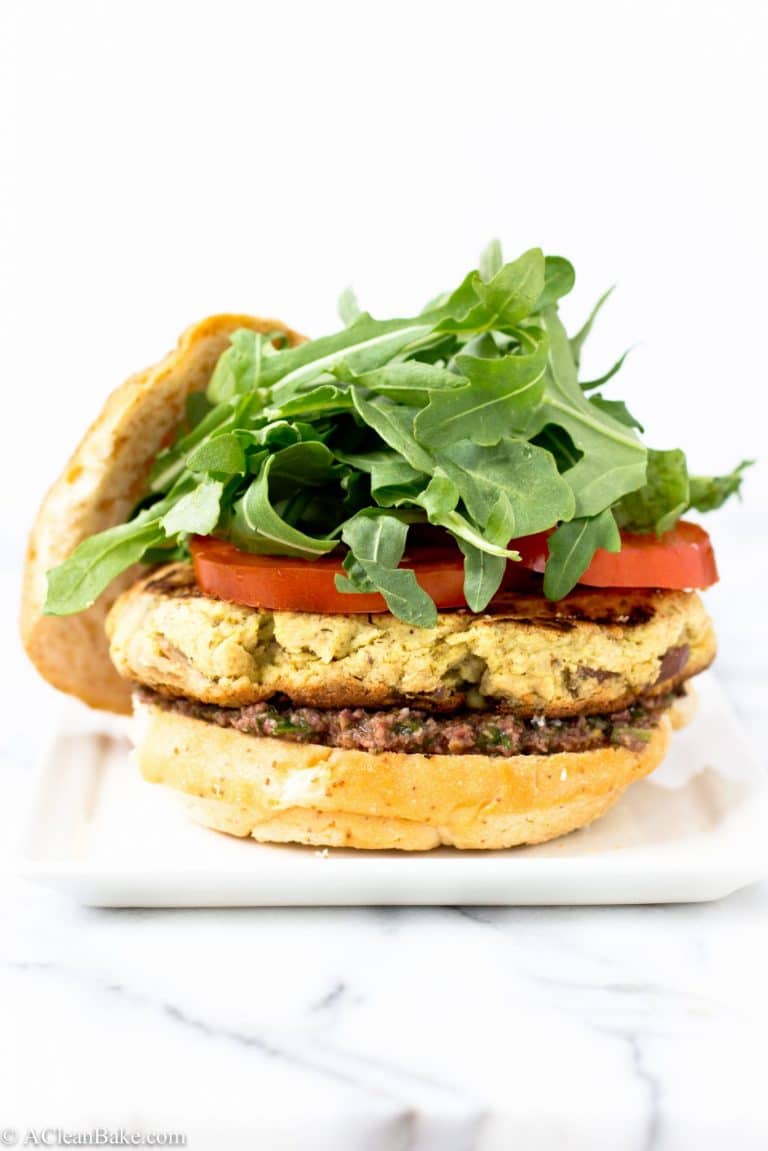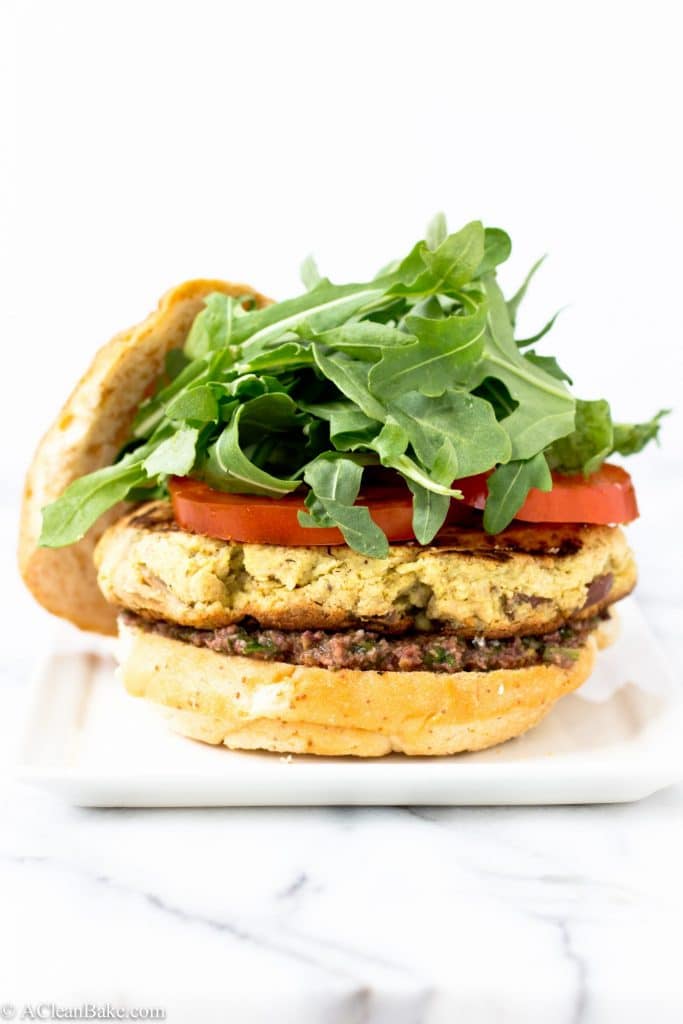 Do ahead: Make and shape the burgers, and store them in an airtight container in the fridge until you're ready to cook them. Make sure you put a piece of wax or parchment paper between patties if you're stacking them in the container.
Serve it with: Grain free sandwich bread makes a great bun stand-in. Alternately, use cabbage or lettuce as a "bun" or simply eat the patties alone, topped with fresh arugula and olive tapenade. And don't forget the sweet potato fries!
Stretch the meal: Double the recipe and freeze the extra patties, raw, for a future meal.
**
Saturday: Thin Crust Pizza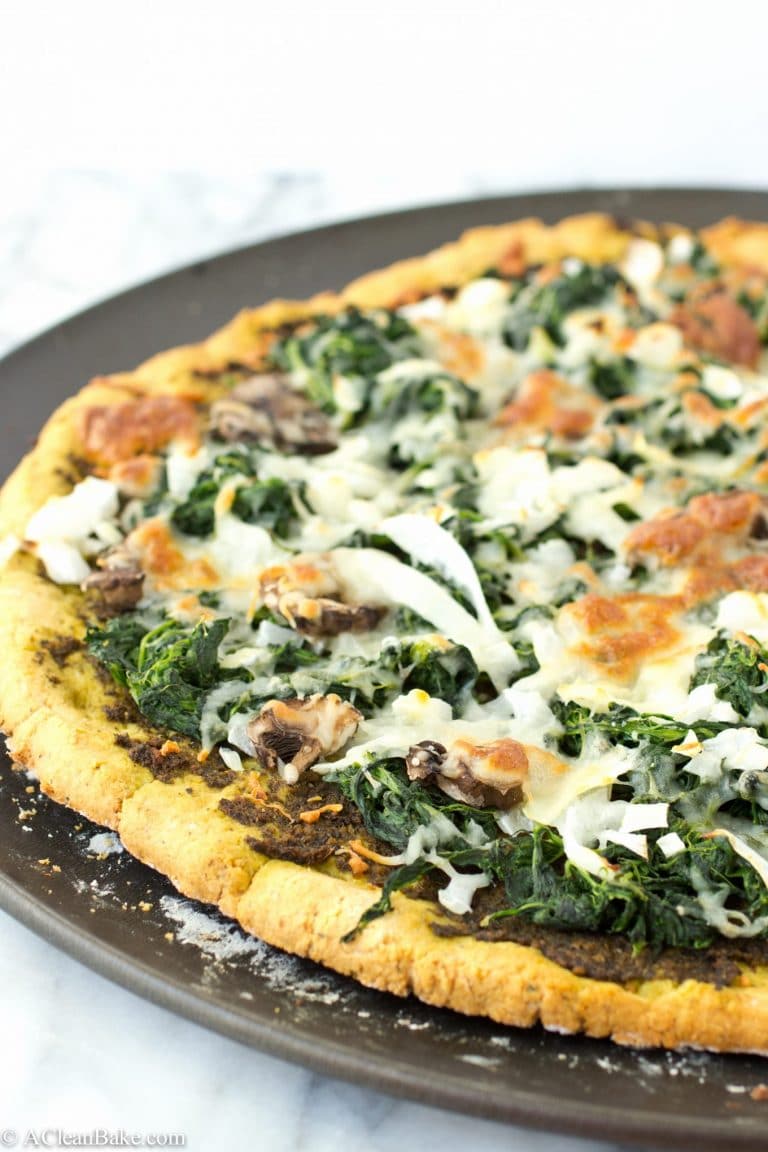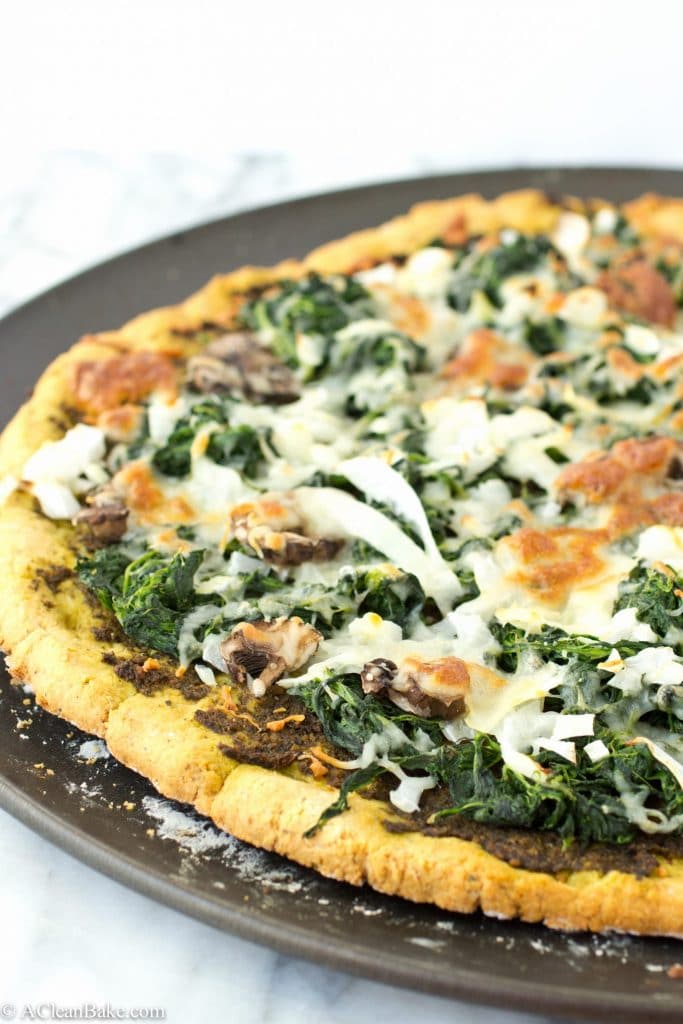 Do ahead: Make and prebake the crust (Instructions 1-6 in the recipe), then let it cool completely, tightly wrap it in a couple layers of plastic wrap, and store in the fridge or freezer. Bring back to room temperature to top and finish baking. You can also make the pesto ahead of time and store it in an airtight container in the fridge. Be aware that it will oxidize, leaving a brown layer on the top (which you can just stir right back in), but it will not affect the taste.
Serve it with: The great thing about this pizza is that it is a meal in and of itself! But it doesn't hurt to have a tasty beverage to sip while you're eating. My favorite is an Arnold Palmer (with or without bourbon).
Stretch the meal: You can easily make and pre-bake two crusts, and store one (very tightly wrapped!) in the freezer until your next pizza night. You can use extra pesto in many ways, like tossing it with noodles of choice or spaghetti squash, topping burgers, or using it as the binder in egg or chicken salad. Plus, who doesn't love cold pizza for breakfast? 🙂
This post contains affiliate links, which means that if you click through and purchase a product, A Clean Bake receives a small commission, which goes toward continuing to bring you delicious, healthy recipes every week. This does not affect the price you pay. Thanks for supporting A Clean Bake!